Bone: A role for fat precursors in the marrow
A group of cells that can become adipocytes controls the formation of blood vessels in the bone marrow, and also regulates the differentiation of resident mesenchymal progenitor cells.
Forget your prejudices against adipocytes – fat cells have important roles to play in the body. This is particularly the case in the bone marrow, where bone and blood are constantly renewed throughout life. The bone marrow provides an interface between bones and the blood – blood cells constantly come and go, while bone cells are long-term inhabitants of the marrow space. Bone cells are derived from so-called bone marrow stromal cells (BMSCs), which are usually found near blood vessels. RNA-seq experiments show that a substantial group of BMSCs express genes normally associated with fat cells (Baccin et al., 2020; Baryawno et al., 2019; Tikhonova et al., 2019; Wolock et al., 2019). Moreover, older bones have an increased amount of fat in their marrow, and a large number of BMSCs express the receptor for leptin, a hormone that is often found in fat cells (Zhou et al., 2014). Yet, the roles that fat cells and their precursors play in the bone marrow environment remain largely unknown.
Now, in eLife, Ling Qin from the University of Pennsylvania and co-workers – including Leilei Zhong as first author – report the discovery of a group of cells in the bone marrow that they have named marrow adipogenic lineage precursor (MALP) cells (Zhong et al., 2020).
First, Zhong et al. performed single-cell RNA-seq on BMSCs from young, adult, and aging mice. They fluorescently labeled these cells (Ono et al., 2014) and then used a computational approach to define several distinct stages of mesenchymal progenitors in their paths to becoming bone cells – osteoblasts – and adipocytes. In particular they discovered the MALP cells, which can become fat cells and increase in number as the mice age. These cells express many genes associated with adipocytes, including adiponectin, but do not yet accumulate lipids.
Strikingly, MALP cells form a vast three-dimensional network surrounding blood vessels in the bone marrow known as sinusoidal vessels. MALP cells express a gene called Adipoq, which is also expressed by subcutaneous fat cells. When cells expressing Adipoq were selectively removed from mice, the sinusoidal vessels were severely disrupted. Moreover, loss of these cells caused a massive increase in bone trabeculae (thin rods and plates of bone tissue) throughout marrow space.
However, it has recently been shown that factors called adipokines, including adiponectin and leptin, which are produced by subcutaneous fat cells, negatively regulate bone formation (Zou et al., 2019). This means that the changes observed in the bone marrow when cells expressing Adipoq are removed could simply be due to the disappearance of subcutaneous fat cells. To test whether this was the case, Zhong et al. transplanted subcutaneous fat into mice and then removed the host cells that expressed Adipoq. The mice now had subcutaneous fat cells, but no MALP cells, and still exhibited disrupted sinusoidal vessels and excess trabeculae. This result demonstrates that the changes observed in the bone marrow upon the removal of cells expressing Adipoq are specifically caused by MALP cell removal. These findings suggest that MALP cells are locally important components of the bone marrow environment, particularly in regulating marrow vasculature and bone formation, perhaps by secreting cytokines (Figure 1).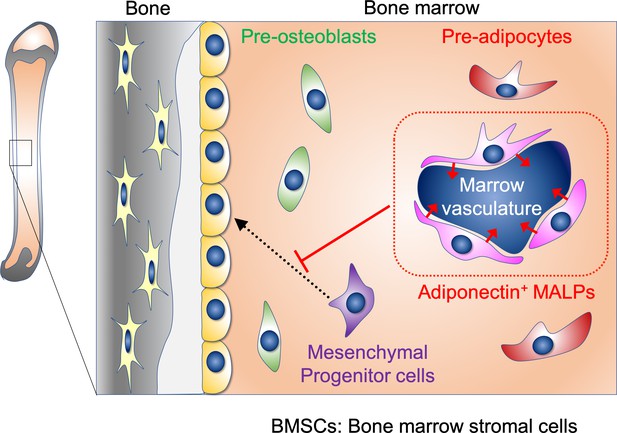 Together with a recent study that demonstrates the importance of pre-adipocyte-like cells in bone regeneration (Matsushita et al., 2020), these findings establish the concept that marrow adipocyte precursors (including MALP cells) play active roles in bone physiology and regeneration. The precise nature of MALP cells still requires further definition. For instance, many types of adipocyte-related cells have been described to date in the bone marrow. Do these cells represent separate or overlapping entities? Do they occupy different locations in bone marrow? If so, does that mean they have different roles? Another important question is whether there is any special feature that determines the identity of marrow adipocytes. How are they different from adipocytes in other areas of the body, and how do they differ metabolically? It is intriguing to think that the adipocyte precursor identity may confer cells with some metabolic advantages to secrete large amounts of cytokines.
Article and author information
Author details
© 2020, Ono
This article is distributed under the terms of the Creative Commons Attribution License, which permits unrestricted use and redistribution provided that the original author and source are credited.
1,235

Page views

147

Downloads

0

Citations
Article citation count generated by polling the highest count across the following sources: Crossref, PubMed Central, Scopus.
A two-part list of links to download the article, or parts of the article, in various formats.
Downloads
(link to download the article as PDF)
Open citations
(links to open the citations from this article in various online reference manager services)
Cite this article
(links to download the citations from this article in formats compatible with various reference manager tools)
Noriaki Ono
Bone: A role for fat precursors in the marrow
eLife 9:e58084.
https://doi.org/10.7554/eLife.58084
Further reading
Bone marrow mesenchymal lineage cells are a heterogeneous cell population involved in bone homeostasis and diseases such as osteoporosis. While it is long postulated that they originate from mesenchymal stem cells, the true identity of progenitors and their in vivo bifurcated differentiation routes into osteoblasts and adipocytes remain poorly understood. Here, by employing large scale single cell transcriptome analysis, we computationally defined mesenchymal progenitors at different stages and delineated their bi-lineage differentiation paths in young, adult and aging mice. One identified subpopulation is a unique cell type that expresses adipocyte markers but contains no lipid droplets. As non-proliferative precursors for adipocytes, they exist abundantly as pericytes and stromal cells that form a ubiquitous 3D network inside the marrow cavity. Functionally they play critical roles in maintaining marrow vasculature and suppressing bone formation. Therefore, we name them marrow adipogenic lineage precursors (MALPs) and conclude that they are a newly identified component of marrow adipose tissue.

Cell Biology
Microbiology and Infectious Disease

Communication is crucial for organismic interactions, from bacteria, to fungi, to humans. Humans may use the visual sense to monitor the environment before starting acoustic interactions. In comparison, fungi, lacking a visual system, rely on a cell-to-cell dialogue based on secreted signaling molecules to coordinate cell fusion and establish hyphal networks. Within this dialogue, hyphae alternate between sending and receiving signals. This pattern can be visualized via the putative signaling protein Soft (SofT), and the mitogen-activated protein kinase MAK-2 (MakB) which are recruited in an alternating oscillatory manner to the respective cytoplasmic membrane or nuclei of interacting hyphae. Here, we show that signal oscillations already occur in single hyphae of Arthrobotrys flagrans in the absence of potential fusion partners (cell monologue). They were in the same phase as growth oscillations. In contrast to the anti-phasic oscillations observed during the cell dialogue, SofT and MakB displayed synchronized oscillations in phase during the monologue. Once two fusion partners came into each other's vicinity, their oscillation frequencies slowed down (entrainment phase) and transit into anti-phasic synchronization of the two cells' oscillations with frequencies of 104±28 s and 117±19 s, respectively. Single-cell oscillations, transient entrainment, and anti-phasic oscillations were reproduced by a mathematical model where nearby hyphae can absorb and secrete a limited molecular signaling component into a shared extracellular space. We show that intracellular Ca2+ concentrations oscillate in two approaching hyphae, and depletion of Ca2+ from the medium affected vesicle-driven extension of the hyphal tip, abolished the cell monologue and the anti-phasic synchronization of two hyphae. Our results suggest that single hyphae engage in a 'monologue' that may be used for exploration of the environment and can dynamically shift their extracellular signaling systems into a 'dialogue' to initiate hyphal fusion.

Cell Biology
Microbiology and Infectious Disease

The relative positions of viral DNA genomes to the host intranuclear environment play critical roles in determining virus fate. Recent advances in the application of chromosome conformation capture-based sequencing analysis (3 C technologies) have revealed valuable aspects of the spatiotemporal interplay of viral genomes with host chromosomes. However, to elucidate the causal relationship between the subnuclear localization of viral genomes and the pathogenic outcome of an infection, manipulative tools are needed. Rapid repositioning of viral DNAs to specific subnuclear compartments amid infection is a powerful approach to synchronize and interrogate this dynamically changing process in space and time. Herein, we report an inducible CRISPR-based two-component platform that relocates extrachromosomal DNA pieces (5 kb to 170 kb) to the nuclear periphery in minutes (CRISPR-nuPin). Based on this strategy, investigations of herpes simplex virus 1 (HSV-1), a prototypical member of the human herpesvirus family, revealed unprecedently reported insights into the early intranuclear life of the pathogen: (I) Viral genomes tethered to the nuclear periphery upon entry, compared with those freely infecting the nucleus, were wrapped around histones with increased suppressive modifications and subjected to stronger transcriptional silencing and prominent growth inhibition. (II) Relocating HSV-1 genomes at 1 hr post infection significantly promoted the transcription of viral genes, termed an 'Escaping' effect. (III) Early accumulation of ICP0 was a sufficient but not necessary condition for 'Escaping'. (IV) Subnuclear localization was only critical during early infection. Importantly, the CRISPR-nuPin tactic, in principle, is applicable to many other DNA viruses.