Social Behaviour: Finding the right size for a group
Vulturine guineafowl range over larger areas, explore more new places and are more likely to reproduce when they live in groups of intermediate size.
Think about the last time you were out in a group of people who were deciding where to eat: some members of the group likely had strong opinions about where to go, with others being happy to go with the flow. However, balancing everyone's opinions without spending hours in discussions or losing people in the process can be tricky, especially in large groups.
In the wild, animals also face similar challenges. Living together provides benefits such as sharing information on where to find food, and providing better protection from predators as there are more individuals to keep watch over the group (Krause and Ruxton, 2002; Kao and Couzin, 2014; Majolo and Huang, 2017). There are also negatives associated with being in a group: inidividual members may compete with each other for resources, and as the group gets bigger it can become harder to maintain coordination (Kutsukake and Clutton-Brock, 2008; Strandburg-Peshkin et al., 2015). However, it is not clear if there is an optimal size that balances the costs and benefits of living together.
Now, in eLife, Danai Papageorgiou and Damien Farine – who are based at the Max Planck Institute of Animal Behaviour, the University of Konstanz, the Kenya Wildlife Service and the National Museums of Kenya – report how group size influenced the movements of wild birds called vulturine guineafowl (Papageorgiou and Farine, 2020). These birds – which are terrestrial in nature – are widely used for studying collective behaviour because they are highly social, form stable groups and often interact with other groups (e.g., for mating and sharing information). Papageorgiou and Farine fitted GPS tracking devices to a total of 58 birds from 21 different groups, and collected data on the size of each bird's 'home range' (that is, the area it covers to find food, to care for its young and to mate), the distance travelled per day, and how often groups re-visited an area. They also counted the number of chicks in each group to obtain an estimate of the group's fitness.
Papageorgiou and Farine found that intermediate-sized groups – which contained between 33 and 37 birds – had larger home ranges and tended to explore more new places than smaller and larger groups (Figure 1). This is due to the balance between the benefit of increasing group size for navigation (more information about the landscape) and the costs of movement coordination (keeping everyone together) in large groups. The results also showed that groups of intermediate size had more chicks, meaning they have a higher level of fitness than smaller or larger groups. This higher fitness suggests that intermediate-sized groups may be the most effective at using the areas and resources available to them, indicating there is an optimal group size for collective movement.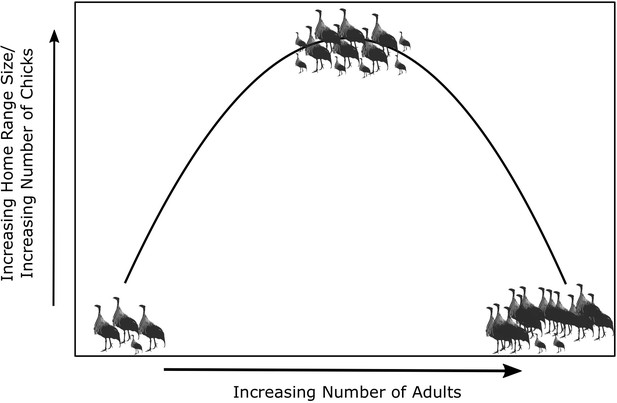 Papageorgiou and Farine found that most of the groups they studied were smaller or larger than this optimum size. While fitness is maximised in groups of intermediate size, it is difficult to maintain because the number of individuals may fluctuate due to reproduction and immigration (Grueter et al., 2020). Notably, when the intermediate-sized groups had chicks, their home range size decreased. This is because the chicks are more vulnerable to predators, so groups tend to keep under cover and limit their movements. There is a potential trade-off here between those individuals who have successfully reproduced and want to maximise the survival chances of their chicks, and those who did not reproduce and may benefit from having a larger home range size and access to a wider range of resources (Papageorgiou et al., 2019).
The latest work could be taken forward in a number of ways. First, these data were collected during specific seasons with similar weather conditions so that the data for different groups could be compared. This raises the question of whether the benefits associated with intermediate group size are consistent across all seasons, even when resources such as food and water are limited. Second, it would be interesting to explore if similar effects are found across different taxa and landscapes, such as the tropics versus temperate regions, where seasons and resources differ. Finally, guineafowl groups are not territorial animals, and it would be interesting to study what happens when groups of animals are more defensive of their habitats. If competition between groups increases, the areas available would be reduced and groups may spend more energy on defending their territory, in which case it may be better to have a larger sized group (Mosser and Packer, 2009).
These findings shed new light on how the size and composition of groups can shape the movement patterns of animals. This type of integrated approach, using long-term tracking data, is essential to gain a better understanding of the mechanisms of collective behaviour and will be useful for the conservation of vulturine guineafowl and other social species.
Article and author information
Author details
© 2020, Tucker
This article is distributed under the terms of the Creative Commons Attribution License, which permits unrestricted use and redistribution provided that the original author and source are credited.
636

Page views

69

Downloads

0

Citations
Article citation count generated by polling the highest count across the following sources: Crossref, PubMed Central, Scopus.
A two-part list of links to download the article, or parts of the article, in various formats.
Downloads
(link to download the article as PDF)
Open citations
(links to open the citations from this article in various online reference manager services)
Cite this article
(links to download the citations from this article in formats compatible with various reference manager tools)
Marlee Tucker
Social Behaviour: Finding the right size for a group
eLife 9:e63871.
https://doi.org/10.7554/eLife.63871
Further reading
A challenge of group-living is to maintain cohesion while navigating through heterogeneous landscapes. Larger groups benefit from information pooling, translating to greater 'collective intelligence', but face increased coordination challenges. If these facets interact, we should observe a non-linear relationship between group size and collective movement. We deployed high-resolution GPS tags to vulturine guineafowl from 21 distinct social groups and used continuous-time movement models to characterize group movements across five seasons. Our data revealed a quadratic relationship between group size and movement characteristics, with intermediate-sized groups exhibiting the largest home-range size and greater variation in space use. Intermediate-sized groups also had higher reproductive success, but having more young in the group reduced home-range size. Our study suggests the presence of an optimal group size, and composition, for collective movement.

Ecology
Evolutionary Biology

Spider venoms are a complex concoction of enzymes, polyamines, inorganic salts, and disulfide-rich peptides (DRPs). Although DRPs are widely distributed and abundant, their bevolutionary origin has remained elusive. This knowledge gap stems from the extensive molecular divergence of DRPs and a lack of sequence and structural data from diverse lineages. By evaluating DRPs under a comprehensive phylogenetic, structural and evolutionary framework, we have not only identified 78 novel spider toxin superfamilies but also provided the first evidence for their common origin. We trace the origin of these toxin superfamilies to a primordial knot – which we name 'Adi Shakti', after the creator of the Universe according to Hindu mythology – 375 MYA in the common ancestor of Araneomorphae and Mygalomorphae. As the lineages under evaluation constitute nearly 60% of extant spiders, our findings provide fascinating insights into the early evolution and diversification of the spider venom arsenal. Reliance on a single molecular toxin scaffold by nearly all spiders is in complete contrast to most other venomous animals that have recruited into their venoms diverse toxins with independent origins. By comparatively evaluating the molecular evolutionary histories of araneomorph and mygalomorph spider venom toxins, we highlight their contrasting evolutionary diversification rates. Our results also suggest that venom deployment (e.g. prey capture or self-defense) influences evolutionary diversification of DRP toxin superfamilies.

Ecology
Epidemiology and Global Health

The global spread of antibiotic resistance could be due to a number of factors, and not just the overuse of antibiotics in agriculture and medicine as previously thought.