Social Behaviour: Finding the right size for a group
Vulturine guineafowl range over larger areas, explore more new places and are more likely to reproduce when they live in groups of intermediate size.
Think about the last time you were out in a group of people who were deciding where to eat: some members of the group likely had strong opinions about where to go, with others being happy to go with the flow. However, balancing everyone's opinions without spending hours in discussions or losing people in the process can be tricky, especially in large groups.
In the wild, animals also face similar challenges. Living together provides benefits such as sharing information on where to find food, and providing better protection from predators as there are more individuals to keep watch over the group (Krause and Ruxton, 2002; Kao and Couzin, 2014; Majolo and Huang, 2017). There are also negatives associated with being in a group: inidividual members may compete with each other for resources, and as the group gets bigger it can become harder to maintain coordination (Kutsukake and Clutton-Brock, 2008; Strandburg-Peshkin et al., 2015). However, it is not clear if there is an optimal size that balances the costs and benefits of living together.
Now, in eLife, Danai Papageorgiou and Damien Farine – who are based at the Max Planck Institute of Animal Behaviour, the University of Konstanz, the Kenya Wildlife Service and the National Museums of Kenya – report how group size influenced the movements of wild birds called vulturine guineafowl (Papageorgiou and Farine, 2020). These birds – which are terrestrial in nature – are widely used for studying collective behaviour because they are highly social, form stable groups and often interact with other groups (e.g., for mating and sharing information). Papageorgiou and Farine fitted GPS tracking devices to a total of 58 birds from 21 different groups, and collected data on the size of each bird's 'home range' (that is, the area it covers to find food, to care for its young and to mate), the distance travelled per day, and how often groups re-visited an area. They also counted the number of chicks in each group to obtain an estimate of the group's fitness.
Papageorgiou and Farine found that intermediate-sized groups – which contained between 33 and 37 birds – had larger home ranges and tended to explore more new places than smaller and larger groups (Figure 1). This is due to the balance between the benefit of increasing group size for navigation (more information about the landscape) and the costs of movement coordination (keeping everyone together) in large groups. The results also showed that groups of intermediate size had more chicks, meaning they have a higher level of fitness than smaller or larger groups. This higher fitness suggests that intermediate-sized groups may be the most effective at using the areas and resources available to them, indicating there is an optimal group size for collective movement.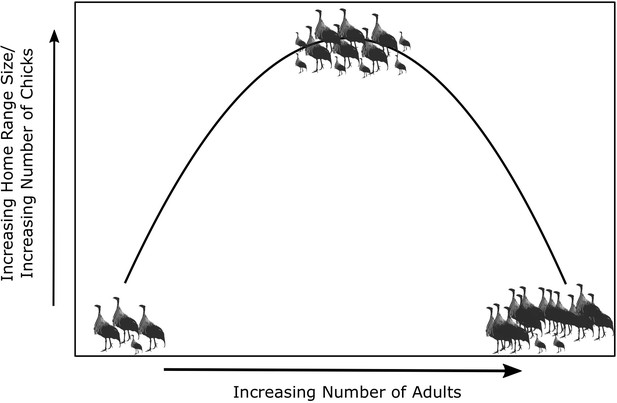 Papageorgiou and Farine found that most of the groups they studied were smaller or larger than this optimum size. While fitness is maximised in groups of intermediate size, it is difficult to maintain because the number of individuals may fluctuate due to reproduction and immigration (Grueter et al., 2020). Notably, when the intermediate-sized groups had chicks, their home range size decreased. This is because the chicks are more vulnerable to predators, so groups tend to keep under cover and limit their movements. There is a potential trade-off here between those individuals who have successfully reproduced and want to maximise the survival chances of their chicks, and those who did not reproduce and may benefit from having a larger home range size and access to a wider range of resources (Papageorgiou et al., 2019).
The latest work could be taken forward in a number of ways. First, these data were collected during specific seasons with similar weather conditions so that the data for different groups could be compared. This raises the question of whether the benefits associated with intermediate group size are consistent across all seasons, even when resources such as food and water are limited. Second, it would be interesting to explore if similar effects are found across different taxa and landscapes, such as the tropics versus temperate regions, where seasons and resources differ. Finally, guineafowl groups are not territorial animals, and it would be interesting to study what happens when groups of animals are more defensive of their habitats. If competition between groups increases, the areas available would be reduced and groups may spend more energy on defending their territory, in which case it may be better to have a larger sized group (Mosser and Packer, 2009).
These findings shed new light on how the size and composition of groups can shape the movement patterns of animals. This type of integrated approach, using long-term tracking data, is essential to gain a better understanding of the mechanisms of collective behaviour and will be useful for the conservation of vulturine guineafowl and other social species.
Article and author information
Author details
© 2020, Tucker
This article is distributed under the terms of the Creative Commons Attribution License, which permits unrestricted use and redistribution provided that the original author and source are credited.
651

Page views

70

Downloads

0

Citations
Article citation count generated by polling the highest count across the following sources: Crossref, PubMed Central, Scopus.
A two-part list of links to download the article, or parts of the article, in various formats.
Downloads
(link to download the article as PDF)
Open citations
(links to open the citations from this article in various online reference manager services)
Cite this article
(links to download the citations from this article in formats compatible with various reference manager tools)
Marlee Tucker
Social Behaviour: Finding the right size for a group
eLife 9:e63871.
https://doi.org/10.7554/eLife.63871
Further reading
A challenge of group-living is to maintain cohesion while navigating through heterogeneous landscapes. Larger groups benefit from information pooling, translating to greater 'collective intelligence', but face increased coordination challenges. If these facets interact, we should observe a non-linear relationship between group size and collective movement. We deployed high-resolution GPS tags to vulturine guineafowl from 21 distinct social groups and used continuous-time movement models to characterize group movements across five seasons. Our data revealed a quadratic relationship between group size and movement characteristics, with intermediate-sized groups exhibiting the largest home-range size and greater variation in space use. Intermediate-sized groups also had higher reproductive success, but having more young in the group reduced home-range size. Our study suggests the presence of an optimal group size, and composition, for collective movement.

Ecology
Genetics and Genomics

Adulis, located on the Red Sea coast in present-day Eritrea, was a bustling trading centre between the first and seventh centuries CE. Several classical geographers--Agatharchides of Cnidus, Pliny the Elder, Strabo-noted the value of Adulis to Greco--Roman Egypt, particularly as an emporium for living animals, including baboons (Papio spp.). Though fragmentary, these accounts predict the Adulite origins of mummified baboons in Ptolemaic catacombs, while inviting questions on the geoprovenance of older (Late Period) baboons recovered from Gabbanat el-Qurud ('Valley of the Monkeys'), Egypt. Dated to ca. 800-540 BCE, these animals could extend the antiquity of Egyptian-Adulite trade by as much as five centuries. Previously, Dominy et al. (2020) used stable istope analysis to show that two New Kingdom specimens of P. hamadryas originate from the Horn of Africa. Here, we report the complete mitochondrial genomes from a mummified baboon from Gabbanat el-Qurud and 14 museum specimens with known provenance together with published georeferenced mitochondrial sequence data. Phylogenetic assignment connects the mummified baboon to modern populations of Papio hamadryas in Eritrea, Ethiopia, and eastern Sudan. This result, assuming geographical stability of phylogenetic clades, corroborates Greco-Roman historiographies by pointing toward present-day Eritrea, and by extension Adulis, as a source of baboons for Late Period Egyptians. It also establishes geographic continuity with baboons from the fabled Land of Punt (Dominy et al., 2020), giving weight to speculation that Punt and Adulis were essentially the same trading centres separated by a thousand years of history.

While bacterial diversity is beneficial for the functioning of rhizosphere microbiomes, multi-species bioinoculants often fail to promote plant growth. One potential reason for this is that competition between different species of inoculated consortia members creates conflicts for their survival and functioning. To circumvent this, we used transposon insertion mutagenesis to increase the functional diversity within Bacillus amyloliquefaciens bacterial species and tested if we could improve plant growth promotion by assembling consortia of highly clonal but phenotypically dissimilar mutants. While most insertion mutations were harmful, some significantly improved B. amyloliquefaciens plant growth promotion traits relative to the wild-type strain. Eight phenotypically distinct mutants were selected to test if their functioning could be improved by applying them as multifunctional consortia. We found that B. amyloliquefaciens consortium richness correlated positively with plant root colonization and protection from Ralstonia solanacearum phytopathogenic bacterium. Crucially, 8-mutant consortium consisting of phenotypically dissimilar mutants performed better than randomly assembled 8-mutant consortia, suggesting that improvements were likely driven by consortia multifunctionality instead of consortia richness. Together, our results suggest that increasing intra-species phenotypic diversity could be an effective way to improve probiotic consortium functioning and plant growth promotion in agricultural systems.