Point of View: Rethinking academia in a time of climate crisis
Addressing the climate crisis requires radical and urgent action at all levels of society. Universities are ideally positioned to lead such action but are largely failing to do so. At the same time, many academic scientists find their work impeded by bureaucracy, excessive competitiveness, and a loss of academic freedom. Here, drawing on the framework of "Doughnut Economics," developed by Kate Raworth, we suggest seven new principles for rethinking the norms of scientific practice. Based on these, we propose a call to action, and encourage academics to take concrete steps towards the creation of a flourishing scientific enterprise that is fit for the challenges of the 21st century.
The climate and ecological crisis (hereafter, the "climate crisis") threatens to destabilize many aspects of human civilization – including academic research and education. Our planet's rapid temperature rise and the unprecedented rate of species loss and ecosystem destruction are a direct result of human activities, predominantly the extraction and consumption of fossil fuels (Thunberg, 2022). Greenhouse gas emissions continue to rise despite decades of political effort (Stoddard et al., 2021). This highlights the powerful role of vested interests, which maintain their legitimacy through engrained norms and the support of societal institutions, including academia (Almond et al., 2022; Popovic et al., 2007). To address the climate crisis, societies must urgently cease supporting and legitimizing policies and practices that harm our biosphere.
Universities have enormous potential to accomplish such transformative change. Academic research expands our knowledge and understanding of the climate crisis, informing policy for mitigation and adaptation. Educating the next generation can set off powerful ripple effects and push society towards the social tipping points required for mass mobilization, action, and system change.
Despite this potential, many academics feel unable to do much about the climate crisis. We may feel our research is unrelated, or that we lack the requisite expertise to engage beyond the realm of personal lifestyle choices. Here, we suggest that an even greater barrier is the fact that the increasingly corporatized, target-driven, and stressful nature of modern academic life far exceeds reasonable human limits. This leaves most of us with no energy to engage with the greatest challenge of our time – tackling the climate crisis. To remove these barriers to action, we need to rethink academia.
To help us in this task, we build on the work of Kate Raworth, whose influential book, Doughnut Economics, rethinks economics (Raworth, 2017). Raworth explains how the theories, axioms, and graphical depictions of neoclassical economics have profoundly shaped our world-view. Within the neoclassical frame, humans are rational, selfish, and short-termist – they are separate from, and dominant over, nature.
This justifies a particular kind of economy, where growth is the primary goal, and social goals, such as equality and well-being, are secondary. Nature is a resource; its depletion and destruction an uncosted side-effect. Production and consumption in the free market are paramount, while activity in the household and in the public sphere is undervalued. These foundational assumptions underpin not just economics but have percolated through the political and social norms that govern our societies, right down to our academic institutions. Raworth argues that this outdated economic thinking has led humanity to our current predicament: the twin crises of profound global inequality and climate chaos.
To work our way out of this situation, Raworth suggests that we need to think about economics in a new way (Raworth, 2017). At the heart of the framework is a doughnut, made out of an inner and outer ring: the inner ring is a set of foundations for human wellbeing that we should provide (such as water and food, education and peace; United Nations, 2015); and the outer ring is a set of ecological boundaries for our planet that we must not overshoot (such as pollution, biodiversity loss, and climate change; Steffen et al., 2015).
Raworth's call to action is that we should not aspire to boundless economic growth, but rather to live well within an ecologically safe and socially just space – the space within the doughnut. This is no easy task; it requires fundamental shifts in our thinking. To facilitate those, Raworth offers seven new principles of economic thought: to change the goal, get savvy with systems, see the big picture, create to regenerate, nurture human nature, design to distribute, and to be agnostic about growth. Raworth's model has been enormously influential; it has already been used by city planners, industries and businesses worldwide to meet human needs while respecting planetary boundaries (Boffey, 2020).
Here, we apply Raworth's tools for new thinking to our own sphere of academia. In a joint analysis and manifesto, we imagine an "academic doughnut," bounded by a social foundation and human and planetary ceilings, and describe how academia increasingly under- and overshoots these boundaries (Figure 1). Second, we examine seven dominant, unhelpful ways of thinking, and propose alternatives, which allow us to rethink academia's future and enable academic action on our planetary crisis (Figure 2). Third, we offer a call to action and suggest concrete steps that each of us can take to move academia into a space where we can thrive in balance (Box 1).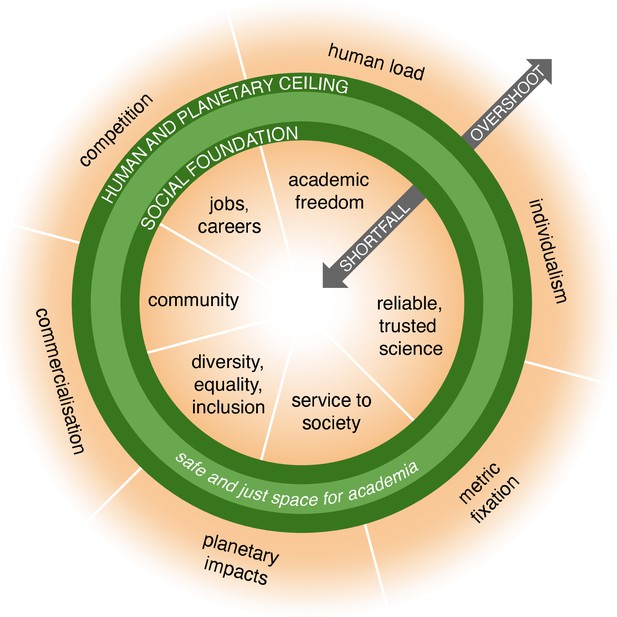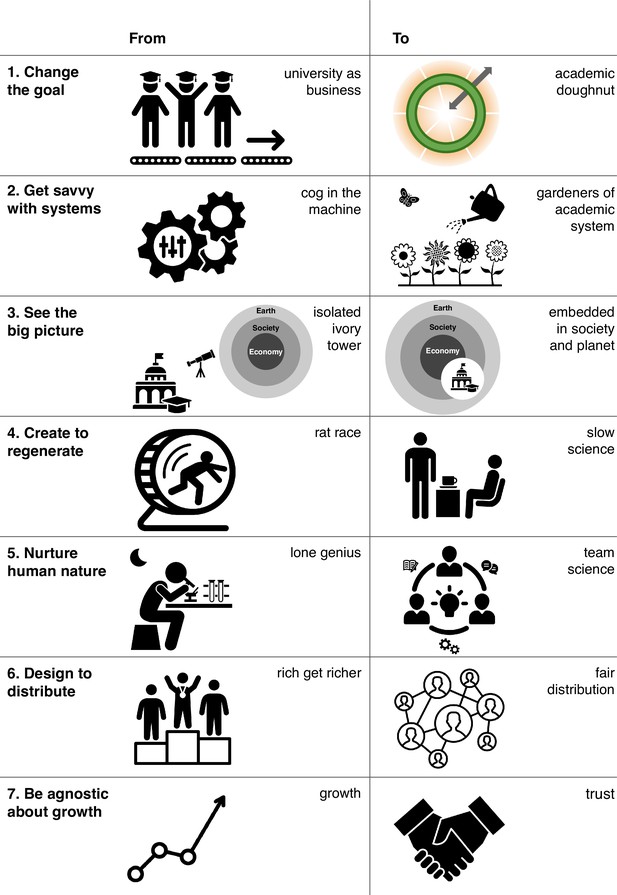 From belief to action.
This paper is intended to start shifting attitudes and foster action. We recognise that a key barrier to any action is time. We cannot wait around for our universities to give us this time – we need to take it back ourselves (Berg and Seeber, 2016). Carve out time to work on the doughnut by putting aside some "bullshit work" (Graeber, 2013; Graeber, 2018). Engaging in work that is consistent with your values and goals will be more rewarding.
Start with 30 minutes this week and try to grow this to something you feel is effective and manageable within your own boundaries. For instance:
Discuss this paper and the issues it raises (such as work-life balance and activism) with your colleagues or your lab, over lunch, in a journal club or in a book club (see Box 2 for a list of suggested readings).

Bring an academic doughnut lens to your existing roles when mentoring, reviewing, governing or collaborating.

Add some slides on the climate and biodiversity crisis at the end of your talks or lectures. Simply indicating that you are worried will resonate with many and open up new conversations.

Join a sustainability community at your university (e.g., green team or active travel committee). Finding like-minded colleagues is one of the best supports for sustained action.

Join a local, national or academic climate action group (e.g., Scientists4Future, Scientist Rebellion, Faculty for a Future, ClimateActionNeuPsych, Doctors for XR).
Note that throughout, we will use academia/academics and science/scientists interchangeably. While some of these principles will apply to scientists working outside academic institutions, and many will apply to our colleagues in the arts and humanities, our perspective is primarily informed by our experience as STEM (neuroscience) researchers within universities. We also acknowledge that we speak from positions of privilege, as we are both white, cishet, able-bodied, women academics with tenured positions (Cech, 2022). Our experiences mostly stem from the Irish, Dutch, and American university systems.
Academia within the doughnut
Adapting the doughnut to academia's microcosm enables us to visualize a space defined by an inner social foundation (which universities should provide), and outer human and planetary ceilings (which universities need to avoid overshooting).
The social foundation academia should provide:
Academic freedom. Time to think, room for curiosity-driven research.

Good jobs and careers. Work that is valuable and valued, in good, equitable conditions. Secure, satisfying careers with perspective and recognition. Sufficient and equitable resource provision for materials, infrastructure, and scientific support.

Community. Democratic self-governance. Norms and incentives that create healthy, supportive, and collegial communities.

Diversity, equality, inclusion. Freedom of expression and identity. The opportunity to flourish in an academic community without bias and inequality.

Service to society. Societal engagement and input to policy, free from the influence of corporate (e.g., fossil fuel) interests. Responding to society's needs in our research. Providing high-quality, accessible and affordable higher education options.

Reliable, trusted science. Research that is open, verifiable, and community reviewed. A society that trusts scientists, and science worthy of trust.
The human and planetary boundaries academia should not overshoot:
Human load. Human intellect and creativity, both individual and collective, are academia's most precious resources. Exceeding this boundary leads to burnout, mental health difficulties, and apathy.

Individualism. The myth of the "lone genius" remains at the heart of the academic picture of success. Overshooting this boundary leads to a devaluation of collaboration and team science and to excessive competitiveness, harassment, and power misuse.

Competition. The gutting of public funding for universities and science has increased competition for scarce resources (grants, publications, promotions, awards), to the detriment of teamwork and collaboration.

Metric fixation. An overshoot of rankings, quantitative metrics, and assessment leads to runaway bureaucracy and perverse incentives to "game the system". When promotions and hiring processes are yoked to the same goals, the overshoot leads to excessive pressure to publish and to win funding, resulting in irreproducible work, the "rich getting richer", and academic nepotism.

Commercialization. Public funds should be used to provide common goods, services, and knowledge that benefit society. Excessive commercialization can lead to academic labor being siphoned off by extractive market players (e.g., for-profit publishing, corporate intellectual property, and patents).

Planetary impact. Science and academic research can be a high-resource pursuit. We need to change our own practices to stop overshooting planetary boundaries.
The doughnut's under- and overshoot will be recognized by many – you may even see these boundaries transgressed in your own academic life. The following sections describe where academia may occupy dangerous operating spaces outside the doughnut and highlight how this modus operandi acts as a primary barrier to meaningful action on the climate and biodiversity crisis. We adapt Raworth's seven lessons by reviewing hopeful trends and proposing new images to help us move towards a thriving scientific enterprise fit for the 21st century's challenges.
Seven ways to think like a 21st century scientist
Addressing the climate and biodiversity crisis demands transformative changes in our economies and societies. Academics, both as inhabitants of planet earth and in their professional roles, should take a leading role in this transformation (Gardner et al., 2021). Here, we argue that barriers to the required engagement arise from transgression of the academic doughnut: a safe and just space that provides a social foundation while respecting human and planetary ceilings. To enable academics to engage with humanity's greatest challenges, and to demand that our institutions lead the way in the required societal transition, we must forge a path towards the safe and just space inside the academic doughnut (Box 2).
Further reading.
If these ideas resonate with you, we recommend the following books:
It's humbling to realize that universities (like many complex systems) show considerable inertia, and that social change does not come easily. Moreover, the academic doughnut cannot be viewed independently of society. Beyond our own institutions, change will ultimately have to come from governments and citizens alike. Many of our proposals are contradictory to the incentive structure of the neoliberal university, defined by dwindling funding and increasing demands for accountability. We also face a conundrum: the changes we want (e.g., sustainability, diversity, open science) can only be explicitly encouraged if we measure and mandate them somehow. Vaguely wishing for culture change is unlikely to achieve much. On the other hand, "not everything that counts can be counted" (Collini, 2012). The academic doughnut cannot be just another requirement; we must change the goal of the university. Given the enormity of this task, do we have a chance of achieving these bold changes?
Here, the past offers hope for the future. Both history and recent experience demonstrates that social movements can and do achieve change – in women's suffrage, civil rights, and marriage equality (Engler and Engler, 2016). Throughout history, universities have been fertile ground for major social movements, such as the anti-nuclear weapons movement, the anti-war and civil rights movements in the US, and environmental protection movements (Dahlum, 2019; Russell et al., 1955; Brown and Silber, 1979; Racimo et al., 2022). Today, academic activists worldwide make crucial contributions to movements in domains including the climate crisis, health, LGBTQ+ and reproductive rights, social justice, economic inequality, and the hegemony of economic growth, amongst many others (Capstick et al., 2022; Racimo et al., 2022; Dreifus, 2019; Barres, 2006; Tannam, 2018; George, 2020; Holmes, 2021; Hickel et al., 2022).
Within academia, grassroots movements have forced a reckoning with the consequences of several unhelpful practices. While the open science movement was initially met with strong resistance, its practices are becoming increasingly normalized (Nielsen and Qiu, 2022). We can see the fruits of open science activism in concrete initiatives towards new ways of publishing, funding, crediting researchers, and in the overwhelming success of open science initiatives such as data and code sharing (Eisen et al., 2022; Dresler et al., 2022; Zurn et al., 2020). The #MeToo movement and its exposure of harassment and abuse offers another example of how activism can bring about system change – though there is still much work to be done. Yet other grassroots movements such as Pride in STEM and #BlackInSTEM (in our own discipline, #BlackInNeuro) are succeeding in calling out inequities and bias, building communities of support, and pushing for true diversity, equality, and inclusion in science.
As is true for any of these examples of success, change starts with collective, sustained, local action (as captured by the motto "think global, act local"). Our academic sphere is where we are and what we can influence, from where change can percolate. While the neoliberal turn has managed to quash some of the rebellious and civic spirit of academics and students, universities are still societal microcosms that can give rise to new ways of thinking, which can trigger systems change. Our individual actions are not sufficient to bring about change, but they are necessary. Universities will not change without individual, bottom-up efforts from academics (Steinberger, 2022a). As with the climate crisis, we cannot simply wait for someone else to fix the problem.
Crucially, collective action can create an effort multiplier, with long-term effects that can far outstrip any impact we might have through our individual footprints. Talking with colleagues, friends, and family about the climate and biodiversity crisis is one of the most powerful things we can do (Hayhoe, 2021). When we fail to speak up about issues that concern us, we exacerbate a "false social reality" in which the majority appear not to care (Sparkman et al., 2022). Questioning norms can help trigger social tipping points: when just 25% of people support a new social norm, the majority opinion shifts (Centola et al., 2018; Ye et al., 2021). This is why finding your community is so important: solidarity is sustaining, and adding your voice can be a leverage point for more ambitious action. Join a local organization, get involved in politics (as a participant, voter or campaigner), or start a discussion and action group (Box 1). Know that you are not alone: we ourselves have been inspired and guided by the activism and work of our colleagues and students.
If universities do not take a leading role in climate action, we risk being dragged along by larger societal forces. Just five years ago, Greta Thunberg was an unknown Swedish teenager in solitary protest. She has now inspired climate protests in more than 150 countries (Barclay and Resnick, 2019). In this context, there are growing calls for universities to take a more active civic role and to embrace new academic practices, advocacy and more direct climate activism (Aron, 2019; Capstick et al., 2022; Gardner et al., 2021; Racimo et al., 2022). By cultivating, enabling, and rewarding a culture of political advocacy and activism amongst academics, we can be empowered to translate our research beyond the pages of journal publications into real-world impact and action.
Universities are ideally positioned to cultivate the transformative societal, economic, and political change required to address the climate and biodiversity crisis, but can academic communities overcome inertia and barriers to action? A first step towards change is to look at things differently. We have described new ways to view ourselves as researchers, educators, members of the university and of a global scientific community. We hope that our call to action will move us along the path towards the academic doughnut and a thriving biosphere for future generations.
Citation diversity statement
Recent work in several fields of science has identified a bias in citation practices such that papers from women and other minority scholars are under-cited relative to the number of such papers in the field (Zurn et al., 2020). Here, we sought to proactively choose diverse references. Our references contain 36% woman/woman, 12% man/woman, 10% woman/man and 42% man/man (reflecting the first and last author, where a single author was counted as both first and last).
No data were generated for this article.
Book

What Are Universities For?

Penguin UK.

Book

Speaking of Universities

Verso Books.

Book

This Is an Uprising: How Nonviolent Revolt Is Shaping the Twenty-First Century

Nation Books.

Book

Saving Us: A Climate Scientist's Case for Hope and Healing in A Divided World

Simon and Schuster.

Book

Climate Change as Class War: Building Socialism on a Warming Planet

Verso Books.

Book

Braiding Sweetgrass: Indigenous Wisdom, Scientific Knowledge and the Teachings of Plants

Milkweed Editions.

Book

The Structure of Scientific Revolutions

University of Chicago Press.

Book

Thinking in Systems: A Primer

Chelsea Green Publishing.

Book

Doughnut Economics: Seven Ways to Think Like a 21st-Century Economist

Chelsea Green Publishing.

Book

The Climate Book

Random House.
Article and author information
Author details
Netherlands Organisation for Scientific Research (VI.Veni.212.184)
Science Foundation Ireland (20/FFP-P/8799)
The funders had no role in study design, data collection and interpretation, or the decision to submit the work for publication.
We thank Dan Goodman, Thomas Fossen, Norah Campbell, Jan Wessel, Peter Sterling, Charlotte Rae, Simon Kelly, Leonard Burtscher, John Butler, Sarah-Jane Cullinane, Redmond O'Connell, Andrew Littlejohn, Craig Meskell, Aoife McLysaght and Kate Jeffery for feedback and discussion. Bing Tang provided helpful suggestions for the figures.
Peter Rodgers, eLife, United Kingdom
Helga Groll, eLife, United Kingdom
© 2023, Urai and Kelly
This article is distributed under the terms of the Creative Commons Attribution License, which permits unrestricted use and redistribution provided that the original author and source are credited.
8,869

Page views

726

Downloads

1

Citations
Article citation count generated by polling the highest count across the following sources: Crossref, PubMed Central, Scopus.
A two-part list of links to download the article, or parts of the article, in various formats.
Downloads
(link to download the article as PDF)
Open citations
(links to open the citations from this article in various online reference manager services)
Cite this article
(links to download the citations from this article in formats compatible with various reference manager tools)
Anne E Urai
Clare Kelly
Point of View: Rethinking academia in a time of climate crisis
eLife 12:e84991.
https://doi.org/10.7554/eLife.84991