Point of View: COVID-19 as a catalyst for reimagining cervical cancer prevention
Cervical cancer has killed millions of women over the past decade. In 2019 the World Health Organization launched the Cervical Cancer Elimination Strategy, which included ambitious targets for vaccination, screening, and treatment. The COVID-19 pandemic disrupted progress on the strategy, but lessons learned during the pandemic – especially in vaccination, self-administered testing, and coordinated mobilization on a global scale – may help with efforts to achieve its targets. However, we must also learn from the failure of the COVID-19 response to include adequate representation of global voices. Efforts to eliminate cervical cancer will only succeed if those countries most affected are involved from the very start of planning. In this article we summarize innovations and highlight missed opportunities in the COVID response, and make recommendations to leverage the COVID experience to accelerate the elimination of cervical cancer globally.
Cervical cancer is the fourth most common cancer in women (after breast, colorectal and lung cancer), and resulted in 311, 000 deaths in 2018 (Arbyn et al., 2020). The burden of cervical cancer also continues to rise – despite being a preventable disease – and this burden falls disproportionately on women in low- and middle-income countries (LMICs) (Cohen et al., 2019; Zhang et al., 2021). Many countries also lack the resources to treat cervical cancer, resulting in unnecessary death and suffering (Union for International Cancer Control, 2023). Moreover, cervical cancer is most often diagnosed in relatively young women who are often the primary wage earners in their household (Zhang et al., 2021; American Society of Clinical Oncology, 2023; Reed et al., 2000).
The goal of the Cervical Cancer Elimination Strategy, launched by the World Health Organization in 2019, is to reduce incidence of cervical cancer from about 15 per 100,000 women to less than 4 per 100,000 by the year 2030 (World Health Organization, 2020). The strategy has identified three targets to help it reach this goal: to provide HPV vaccination to 90% of girls by age 15; offer 70% women cervical screening with a high precision assay at least twice (by age 35, and again by age 45); and to treat 90% of women with pre-cancer and manage 90% of women with invasive cancer. HPV vaccination will likely have the biggest impact on the incidence of cervical cancer in the long run, with screening and treatment having bigger impacts in the short-term.
Unfortunately, progress on vaccination, screening and treatment was disrupted shortly after launch by the COVID-19 pandemic. In this article, on behalf of the Policy Committee of the International Papillomavirus Society (IPVS), we summarize the impact of the pandemic on efforts to eliminate cervical cancer and discuss how lessons learned during the pandemic can be applied to a different global public health threat – cervical cancer.
Cervical cancer prevention before the COVID-19 pandemic
Despite early demonstration of acceptability and feasibility, only 60% of WHO member states have incorporated HPV into their national vaccination schedule and only 13% of girls have completed HPV vaccination (World Health Organization, 2022a). Coverage had not reached the 90% target in most countries, attributed to various and different health systems capacity challenges (Amponsah-Dacosta et al., 2020). LMICs were also disadvantaged by limitations in the international supply chain, leaving many LMICs without adequate access to vaccine in the years leading up to the COVID-19 pandemic (Garland et al., 2020; Colzani et al., 2021).
The WHO elimination strategy ambitiously aims to increase global screening coverage to 70% with two HPV-based screens by the age of 45. Prior to the start of the pandemic, only 37% of countries had achieved lifetime screening coverage of 70% or higher, and none of these were low-income countries. Lifetime screening coverage was proportional to the country income strata with lifetime screening coverage reaching 70% in 58% of high-income countries, 28% of upper-middle-income countries, 6% of lower middle-income countries and 0% of low-income countries (Figure 1; Bruni et al., 2022). Within these numbers lie wide socioeconomic disparities within countries, particularly in opportunistic rather than population-based screening programs (Phaswana-Mafuya and Peltzer, 2018; Corrêa et al., 2022). Unsurprisingly, screening coverage is inversely correlated to incidence and mortality from cervical cancer (Figure 2; Arbyn et al., 2018).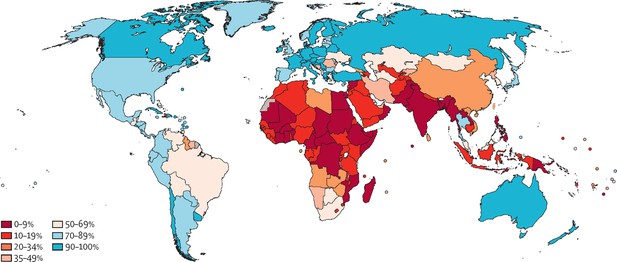 The impact of the COVID-19 pandemic on efforts to prevent cervical cancer
The pandemic impacted vaccination, screening and treatment of cervical cancer globally. In places with established HPV vaccination programs, there were severe interruptions, as school-based programs were hindered by school closures, routine clinical services were suspended for variable time frames and frequencies, and funds for HPV vaccination programming were redistributed (Rao et al., 2022; Pillai, 2022; Daniels et al., 2021). Additionally, roll-out of new HPV vaccination programs was delayed (Newton, 2021).
Similarly, there were drastic reductions in cervical cancer screening and treatment services across the globe related to the COVID-19 pandemic (Mayo et al., 2021; Carcopino et al., 2022; Dennis et al., 2021; Istrate-Ofiteru et al., 2021). Health facilities themselves had to limit care to sick patients and individuals feared the risk of exposure at health facilities (Santos et al., 2021; Baaske et al., 2022; Schad et al., 2021). COVID-19 resulted in greater disruptions in cervical cancer screening programs than some of the most damaging natural disasters (Ortiz et al., 2021). While some countries only experienced temporary disruption of services, even after lifting COVID-19 related movement restrictions, screening remained lower in many places than baseline levels (Basu et al., 2021; Liu et al., 2022; Miller et al., 2020). There are little published data from LMICs, but it appears that preventive health services in LMICs took a severe hit and have been the slowest to resume baseline services (Amouzou et al., 2021; Murewanhema, 2021). Widespread burn-out has hindered efforts to return to pre-pandemic screening levels (Smith and Perkins, 2022).
We have yet to see how the disruption in health services due to the COVID-19 pandemic will impact cervical cancer burden on a global scale. Diagnoses of all cancers were reduced during the COVID-19 pandemic relative to pre-pandemic rates, resulting in a backlog of diagnoses (Eskander et al., 2022). A study in 2022 in Romania reported presentation of cervical cancer at more advanced stages during the pandemic, which accompanied significant changes in treatment courses due to interruptions in surgical and radiation services (Popescu et al., 2022). Recent modeling studies from the United Kingdom and United States estimate that the burden of cervical cancer will increase regardless of the length of time taken to catch up on missed screening, diagnosis and treatment due to COVID-19 (Castanon et al., 2021b; Burger et al., 2021). It is expected that greater disparity in these effects will be seen in settings without capacity to augment screening, diagnostic and treatment services to account for the backlog (Bonadio et al., 2021; Castanon et al., 2021a).
Why was cervical screening so vulnerable during the pandemic?
Cervical cancer screening was particularly vulnerable to losing traction during the COVID-19 pandemic because at the start of the pandemic, screening in most countries required a pelvic examination. Pelvic examination is difficult to make "COVID-friendly". Counseling with examinations and treatment takes up to 30 minutes in a closed space. Disinfection protocols require additional time between patients. Waiting times for services are thus long, and a risk of exposure to a high volume of potential contacts is inherent to the process. Clinics were forced to compensate with reduced patient volume (Sormani et al., 2021).
In a review of cervical cancer screening guidelines in 139 countries across income strata, cytology was the most prevalent screening modality in HICs (78%), while visual inspection with acetic acid (VIA) was the most common method in LMICs and often a component of a screen-and-treat program (Bruni et al., 2022). While 35% (48 of 139) of country strategies noted plans to include HPV testing in their recommendations, only 17 countries had introduced HPV self-sampling into their national programs or guidelines by October 2020 and of those, half reserved the use of self-sampling for under-screened populations only. Countries with HPV self-sampling were mostly concentrated in HICs (Figure 3; Serrano et al., 2022).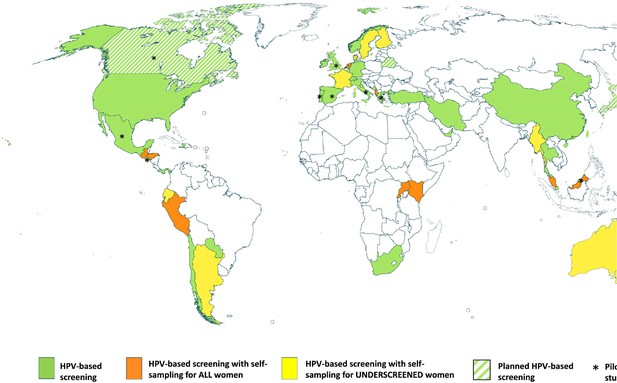 The need for a new cervical cancer prevention paradigm
While it was clear prior to the COVID-19 pandemic that a new model for delivery of cervical cancer prevention services was needed, this need has been magnified post-pandemic by an unquantified and urgent backlog of screening and treatment services. Population-level cervical cancer screening with HPV self-testing is the most cost-effective approach in the long-run to addressing these issues, however the upfront affordability and the need for cost-effective triage strategies remain challenges (Mezei et al., 2017).
In considering cost-effectiveness, a critical consideration of outcomes is essential. Beyond the directs costs of implementation of cervical cancer programs lie the less tangible population-level economic, social and health costs of not improving screening. Programs focused on short-term measurable costs and outcomes likely miss the mark on establishing effective programming.
Perhaps the delay in focus on cervical cancer elimination due to the pandemic could be an opportunity to reframe cervical screening strategy with insight from the COVID-19 response. COVID-19 laid bare the existing inequities in global access to health resources, from vaccination to treatment (McGowan and Bambra, 2022; Pasquale et al., 2021; Stolberg, 2022; Foundation for Innovative New Diagnostics, 2023). However, the COVID-19 joint resource mobilization effort provided a model for coordinated funding and policy development for vaccination, testing and treatment that was likely the most successful approach and may provide a template for a coordinated response to cervical screening (World Health Organization, 2022b).
Many countries failed to get enough COVID-19 vaccine in a timely fashion as high-income countries had most of the early global supply of vaccine Tatar et al., 2021. However, the acute need to rapidly scale up vaccination drove increased and more efficient manufacturing. Coordination of global partners allowed identification of bottlenecks in vaccine manufacturing and led to a variety of globally coordinated interventions, from creating international trade agreements, to procuring essential equipment, to developing and scaling-up manufacturing in countries without prior capacity (World Health Organization, 2022c).
In order to expand access to diagnostics, global efforts were made to diversify the supply chain and support emergency use listing of tests to get them quickly to market. Global actors negotiated more affordable rapid diagnostics to increase global accessibility (The Global Fund, 2022). Countries rapidly implemented testing protocols, which were in many places available on demand without a health provider visit or referral. Screening outside of health facilities, often delivered in community settings and at home, and often done by individuals themselves became routine (Feletto et al., 2020). There was new engagement with the private sector for public health programming roll-out of both testing and vaccination.
There was a broad increase in individual self-efficacy in health engagement. The reporting of results directly to patients became routine. Population acceptance of swabs and self-testing was achieved through public health messaging, on-line and community-based communications (Covid-19 Information Center, 2022). There was increased utilization of telehealth, internet- and phone-based dissemination of accurate health information. Community health workers were engaged and programs were revitalized.
There was a movement to reduce the dependence of LMICs on global production by way of increasing testing capacity locally. This resulted in initiatives to start and scale up production of rapid diagnostics in Latin America, Africa and Asia, under their own branding and at more affordable prices (UNITAID, 2021). The great technical capacity of laboratories across the globe to engage in viral-based screening was front and center on the international stage. Twenty African countries were able to sequence SARS-CoV-2 by April 2020, and Botswana and South Africa were the first countries to detect the Omicron variant through genomic sequencing (Viana et al., 2022). Investment in training of both laboratory and bioinformatic personnel contributed to lasting and translatable capacity (Tegally et al., 2022).
Recommendations for future action
In the rest of this article we will consider how the lessons learnt from the global response to the COVID-19 pandemic could be applied to efforts to eliminate cervical cancer globally, and we make 14 recommendations for further action (see Box 1).
Recommendations for accelerating the elimination of cervical cancer
1. Leverage supply chain opportunities developed during COVID-19 to distribute vaccines and diagnostics.
2. Maximize school-based and community-based vaccination for both eligible children and those that require "catch up" vaccination.
3. Invest in laboratory infrastructure and training to support HPV-based screening.
4. Establish local vaccine and diagnostic manufacturing.
5. Facilitate rapid evaluation and approval of HPV diagnostics.
6. Invest in diagnostic research and development to develop accurate point-of-care HPV tests.
7. Negotiate prices of HPV tests currently on the market to increase accessibility.
8. Increase investment on high-performance triage of positive HPV results.
9. Leverage social media, community networks and other indigenous methods for educating women and men about vaccination, screening and follow-up.
10. Use telehealth and web-based apps to report results and engage in follow-up.
11. Implement web-based electronic surveillance systems for cervical cancer screening program monitoring.
12. Evaluate programs on process indicators with the opportunity to rapidly respond to feedback and improve care.
13. Develop meaningful long-term outcomes for cervical cancer prevention, including health, economic and social metrics.
14. Support countries to develop tailored approaches to HPV-based screening and management.
The disruption of HPV vaccination programs will require a catch-up period with expanded age cohorts in order to reach children who missed vaccination during the global shortage and COVID-19 pandemic. These programs must be designed at national levels, according to national prespecified target ages groups for HPV vaccination. For countries that did not have established national HPV vaccination programming prior to the COVID-19 pandemic, logistical capacity created by COVID-19 vaccination programming may facilitate this process through having created stable supply chains and development of community-based vaccination teams (recommendation 1). Innovation and rapid development of COVID-19 vaccines may have created momentum to bolster the supply of effective prophylactic HPV vaccines. Increased supply and logistical capacity, coupled with new data supporting single dose HPV schedules may all facilitate the implementation of school-based and community-based HPV vaccination for both eligible children and those that require "catch up" vaccination (recommendation 2) (The Lancet Oncology, 2022; Toh et al., 2021). The development of COVID-19 vaccine registries may be capitalized upon to create vaccine registration for all age groups.
Learning from COVID-19 could accelerate implementation of primary HPV screening with self-testing both in clinical and community settings (Arbyn et al., 2018). There are currently multiple HPV assays on the market that can be used for self-sampling but await clinical validation (Wentzensen et al., 2021). The increase in production of molecular tests, the boom in molecular and nucleic acid testing platforms, alongside investment in laboratory capacity and expansion of manufacturing capacity for COVID-19 could contribute to increased capacity for HPV testing in the future (recommendation 3) (Poljak et al., 2021). Innovation in the development of point-of-care molecular diagnostics platforms designed to be used in non-laboratory setting by non-laboratory technicians may also facilitate broadly accessible test-and-treat cervical screening services (Foundation for Innovative New Diagnostics, 2021). Manufacturing diagnostics and vaccines to LMICs has the potential to expand accessibility of essential commodities for cervical cancer prevention (recommendation 4).
We have seen some examples of acceleration of HPV self-sampling programming in diverse settings, largely thanks to the disruption of routine services caused by COVID-19. Innovative strategies that had been successful in demonstration projects include community-based screening and mail-in HPV self-collection to maintain accessibility of cervical cancer screening services (Woo et al., 2022; Castle et al., 2011; Ejegod et al., 2022; Winer et al., 2019; Ngu et al., 2022).
This momentum in HPV testing could move screening beyond a resourced-oriented approach and to high-performance HPV testing, or even test-and-treat, for all. As demonstrated by the COVID-19 diagnostic response, this will require a huge amount of coordinated work in research and development, product development, intellectual property management, pre-qualification processes, regional manufacturing, and in-country regulatory approval (recommendation 5) (World Health Organization, 2022c). Targeted investment in point-of-care HPV testing platforms and regulatory approval of self-sampling are needed to enable screen-and-treat programs to move to test-and-treat programs (recommendation 6) (Lim, 2021; World Health Organization, 2022d). Point-of-care HPV diagnostics would ideally replace visual inspection screening programs currently operating, and enable countries without existing cervical screening programs to launch screening services offering high-performance testing. Test-and-treat programs which offer same-day treatment of pre-cancerous lesions would be more efficient by narrowing the pool of women screened with HPV who then need pelvic examination for triage. Same-day treatment with either ablative or excisional procedures should concurrently be expanded, leveraging on-line or hybrid trainings and using of emerging technology such as artificial intelligence aided colposcopy. Coordinated innovation needs to be accompanied by price negotiations of currently available and pipeline diagnostics and treatment devices to ensure affordable testing and promote equitable distribution (recommendation 7).
Academic, program implementation and industry players need to coordinate efforts to optimize available triage strategies while also pushing the envelope in research and accessibility of novel triage strategies. Coordinated research on HPV triage with pooled genotyping, biomarkers, methylation, and artificial intelligence is necessary for effective programming (recommendation 8). Cost analysis at the country level using existing open-access tools will be necessary to ensure integration of more effective technologies (Herrick et al., 2022). Patient navigation to ensure that women who screen HPV positive return for triage and treatment is essential. Development of a risk-based approach to triage and diagnosis may further increase the efficiency and ability to implement effective screening programs (Ribeiro et al., 2021).
Cervical screening programs must capitalize on the momentum of individual engagement in attaining health services and health information that COVID-19 has created. Approaches to sustainably and actively engage women in cervical cancer prevention services and enhance their sense of autonomy in the process are essential. Information, education and communication needs to be innovative and tailored to how different groups obtain information across various settings. Information must be understandable directly by individuals without requiring complex explanations and delivered outside of the healthcare setting through community health workers, word-of-mouth, informal peer counseling and on-line platforms (Eala and Tantengco, 2022; Ciceron et al., 2022; De Bocanegra et al., 2022; Christie-de Jong et al., 2022). Working with traditional leaders and within established societal structures is critical to disseminating accurate information to communities and engendering trust in the screening process (recommendation 9).
Finally, COVID-19 forced the rapid development of web-based systems that could be adapted to engage individuals and monitor cervical screening programs (Dixon et al., 2022). These advances could create options that complement existing technological solutions that already exist. Brazil has demonstrated the success of an automated call and recall system to invite women due for screening, provide results directly and schedule follow-up appointments (Corrêa et al., 2022). Bangladesh monitored cervical screening during the pandemic through customization of the District Health Information Software (DHIS2), a platform that demonstrated its flexibility in adapting to pandemic tracking during the pandemic (Basu et al., 2021). Such technological innovation can optimize the implementation of population-level screening with HPV self-sampling and facilitate monitoring and evaluation of cervical cancer programs (recommendations 10 and 11) (Woo et al., 2021).
Reimagining cervical cancer prevention
The success of cervical cancer elimination lies beyond innovation, technology and commodities – it must be one component of strong health systems with long-term strategies for managing endemic diseases. Integration into existing health systems was an area where the global coordinated response to COVID failed – it gathered international organizations without representation of global voices and failed to include sufficient perspective on delivery within variable health systems (World Health Organization, 2022b). A robust international network can support an equitable allocation of commodities and implementation for cervical cancer elimination. However, top-down global policy that is not contextualized in individual national planning is not effective long-term and perpetuates disparities. We need to examine the model by which externally-funded programs are designed and implemented, and focus on sustained success beyond project and strategy cycles. We need to work with countries to develop meaningful process indicators of successful programming that will lead to long-term progress towards eliminating cervical cancer. Pre-specified indicators must be subject to routine and rapid adjustment based on feedback that will improve programming (recommendation 12). Furthermore, long-term outcomes assessing progress on cervical cancer prevention, must include not only health indicators, but also consider economic and social metrics (recommendation 13).
Without meaningful country involvement, and national planning rooted in dynamic health systems, cervical cancer elimination will fail. Prioritizing national autonomy in designing programming that aligns with national health strategic goals, and then leveraging global financial, technical, and operational resources to support such programming is much more likely to be successful (recommendation 14). However, this global coordination will only succeed if those countries most impacted by cervical cancer are at the table.
The COVID-19 pandemic demonstrated that it is possible to control an infectious disease when local, national, and global entities respond to the needs of the people they serve. The successes of the COVID-19 response have provided momentum and importantly, the failures have forced a re-evaluation of what meaningful engagement is. In this moment, we can reimagine equitable cervical cancer prevention for all and move forward on a more successful path towards elimination.
Peter Rodgers

Reviewing Editor; eLife, United Kingdom

Eduardo L Franco

Senior Editor; McGill University, Canada
In the interests of transparency, eLife publishes the most substantive revision requests and the accompanying author responses.
Decision letter after peer review:
Thank you for submitting your article "COVID-19 as a catalyst for reimagining cervical cancer prevention" to eLife for consideration as a Feature Article. Your article has been reviewed by two peer reviewers, and the evaluation has been overseen by an eLife Senior Editor (Eduardo Franco) and the eLife Features Editor (Peter Rodgers). The two reviewers have agreed to reveal their identity: Tim Palmer; Jesper Hansen Bonde.
The reviewers and editors have discussed the reviews and we have drafted this decision letter to help you prepare a revised submission. Please submit a revised version that addresses these concerns directly. Although we expect that you will address these comments in your response letter, we also need to see the corresponding revision clearly marked in the text of the manuscript. Some of the reviewers' comments may seem to be simple queries or challenges that do not prompt revisions to the text. Please keep in mind, however, that readers may have the same perspective as the reviewers. Therefore, it is essential that you amend or expand the text to clarify the narrative accordingly.
There are three points that need to be addressed.
1. The 13 recommendations you make are somewhat detached from the main text of the article. Please move the box containing the recommendations to earlier in the article and clearly state in the text that you are making 13 recommendations.
The article also needs to explain the reasoning behind each recommendation.
If the reasoning behind a given recommendation is already explained in the main text, please make this clear. One way to do this would be to add "(recommendation X)" to the end of the passage that explains the reasoning behind recommendation X.
And if the reasoning behind a recommendation is not explained in the main text, please add a few sentences to the text to explain the reasoning.
2. Please include some information/detail/opinion about the impact of COVID on the development and implementation of systems for 'point-of-care-testing-and-treatment'. (Please see the comment from reviewer#1 below for more on this). If you want to revise the article to address any of the other comments from reviewer#1, please do so.
3. The eLife Features Editor will also contact you separately about some editorial issues that you will need to address.
Summary:
This comprehensive and authoritative review examines the ways in which the experience of, and response to, COVID-19 could rejuvenate the drive for elimination of invasive cervical cancer as a public health problem worldwide. The authors argue compellingly that the technological and scientific response that enabled rapid development of vaccines and production of large volumes needs to be allied to organisational systems that enable delivery of both immunisation and screening solutions to the majority of countries that still have neither. They recognise that top-down systems need to be replaced by locally-relevant strategies for vaccine delivery and screening, so that they are effective and sustainable. Although the focus is on those countries with the greatest burden of disease, the proposals are relevant to high income countries too.
Comment from reviewer#1
The authors, who between them have many life-times of experience in this field, see the worldwide response to COVID-19 as a learning opportunity for those involved in cervical cancer elimination.
Having reviewed the stuttering progress to date towards the WHO target of eliminating cervical cancer, including the adverse effect of the COVID-19 pandemic on both vaccination and (established) screening programs, they point to the development of new vaccines and diagnostic tests for COVID-19 as examples of how global organisation can work well and, by extension, should be made to work well for HPV vaccines and screening tests. However, they also draw attention to the fact that COVID highlighted the problems of implementing cervical cancer elimination strategies in those countries that would benefit most. The problems were apparent before the pandemic, but are now in much sharper relief because of the pandemic-induced set-back. There is an opportunity to learn from the pandemic to improve the systems for delivery of vaccinations and screening at local level so that they are both more effective and resilient.
The problems that they are identify concern vaccine delivery and the provision of cost-effective screening. With regard to the former, they say that the cold-chain and communication strategies used for COVID are directly transferrable to HPV vaccination. Indeed, they may be easier to implement than COVID immunisation programmes as the target population is pre-adolescent and likely to be known to the education system.
The COVID communication infrastructure is more directly relevant to screening, as here a major problem is reaching women who need screening. Knowledge of local social and cultural factors is, as the authors indicate, vitally important. There are many examples from around the world, more than are cited by the authors, where sustainable engagement depends upon working with the grain of local cultures. Women may need 'permission' to attend for screening and then need peer-support in order to be tested. The verb 'be tested' is passive; women need to feel that 'being tested' is an active process; permission, peer-group support and, importantly, a testing process over which they have some control, are needed. This last criterion is also an area where COVID experience can be used to advantage.
Vaginal self-sampling has been proposed for almost a decade as being ideally suited to cervical cancer screening, given what is known about women's feelings about having cervical smears taken. It has taken this length of time for the evidence and technology to mature to a point where self-sampling, either using vaginal or urine specimens, has a solid evidence base. As the authors indicate, it has been adopted as a routine test, or a test for particular groups of women, in a few countries. Allied with molecular testing for hr-HPV, it offers a rapid and highly sensitive test of risk. However, the specificity of molecular tests, both for DNA and m-RNA, is too low and a triage method is needed to avoid unnecessary referrals for colposcopy. Cytology is not a feasible option in most settings as it requires a new sample and highly trained personnel to interpret the material.
At this point the authors point to the global, cross-discipline, cross-country approach that enabled the rapid development, assessment, licensure and deployment of technologies for rapid testing for COVID. Molecular triage strategies and point-of-care testing need to be developed, made available to and implemented in the great majority of countries that have no screening programmes. This is an area in which the high income countries have expertise and the necessary resources, used in the response to COVID and surely available for use of cervical cancer prevention.
'Point-of-care' is an important phrase. High income countries have the luxury of developed health-care systems which encompass most of the population; low and middle income countries are not so blessed. It is unethical to screen if there is no realistic prospect of treatment, and in most settings, treatment is divorced from the screening process. Cervical cancer elimination in those countries most affected will be contingent upon linking screening and treatment into one seamless process. Some point-of-care testing platforms are available, but there needs to be a greater variety. Small-scale projects are being run, for example in Malawi, where screening, assessment and treatment all take place at the same visit. Experiences from these projects needs to drive the research and development of suitable equipment that will deliver true point-of-care screening. Again, high-income countries have the resources of drive this forward.
Only then, in combination with harnessing the lessons of COVID with regard to vaccine delivery, to communication with individuals, to self-sampling, and to recording activity and outcomes, will the WHO target become a realistic one in the timescale envisaged.
https://doi.org/10.7554/eLife.86266.sa1
There are three points that need to be addressed.

1. The 13 recommendations you make are somewhat detached from the main text of the article. Please move the box containing the recommendations to earlier in the article and clearly state in the text that you are making 13 recommendations.

The article also needs to explain the reasoning behind each recommendation.

If the reasoning behind a given recommendation is already explained in the main text, please make this clear. One way to do this would be to add "(recommendation X)" to the end of the passage that explains the reasoning behind recommendation X.

And if the reasoning behind a recommendation is not explained in the main text, please add a few sentences to the text to explain the reasoning.
This is really helpful feedback and also helped us to reorder the recommendations so that they flow with the body of the manuscript. We added point 8 which on reflection, we believe needs attention and should be included – we have thus increased our recommendations to 14.
2. Please include some information/detail/opinion about the impact of COVID on the development and implementation of systems for 'point-of-care-testing-and-treatment'. (Please see the comment from reviewer#1 below for more on this). If you want to revise the article to address any of the other comments from reviewer#1, please do so.
We have included further suggestions guiding test-and-treat policy on p13.
The feedback from reviewer 1 is really helpful. We have included more clear points related to school-based HPV vaccination and sustainable engagement and control of healthcare; as well as developed the test-and-treat concept more fully in the manuscript. We do want to highlight our sentiment that current diagnostics for HPV testing are not true point-of-care that will enable successful population-level test-and-treat. His example in Malawi is a site that uses the Xpert HPV device. While we know that in a research setting, many sites have been able to achieve same day test-and-treat of relatively small numbers of women with non-lab based Xpert HPV devices (usually 4 chamber devices), our experience in implementing national cervical cancer prevention programs (including relatively well-resourced LMIC settings like Botswana) is that the Xpert device does not meet full specifications for point-of-care diagnostics, and is not likely a solution to implementation of population-level cervical screening in most settings.
We are open to the editor's thoughts if other points should be added/clarified based on this feedback. Also, our sense is that reviewer 1's feedback could make for a good editorial on the full manuscript.
https://doi.org/10.7554/eLife.86266.sa2
Article and author information
Author details
National Cancer Institute (K08CA271949)
The funders had no role in study design, data collection and interpretation, or the decision to submit the work for publication.
Eduardo L Franco, McGill University, Canada
Peter Rodgers, eLife, United Kingdom
This is an open-access article, free of all copyright, and may be freely reproduced, distributed, transmitted, modified, built upon, or otherwise used by anyone for any lawful purpose. The work is made available under the Creative Commons CC0 public domain dedication.
282

Page views

54

Downloads

0

Citations
Article citation count generated by polling the highest count across the following sources: Crossref, PubMed Central, Scopus.
A two-part list of links to download the article, or parts of the article, in various formats.
Downloads
(link to download the article as PDF)
Open citations
(links to open the citations from this article in various online reference manager services)
Cite this article
(links to download the citations from this article in formats compatible with various reference manager tools)
Rebecca Luckett
Sarah Feldman
Yin Ling Woo
Anna-Barbara Moscicki
Anna R Giuliano
Silvia de Sanjosé
Andreas M Kaufmann
Shuk On Annie Leung
Francisco Garcia
Karen Chan
Neerja Bhatla
Margaret Stanley
Julia Brotherton
Joel Palefsky
Suzanne Garland
on behalf of the International Papillomavirus Society (IPVS) Policy Committee
Point of View: COVID-19 as a catalyst for reimagining cervical cancer prevention
eLife 12:e86266.
https://doi.org/10.7554/eLife.86266
Further reading
Epidemiology and Global Health

Short-term forecasts of infectious disease burden can contribute to situational awareness and aid capacity planning. Based on best practice in other fields and recent insights in infectious disease epidemiology, one can maximise the predictive performance of such forecasts if multiple models are combined into an ensemble. Here, we report on the performance of ensembles in predicting COVID-19 cases and deaths across Europe between 08 March 2021 and 07 March 2022.

We used open-source tools to develop a public European COVID-19 Forecast Hub. We invited groups globally to contribute weekly forecasts for COVID-19 cases and deaths reported by a standardised source for 32 countries over the next 1–4 weeks. Teams submitted forecasts from March 2021 using standardised quantiles of the predictive distribution. Each week we created an ensemble forecast, where each predictive quantile was calculated as the equally-weighted average (initially the mean and then from 26th July the median) of all individual models' predictive quantiles. We measured the performance of each model using the relative Weighted Interval Score (WIS), comparing models' forecast accuracy relative to all other models. We retrospectively explored alternative methods for ensemble forecasts, including weighted averages based on models' past predictive performance.

Over 52 weeks, we collected forecasts from 48 unique models. We evaluated 29 models' forecast scores in comparison to the ensemble model. We found a weekly ensemble had a consistently strong performance across countries over time. Across all horizons and locations, the ensemble performed better on relative WIS than 83% of participating models' forecasts of incident cases (with a total N=886 predictions from 23 unique models), and 91% of participating models' forecasts of deaths (N=763 predictions from 20 models). Across a 1–4 week time horizon, ensemble performance declined with longer forecast periods when forecasting cases, but remained stable over 4 weeks for incident death forecasts. In every forecast across 32 countries, the ensemble outperformed most contributing models when forecasting either cases or deaths, frequently outperforming all of its individual component models. Among several choices of ensemble methods we found that the most influential and best choice was to use a median average of models instead of using the mean, regardless of methods of weighting component forecast models.

Our results support the use of combining forecasts from individual models into an ensemble in order to improve predictive performance across epidemiological targets and populations during infectious disease epidemics. Our findings further suggest that median ensemble methods yield better predictive performance more than ones based on means. Our findings also highlight that forecast consumers should place more weight on incident death forecasts than incident case forecasts at forecast horizons greater than 2 weeks.

AA, BH, BL, LWa, MMa, PP, SV funded by National Institutes of Health (NIH) Grant 1R01GM109718, NSF BIG DATA Grant IIS-1633028, NSF Grant No.: OAC-1916805, NSF Expeditions in Computing Grant CCF-1918656, CCF-1917819, NSF RAPID CNS-2028004, NSF RAPID OAC-2027541, US Centers for Disease Control and Prevention 75D30119C05935, a grant from Google, University of Virginia Strategic Investment Fund award number SIF160, Defense Threat Reduction Agency (DTRA) under Contract No. HDTRA1-19-D-0007, and respectively Virginia Dept of Health Grant VDH-21-501-0141, VDH-21-501-0143, VDH-21-501-0147, VDH-21-501-0145, VDH-21-501-0146, VDH-21-501-0142, VDH-21-501-0148. AF, AMa, GL funded by SMIGE - Modelli statistici inferenziali per governare l'epidemia, FISR 2020-Covid-19 I Fase, FISR2020IP-00156, Codice Progetto: PRJ-0695. AM, BK, FD, FR, JK, JN, JZ, KN, MG, MR, MS, RB funded by Ministry of Science and Higher Education of Poland with grant 28/WFSN/2021 to the University of Warsaw. BRe, CPe, JLAz funded by Ministerio de Sanidad/ISCIII. BT, PG funded by PERISCOPE European H2020 project, contract number 101016233. CP, DL, EA, MC, SA funded by European Commission - Directorate-General for Communications Networks, Content and Technology through the contract LC-01485746, and Ministerio de Ciencia, Innovacion y Universidades and FEDER, with the project PGC2018-095456-B-I00. DE., MGu funded by Spanish Ministry of Health / REACT-UE (FEDER). DO, GF, IMi, LC funded by Laboratory Directed Research and Development program of Los Alamos National Laboratory (LANL) under project number 20200700ER. DS, ELR, GG, NGR, NW, YW funded by National Institutes of General Medical Sciences (R35GM119582; the content is solely the responsibility of the authors and does not necessarily represent the official views of NIGMS or the National Institutes of Health). FB, FP funded by InPresa, Lombardy Region, Italy. HG, KS funded by European Centre for Disease Prevention and Control. IV funded by Agencia de Qualitat i Avaluacio Sanitaries de Catalunya (AQuAS) through contract 2021-021OE. JDe, SMo, VP funded by Netzwerk Universitatsmedizin (NUM) project egePan (01KX2021). JPB, SH, TH funded by Federal Ministry of Education and Research (BMBF; grant 05M18SIA). KH, MSc, YKh funded by Project SaxoCOV, funded by the German Free State of Saxony. Presentation of data, model results and simulations also funded by the NFDI4Health Task Force COVID-19 (https://www.nfdi4health.de/task-force-covid-19-2) within the framework of a DFG-project (LO-342/17-1). LP, VE funded by Mathematical and Statistical modelling project (MUNI/A/1615/2020), Online platform for real-time monitoring, analysis and management of epidemic situations (MUNI/11/02202001/2020); VE also supported by RECETOX research infrastructure (Ministry of Education, Youth and Sports of the Czech Republic: LM2018121), the CETOCOEN EXCELLENCE (CZ.02.1.01/0.0/0.0/17-043/0009632), RECETOX RI project (CZ.02.1.01/0.0/0.0/16-013/0001761). NIB funded by Health Protection Research Unit (grant code NIHR200908). SAb, SF funded by Wellcome Trust (210758/Z/18/Z).

Epidemiology and Global Health

Affectionate touch, which is vital for mental and physical health, was restricted during the Covid-19 pandemic. This study investigated the association between momentary affectionate touch and subjective well-being, as well as salivary oxytocin and cortisol in everyday life during the pandemic.

In the first step, we measured anxiety and depression symptoms, loneliness and attitudes toward social touch in a large cross-sectional online survey (N = 1050). From this sample, N = 247 participants completed ecological momentary assessments over 2 days with six daily assessments by answering smartphone-based questions on affectionate touch and momentary mental state, and providing concomitant saliva samples for cortisol and oxytocin assessment.

Multilevel models showed that on a within-person level, affectionate touch was associated with decreased self-reported anxiety, general burden, stress, and increased oxytocin levels. On a between-person level, affectionate touch was associated with decreased cortisol levels and higher happiness. Moreover, individuals with a positive attitude toward social touch experiencing loneliness reported more mental health problems.

Our results suggest that affectionate touch is linked to higher endogenous oxytocin in times of pandemic and lockdown and might buffer stress on a subjective and hormonal level. These findings might have implications for preventing mental burden during social contact restrictions.

The study was funded by the German Research Foundation, the German Psychological Society, and German Academic Exchange Service.

Epidemiology and Global Health

Background: Home-based self-sampling for human papillomavirus (HPV) testing may be an alternative for women not attending clinic-based cervical cancer screening.

Methods: We assessed barriers to care and motivators to use at-home HPV self-sampling kits during the COVID-19 pandemic as part of a randomized controlled trial evaluating kit effectiveness. Participants were women aged 30-65 and under-screened for cervical cancer in a safety-net healthcare system. We conducted telephone surveys in English/Spanish among a subgroup of trial participants, assessed differences between groups, and determined statistical significance at p<0.05.

Results: Over half of 233 survey participants reported that clinic-based screening (Pap) is uncomfortable (67.8%), embarrassing (52.4%), and discomfort seeing male providers (63.1%). The last two factors were significantly more prevalent among Spanish versus English speakers (66.4% vs. 30% (p=0.000) and 69.9 vs. 52.2% (p=0.006), respectively). Most women who completed the kit found Pap more embarrassing (69.3%), stressful (55.6%), and less convenient (55.6%) than the kit. The first factor was more prevalent among Spanish versus English speakers (79.6% vs. 53.38%, p=0.001) and among patients with elementary education or below.

Conclusions: The COVID-19 pandemic influenced most (59.5%) to participate in the trial due to fear of COVID, difficulty making appointments, and ease of using kits. HPV self-sampling kits may reduce barriers among under-screened women in a safety-net system.

Funding: This study is supported by a grant from the National Institute for Minority Health and Health Disparities (NIMHD, R01MD013715, PI: JR Montealegre).

Clinical trial number: NCT03898167.