In a celebration of our diverse researcher community, today we are thrilled to announce the winners and runners-up of the 2023 Ben Barres Spotlight Awards. This annual accolade, now in its fifth year, shines a spotlight on pioneering researchers from groups that are underrepresented in biology and medicine or from countries with limited research funding.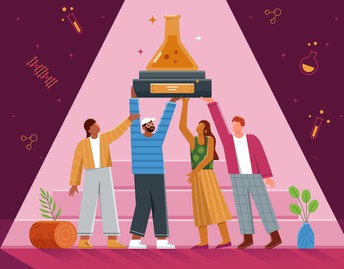 In July and August, for the third consecutive year, the awards also welcomed applications from authors of preprints that have been reviewed publicly by eLife or other reviewing groups on the Sciety platform. This year also saw neurodivergence included among the eligibility criteria for the awards for the first time. In total, 13% of eligible applications received were based on Reviewed Preprints (up from 10% last year), while neurodivergent researchers made up 8% of qualifying applicants.
Chosen from an competitive pool of 89 eligible applications, this year's 14 recipients demonstrated the greatest potential of an award to promote catalytic changes for their research, careers or communities.
The seven winners for 2023 are: Alagie Jassey (University of Maryland, Baltimore, United States), Jackie Kleynhans (National Institute for Communicable Diseases, South Africa), Marie Russell (Oak Ridge Institute for Science and Education, United States), Md Noor Akhtar (Indian Institute of Science, India), Nicky Creux (Department of Plant and Soil Sciences, Forestry and Agricultural Biotechnology Institute, University of Pretoria, South Africa), Olaitan Omitola (Federal University of Agriculture Abeokuta, Nigeria) and Silvia Kariuki (KEMRI-Wellcome Trust Research Programme, Kenya). Each winner will receive up to $5,000 according to individual needs.
The seven runners-up are: Achira Roy (Jawaharlal Nehru Centre for Advanced Scientific Research, India), Alexis Diaz (University of Sydney, Australia), Asael Lubotzky (The Hospital for Sick Children, Canada), Ben Vezina (Monash University, Australia), Pornchai Kaewsapsak (Chulalongkorn University, Thailand), Saba Naz (CSIR-Centre for Cellular and Molecular Biology, India) and Sol Fittipaldi (Global Brain Health Institute, Ireland). The runners-up will receive up to $3,500 each.
Winners of the 2023 Ben Barres Spotlight Awards
Runners-up of the 2023 Ben Barres Spotlight Awards
This year, each qualifying application was independently assessed by three reviewers drawn from representatives of eLife's editorial board and Early-Career Advisory Group. We thank all the reviewers, including: Akira Shinohara, Anita Bhattacharyya, Aya Ito-Ishida, Carolina Quezada, Claude Desplan, Daniel Takahashi, David Donoso, Divyansh Mittal, Elizabeth Ochola, Ethel Bayer Santos, Gabrielle Belz, Jennifer Flegg, Jungsan Sohn, Leonardo Abdala Elias, Marcelo Mori, Michelle Antoine, Qing Zhang, Regina Mencia, Renan Souza and Yaroslav Ispolatov.
The Ben Barres Spotlight Awards stand as a testament to the enduring legacy of our late colleague Ben Barres and aim to embody his vision of a more inclusive and equitable scientific community.
The 2023 fund has been fully distributed.
#
Have a unique and unexpected story to share about your experiences of the changing culture of research? Tell us about it for our Sparks of Change collection.
Also, sign up for the eLife Community newsletter or follow @eLifeCommunity on X (formerly Twitter) and find out about other opportunities, events and issues relevant for everyone working in research.