Skeletal Stem Cells: Lectins bring benefits to bones
Lectins are a diverse group of proteins that are attracted to carbohydrates and biomolecules that contain carbohydrate groups, including varieties of sugars and sugar-modified proteins and lipids. This attraction, which is highly specific, allows lectins to influence a wide range of biological processes. For example, many bacterial and mammalian lectins control how cells move and adhere to each other (Ghazarian et al., 2011), while some plant lectins, notably ricin and abrin, are renowned for their lethality (Olsnes, 2004).
A widely studied group of mammalian lectins are the c-type lectins, which are so named because they require a calcium ion to work correctly. Examples of c-type lectins include thrombomodulin, which regulates platelet-dependent coagulation, and selectins, which control the movement of white blood cells during inflammation (Cummings et al., 2009). Now, in eLife, Rui Yue, Bo Shen and Sean Morrison at the University of Texas Southwestern Medical Center report that Clec11a, a type of c-lectin that is expressed at high levels by cells in bone marrow, stimulates bone regeneration (Yue et al., 2016).
Since other types of lectins are known to help white blood cells interact with other cells, Yue et al. initially expected that Clec11a might regulate how new blood cells form in the bone marrow. To test this hypothesis, they generated knockout mice that lacked Clec11a. However, the effects of this deficiency were unexpectedly mild. The knockout mice developed normally and young adults were not significantly anatomically different from wild-type mice. The knockouts also had normal levels of hematopoietic stem cells, and these developed into mature blood cells at a normal rate.
About the only detectable difference exhibited by the knockout mice was a reduction in overall bone volume. This deficit increased over time and by 16 months of age, knockout mice had just over half the volume of bone of the wild-type mice. Further analysis revealed that the bone-mineral density of the knockout mice was also normal. However, significant age-related thinning of cortical bone (the hard outer layer along long bones) was observed in the knockout mice. Moreover, these mice also had a dramatically reduced ability to form trabecular bone (the "spongy" bone found near joints and in vertebrae).
Normal bone tissue undergoes continuous remodeling. Cells called osteoclasts destroy old bone, while cells called osteoblasts are involved in the formation of new bone (Figure 1). Therefore, it is possible that the loss of bone seen in the knockout mice is due to increased osteoclast activity. Indeed it is known that another type of lectin, galectin8, can increase RANKL signaling, which stimulates hematopoietic stem cells to develop into osteoclasts, hence increasing the rate at which bone is destroyed (Vinik et al., 2015). However, Yue et al. found that osteoclast numbers were not affected in knockout mice, raising the possibility that Clec11a is instead important for bone formation.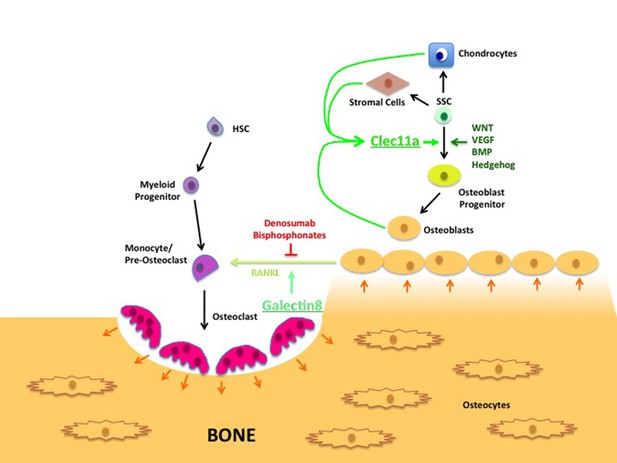 By taking advantage of recent studies that characterized skeletal stem cell lineages in mice, Yue et al. next investigated whether Clec11a deficiency affects the skeletal stem or progenitor cells that may develop into osteoblasts (Bianco and Robey, 2015; Chan et al., 2015; Marecic et al., 2015; Worthley et al., 2015; Zhou et al., 2014; Méndez-Ferrer et al., 2010; Chan et al., 2009). Using a variety of techniques including fluorescence-activated cell sorting (FACS) analysis, they found that the knockout mice had a relatively normal number of skeletal stem cells: however, these cells were much less likely to develop into osteoblasts. In vitro studies performed with a recombinant form of the Clec11a protein show that Clec11a directly promotes the formation of osteoblasts from skeletal progenitor cells. Further experiments revealed that injections of Clec11a could fully restore the bone deficiencies seen in both Clec11a knockout mice and mice that displayed the symptoms of osteoporosis. Clec11a also stimulated human skeletal progenitor cells that had been implanted into mice to form bone. Taken together, these results indicate that Clec11a is essential for maintaining the integrity of the skeleton in adults.
From a clinical perspective, these findings are especially significant given the medical burden that osteoporosis and other age-related skeletal disorders pose to the aging global population. Treatment options for these conditions are limited and typically rely on agents such as bisphosphonates and RANKL antagonists that reduce osteoclast activity. However, these treatments are plagued by significant side effects, in part because they work in a non-specific manner (Gennari et al., 2016). Clec11a seems to act specifically at the point where skeletal stem and progenitor cells commit to developing into osteoblasts, and does not appear to affect other cell lineages that develop from the skeletal stem cells. Therefore, Yue et al. have demonstrated the potential of Clec11a to form part of a precise and targeted therapy for treating bone and bone-healing deficiencies.
In future, it will be important to determine how Clec11a works mechanistically at the molecular level. Focusing on purified skeletal stem cells and the progenitor cell lineages that they develop into could reveal whether Clec11a signaling intersects with other signaling pathways that are known to be involved in the formation of the skeleton, or whether it represents an entirely new signaling mechanism (Chan et al., 2015).
Essentials of Glycobiology

C-type lectins, Essentials of Glycobiology, 2nd edn, Cold Spring Harbor (NY), Cold Spring Harbor Laboratory Press, 20301263.
Article and author information
Author details
© 2016, Chan et al.
This article is distributed under the terms of the Creative Commons Attribution License, which permits unrestricted use and redistribution provided that the original author and source are credited.
1,255

Page views

147

Downloads

2

Citations
Article citation count generated by polling the highest count across the following sources: PubMed Central, Crossref, Scopus.
A two-part list of links to download the article, or parts of the article, in various formats.
Downloads
(link to download the article as PDF)
Open citations
(links to open the citations from this article in various online reference manager services)
Cite this article
(links to download the citations from this article in formats compatible with various reference manager tools)
Charles KF Chan
Ryan C Ransom
Michael T Longaker
Skeletal Stem Cells: Lectins bring benefits to bones
eLife 5:e22926.
https://doi.org/10.7554/eLife.22926
Further reading
Bone marrow stromal cells maintain the adult skeleton by forming osteoblasts throughout life that regenerate bone and repair fractures. We discovered that subsets of these stromal cells, osteoblasts, osteocytes, and hypertrophic chondrocytes secrete a C-type lectin domain protein, Clec11a, which promotes osteogenesis. Clec11a-deficient mice appeared developmentally normal and had normal hematopoiesis but reduced limb and vertebral bone. Clec11a-deficient mice exhibited accelerated bone loss during aging, reduced bone strength, and delayed fracture healing. Bone marrow stromal cells from Clec11a-deficient mice showed impaired osteogenic differentiation, but normal adipogenic and chondrogenic differentiation. Recombinant Clec11a promoted osteogenesis by stromal cells in culture and increased bone mass in osteoporotic mice in vivo. Recombinant human Clec11a promoted osteogenesis by human bone marrow stromal cells in culture and in vivo. Clec11a thus maintains the adult skeleton by promoting the differentiation of mesenchymal progenitors into mature osteoblasts. In light of this, we propose to call this factor Osteolectin.

The regeneration potential of the mammalian heart is incredibly limited, as cardiomyocyte proliferation ceases shortly after birth. β-adrenergic receptor (β-AR) blockade has been shown to improve heart functions in response to injury; however, the underlying mechanisms remain poorly understood. Here we inhibited β-AR signaling in the heart using metoprolol, a cardio-selective β blocker for β1-adrenergic receptor (β1-AR) to examine its role in heart maturation and regeneration in postnatal mice. We found that metoprolol enhanced cardiomyocyte proliferation and promoted cardiac regeneration post myocardial infarction, resulting in reduced scar formation and improved cardiac function. Moreover, the increased cardiomyocyte proliferation was also induced by the genetic deletion of Gnas, the gene encoding G protein alpha subunit (Gαs), a downstream effector of β-AR. Genome wide transcriptome analysis revealed that the Hippo-effector YAP, which is associated with immature cardiomyocyte proliferation, was upregulated in the cardiomyocytes of b-blocker treated and Gnas cKO hearts. Moreover, the increased YAP activity is modulated by RhoA signaling. Our pharmacological and genetic studies reveal that b1-AR-Gas-YAP signaling axis is involved in regulating postnatal cardiomyocyte proliferation. These results suggest that inhibiting b-AR-Gas signaling promotes the regenerative capacity and extends the cardiac regenerative window in juvenile mice by activating YAP-mediated transcriptional programs.

Developmental Biology
Neuroscience

The organization of neural circuits determines nervous system function. Variability can arise during neural circuit development (e.g. neurite morphology, axon/dendrite position). To ensure robust nervous system function, mechanisms must exist to accommodate variation in neurite positioning during circuit formation. Previously, we developed a model system in the Drosophila ventral nerve cord to conditionally induce positional variability of a proprioceptive sensory axon terminal, and used this model to show that when we altered the presynaptic position of the sensory neuron, its major postsynaptic interneuron partner modified its dendritic arbor to match the presynaptic contact, resulting in functional synaptic input (Sales et al., 2019). Here, we investigate the cellular mechanisms by which the interneuron dendrites detect and match variation in presynaptic partner location and input strength. We manipulate the presynaptic sensory neuron by (a) ablation; (b) silencing or activation; or (c) altering its location in the neuropil. From these experiments we conclude that there are two opposing mechanisms used to establish functional connectivity in the face of presynaptic variability: presynaptic contact stimulates dendrite outgrowth locally, whereas presynaptic activity inhibits postsynaptic dendrite outgrowth globally. These mechanisms are only active during an early larval critical period for structural plasticity. Collectively, our data provide new insights into dendrite development, identifying mechanisms that allow dendrites to flexibly respond to developmental variability in presynaptic location and input strength.