Muscle Contraction: Too much of a good thing
A mutation that causes heart disease in humans increases the number of active myosin heads during contraction in the muscles of fruit flies, leading to the progressive dysfunction of the flight muscles and heart tube.
Our muscles help us to move, eat, breathe and pump blood through our body. The skeletal and heart muscles of vertebrates consist of bundles of muscle fibers, with each fiber containing thousands of smaller structures called myofibrils. Within these myofibrils, thick myosin filaments and thin actin filaments can slide past each other to change the length of the muscle. This involves a part of a myosin filament, called the myosin head, 'grabbing hold' of an actin filament.
Controlling the interactions between the myosin heads and actin is a finely tuned and highly regulated process, and even small changes to it can lead to dysfunction and disease. For example, in a condition called hypertrophic cardiomyopathy, mutations in the myosin head can cause the walls of the heart to thicken, ultimately restricting the outflow of blood (Garfinkel et al., 2018). So far, it has been unclear how the mutations can cause these problems. Now, in eLife, Sanford Bernstein, Douglas Swank and colleagues at San Diego State University, Rensselaer Polytechnic Institute and Johns Hopkins University – including William Kronert as first author – report the surprising finding that a mutation in the motor portion of the myosin head that causes human hypertrophic cardiomyopathy can lead to degeneration of the flight muscles as well as the dysfunction of the heart tube in fruit flies (Kronert et al., 2018).
What appears to underlie this seemingly perplexing result is a loss of proper interactions either within myosin heads or, possibly, between the myosin heads and other components of the myosin filament. These interactions normally lead to the myosin heads being packed onto the 'backbone' of the myosin filament in a way that restricts their interactions with the actin filaments.
The myosin head contains a motor domain, a regulatory light chain and an essential light chain. The key structural insights into the packing of the myosin heads came from studying the regulation of smooth muscle myosin in vertebrates, which is inactive unless the regulatory light chain is phosphorylated (Wendt et al., 2001). This work revealed asymmetric interactions (known as the 'interacting head motif') between neighboring myosin heads, which trapped both heads in inactive conformations: the actin binding site of one head was blocked by binding to the other in a way that prevented the latter from releasing the products of ATP hydrolysis when it interacted with actin (Figure 1). Interacting head motifs have also been found in the skeletal muscle of tarantulas, the heart muscles of vertebrates, and even in primitive animals that do not form muscles (Alamo et al., 2016; Woodhead et al., 2005; Lee et al., 2018; Zoghbi et al., 2008).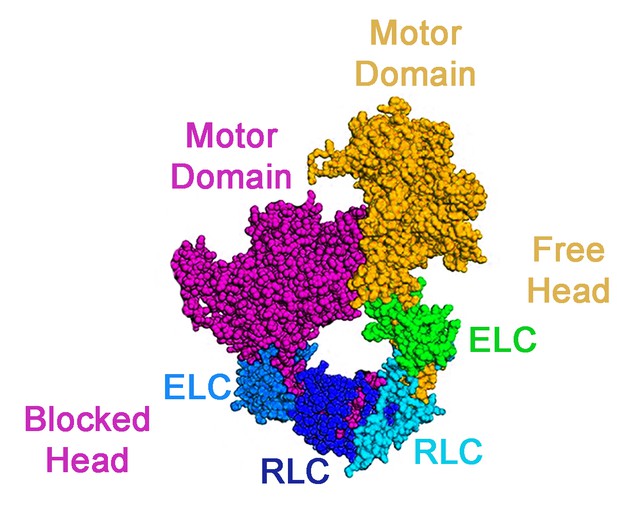 In an energy conserving 'super-relaxed state', myosin is trapped in a state with very low basal ATPase activity (Stewart et al., 2010). This appears to be a mechanism to stabilize myosin in its 'pre-powerstroke' state, in which inorganic phosphate and ADP are confined within the myosin head. Kronert et al. suggest that this pre-powerstroke state is destabilized by the mutation they were studying.
The researchers used fruit flies with a specific mutation on the side of the myosin head, called K146N, which causes thickening of the heart wall in humans. In the flies, the mutation leads to a degenerated heart tube and flight muscles. For both humans and flies, the problem appears to be the same: too many myosin heads interact during contraction and attach to actin for longer than usual, leading to hyperactivation, damage and disorder in the muscle. Myosin was able to create more force, while the movement of actin slowed down. Over time, the increased cost of performing work caused the muscles to degenerate. Although this does not lead to hypertrophy of the flight muscles – as it does in the human heart – there is decreased relaxation and restriction of the heart tube in the flies, paralleling human hypertrophic cardiomyopathy.
The 'myosin mesa' theory hypothesizes that many of the mutations causing hypertrophic cardiomyopathy are surface mutations that interfere with the formation and/or stabilization of the interacting head motif (Trivedi et al., 2018). It also proposes that a subset of these mutations might lead to interactions with another protein of the thick filament of the heart muscle, the myosin-binding protein C, which could help stabilize the interactions between the two myosin heads in the interacting head motif. This in turn could explain why mutations in myosin-binding protein C can also cause hypertrophic cardiomyopathy. Based on these concepts, a drug that stabilizes the super-relaxed state and the interacting head motif is being developed for the treatment of human hypertrophic cardiomyopathy (Anderson et al., 2018).
All in all, fruit flies may be a surprisingly good model to test the effects of mutations associated with human hypertrophic cardiomyopathy, apart from those that may interact directly with myosin-binding protein C, which is not present in fruit flies. However, the major significance of the work is that it underscores that since the super-relaxed state and the packing of interacting head motifs onto thick filaments is conserved throughout the evolution of muscle, it is likely that their functions – which would be to control the number of myosin heads available to interact with actin when the muscle is activated, and to lower the energetic cost when the muscle is relaxed – are also conserved.
Article and author information
Author details
© 2018, Sweeney
This article is distributed under the terms of the Creative Commons Attribution License, which permits unrestricted use and redistribution provided that the original author and source are credited.
2,903

Page views

115

Downloads

1

Citations
Article citation count generated by polling the highest count across the following sources: Crossref, PubMed Central, Scopus.
A two-part list of links to download the article, or parts of the article, in various formats.
Downloads
(link to download the article as PDF)
Open citations
(links to open the citations from this article in various online reference manager services)
Cite this article
(links to download the citations from this article in formats compatible with various reference manager tools)
H Lee Sweeney
Muscle Contraction: Too much of a good thing
eLife 7:e41178.
https://doi.org/10.7554/eLife.41178
Further reading
K146N is a dominant mutation in human β-cardiac myosin heavy chain, which causes hypertrophic cardiomyopathy. We examined how Drosophila muscle responds to this mutation and integratively analyzed the biochemical, physiological and mechanical foundations of the disease. ATPase assays, actin motility, and indirect flight muscle mechanics suggest at least two rate constants of the cross-bridge cycle are altered by the mutation: increased myosin attachment to actin and decreased detachment, yielding prolonged binding. This increases isometric force generation, but also resistive force and work absorption during cyclical contractions, resulting in decreased work, power output, flight ability and degeneration of flight muscle sarcomere morphology. Consistent with prolonged cross-bridge binding serving as the mechanistic basis of the disease and with human phenotypes, 146N/+ hearts are hypercontractile with increased tension generation periods, decreased diastolic/systolic diameters and myofibrillar disarray. This suggests that screening mutated Drosophila hearts could rapidly identify hypertrophic cardiomyopathy alleles and treatments.

Eukaryotic cilia and flagella are microtubule-based organelles whose relatively simple shape makes them ideal for investigating the fundamental question of organelle size regulation. Most of the flagellar materials are transported from the cell body via an active transport process called intraflagellar transport (IFT). The rate of IFT entry into flagella, known as IFT injection, has been shown to negatively correlate with flagellar length. However, it remains unknown how the cell measures the length of its flagella and controls IFT injection. One of the most-discussed theoretical models for length sensing to control IFT is the ion-current model, which posits that there is a uniform distribution of Ca2+ channels along the flagellum and that the Ca2+ current from the flagellum into the cell body increases linearly with flagellar length. In this model, the cell uses the Ca2+ current to negatively regulate IFT injection. The recent discovery that IFT entry into flagella is regulated by the phosphorylation of kinesin through a calcium-dependent protein kinase has provided further impetus for the ion-current model. To test this model, we measured and manipulated the levels of Ca2+ inside of Chlamydomonas flagella and quantified IFT injection. Although the concentration of Ca2+ inside of flagella was weakly correlated with the length of flagella, we found that IFT injection was reduced in calcium-deficient flagella, rather than increased as the model predicted, and that variation in IFT injection was uncorrelated with the occurrence of flagellar Ca2+ spikes. Thus, Ca2+ does not appear to function as a negative regulator of IFT injection, hence it cannot form the basis of a stable length control system.

Mitochondrial dysfunction has been reported in obesity and insulin resistance, but primary genetic mitochondrial dysfunction is generally not associated with these, arguing against a straightforward causal relationship. A rare exception, recently identified in humans, is a syndrome of lower body adipose loss, leptin-deficient severe upper body adipose overgrowth, and insulin resistance caused by the p.Arg707Trp mutation in MFN2, encoding mitofusin 2. How the resulting selective form of mitochondrial dysfunction leads to tissue- and adipose depot-specific growth abnormalities and systemic biochemical perturbation is unknown. To address this, Mfn2R707W/R707W knock-in mice were generated and phenotyped on chow and high fat diets. Electron microscopy revealed adipose-specific mitochondrial morphological abnormalities. Oxidative phosphorylation measured in isolated mitochondria was unperturbed, but the cellular integrated stress response was activated in adipose tissue. Fat mass and distribution, body weight, and systemic glucose and lipid metabolism were unchanged, however serum leptin and adiponectin concentrations, and their secretion from adipose explants were reduced. Pharmacological induction of the integrated stress response in wild-type adipocytes also reduced secretion of leptin and adiponectin, suggesting an explanation for the in vivo findings. These data suggest that the p.Arg707Trp MFN2 mutation selectively perturbs mitochondrial morphology and activates the integrated stress response in adipose tissue. In mice, this does not disrupt most adipocyte functions or systemic metabolism, whereas in humans it is associated with pathological adipose remodelling and metabolic disease. In both species, disproportionate effects on leptin secretion may relate to cell autonomous induction of the integrated stress response.