Need-based prioritization of behavior
When presented with a choice, organisms need to assimilate internal information with external stimuli and past experiences to rapidly and flexibly optimize decisions on a moment-to-moment basis. We hypothesized that increasing hunger intensity would curb expression of social behaviors such as mating or territorial aggression; we further hypothesized social interactions, reciprocally, would influence food consumption. We assessed competition between these motivations from both perspectives of mice within a resident-intruder paradigm. We found that as hunger state escalated, resident animal social interactions with either a female or male intruder decreased. Furthermore, intense hunger states, especially those evoked via AgRP photoactivation, fundamentally altered sequences of behavioral choice; effects dependent on food availibility. Additionally, female, but not male, intrusion attenuated resident mouse feeding. Lastly, we noted environmental context-dependent gating of food intake in intruding mice, suggesting a dynamic influence of context cues on the expression of feeding behaviors.
https://doi.org/10.7554/eLife.44527.001
A motivated behavior is purposive in attaining an explicit goal, aroused through internal representations acting in concert with the presence of incentive stimuli and learned associations (Bindra, 1968; Toates, 1980; Toates, 1981). Due to the intricacy of these motivational systems, they are often simplified and studied in a behavioral vacuum, encouraging subjects to express goal-seeking behavior toward one objective. Yet, individual systems likely never operate in isolation from one another; instead they compete for expression. When animals harbor rival incentives and only mutually exclusive courses of action will satisfy those incentives, they are forced to make a choice (Sherrington, 1906). Therefore, neural computations must weigh the ramifications of these stimuli for optimal behavioral choice.
As an entry point into the control of feeding, we used Agouti-related peptide (AgRP)-expressing neurons in the arcuate nucleus (ARC) and evaluated their capacity to regulate food intake in discrete, ethologically-relevant contexts. ARCAgRP neurons are sensitive to a number of circulating endocrine signals (Cowley et al., 2003; Takahashi and Cone, 2005) and display appetite-state and calorie-dependent dynamic activity changes (Betley et al., 2015; Beutler et al., 2017; Chen et al., 2015; Mandelblat-Cerf et al., 2015; Su et al., 2017). Stimulation of these neurons before or during food accessibility drives motivated feeding (Aponte et al., 2011; Chen et al., 2016; Krashes et al., 2011). Conversely, inhibition of ARCAgRP activity directly (Betley et al., 2015; Krashes et al., 2011; Vardy et al., 2015) or via activation of upstream inhibitory populations (Garfield et al., 2016) attenuates feeding, while postnatal ablation induces starvation (Gropp et al., 2005; Luquet et al., 2005). Recent studies demonstrated ARCAgRP neurons have the capacity to orchestrate food-seeking to the exclusion of self-preservation and social behaviors (Burnett et al., 2016; Dietrich et al., 2015; Padilla et al., 2016), but deeper behavioral analyses are needed to fully understand this relationship. Therefore, we investigated how varying degrees of natural and ARCAgRP-evoked hunger impact this interface.
We discovered a complicated interplay between these motivation systems. First, we found hunger had a profound effect on a resident male's copulatory advances towards a female conspecific, but only if food was present. Similarly, when exposed to a subordinate male intruder, residents displayed less aggression in more intense hunger states; especially when food was present. However, in contrast to the reduced food intake of resident males in the presence of a female intruder compared to no intruder, resident male feeding remained intact in the presence of a male intruder compared to no intrusion. Sequence analyses of behavioral transitions revealed distinct patterns of behavior in hungry animals in the presence of food, driven primarily by caloric consumption, with the highest degree of behavioral sequence disruption observed during unnatural ARCAgRP stimulation. Remarkably, all states of hunger exhibited comparable patterns of behavior in the absence of food. Additionally, we found that intruding receptive females and subordinate males reduced food consumption, independent of appetite state, in an empty or occupied territorialized cage compared to food intake in their homecages. Meanwhile, extreme physiological, but not artificially-induced hunger, abrogated female receptivity to male advances while male intruders' defensive behavior remained analogous across appetite condition. Together, these findings paint a complicated picture of real-time behavioral decision-making that cannot easily be captured in more canonical assays of motivated behavior that sacrifice ecological validity for tighter experimenter control. We argue that experimental designs addressing roles of competing motivational drives more accurately reflect the need to integrate multiple, disparate streams of information from real-world stimuli to mold appropriate behavior. Thus application of such paradigms is critical for our ultimate understanding of behavior.
Motivated behaviors, while of great interest to the field of neuroscience, are often studied in isolation to assess labeled lines of neural connections underlying the satiation of innate motives. In natural settings, however, multiple motivations must compete in real time for expression through goal-directed behaviors. As some motivations take precedence over others, animals must adjust their behavior to optimize survival on a moment-to-moment basis. Here, we demonstrate this phenomenon using hunger and intraspecific social interactions as two orthogonal motivations requiring animals to entertain one or both motives over time. We demonstrate that as caloric need rises, animals shift their behavior away from social interaction with female or male conspecifics in favor of feeding (Figure 8A-C). We also show that optogenetically driving ARCAgRP activity in calorically-replete animals during these interactions deters residents from social interactions with either sex, again in favor of feeding. However, the protocol used to evoke ARCAgRP-mediated hunger (concurrent- versus pre-stimulation) leads to distinctive changes in behavioral architecture (see Discussion below).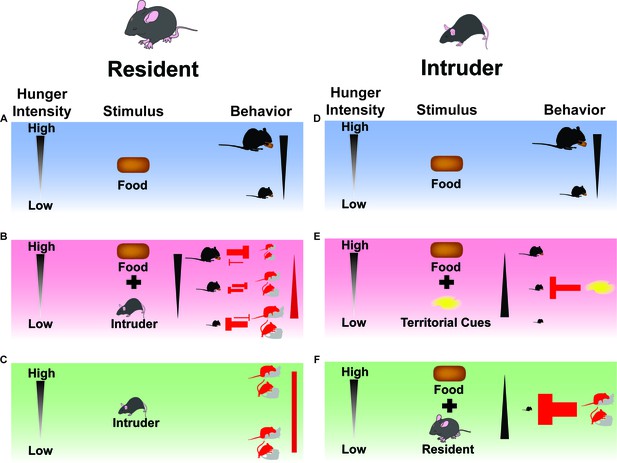 Strengthening motivation through experience
A systems model of motivational theory proposed by Toates and Singer describes the joint interaction between internal need and external incentives, highlighting the importance of learned information regarding previous associations with environmental stimuli (Toates, 1980; Toates, 1981). For example, we are more likely to consume food not only when our energy stores are low and food becomes accessible, but if our past encounters with food sources revive memories representing an innocuous relationship, or better, one of positive energy gain with no negative consequences. This relationship can be applied across motivational systems. For example, conspecifics of the opposite sex serve as incentive stimuli and arouse a motivation state to approach/mate; this drive intensifies with longer deprivation (period since the last ejaculation). Furthermore, a male's tendency to converge upon a female and copulate is stronger if such behavior in the past resulted in ejaculation (Kagan, 1955). Similarly, territorial aggression is amplified in dominant animals if attacks result in successful subordination of rival conspecifics (Archer, 1976). Thus, we potentiated responses of our experimental animals through experience, leading to learned representations regarding chow intake (restoration of calories), receptive female intrusion (copulation/ejaculation) and subordinate male intrusion (social dominance) before the assays were conducted.
Dichotomy between resident interactions with female versus male intruders
With respect to feeding, we observed an interesting division between resident interactions toward an intruding receptive female or subordinate male: while residents suppressed feeding upon exposure to a female intruder in all states investigated, they did not, for the most part, upon exposure to a male. It is possible female intrusion in general induces more robust arousal in the resident which could potentially displace food intake. More likely, the time spent engaging in stereotyped, sex-specific social behavior underlies this difference. Female-directed behaviors took quantitatively longer to evolve: total amount of time residents spent in pursuit of and mating with a female were lengthier than time spent aggressing an intruding male (compare Figures 2H,4H). It is possible that the amount of time remaining in the male intruder paradigm permitted the resident to eat comparable quantities of food as the same animals in the absence of a male intruder.
Furthermore, satiation of these needs culminate in disparate ways: motivation to reproduce is achieved by ejaculation, while motivation to aggress a male intruder ends in social defeat of the intruder. While these satiation points occur on highly variable timescales based on individual animal propensities for either motivation, actions leading to intromission/ejaculation are often more time-consuming than the establishment of dominance in a territorialized domain. After either of these points, interaction with either sex is disincentivized (Collias, 1944; McGill, 1962), allowing residents to engage in other behaviors throughout the rest of the trial (such as feeding). Thus, it is possible these differences result from the sheer limitation of the trial period we used.
Variation in the sensitivity of mating and aggression to hunger state depends on food accessibility
Just as social behaviors shape feeding responses, hunger shows a profound effect on social interactions (Figure 8B). In concert with previous findings, we observed a robust decrease in the motivation to engage in reproductive or aggressive behaviors in animals subjected to prolonged food restriction (Inaba et al., 2016; Padilla et al., 2016). We demonstrate that ramping intensity of hunger states has scaled effects on metabolic endocrinology, which may in turn drive an exclusive set of behaviors. Past research indicates that hormones governing sexual and aggressive behaviors drop in calorically-deprived states (Nikol'skaya et al., 2016), leading to decreased reproductive behaviors in male mice (Burns-Cusato et al., 2004; Shah and Nyby, 2010), rats (Jones and Wade, 2002), and other rodents (Li et al., 1994), as well as diminished aggression toward other males (Padilla et al., 2016). Despite the commonly used term 'hangry' to describe a state of agitation while hungry, aggression research is mixed on the effects of hunger in potentiating aggression. Earlier research cites hunger as a catalyst for increased aggression (Keys, 1946; Rohles and Wilson, 1974). Furthermore, it has been shown across species that levels of aggression are amplified in the presence of a depletable food source (Armstrong, 1991; Gray et al., 2000; Harris, 2010; Lim et al., 2014). However, we found that as caloric need escalated, the drive to mate or aggress intruders dwindled. This subdual of social interactions could be the result of energy conservation or alternatively, a shift away from social behavior toward food consumption.
Arguing for the latter, we found that suppression of mating and aggression behaviors in hungry resident animals was reversed when food was absent (Figure 8C). Thus, by eliminating the option to sate hunger through food consumption, resident animals were able to devote more time to pursuing attainable incentives such as reproductive and territorial-defensive behaviors. Importantly, the absence of food to hungry mice, even those receiving ARCAgRP-photoactivation, failed to lock animals into foraging programs in exclusion of competing need states. This makes sense on the level of ARCAgRP neural activity, which is suppressed by caloric information (Betley et al., 2015; Beutler et al., 2017; Chen et al., 2015; Mandelblat-Cerf et al., 2015; Su et al., 2017) but may not exhibit a homogeneous response to intruder animals in the absence of food. This result underscores the need for more comprehensive in vivo imaging of these neurons – and their downstream terminal fields – during interactions in various contexts. Promising targets include the medial amygdala (MeA), a region previously implicated in ARCAgRP suppression of aggression and self-preservation behaviors (Padilla et al., 2016), as well the paraventricular thalamus (PVT), a downstream site where ARCAgRP activity is sufficient to drive feeding (Betley et al., 2015) and influence cue valence processing (Livneh et al., 2017). Conversely, elucidating the putative influence caloric need acts on the endogenous activity patterns of canonical cell-types underlying social interaction will enhance our understanding of the dynamic interaction between motivational states.
Behavioral choice sequence disrupted by extreme natural hunger and artificial 'hunger' induction
Due to the richness of our data set, we also sought to address disparities in sequential behavioral choice that emerged in our residents across hunger states. Transition matrices reporting the evolution from each scored behavior to another scored behavior revealed that while all hunger states showed differences from the Fed state in the presence of food, the starkest distinction belonged to the FedAgRP CS condition. This finding is largely due not only to the patterns and sequences of behaviors but the frequency in which they occur. For example, resident animals in the FedAgRP CS condition displayed reduced (but still present) mating advances and aggressive behaviors and engaged in greater food intake than other appetite states. This disruption in behavioral sequences was eliminated when food was inaccessible, further demonstrating the power that external incentive availability, combined with internal state, exert on the optimal expression of behavior.
A deeper investigation into ARCAgRP photoactivation
Although remote stimulation of ARCAgRP neurons reliably evokes food intake comparable to fasted animals (Aponte et al., 2011; Krashes et al., 2011), the activity of this neural subset is inhibited in the presence of food (Betley et al., 2015; Chen et al., 2015; Mandelblat-Cerf et al., 2015). Thus, optogenetically locking animals into this artificial state fails to mimic endogenous ARCAgRP activity in the presence of food, and thus is not an accurate representation of real-time network dynamics and ensuing behavior. However, every study to date has shown that concurrent ARCAgRP activation recapitulates behaviors observed in physiological hunger (Alhadeff et al., 2018; Burnett et al., 2016; Dietrich et al., 2015; Goldstein et al., 2018; Krashes et al., 2011; Li et al., 2019; Padilla et al., 2016; Steculorum et al., 2016), albeit many of these were performed in the absence of food. It was recently described that priming ARCAgRP neurons, via prestimulation in the absence of food, drives subsequent food intake upon availability at comparable levels as physiological or concurrent ARCAgRP activation (Chen et al., 2016), presenting a closer model of the dynamics of ARCAgRP neurons during natural hunger.
Therefore we tested our mice under both optogenetic protocols, revealing key differences in ARCAgRP-evoked behavior, particularly when animals were forced to decide between feeding and social interactions. While animals in both conditions presented similar magnitudes of food intake with no intruder present, animals' real-time behavior during intruder trials varied wildly. Moreover, to the best of our knowledge, we uncovered the first instances when FedAgRP CS failed to phenocopy the behavior observed in physiologically fasted animals: resident males in the FedAgRP CS condition demonstrated lower levels of mating and aggression behaviors toward intruders in the presence of food, when ARCAgRP activity should be silenced. Furthermore, although feeding was restrained in the presence of a female intruder, intake was not suppressed to the same degree as in all other appetite states tested. Along these lines, we report that the pattern of behavioral sequences varied more in this FedAgRP CS condition compared to all other states tested, an effect that was rescued in the absence of food when natural ARCAgRP activity would remain elevated. Finally, the amount of food consumed by intruders in an occupied resident cage differed between the Fasted (48 hr) and FedAgRP CS conditions suggesting additional alterations in physiology may be necessary to promote food seeking apart from ARCAgRP activity under this specific context. Thus, caution must be applied to interpreting function through artificial stimulation strategies.
Environmental context can alter intruder behavior regardless of how hunger is elicited
Our study also identified comparable, but different, effects of territorial context on the execution of feeding behaviors during varying intensities of hunger (Figure 8D-F). We observed a robust decrease in food intake upon entry into an unknown resident's territory in both female and male mice across all hunger states compared to baseline feeding responses recorded in their homecage; this decrease was exacerbated by the resident occupancy. Accounts of natural mouse behavior indicate that dominant animals patrol and aggressively defend marked territory in the face of intrusion (Crowcroft, 1955; Crowcroft, 1966). Moreover, cage switch experiments where animals are placed in a dirty cage containing soiled bedding of another conspecific elevates body temperature and locomotor activity (Lee et al., 2004; Piñol et al., 2018). Thus, abrogation of intruder food intake is likely driven primarily by stress-induced changes in physiology independent of sex. We suspect the stress of entering a resident's territory also overrides concurrent ARCAgRP stimulation as past work suggests the timing of ARCAgRP activation onset influences behaviors oriented towards threat avoidance (Jikomes et al., 2016).
We also detailed a dichotomy in intruder responses to resident interactions: in females subjected to intense fasting conditions (Fasted 48 hr), we observed marked reductions in receptivity to mating advances, while we saw no differences in male intruder defense or escape behaviors across hunger states. A similar reduction was not revealed in the FedAgRP CS condition, further substantiating key differences among natural versus artificially-induced hunger states. We draw several conclusions from this pattern of results. First, female intruders have more agency over an interaction with a male resident: they can choose to display or reject a male's advances (Johansen et al., 2008), while subordinate male intruders must endure resident attacks regardless of their resistance. Second, this effect is likely influenced by hormones: akin to male sex hormones, those regulating female reproductive behavior show well-documented decreases in calorically-deprived states (Baranowska et al., 2001; Olofsson et al., 2009; Wade and Schneider, 1992). Long starvation periods can also cause overall disruption of the estrous cycle (Judd, 1998) and reduced reproductive behavior (Wang et al., 2006), effects that can be simulated by chronic ARCAgRP activity (Padilla et al., 2017). Male intruder escape and defensive behaviors remain constant across all appetite states, suggesting that even calorically-deprived or ARCAgRP-evoked animals will defend themselves when residents attack. It is clear both female- and male resident-intruder interactions are highly driven by the resident animals' behavior towards the intruder, regardless of intruder hunger condition.
Overall, we have demonstrated more dynamic interaction between two mutually exclusive motivations – hunger and social interaction – than has previously been appreciated in recent neuroscience research. We have shown that in rodents, the context of a social interaction, including territorial ownership and hunger state, can prominently guide how behavioral encounters will unfold. Subsequent research should further address the neurophysiology of homeostatic feeding circuitry both upstream and downstream of ARCAgRP neurons that may principally alter the interplay of these two orthogonal motivations and their behavioral expression in real time. Furthermore, future high-level modeling of decision-making will advance the field's understanding of computational choice behavior.
All data generated or analyzed during this study are included in the manuscript and supporting files.
The relationship between neuropeptides and hormones in starvation

Neuro Endocrinology Letters 22:349–355.

Feeding, social behaviour and intraspecific competition in wild rats

Behavior 3:229–242.

Book

Mice All Over

London: GT Foulis & Co Ltd.

Human starvation and its consequences

Journal of the American Dietetic Association 22:582–587.

Book

The Integrative Action of the Nervous System

New Haven, Conn: Yale University Press.

Book

Animal Behaviour - A Systems Approach

Chichester: John Wiley.
Joel K Elmquist

Reviewing Editor; University of Texas Southwestern Medical Center, United States

Catherine Dulac

Senior Editor; Harvard University, United States

Garret D Stuber

Reviewer; University of Washington, United States
In the interests of transparency, eLife includes the editorial decision letter and accompanying author responses. A lightly edited version of the letter sent to the authors after peer review is shown, indicating the most substantive concerns; minor comments are not usually included.
Thank you for submitting your article "Need-Based Prioritization of Behavior" for consideration by eLife. Your article has been reviewed by three peer reviewers, one of whom is a member of our Board of Reviewing Editors, and the evaluation has been overseen by Catherine Dulac as the Senior Editor. The following individuals involved in review of your submission have agreed to reveal their identity: Garret D Stuber (Reviewer #2).
The reviewers have discussed the reviews with one another and the Reviewing Editor has drafted this decision to help you prepare a revised submission.
Summary:
Burnett and colleagues describe results from a series of studies aimed at identifying the physiological interaction of circuits controlling hunger and social interactions focusing on AgRP neurons. They used multidisciplinary approaches including behavior and optogenetics. The authors performed detailed behavioral analysis to determine how satiety states alter the expression of ethologically relevant social behaviors such as mating and territorial aggression. The major finding of the paper is that different degrees of food deprivation dramatically alter behavioral patterns within mice when competing motivationally relevant stimuli are present in the environment. Collectively, the studies are well described and provide novel observations that will be of wide interest. Several technical and presentation issues need to be addressed. Moreover, the flow and presentation of data is sometimes long and hard to follow. Potentially streamlining the results would make the article easier to digest for a larger audience.
Essential revisions:
The manuscript as written is difficult to digest. It seems that the manuscript has been written for a different journal format. For example, the Results section includes a lot of commentary that may be better suited for the Discussion. That being said the Discussion is a bit long.
The authors are to be commended for including all of the data. However, the figures are quite dense and routinely have panels from A-N. At a minimum, the individual panels are too small for my old eyes. The authors are encouraged to use the eLife figure format which allows supplements to figures that should allow some of the panels in a given figure to be supplements to that figure, so all of the data are there, but each part of the figure can be simpler and bigger.
For a journal with wide readership, a summary model figure would be helpful to convey the big picture to the readers.
The authors could expand the Discussion slightly to address how they think competing needs are processed at the neurocircuit level. Is there evidence from the literature that certain circuits become disengaged by changes in the hormonal state or under conditions of different types of deprivation?
https://doi.org/10.7554/eLife.44527.023
Essential revisions:

The manuscript as written is difficult to digest. It seems that the manuscript has been written for a different journal format. For example, the Results section includes a lot of commentary that may be better suited for the Discussion. That being said the Discussion is a bit long.
We thank the authors for the feedback and agree this study's complexity has led the manuscript as initially written to be difficult to read. We have scaled back visual data presentation and restricted our interpretation of results and saved this for the Discussion/Materials and methods section to make it easier to read. In addition, we have also tightened up the Discussion section to address several of the main takeaways of the study and integrate reviewer suggestions.
The authors are to be commended for including all of the data. However, the figures are quite dense and routinely have panels from A-N. At a minimum, the individual panels are too small for my old eyes. The authors are encouraged to use the eLife figure format which allows supplements to figures that should allow some of the panels in a given figure to be supplements to that figure, so all of the data are there, but each part of the figure can be simpler and bigger.
We have altered our figures to facilitate easier interpretation of the Results section. In many instances, several graphs have been combined into one plot, inviting direct comparisons to be made more easily across conditions. Other pieces of main figures have also been moved to supplementary material. Furthermore, we removed the original Supplementary Figures 5 and 10 from the resubmission as we found these results redundant with the results as portrayed in the matrices of Figures 3 and 6, respectively. Similarly, data that was previously presented such as individual appetite state correlations or trial+post food intake measurements were removed due to the redundancy.
For a journal with wide readership, a summary model figure would be helpful to convey the big picture to the readers.
We appreciate this suggestion and have provided a summary model figure as a final main figure (Figure 8).
The authors could expand the Discussion slightly to address how they think competing needs are processed at the neurocircuit level. Is there evidence from the literature that certain circuits become disengaged by changes in the hormonal state or under conditions of different types of deprivation?
We have now added further discussion on the potential circuit mechanisms involved in behavioral choice and future experiments that can be done to begin to address these hypothesis. However, it is our opinion that this integration of binary choice behavior is extremely complex and will not occur at a singular loci in the brain. We have also emphasized previous literature that have explored the inhibition of competing behaviors such as pain perception, anxiety-related behavior, parental care, arousal, threat detection, compulsive behavior and social interactions by hunger intensity.
Although not discussed in detail due to space limitations, we would like to point out that hormones and circulating factors likely have dynamic effects regulating activity of neural circuits regulating feeding behaviors and social interactions. Ample evidence has investigated crossover effects of "conventional" hormone systems. Sex hormones such as testosterone and estrogen, for example, have dynamic, sex-dimorphic differences on energy metabolism (reviewed by Morford and Mauvais-Jarvis, 2016; Kelly and Jones, 2015); oxytocin also may act as an anorectic, as direct CNS infusion (Arletti et al., 1989) and intranasal treatments in humans (reviewed by Olszewski et al., 2017) can suppress food intake. In clinical populations, obesity's interrelationship with other conditions is very clear: patients struggling with obesity exhibit a broad array of comorbid conditions, including low testosterone (Morford and Mauvais-Jarvis, 2016) and affective disorders (Luppino et al., 2010).
Much less is known, however, about specific locations at which these effects may occur, but we have some clues. The ARC, for example, densely expresses estrogen receptors (Esr1). Downstream regions of ARCAgRP neurons, including the paraventricular hypothalamus (PVH) and bed nucleus of the stria terminalis (BNST), express oxytocin receptors and putatively play main roles in social interaction behaviors. Conversely, circulating factors signaling hunger or satiety such as leptin, insulin, and any number of gastrointestinal peptides likely act in multiple regions of the brain, especially in other nuclei of the hypothalamus.
https://doi.org/10.7554/eLife.44527.024
Article and author information
Author details
National Institutes of Health (1ZIADK075087-04)
National Institutes of Health (1ZIADK075090-04)
The funders had no role in study design, data collection and interpretation, or the decision to submit the work for publication.
We thank Brad B Lowell for providing Agrp-ires-Cre mice used in this study. We thank the NIDDK Metabolic Core (directed by Oksana Gavrilova) for serum bloodwork and tissue weight analyses included in this study. We thank Ilona Szczot (Science Exchange) for original Python code used for data extraction from raw data files. We thank Alexxai V Kravitz and Katrina P Nguyen for guidance on assembling the Feeding Experimentation Devices for this study.
Animal experimentation: This study was performed in strict accordance with the recommendations in the Guide for the Care and Use of Laboratory Animals of the National Institutes of Health. All of the animals were handled according to approved institutional animal care and use committee (IACUC) protocols (Protocol #K011-DEOB-16) of the NIH. The protocol was approved by the Committee on the Ethics of Animal Experiments of the NIH (Protocol #K011-DEOB-16). All surgery was performed under isoflurane anesthesia, and every effort was made to minimize suffering.
Catherine Dulac, Harvard University, United States
Joel K Elmquist, University of Texas Southwestern Medical Center, United States
Garret D Stuber, University of Washington, United States
This is an open-access article, free of all copyright, and may be freely reproduced, distributed, transmitted, modified, built upon, or otherwise used by anyone for any lawful purpose. The work is made available under the Creative Commons CC0 public domain dedication.
4,167

Page views

546

Downloads

40

Citations
Article citation count generated by polling the highest count across the following sources: Scopus, Crossref, PubMed Central.
A two-part list of links to download the article, or parts of the article, in various formats.
Downloads
(link to download the article as PDF)
Open citations
(links to open the citations from this article in various online reference manager services)
Cite this article
(links to download the citations from this article in formats compatible with various reference manager tools)
C Joseph Burnett
Samuel C Funderburk
Jovana Navarrete
Alexander Sabol
Jing Liang-Guallpa
Theresa M Desrochers
Michael J Krashes
Need-based prioritization of behavior
eLife 8:e44527.
https://doi.org/10.7554/eLife.44527
Further reading
Decisions about noisy stimuli are widely understood to be made by accumulating evidence up to a decision bound that can be adjusted according to task demands. However, relatively little is known about how such mechanisms operate in continuous monitoring contexts requiring intermittent target detection. Here, we examined neural decision processes underlying detection of 1 s coherence targets within continuous random dot motion, and how they are adjusted across contexts with weak, strong, or randomly mixed weak/strong targets. Our prediction was that decision bounds would be set lower when weak targets are more prevalent. Behavioural hit and false alarm rate patterns were consistent with this, and were well captured by a bound-adjustable leaky accumulator model. However, beta-band EEG signatures of motor preparation contradicted this, instead indicating lower bounds in the strong-target context. We thus tested two alternative models in which decision-bound dynamics were constrained directly by beta measurements, respectively, featuring leaky accumulation with adjustable leak, and non-leaky accumulation of evidence referenced to an adjustable sensory-level criterion. We found that the latter model best explained both behaviour and neural dynamics, highlighting novel means of decision policy regulation and the value of neurally informed modelling.

Genetics and Genomics
Neuroscience

A hexanucleotide repeat expansion in C9ORF72 is the most common genetic cause of amyotrophic lateral sclerosis (ALS) and frontotemporal dementia (FTD). A hallmark of ALS/FTD pathology is the presence of dipeptide repeat (DPR) proteins, produced from both sense GGGGCC (poly-GA, poly-GP, poly-GR) and antisense CCCCGG (poly-PR, poly-PG, poly-PA) transcripts. Translation of sense DPRs, such as poly-GA and poly-GR, depends on non-canonical (non-AUG) initiation codons. Here, we provide evidence for canonical AUG-dependent translation of two antisense DPRs, poly-PR and poly-PG. A single AUG is required for synthesis of poly-PR, one of the most toxic DPRs. Unexpectedly, we found redundancy between three AUG codons necessary for poly-PG translation. Further, the eukaryotic translation initiation factor 2D (EIF2D), which was previously implicated in sense DPR synthesis, is not required for AUG-dependent poly-PR or poly-PG translation, suggesting that distinct translation initiation factors control DPR synthesis from sense and antisense transcripts. Our findings on DPR synthesis from the C9ORF72 locus may be broadly applicable to many other nucleotide repeat expansion disorders.

Cell Biology
Neuroscience

The amyloid beta (Aβ) plaques found in Alzheimer's disease (AD) patients' brains contain collagens and are embedded extracellularly. Several collagens have been proposed to influence Aβ aggregate formation, yet their role in clearance is unknown. To investigate the potential role of collagens in forming and clearance of extracellular aggregates in vivo, we created a transgenic Caenorhabditis elegans strain that expresses and secretes human Aβ1-42. This secreted Aβ forms aggregates in two distinct places within the extracellular matrix. In a screen for extracellular human Aβ aggregation regulators, we identified different collagens to ameliorate or potentiate Aβ aggregation. We show that a disintegrin and metalloprotease a disintegrin and metalloprotease 2 (ADM-2), an ortholog of ADAM9, reduces the load of extracellular Aβ aggregates. ADM-2 is required and sufficient to remove the extracellular Aβ aggregates. Thus, we provide in vivo evidence of collagens essential for aggregate formation and metalloprotease participating in extracellular Aβ aggregate removal.