Unstructured regions in IRE1α specify BiP-mediated destabilisation of the luminal domain dimer and repression of the UPR
Coupling of endoplasmic reticulum (ER) stress to dimerisation-dependent activation of the UPR transducer IRE1 is incompletely understood. Whilst the luminal co-chaperone ERdj4 promotes a complex between the Hsp70 BiP and IRE1's stress-sensing luminal domain (IRE1LD) that favours the latter's monomeric inactive state and loss of ERdj4 de-represses IRE1, evidence linking these cellular and in vitro observations is presently lacking. We report that enforced loading of endogenous BiP onto endogenous IRE1α repressed UPR signalling in CHO cells and deletions in the IRE1α locus that de-repressed the UPR in cells, encode flexible regions of IRE1LD that mediated BiP-induced monomerisation in vitro. Changes in the hydrogen exchange mass spectrometry profile of IRE1LD induced by ERdj4 and BiP confirmed monomerisation and were consistent with active destabilisation of the IRE1LD dimer. Together, these observations support a competition model whereby waning ER stress passively partitions ERdj4 and BiP to IRE1LD to initiate active repression of UPR signalling.
Cells produce many protein molecules. These are made of chains of building blocks called amino acids that then fold into three-dimensional shapes. Specialist proteins known as chaperones assist this folding process. For example, the chaperone BiP helps other proteins fold in a compartment within the cell called the endoplasmic reticulum.
To match the supply of chaperones to the demand of unfolded proteins, cells have stress receptors, such as IRE1 in the endoplasmic reticulum. IRE1 responds to changing levels of unfolded proteins by generating signals that tell cells whether they need more chaperones. Previous studies in a test tube suggest that when levels of unfolded proteins are low, BiP represses IRE1 signalling. However, when the levels of unfolded proteins increase, the unfolded proteins compete with IRE1 for BiP, releasing the brake BiP imposes on IRE1 signalling. It remained unclear if BiP regulates IRE1 in the same way in living cells.
To address this question, Amin-Wetzel, Neidhardt et al. studied IRE1 signalling in mammalian cells grown in the laboratory. The experiments revealed that cells containing a modified version of IRE1 to which BiP binds more strongly had less IRE1 signalling. On the other hand, cells containing versions of IRE1 that BiP binds less well had more active IRE1 signalling. These findings suggest that in cells, as in the test tube, unfolded proteins and IRE1 compete for BiP binding. This relationship comprises a simple mechanism allowing cells to sense and respond to the burden of unfolded proteins in their endoplasmic reticulum.
Over time, the amount of unfolded proteins in the cell likely contributes to the development of aging-related diseases such as adult-onset diabetes. A better understanding of how cells handle unfolded proteins may lead to more effective treatments for these diseases.
In eukaryotes, the endoplasmic reticulum (ER) is the central organelle for the synthesis of proteins destined for secretion and membrane insertion. The ER lumen harbours a specialised protein folding and processing machinery that constitutes the protein folding capacity of the ER. To ensure that the environment for productive protein maturation is maintained, both folding capacity and the inward flux of newly synthesised proteins are regulated by a pervasive negative feedback signalling pathway, the unfolded protein response (UPR) (Kozutsumi et al., 1988; Cox et al., 1997). In mammalian cells, this pathway involves three known signaling branches each directed by a unique signal transducer resident in the ER membrane, IRE1, PERK and ATF6. An imbalance between folding load and capacity (ER stress) activates these sensors initiating a rectifying transcriptional and translational response to defend protein-folding homeostasis in the compartment (reviewed in Walter and Ron, 2011). While details of downstream events and their physiological significance are relatively well characterised (reviewed in Wang and Kaufman, 2016), the molecular mechanisms of the earliest events in UPR activation remain incompletely understood.
IRE1, conserved in all eukaryotes and therefore the best-studied UPR transducer (Cox et al., 1993; Mori et al., 1993), detects ER stress via its luminal domain (IRE1LD), initiating dimerisation-dependent autophosphorylation of its cytosolic domain (Shamu and Walter, 1996). The subsequent allosteric activation of the cytosolic endoribonuclease domain (Lee et al., 2008) leads to unconventional splicing of the mRNA encoding the XBP1/HAC1 transcription factor (Cox and Walter, 1996; Yoshida et al., 2001; Calfon et al., 2002), thereby promoting translation of an effector that drives a conserved gene-expression program.
Two models have been put forth to describe how IRE1LD senses ER stress. A direct binding model posits that unfolded proteins act as ligands stabilising IRE1's dimeric/oligomeric state thereby promoting its activation. This model is supported by the crystal structure of the core luminal domain from S. cerevisae IRE1, showing an IRE1LD dimer interface traversed by a groove with architectural similarity to the major histocompatibility peptide-binding complexes (MHCs) (Credle et al., 2005). Peptide ligands of the yeast IRE1LD have been identified and their addition to dilute solutions of yeast IRE1LD enhances the population of higher order species, although a clear shift from monomers to dimers was not readily observable (Gardner and Walter, 2011).
The luminal domain of the broadly expressed alpha isoform of human IRE1 (hIRE1αLD) also crystallises as a dimer, with an overall architecture similar to the yeast protein, however, barring conformational changes, the MHC-like groove is too narrow to accommodate a peptide (Zhou et al., 2006). Recently, peptides have been identified that bind hIRE1LD and affect its oligomeric state, as assessed by analytical ultracentrifugation (AUC). Moreover, nuclear magnetic resonance (NMR) reported on peptide-induced structural rearrangements within the hIRE1αLD that also affected residues near the MHC-like groove. Hence, it has been proposed that the structure of Zhou et al. (2006) represents a 'closed' conformation of the peptide-binding groove that can shift towards an 'open' state to allow peptide binding (Karagöz et al., 2017). However, a co-crystal structure of the ligand-bound yeast or human IRE1LD is not available and it remains unclear if and how peptide ligands affect hIRE1LD dimerisation, the first crucial step of its activation.
An alternative hypothesis posits that IRE1 is repressed by interacting with a major component of the ER folding machinery, the heat-shock protein (Hsp70) chaperone BiP. It is proposed that upon stress, unfolded proteins accumulate and compete for BiP interaction, thereby kinetically disrupting the inhibitory IRE1-BiP complex. This chaperone inhibition model draws parallels between the regulation of the UPR and its cytosolic counterpart, the heat-shock response, in which chaperones associate with the transcription factor Hsf1, in eukaryotes, and σ32, in bacteria, to interfere with their activity (Abravaya et al., 1992; Shi et al., 1998; Tomoyasu et al., 1998). This model is supported by an inverse correlation between ER stress-induced IRE1 activity and the amount of ER-localised BiP recovered in complex with it (Bertolotti et al., 2000; Okamura et al., 2000; Oikawa et al., 2009).
Further molecular insight into the chaperone inhibition mechanism was gained recently by the discovery of ERdj4 as an ER-localised J-domain protein that selectively represses IRE1 activity in vivo and loads BiP onto the IRE1LD, thereby promoting monomerisation in vitro (Amin-Wetzel et al., 2017). Whilst other modes of BiP binding to the IRE1LD have been proposed (Carrara et al., 2015; Kopp et al., 2018) the aforementioned observations suggest a mechanism in which BiP engages the IRE1LD as an Hsp70 substrate: ATP-bound BiP initially interacts with the IRE1LD with high kon and high koff rates and only captures IRE1LD as a substrate (in the ADP bound state, with low koff rates) after ERdj4 co-chaperone-instructed ATP hydrolysis. This model draws on the conventional view whereby J-domain proteins act as adaptors that enable efficient substrate recognition via their divergent targeting domains and subsequent binding of Hsp70s, promoted by their conserved J-domain that stimulates Hsp70's ATPase activity (reviewed in Kampinga and Craig, 2010). J-domain co-chaperones act in concert with nucleotide exchange factors (NEFs, reviewed in Behnke et al., 2015) to accelerate Hsp70s' cycles of substrate binding and release, resulting in substrate-selective ultra-affinity (Misselwitz et al., 1998; De Los Rios and Barducci, 2014), which is the basis for the assembly of Hsp70-substrate complexes.
Whilst ERdj4's repressive action on IRE1 signalling in cells and its ability to promote a complex between IRE1LD and BiP that favours the former's monomeric state in vitro fit the chaperone inhibition model, they remain correlative findings and may be causally unrelated. For example, it is possible that ERdj4's repressive action in cells arises from its role in eliminating IRE1LD activating ligands and not from catalysing the repressed, monomeric IRE1LD-BiP complex observed in vitro. Here, in support of the chaperone inhibition model, we report that enforced targeting of endogenous BiP to endogenously-expressed IRE1LD represses UPR signalling in cells, thereby establishing that BiP can directly repress IRE1 in vivo and that features of the IRE1LD that specify its repression in cells also specify its ability to undergo actively-driven monomerisation by ERdj4 and BiP in vitro.
The notion that a chaperone machinery with an Hsp70, such as BiP, as its terminal effector might negatively regulate activity of an upstream UPR transducer, such as IRE1, has the appeal of simplicity: Hsp70's can potently affect the structure and function of their clients. The level of free BiP is kept low by inactivating oligomerisation and AMPylation and is further limited by client titration (Preissler and Ron, 2019). Therefore, the availability of a BiP-dependent machinery to serve as an active repressor of IRE1 is a plausible inverse measure of the level of ER stress. For years, the inverse relationship between the recovery of BiP in complex with IRE1 and exposure of cells to conditions causing ER stress has provided the only experimental support for this chaperone repression model (Bertolotti et al., 2000; Okamura et al., 2000; Oikawa et al., 2009). The recent establishment of an ATP- and co-chaperone-dependent system in which BiP promotes a pool of monomeric, inactive-state IRE1LD further supports the model by revealing BiP's potential to affect a major change in IRE1's activity in vitro (Amin-Wetzel et al., 2017). Here, we provide much needed further support for the chaperone repression model by demonstrating that directing endogenous BiP to bind endogenous IRE1LD as a substrate also attenuates signalling in cells, thus revealing BiP's potential as a direct IRE1 repressor in vivo.
A structure-based targeted approach identified regions of IRE1LD that impart a repressed state in vivo. The same regions proved important for ATP and co-chaperone-dependent BiP-mediated conversion of active-state IRE1LD dimers to inactive-state monomers in vitro and their presence accelerated the formation of an ATP and co-chaperone-dependent complex with BiP in vitro. Monomerisation was observed in both a FRET-based assay, involving labelled molecules of IRE1LD, and in an HX-MS assay with intact molecules, thus establishing a firm correlation between the determinants of IRE1 that regulate its function in vivo and those that specify its regulation in vitro by a BiP-led machinery (Figure 8).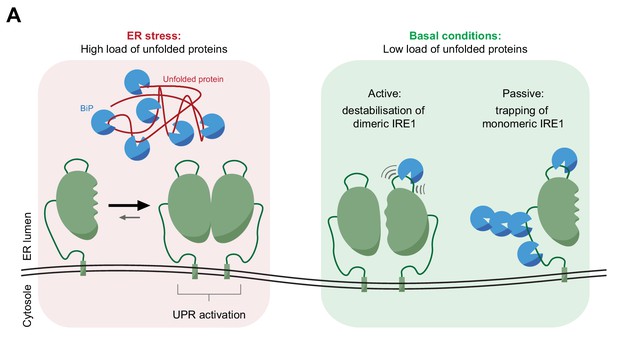 Correlation between factors involved in BiP regulation of IRE1 in vitro and UPR activity in vivo have been previously noted: Deregulated AMPylation of BiP activates IRE1 in cells (Preissler et al., 2015b) and BiP AMPylation in vitro blocks IRE1LD monomerisation (Amin-Wetzel et al., 2017). ERdj4 acts in concert with BiP to monomerise IRE1LDin vitro and loss of ERdj4 from cells de-represses IRE1 in vivo (Amin-Wetzel et al., 2017). However, genetic lesions in trans-acting ER-localised factors also have the potential to broadly alter the state of the ER and thereby unleash processes that affect IRE1 independently (of any direct interaction with BiP). Indirect effects are less likely a consequence when IRE1LD is modified in cis. Therefore, whilst it is impossible to rule out contributions from factors other than the BiP machinery to the deregulation of IRE1 that arises from deletion of the unstructured regions of its luminal domain, attenuation of BiP-mediated IRE1 repression in cells emerges as a parsimonious unifying explanation for the findings presented here.
It is further notable that there is nothing in our observations to speak against the possibility that extended regions of unfolded ER proteins serve as activating ligands of IRE1 by binding across the IRE1LD dimer interface and stabilising it (Karagöz et al., 2019). IRE1 signalling is triggered by an imbalance between unfolded proteins and BiP. The latter results in more potential ligands for IRE1 and fewer molecules of its client-free ATP bound BiP repressor (Bakunts et al., 2017; Vitale et al., 2019). Thus, the two proposed mechanisms for IRE1 activation, could well co-exist. However, our findings do raise questions regarding the strength of the experimental evidence supporting the current ideas how unfolded proteins may serve as activating ligands of IRE1. The evidence rests prominently on the activity of a peptide, MPZ-N, nominated as a model activating ligand of IRE1LD (Karagöz et al., 2017). Our findings do not support the notion that this peptide specifically engages the MHC-like groove traversing the dimer interface, as a disulphide, crystallographically proven to lie across this groove, thereby locking the helices in a 'closed' conformation, had no effect on the binding of MPZ-N to IRE1LD. Furthermore, MPZ-N binding to IRE1LD did not stabilise it thermodynamically, whereas the aforementioned disulphide, which mimics the proposed dimer-stabilising effect of a bound peptide, increased the melting temperature IRE1LD by 10 °C. Nor did MPZ-N promote a shift in the monomer-dimer equilibrium of IRE1LD as assessed by SEC. These concerns, along with the lack of crystallographic data supporting engagement of the groove by ligands, suggest the need for further experiments to test the role of unfolded proteins as direct IRE1 activators.
HX-MS analysis revealed neither an ERdj4-dependent nor BiP and ATP-dependent protection within IRE1LD to suggest their binding site. It has been proposed that ERdj4's bacterial homolog, DnaJ, exploits mostly side chain interactions to bind clients, with a strong preference for aromatic residues (Rüdiger et al., 2001). Such interactions, were they to serve as the basis for IRE1LD recognition by ERdj4, would be only visible to HX-MS if they stabilised the underlying secondary structure. Given the conventional mode of BiP action on IRE1LD (ATP and co-chaperone-dependent and abolished by the BiPV461F mutation), one would expect protection of 4–5 hydrogen amides by IRE1LD engagement in the chaperone's substrate-binding domain. However, partial occupancy of multiple sites may have diluted any HX-MS signature of BiP binding. This is supported by the observation that at the concentrations of ERdj4 and BiP used in the HX-MS assay, the FRET assay reported peak fluorescence of only ~40% of the unquenched donor (at the kinetically driven pseudo steady state plateau of the reaction, Figure 1E). Thus, the lack of a clear ATP- and ERdj4-dependent BiP binding signature is consistent with the dynamic nature of BiP's interaction with IRE1LD. Interestingly, we observed an ATP-independent protection against deuteron incorporation within IRE1LD that was also evident in presence of the substrate binding-defective BiPV461F. This might reflect a non-conventional interaction of BiP's nucleotide binding domain with IRE1LD, as proposed by the Ali lab (Kopp et al., 2018; Kopp et al., 2019). However, this protection is not correlated to the activity-state of IRE1LD and its significance thus remains to be established.
Mechanistically, BiP's interaction with IRE1LD shares features with other situations in which Hsp70s bind to native clients thereby regulating their activity: DnaJ-directed, DnaK-mediated destabilisation of E. coli σ32 (Rodriguez et al., 2008), functional regulation of the glucocorticoid receptor (Kirschke et al., 2014), regulation of the activity of the tumour suppressor p53 (Boysen et al., 2019; Dahiya et al., 2019), Hsf1 regulated heat shock gene expression (Abravaya et al., 1992) and Hsc70-mediated destabilisation of clathrin coats (Sousa et al., 2016). All these have in common client destabilisation and likely initiate at unstructured regions of the substrate. Thus, it seems reasonable to suggest that an important aspect of BiP's ability to affect the disposition of IRE1LD's monomer-dimer equilibrium arises from its interaction with the flexible regions identified here.
Bimodal analysis of the HX-MS data suggested that ERdj4-directed BiP binding can accelerate dimer disassembly. This is consistent with the ability of the IRE1LD dimer to serve as a ligand for ERdj4 and BiP (here and Amin-Wetzel et al., 2017). While BiP binding to and stabilisation of IRE1LD monomers may also contribute to shifting the monomer-dimer equilibrium towards the former, the HX-MS experiment suggests an (additional) active role for BiP in dimer destabilisation. This may arise from a BiP-binding induced bias of the ensemble of IRE1LD dimers towards conformers preferentially populated in the monomer. A similar mechanism of conformational selection has been proposed for DnaK-mediated destabilisation of E. coli σ32 (Rodriguez et al., 2008). Such 'allosteric' action is consistent with the observation that monomerisation has effects on IRE1LD structure that are far removed from the dimer interface. Alternatively, BiP binding may destabilise the IRE1LD dimer by entropic pulling (De Los Rios et al., 2006), as has been suggested in Hsc70-mediated destabilisation of clathrin coats (Sousa et al., 2016) (Figure 8). The latter mechanism would be further favoured by assembly of BiP oligomers on the surface of the IRE1LD, a possibility consistent with the >1:1 stoichiometry of BiP:IRE1LD complexes observed in some experiments (Amin-Wetzel et al., 2017) (although the latter may also reflect multiple BiP binding sites).
As shown here, flexible regions of IRE1LD contribute measurably to its repression in cells and to BiP-driven monomerisation in vitro. This observation is consistent with the idea that these regions serve as initiation points for BiP binding to promote dimer disassembly via entropic pulling, allosterically induced conformational changes or both. Considerable redundancy seems built into the process, as the deregulated IRE1∆∆ allele retained a measure of stress responsiveness in cells and the IRE1LD ∆∆ dimer was still slowly undone in a BiP-dependent process in vitro. Such redundancy has been observed previously: in both yeast and human, IRE1 deletion of the tail region connecting the structured core of IRE1LD to the transmembrane domain partially deregulated IRE1, whilst retaining partial responsiveness to ER stress (Oikawa et al., 2007; Oikawa et al., 2009). Redundancy in the structural features of the IRE1LD dimer that render it a substrate for BiP-dependent disassembly and the non-equilibrium kinetic nature for BiP's action could serve as the basis for a smoothly graded response to variation in the levels of ER stress.
Diffraction data have been deposited in PDB under the accession code 6SHC. All data generated or analysed during this study are included in the manuscript and supporting files. Source data files have been provided for Figures 1–7.
The NH2-terminal 108 amino acids of the Escherichia coli DnaJ protein stimulate the ATPase activity of DnaK and are sufficient for lambda replication

The Journal of Biological Chemistry 269:5446–5451.
Linda M Hendershot

Reviewing Editor; St. Jude Children's Research Hospital, United States

Vivek Malhotra

Senior Editor; The Barcelona Institute of Science and Technology, Spain

Eelco van Anken

Reviewer; San Raffaele Scientific Institute, Italy
In the interests of transparency, eLife publishes the most substantive revision requests and the accompanying author responses.
Acceptance summary:
Eukaryotic cells respond to the accumulation of unfolded proteins in the endoplasmic reticulum (ER) by activating a signal transduction cascade referred to as the Unfolded Protein Response (UPR), which aims to restore ER homeostasis. The IRE1 kinase is an ER-localized transmembrane protein, which serves to detect the accumulation of unfolded proteins and to activate downstream elements of the response. Two predominant, although not mutually exclusive, models have emerged to explain the mechanism by which unfolded proteins lead to IRE1 activation. In one, unfolded proteins bind directly to IRE1's lumenal domain, leading to its activation. In the second model, IRE1's activation by unfolded proteins is more indirect and occurs through their ability to compete for the ER chaperone BiP, which maintains IRE1 in a monomeric, inactive state. Here, by engineering the IRE1 locus to encode a fusion protein in which the effector domain of a BiP co-chaperone (ERdj4) is brought in close proximity to the IRE1 luminal domain, the authors were able to evaluate the consequences of BiP loading onto endogenous IRE1, plausibly without otherwise perturbing conditions in the ER. The dramatic shutdown of IRE1 activity brought about by this manipulation and its relief by inactivating BiP, together provide compelling evidence that BiP can repress IRE1 in cells directly. Further evidence that BiP contributes to IRE1 repression directly in cells, was provided by the observation that deletions in the IRE1 luminal domain, that weaken BiP's ability to enforce a monomeric inactive conformation on the protein, in vitro, also deregulate (enhance) IRE1 activity when introduced as mutations into the endogenous IRE1 locus of cells. Whilst the details of BiP's interaction with the IRE1 and the biophysical basis for direct repression are sketched in low resolution, this paper nonetheless advances our understanding of the UPR by providing important evidence for a component of direct repression of IRE1 by BiP in cells.
Decision letter after peer review:
Thank you for submitting your article "Unstructured regions in IRE1α specify BiP-mediated destabilisation of the luminal domain dimer and repression of the UPR" for consideration by eLife. Your article has been reviewed by three peer reviewers, and the evaluation has been overseen by a Reviewing Editor and Vivek Malhotra as the Senior Editor. The following individuals involved in review of your submission have agreed to reveal their identity: Eelco van Anken (Reviewer #3).
The reviewers have discussed the reviews with one another and the Reviewing Editor has drafted this decision to help you prepare a revised submission.
Summary:
While all three reviewers found the manuscript to be technically well-executed, there were concerns about the fact that it does not significantly advance the debate on whether BiP binding is critical to Ire1 regulation, if peptide binding is the more critical aspect of activation, or if some combination of the two more closely describes requirements for activation. Also, none of the reviewers were convinced that the data presented in Figure 2A, which demonstrated that the peptides did not significantly alter the stability of Ire1LD, argued against the peptide binding model. But, we believe your findings are important for the field and will appeal to the readers of life. We will therefore gladly consider a revised manuscript provided you can address the essential revisions listed below.
Essential revisions:
1) The discussion should provide a more balanced comparison of the two models for Ire1 activation.
2) The conclusions drawn from Figure 2A should be moderated, unless you are willing to demonstrate the peptides are not inducing dimerization by AUC or a similar type assay.
3) In addition, we also request that you attempt to identify a BiP binding sequence in the unstructured loop that is not present in the structure.
https://doi.org/10.7554/eLife.50793.sa1
Essential revisions:

1) The discussion should provide a more balanced comparison of the two models for Ire1 activation.

2) The conclusions drawn from Figure 2A should be moderated, unless you are willing to demonstrate the peptides are not inducing dimerization by AUC or a similar type assay.

3) In addition, we also request that you attempt to identify a BiP binding sequence in the unstructured loop that is not present in the structure.
By way of overview, we note that critiques fell into two categories. The first relate to the experiments dealing with BiP's role as an IRE1 repressor. The second relate to the insights we bring to the question of the role of peptide binding to IRE1 activation.
In regards to the first issue, Essential revision point 3 charged us with "trying to identify a BiP-binding sequence in the unstructured loop", whose deletion, we have found, contributes to IRE1 de-repression in cells.
Hsp70 chaperones engage their clients via short extended peptide sequences that interact with the chaperone's substrate binding domain, an interaction that is greatly stabilised in the chaperone's ADP-bound conformation. However, the intrinsic affinity of client-derived peptide sequences for the ADP-bound chaperone is but one factor that influences the formation of an Hsp70-client complex. Accessibility of the peptide in the context of the client's structure and the productive engagement of J-domain protein(s) to promote ATP hydrolysis in a favourable geometry are also important contributors. It is the sum of these components that is relevant to the interaction in vivo. Notably, in this regard, an assay containing IRE1LD, a J-domain, BiP and ATP, reveals a role for the flexible region of IRE1LD in the strength of the interaction (Figure 5A). Thus, the correlation between a defect in BiP recruitment to the mutant IRE1LD ∆∆ and the de-repressed phenotype observed in IRE1LD ∆∆ expressing cells is established. Essential revision point 3, asks if this defect also correlates with an affinity of the flexible region of IRE1LD for BiP in its ADP state.
We began by making use of the scoring system(Blond-Elguindi et al., 1993) that predicts potential BiP binding sites within polypeptides. Applying this algorithm to the entire human IRE1LD's sequence revealed that the highest score (and therefore the highest predicted BiP binding) is represented by the hepta-peptide 309-315 (Author response image 1). The IRE1LD loop deletion altered this peptide from RGSTLPL, with a score of 20, to RGSTDVK, with a score of -9. If this predicted high affinity peptide accounts for the contribution of the flexible loop to BiP binding in vivo, replacing the wild-type hepta-peptide with a low scoring hepta-peptide (in the context of the otherwise intact IRE1LD) should de-repress IRE1 signalling.
We tested this by homologous recombination, creating IRE1 variants encoded by mutant alleles of the endogenous Ern1 gene in the dual UPR reporter CHO cell line [converting the wild-type 309-315 hepta-peptide, RGSTLPL (score = 20) either to RGSTDVK (score = -9) or RGSTLSA (score = -12)].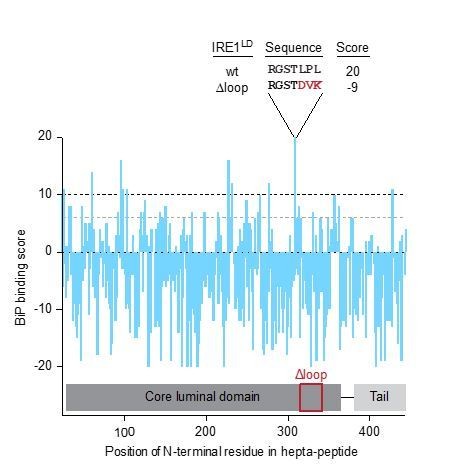 Flow cytometry analysis showed that reconstitution of the locus with either of these mutants resulted in only slightly higher basal IRE1 activity (as reflected in XBP1::Turquoise reporter levels) compared to cells whose locus was repaired with the wild-type sequence. Thus, the highest scoring peptide of the entire IRE1LD, appears to account for only some of the repressive effect of the flexible regions of the molecule (Author response image 2).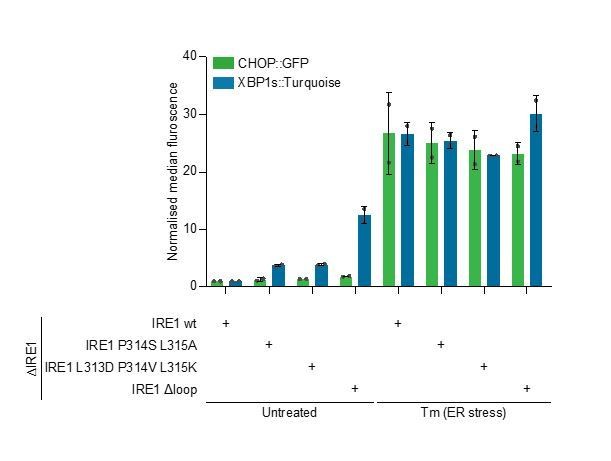 Inability of mutations in the 309-315 peptide to mimic the full effect of the flexible loop deletion may reflect redundancy in the presence of BiP binding peptides (there are five other hepta-peptides with a score between 6 and 10 in the loop, Author response image 1). Such redundancy is also consistent with hydrogen-1H/2H-exchange mass spectrometry (HX-MS) data which do not point to a prominent, BiP, ATP, ERdj4-dependent protection of any single IRE1LD peptic fragment. Together, these findings suggested that pursuing the in vitro binding characteristics of individual peptides derived from the flexible regions of IRE1LD, might not be informative. However, we felt it would be helpful to explore a related question, implicitly raised by the reviewers: "Does the flexible region of IRE1LD make any measurable contribution to the affinity of BiP-ADP to the IRE1LD?"
To address this question, we set up an experiment in which BiP was combined with C-terminally biotinylated IRE1LD (either IRE1LD-bio or IRE1LD ∆∆-bio) in presence of ADP and absence of J-domain protein. Given the slow association of BiP-ADP with substrates and the slow dissociation of BiP oligomers (in the presence of ADP, Preissler et al., 2015), a lengthy equilibration (16 hours, at 4 °C) was allowed. 2.9-fold less BiP was recovered in complex with IRE1LD ∆∆-bio than with IRE1LD-bio (new Figure 5B). BiP association was concentration-dependent, destabilised by ATP and was not observed with the substrate-binding mutant BiPV461F. Coupling of BiP's nucleotide binding and substrate binding domains was dispensable for the interaction with IRE1LD-bio, as it was also observed with the domain-uncoupled BiPADDA (Petrova et al., 2008; Preissler et al., 2015). Together, these observations point to a role for the flexible regions of IRE1LD in specifying BiP association as a conventional substrate of this Hsp70.
Though deemed a minor point, reviewer 1 noted that "Figure 1D would benefit from including a lane with ERdj4 present with the J-IRE1LD-bio construct, as your model would suggest that its inclusion should not significantly increase BiP binding."
We thank the reviewer for this suggestion and have repeated the entire experiment (twice) with the missing condition added. As expected, no increase in the amount of BiP recovered in complex with J-IRE1LD was observed by the addition ERdj4 (new Figure 1D).
In regard to the second issue, covered by Essential revision points 1 and 2, we should like to begin by noting that we do not believe, nor do want our readers to believe, that we have refuted a role for unfolded proteins as activating ligands of IRE1. Furthermore, like reviewer 3 (Eelco van Aanken), we too recognise that there is no inherent conflict between BiP's role as a repressor of IRE1 and the possible role of unfolded proteins as activating ligands. At his suggestion, we have revised the Discussion to state plainly: "IRE1 signalling is triggered by an imbalance between unfolded proteins and BiP. The latter results in more potential ligands for IRE1 and fewer molecules of its client protein-free ATP-bound BiP repressor (Bakunts et al., 2017; Vitale et al., 2019). Thus, the two proposed mechanisms for IRE1 activation could well co-exist. However, our findings do raise questions regarding the strength of the experimental evidence supporting the current ideas how unfolded proteins may serve as activating ligands of IRE1". We believe that this new narrative adequately addresses Essential revision point 1 "that the discussion should provide a more balanced comparison of the two models for IRE1 activation".
Essential revision point 2 mandates that "the conclusions drawn from Figure 2A should be moderated, unless you are willing to demonstrate the peptides are not inducing dimerisation by AUC or a similar type assay".
We thank the reviewers for insisting upon this point. Following their suggestion, we have analysed the effect of MPZ-N on IRE1LD dimerisation by size exclusion chromatography (SEC), exploiting the correlation between the distribution of IRE1LD in its monomeric and dimeric state and its peak elution time. Using fluorescently-labelled IRE1LD we could distinguish between peaks arising from IRE1LD and the MPZ-N-peptide itself, greatly simplifying the interpretation of the SEC trace. No effect of MPZ-N peptide (added at concentrations well above the reported K1/2 max of binding to IRE1LD, 16 µM, Karagoz et al., 2017) was noted on the peak elution time of IRE1LD-TMR. The latter was introduced into the assay at 500 nM, a concentration near IRE1LD's Kd for dimerisation (measured by this assay to be ~800 nM, Figure 5—figure supplement 1D). We reasoned that this concentration is close enough to the concentration required for dimerisation to facilitate the task of any agent capable of promoting dimerisation, yet allows plenty of head room for detecting dimerisation – as reflected by the elution profile of IRE1LD-TMR introduced at 2 µM. Despite these measures, no trend towards dimerisation was observed (new Figure 2A and 2B). Together with the differential scanning fluorimetry (DSF, Figure 2—figure supplement 1D) our observations do not support a role for the MPZ-N peptide in influencing IRE1LD's monomer-dimer-equilibrium.
Whilst not deemed an essential point, reviewer 2 questions the nature of the apparent incompatibility between our conclusion that MPZ-N does not specifically bind IRE1LD in the MHC-like groove and the reviewer's interpretation of the NMR data of Karagoz et al., 2017. The reviewer notes "Karagoz et al. did also do PRE experiments, which are very specific for monitoring distance and allow to distinguish between conformation changes and binding. So it is clear from this that the peptide indeed binds into the groove, and this is incompatible with the interpretation by Amin-Wetzel et al.. These are very hard data, and they are not compatible with the interpretation of the authors". We welcome the opportunity to try and clarify this point.
As noted by the reviewer, the numerous perturbations to the NMR spectrum arising from the presence of unlabelled peptide may reflect either the consequences of a peptide-IRE1LD interaction or an induced conformational change in the IRE1LD (Karagoz et al., 2017). Therefore, they do not constrain the location of the peptide. However a constraint is provided by the paramagnetic relaxation enhancement (PRE) experiments with IRE1LD and an MPZ-proxyl-labelled peptide (Figure 5 in Karagoz et al., 2017, doi.org/10.7554/eLife.30700.016) to which the reviewer is referring. In PRE experiments, the incorporated spin label causes broadening of isoluecine peaks in a range of 10 to 25 Å or entirely erases them within distances of <10 Å (Gottstein et al., 2012). Therefore, the broadening of peaks observed in the NMR spectra of IRE1LD serves as a distance constraint. The strongest such event positions the labelled Cys5 of the MPZ peptide (LIRYCWLRRQAALQRRISAME) within 10 Å of Ile186 (shown in red in Figure 2—figure supplement 2A, with a mesh depicting the outer limits of the location of Cys5). Broadenings of other isoleucine peaks position Cys5 within 25 Å of Ile52, Ile124, Ile128 and Ile263 (coloured yellow in the same).
There are 16 amino acid residues between Cys5 and the C-terminus of the MPZ peptide. If extended, the peptide is free to sample a sphere with a radius of ~48 Å from Cys5. Given that the PRE experiments place Cys5 of the peptide anywhere within 10 Å of IRE1LD Ile186, if extended, the peptide is free to explore the entire space encompassed by the grey mesh in Figure 2—figure supplement 2B. Even if constrained to assume a compressed helical conformation, the peptide could be found anywhere within the yellow mesh.
Therefore, the results of the PRE experiments are also compatible with binding of the peptide outside the MHC-like groove, as suggested by Figure 2 of our manuscript. In fact, our experiments and those of Karagoz et al. are consistent with the MPZ peptide binding in locations where peptides have previously been observed crystallographically on the surface of the related yeast IRE1LD (Credle et al., 2005) or the PERKLD (Wang et al., 2018) (Figure 2—figure supplement 2B, in magenta and cyan, respectively). We conclude that the mode of MPZ peptide binding to IRE1LD remains unknown, that it does not obligatorily involve the MHC-like groove and that even the existence of a unique binding site for the peptide on the surface of IRE1LD remains unproven.
References:
Blond-Elguindi, S., Cwirla, S.E., Dower, W.J., Lipshutz, R.J., Sprang, S.R., Sambrook, J.F., and Gething, M.J. (1993). Affinity panning of a library of peptides displayed on bacteriophages reveals the binding specificity of BiP. Cell 75, 717-728.
Gottstein, D., Reckel, S., Dotsch, V., and Guntert, P. (2012). Requirements on paramagnetic relaxation enhancement data for membrane protein structure determination by NMR. Structure 20, 1019-1027.
Petrova, K., Oyadomari, S., Hendershot, L.M., and Ron, D. (2008). Regulated association of misfolded endoplasmic reticulum lumenal proteins with P58/DNAJc3. EMBO J 27, 2862-2872.
Wang, P., Li, J., Tao, J., and Sha, B. (2018). The luminal domain of the ER stress sensor protein PERK binds misfolded proteins and thereby triggers PERK oligomerization. J. Biol. Chem. 293, 4110-4121.
https://doi.org/10.7554/eLife.50793.sa2
Article and author information
Author details
European Molecular Biology Organization
Deutsche Forschungsgemeinschaft (SFB1036 TP9)
Wellcome (Wellcome 996 100140)
Wellcome (Wellcome 200848/Z/16/Z)
Deutsche Forschungsgemeinschaft (MA 1278/4-3)
The funders had no role in study design, data collection and interpretation, or the decision to submit the work for publication.
We thank the CIMR flow cytometry core facility team (Reiner Schulte, Chiara Cossetti and Gabriela Grondys-Kotarba) for assistance with FACS, the Huntington lab for access to the Octet machine, Steffen Preissler for advice on data interpretation, Roman Kityk and Nicole Luebbehusen for help and advice with HX-MS experiments.
Vivek Malhotra, The Barcelona Institute of Science and Technology, Spain
Linda M Hendershot, St. Jude Children's Research Hospital, United States
Eelco van Anken, San Raffaele Scientific Institute, Italy
© 2019, Amin-Wetzel et al.
This article is distributed under the terms of the Creative Commons Attribution License, which permits unrestricted use and redistribution provided that the original author and source are credited.
2,868

Page views

518

Downloads

28

Citations
Article citation count generated by polling the highest count across the following sources: Scopus, Crossref, PubMed Central.
A two-part list of links to download the article, or parts of the article, in various formats.
Downloads
(link to download the article as PDF)
Open citations
(links to open the citations from this article in various online reference manager services)
Cite this article
(links to download the citations from this article in formats compatible with various reference manager tools)
Niko Amin-Wetzel
Lisa Neidhardt
Yahui Yan
Matthias P Mayer
David Ron
Unstructured regions in IRE1α specify BiP-mediated destabilisation of the luminal domain dimer and repression of the UPR
eLife 8:e50793.
https://doi.org/10.7554/eLife.50793
Further reading
Sorting nexins (SNX) are a family of proteins containing the Phox homology domain, which shows a preferential endo-membrane association and regulates cargo sorting processes. Here, we established that SNX32, an SNX-BAR (Bin/Amphiphysin/Rvs) sub-family member associates with SNX4 via its BAR domain and the residues A226, Q259, E256, R366 of SNX32, and Y258, S448 of SNX4 that lie at the interface of these two SNX proteins mediate this association. SNX32, via its PX domain, interacts with the transferrin receptor (TfR) and Cation-Independent Mannose-6-Phosphate Receptor (CIMPR), and the conserved F131 in its PX domain is important in stabilizing these interactions. Silencing of SNX32 leads to a defect in intracellular trafficking of TfR and CIMPR. Further, using SILAC-based differential proteomics of the wild-type and the mutant SNX32, impaired in cargo binding, we identified Basigin (BSG), an immunoglobulin superfamily member, as a potential interactor of SNX32 in SHSY5Y cells. We then demonstrated that SNX32 binds to BSG through its PX domain and facilitates its trafficking to the cell surface. In neuroglial cell lines, silencing of SNX32 leads to defects in neuronal differentiation. Moreover, abrogation in lactate transport in the SNX32-depleted cells led us to propose that SNX32 may contribute to maintaining the neuroglial coordination via its role in BSG trafficking and the associated monocarboxylate transporter activity. Taken together, our study showed that SNX32 mediates the trafficking of specific cargo molecules along distinct pathways.

Cell Biology
Stem Cells and Regenerative Medicine

Following acute injury, the capillary vascular bed in the lung must be repaired to reestablish gas exchange with the external environment. Little is known about the transcriptional and signaling factors that drive pulmonary endothelial cell (EC) proliferation and subsequent regeneration of pulmonary capillaries, as well as their response to stress. Here, we show that the transcription factor Atf3 is essential for the regenerative response of the mouse pulmonary endothelium after influenza infection. Atf3 expression defines a subpopulation of capillary ECs enriched in genes involved in endothelial development, differentiation, and migration. During lung alveolar regeneration, this EC population expands and increases the expression of genes involved in angiogenesis, blood vessel development, and cellular response to stress. Importantly, endothelial cell-specific loss of Atf3 results in defective alveolar regeneration, in part through increased apoptosis and decreased proliferation in the endothelium. This leads to the general loss of alveolar endothelium and persistent morphological changes to the alveolar niche, including an emphysema-like phenotype with enlarged alveolar airspaces lined with regions that lack vascular investment. Taken together, these data implicate Atf3 as an essential component of the vascular response to acute lung injury that is required for successful lung alveolar regeneration.

Cell Biology
Microbiology and Infectious Disease

African trypanosomes proliferate as bloodstream forms (BSFs) and procyclic forms in the mammal and tsetse fly midgut, respectively. This allows them to colonise the host environment upon infection and ensure life cycle progression. Yet, understanding of the mechanisms that regulate and drive the cell replication cycle of these forms is limited. Using single-cell transcriptomics on unsynchronised cell populations, we have obtained high resolution cell cycle regulated (CCR) transcriptomes of both procyclic and slender BSF Trypanosoma brucei without prior cell sorting or synchronisation. Additionally, we describe an efficient freeze–thawing protocol that allows single-cell transcriptomic analysis of cryopreserved T. brucei. Computational reconstruction of the cell cycle using periodic pseudotime inference allowed the dynamic expression patterns of cycling genes to be profiled for both life cycle forms. Comparative analyses identify a core cycling transcriptome highly conserved between forms, as well as several genes where transcript levels dynamics are form specific. Comparing transcript expression patterns with protein abundance revealed that the majority of genes with periodic cycling transcript and protein levels exhibit a relative delay between peak transcript and protein expression. This work reveals novel detail of the CCR transcriptomes of both forms, which are available for further interrogation via an interactive webtool.