Enzyme Mechanisms: Wedging open a catalytic site
The activation mechanism of the nitric oxide receptor has been revealed by cryo-electron microscopy.
Of the many ways to regulate blood pressure, the simplest is to dilate or narrow the blood vessels. In the body, the gas nitric oxide (NO) binds to the enzyme soluble guanylyl cyclase (sGC) to relax blood vessels and decrease blood pressure. When the interaction between NO and sGC is disrupted, people develop hypertension and pulmonary arterial hypertension, and have a higher risk of heart failure. This makes sGC a major target for the treatment of cardiovascular diseases.
Drugs that activate the sGC enzyme have been used for many years, often without understanding their mechanism of action. One striking example is nitroglycerin, which has been used to treat angina pectoris since the end of the 19th century. It took over 100 years to discover that nitroglycerin and other nitrates work by generating NO or its derivatives, which then stimulate sGC to produce cyclic guanosine monophosphate (cGMP). The cGMP produced in this way relaxes the coronary arteries and increases blood flow to the heart. Unfortunately, nitroglycerin and most NO donors induce resistance, meaning that the patient becomes less and less responsive to ever-increasing doses of the drug.
In 1994, a small molecule called YC-1, which is not an NO derivative, was found to dramatically enhance the ability of the sGC enzyme to produce cGMP at low NO concentrations (Ko et al., 1994; Friebe et al., 1998). In healthy individuals, NO is produced by endothelial cells, which line the inside of blood vessels. When these cells stop performing their normal roles, the resulting low levels of NO lead to vascular diseases.
Nowadays, pulmonary arterial hypertension is treated with molecules similar to YC-1 (such as Adempas), which can stimulate the sGC enzyme without inducing resistance. These drugs are also in clinical trials for the treatment of chronic heart failure and have the potential to be used for treating chronic kidney diseases, hypertension and fibrotic diseases (Buys et al., 2018; Sandner et al., 2018). Two questions have been the subject of intense scrutiny and conflicting data: where does YC-1 bind to sGC, and how does it increase the impact of NO. Now, in eLife, Michael Marletta, Jim Hurley and colleagues at Berkeley, including Ben Horst and Adam Yokom as joint first authors, report the results of cryo-electron microscopy (cryo-EM) and small angle X-ray scattering experiments that shed light on these questions (Horst et al., 2019).
Structurally and kinetically, sGC is a complex enzyme. It is a heterodimer formed by two subunits, α and β, which each contain four domains: an N-terminal heme nitric oxide/oxygen binding (HNOX) domain; a Per/Arnt/Sim (PAS)-fold domain; a coiled-coil (CC) domain; and a catalytic domain at the C-terminal (Figure 1A). NO binds to the heme in the β subunit. Over the years, X-ray structures of each domain have been obtained, but attempts to determine the full-length 3D structure of the sGC enzyme have failed repeatedly. Without such structures it is not clear how these domains rearrange upon NO binding to create the most favorable conformation for the production of cGMP (Montfort et al., 2017; Horst and Marletta, 2018). Moreover, it was impossible to determine how molecules similar to YC-1 achieve their therapeutic effect.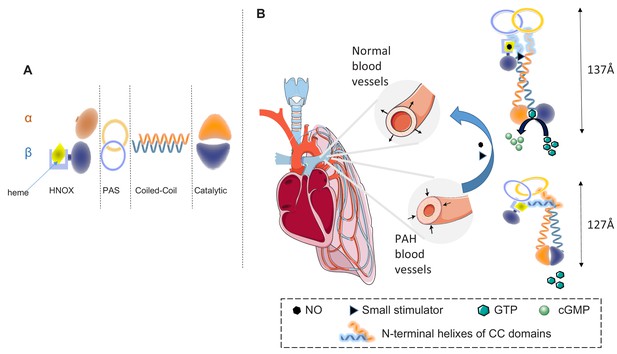 Horst et al. employed cryo-EM to obtain the full-length 3D structures of sGC in a non-activated state and in an activated state after the addition of NO and YC-1. Comparing these two structures reveals the structural changes caused by NO binding and suggest a likely mechanism for the therapeutic action of YC-1-like drugs. When NO binds to the sGC enzyme, a major rearrangement of the HNOX and PAS domains in the β subunit takes place, inducing the CC domains, which include a bend, to become straighter. This twist, in turn, creates an interface between the HNOX and CC domains in the β subunit. These conformational changes lead to opening of the catalytic pocket, making it possible for the sGC enzyme to bind guanosine triphosphate (GTP) and catalyze the production of cGMP (Figure 1B, right panel). Interestingly, YC-1 was found in a site created by the NO-induced rearrangement of the β HNOX and CC domains, where it could act as a wedge to maintain an unbent active conformation.
The structures reported by Horst et al. are similar to recent cryo-EM structures of sGC with and without excess NO (Kang et al., 2019). This suggests that activation at low NO concentrations enhanced by YC-1 is structurally comparable to that at high NO concentrations in the absence of YC-1. These models of sGC activation end years of frustration in the field, and provide a structural basis to further improve the design of small sGC stimulators that could be used to treat cardiovascular diseases (Figure 1).
It remains to be resolved whether YC-1 binds to the same site in the absence of NO, since there are a number of other possible sites (Stasch et al., 2001; Lamothe et al., 2004; Wales et al., 2018). In the current study, small-angle X-ray scattering models indicate that, in the absence of YC-1, sGC enzymes with an NO-equivalent molecule bound to the heme are a mix of bent-inactive and partially extended-activated structures. However, it is still unclear how higher concentrations of NO induce the conversion to the fully extended-activated structure. The mechanism of deactivation also remains unknown. Resolving these two matters is a priority for researchers working on the physiological role of NO.
Article and author information
Author details
© 2019, Beuve
This article is distributed under the terms of the Creative Commons Attribution License, which permits unrestricted use and redistribution provided that the original author and source are credited.
707

Page views

60

Downloads

2

Citations
Article citation count generated by polling the highest count across the following sources: Crossref, PubMed Central, Scopus.
A two-part list of links to download the article, or parts of the article, in various formats.
Downloads
(link to download the article as PDF)
Open citations
(links to open the citations from this article in various online reference manager services)
Cite this article
(links to download the citations from this article in formats compatible with various reference manager tools)
Annie Beuve
Enzyme Mechanisms: Wedging open a catalytic site
eLife 8:e52418.
https://doi.org/10.7554/eLife.52418
Further reading
Biochemistry and Chemical Biology

Soluble guanylate cyclase (sGC) is the primary receptor for nitric oxide (NO) in mammalian nitric oxide signaling. We determined structures of full-length Manduca sexta sGC in both inactive and active states using cryo-electron microscopy. NO and the sGC-specific stimulator YC-1 induce a 71° rotation of the heme-binding β H-NOX and PAS domains. Repositioning of the β H-NOX domain leads to a straightening of the coiled-coil domains, which, in turn, use the motion to move the catalytic domains into an active conformation. YC-1 binds directly between the β H-NOX domain and the two CC domains. The structural elongation of the particle observed in cryo-EM was corroborated in solution using small angle X-ray scattering (SAXS). These structures delineate the endpoints of the allosteric transition responsible for the major cyclic GMP-dependent physiological effects of NO.

Biochemistry and Chemical Biology

The possibility to record proteomes in high throughput and at high quality has opened new avenues for biomedical research, drug discovery, systems biology, and clinical translation. However, high-throughput proteomic experiments often require high sample amounts and can be less sensitive compared to conventional proteomic experiments. Here, we introduce and benchmark Zeno SWATH MS, a data-independent acquisition technique that employs a linear ion trap pulsing (Zeno trap pulsing) to increase the sensitivity in high-throughput proteomic experiments. We demonstrate that when combined with fast micro- or analytical flow-rate chromatography, Zeno SWATH MS increases protein identification with low sample amounts. For instance, using 20 min micro-flow-rate chromatography, Zeno SWATH MS identified more than 5000 proteins consistently, and with a coefficient of variation of 6%, from a 62.5 ng load of human cell line tryptic digest. Using 5 min analytical flow-rate chromatography (800 µl/min), Zeno SWATH MS identified 4907 proteins from a triplicate injection of 2 µg of a human cell lysate, or more than 3000 proteins from a 250 ng tryptic digest. Zeno SWATH MS hence facilitates sensitive high-throughput proteomic experiments with low sample amounts, mitigating the current bottlenecks of high-throughput proteomics.

Biochemistry and Chemical Biology
Neuroscience

Dynamic Ca2+ signals reflect acute changes in membrane excitability, and also mediate signaling cascades in chronic processes. In both cases, chronic Ca2+ imaging is often desired, but challenged by the cytotoxicity intrinsic to calmodulin (CaM)-based GCaMP, a series of genetically-encoded Ca2+ indicators that have been widely applied. Here, we demonstrate the performance of GCaMP-X in chronic Ca2+ imaging of cortical neurons, where GCaMP-X by design is to eliminate the unwanted interactions between the conventional GCaMP and endogenous (apo)CaM-binding proteins. By expressing in adult mice at high levels over an extended time frame, GCaMP-X showed less damage and improved performance in two-photon imaging of sensory (whisker-deflection) responses or spontaneous Ca2+ fluctuations, in comparison with GCaMP. Chronic Ca2+ imaging of one month or longer was conducted for cultured cortical neurons expressing GCaMP-X, unveiling that spontaneous/local Ca2+ transients progressively developed into autonomous/global Ca2+ oscillations. Along with the morphological indices of neurite length and soma size, the major metrics of oscillatory Ca2+, including rate, amplitude and synchrony were also examined. Dysregulations of both neuritogenesis and Ca2+ oscillations became discernible around 2–3 weeks after virus injection or drug induction to express GCaMP in newborn or mature neurons, which were exacerbated by stronger or prolonged expression of GCaMP. In contrast, neurons expressing GCaMP-X were significantly less damaged or perturbed, altogether highlighting the unique importance of oscillatory Ca2+ to neural development and neuronal health. In summary, GCaMP-X provides a viable solution for Ca2+ imaging applications involving long-time and/or high-level expression of Ca2+ probes.