Computational Neuroscience: Finding patterns in cortical responses
Simulations predict a paradoxical effect that should be revealed by patterned stimulation of the cortex.
Any system, including biological systems, can be said to perform a computation when it transforms input information to generate an output. It is thought that many brain computations are performed by neurons (or groups of neurons) receiving input signals that they process to produce output activity, which then becomes input for other neurons. Many computations that brains can perform could, in principle, be carried out through feedforward processes (Yamins et al., 2014). In simple terms, feedforward means that the signals always travel in one direction – forward to the next neuron or network of neurons – and they never travel backwards or sideways to other neurons within a neuron group. In the cortex, however, networks of neurons have substantial 'recurrent' connectivity. Most cortical neurons are connected to other nearby cortical neurons, and therefore, signals can travel sideways due to these recurrent, local connections.
One property of networks with recurrent connectivity is that they can amplify certain inputs to produce larger outputs, while suppressing other inputs or amplifying them by a smaller factor. However, it has been challenging to understand how this can happen without the system displaying unstable or runaway activity, which is undesirable in the brain because it can lead to epileptic seizures. One plausible mechanism for recurrent amplification is known as 'balanced amplification' (Murphy and Miller, 2009). In mathematical network models that support balanced amplification, recurrent connectivity allows certain inputs to produce large outputs, yet the networks still exhibit other properties that are consistent with experimental data (such as fast responses to inputs). Recurrent connections can also influence the timing of neurons' responses, allowing shorter inputs to create long-lasting, or time-varying outputs (Hennequin et al., 2014).
Neurons can be excitatory or inhibitory: when an excitatory neuron fires, the neuron receiving that input becomes more likely to fire as well, and when an inhibitory neuron fires, the opposite occurs, and the recipient neuron is suppressed. A network of excitatory and inhibitory cells must possess strong recurrent connectivity to support many recurrent computations, including balanced amplification. Here 'strong' means that recurrent connections are sufficiently dense to allow excitatory neurons to amplify other excitatory neurons' activity, and in this situation, strong inputs from inhibitory neurons are required to stop the network from becoming unstable. More precisely, inhibitory-stabilized network models are those where, if the activity of inhibitory neurons could be locked to a fixed level, the excitatory neurons in the network would then become unstable (Tsodyks et al., 1997). Inhibitory-stabilized networks have been found in several cortical areas, and are seen across a range of levels of network activity – both when sensory stimulation is present, and when it is absent (Ozeki et al., 2009; Li et al., 2019; Sanzeni et al., 2019, but see Mahrach et al., 2020).
The simplest form of strong connectivity amongst excitatory neurons in a network is where the whole excitatory network is unstable. This is the standard inhibitory-stabilized network. But complex neural networks can have multiple unstable excitatory modes, where subgroups of excitatory neurons are unstable and would display runaway behavior if they were not stabilized by inhibition. Networks in which inhibition stabilizes multiple excitatory modes or subgroups are said to be in detailed balance (Vogels and Abbott, 2009; Hennequin et al., 2014; Litwin-Kumar and Doiron, 2014), while those in which inhibition stabilizes a single group of excitatory cells, typically the group of all excitatory cells, are in global balance. As a general rule, networks in detailed balance are also in global balance.
Now, in eLife, Sadra Sadeh and Claudia Clopath from Imperial College London report the result of simulations that show that networks in detailed balance have properties that extend the basic inhibitory-stabilized network (Sadeh and Clopath, 2020). In globally-balanced networks, when inhibitory neurons are stimulated uniformly (all of the neurons across the network receive an input of the same strength) a distinctive 'paradoxical' response, where adding input reduces activity, can be observed (Figure 1C). These paradoxical responses can be used as a signature to determine whether the network is an inhibitory-stabilized network (Tsodyks et al., 1997). Sadeh and Clopath extend this idea to detailed-balance networks with multiple unstable excitatory modes. They show that if the inhibitory neurons in these networks receive more complex, patterned stimulation (that is, certain neurons receive a stronger input than others) a predictable paradoxical signature can be observed (Figure 1D). Sadeh and Clopath call networks in which this happens 'specific inhibitory-stabilized networks'. The connectivity patterns between neurons in their models are consistent with anatomical evidence of structured network connectivity in the cortex (Ko et al., 2013; Znamenskiy et al., 2018). Further, the existence of multiple excitatory submodes in the cortex is suggested by recent experiments that have found preferential amplification of specific patterns of input (Marshel et al., 2019; Peron et al., 2020).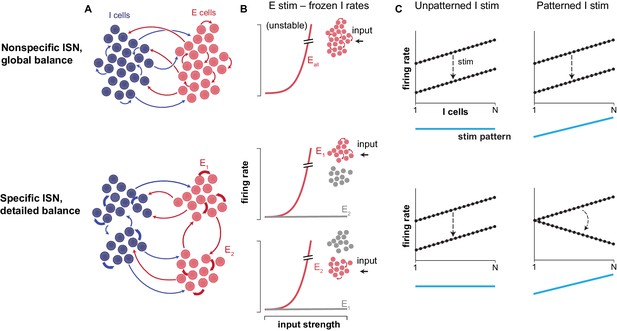 Sadeh and Clopath thus make a concrete prediction: that this "specific paradoxical effect" will be seen in networks where the connectivity between neurons is strong and structured. This prediction can now be tested using a technique called two-photon optogenetics that allows patterned input to be provided to neural networks in vivo with single-cell resolution, both for excitatory and inhibitory neurons (for example, Marshel et al., 2019; Forli et al., 2018).
The article by Sadeh and Clopath also takes a conceptual step forward by considering the information that can be gained about network structure and function by providing each neuron with an input of different strength. This conceptual framework is timely, as two-photon stimulation has this ability to vary the strength of the input to selected neurons. Specifically, Sadeh and Clopath predict that a pattern of input across inhibitory neurons will generate a response that is similar to the input pattern but with opposite sign. These predictions should shape future experiments, yielding new information about a key element of cortical function: how the recurrent connectivity in cortical networks is used for computation.
Article and author information
Author details
© 2020, Sanzeni and Histed
This article is distributed under the terms of the Creative Commons Attribution License, which permits unrestricted use and redistribution provided that the original author and source are credited.
1,510

Page views

166

Downloads

2

Citations
Article citation count generated by polling the highest count across the following sources: Crossref, PubMed Central, Scopus.
A two-part list of links to download the article, or parts of the article, in various formats.
Downloads
(link to download the article as PDF)
Open citations
(links to open the citations from this article in various online reference manager services)
Cite this article
(links to download the citations from this article in formats compatible with various reference manager tools)
Alessandro Sanzeni
Mark H Histed
Computational Neuroscience: Finding patterns in cortical responses
eLife 9:e56234.
https://doi.org/10.7554/eLife.56234
Further reading
Perturbation of neuronal activity is key to understanding the brain's functional properties, however, intervention studies typically perturb neurons in a nonspecific manner. Recent optogenetics techniques have enabled patterned perturbations, in which specific patterns of activity can be invoked in identified target neurons to reveal more specific cortical function. Here, we argue that patterned perturbation of neurons is in fact necessary to reveal the specific dynamics of inhibitory stabilization, emerging in cortical networks with strong excitatory and inhibitory functional subnetworks, as recently reported in mouse visual cortex. We propose a specific perturbative signature of these networks and investigate how this can be measured under different experimental conditions. Functionally, rapid spontaneous transitions between selective ensembles of neurons emerge in such networks, consistent with experimental results. Our study outlines the dynamical and functional properties of feature-specific inhibitory-stabilized networks, and suggests experimental protocols that can be used to detect them in the intact cortex.

Many species of animals exhibit an intuitive sense of number, suggesting a fundamental neural mechanism for representing numerosity in a visual scene. Recent empirical studies demonstrate that early feedforward visual responses are sensitive to numerosity of a dot array but substantially less so to continuous dimensions orthogonal to numerosity, such as size and spacing of the dots. However, the mechanisms that extract numerosity are unknown. Here we identified the core neurocomputational principles underlying these effects: (1) center-surround contrast filters; (2) at different spatial scales; with (3) divisive normalization across network units. In an untrained computational model, these principles eliminated sensitivity to size and spacing, making numerosity the main determinant of the neuronal response magnitude. Moreover, a model implementation of these principles explained both well-known and relatively novel illusions of numerosity perception across space and time. This supports the conclusion that the neural structures and feedforward processes that encode numerosity naturally produce visual illusions of numerosity. Together, these results identify a set of neurocomputational properties that gives rise to the ubiquity of the number sense in the animal kingdom.

Developmental Biology

Neuroscience

Neuronal identity dictates the position in an epithelium, and the ability to detect, process, and transmit specific signals to specified targets. Transcription factors (TFs) determine cellular identity via direct modulation of genetic transcription and recruiting chromatin modifiers. However, our understanding of the mechanisms that define neuronal identity and their magnitude remain a critical barrier to elucidate the etiology of congenital and neurodegenerative disorders. The rodent vomeronasal organ provides a unique system to examine in detail the molecular mechanisms underlying the differentiation and maturation of chemosensory neurons. Here, we demonstrated that the identity of postmitotic/maturing vomeronasal sensory neurons (VSNs), and vomeronasal-dependent behaviors can be reprogrammed through the rescue of Tfap2e/AP-2ε expression in the Tfap2eNull mice, and partially reprogrammed by inducing ectopic Tfap2e expression in mature apical VSNs. We suggest that the TF Tfap2e can reprogram VSNs bypassing cellular plasticity restrictions, and that it directly controls the expression of batteries of vomeronasal genes.