Motor Performance: Acetylcholine in action
The neurotransmitter acetylcholine influences how male finches perform courtship songs by acting on a region of the premotor cortex called HVC.
Acetylcholine is a neurotransmitter that helps organisms filter the vast amounts of information received from the environment. In the sensory cortex, it acts by fine-tuning the activity of neurons to heighten attention, which helps with learning and memory (Sarter and Lustig, 2019; Lee and Dan, 2012; Picciotto et al., 2012).
Heightened attention also boosts the precision and speed of movements (Song, 2019). Previous research in this area has focused on neuromodulation in the basal ganglia, a group of neural structures in the forebrain that help to select, initiate, maintain, and adapt motor actions (Berke, 2018; Mink, 1996; Turner and Desmurget, 2010). For example, dopamine is an important neurotransmitter in this region, and its loss is associated with movement disorders such as Parkinson's disease. Disrupting acetylcholine signaling also leads to problems with movement, yet the influence of acetylcholine on motor performance is not fully understood (Conner et al., 2010). Now, in eLife, Paul Jaffe and Michael Brainard from the University of California, San Francisco report the results of experiments on songbirds that shed light on the relationship between acetylcholine, arousal, and motor performance (Jaffe and Brainard, 2020).
The team took advantage of the fact that male Bengalese finches naturally alter their song performance depending on their audience. Each male has his own song that he rehearses alone. However, when aroused and courting a female, the male produces a song that is more stereotypical (less variable), longer, and faster (Figure 1A; Sakata et al., 2008). Several specialized neural circuits – some in the cortex, and some in the basal ganglia – are required to learn and produce songs. Researchers can monitor and manipulate these circuits with precision to understand their function (Sakata and Woolley, 2020).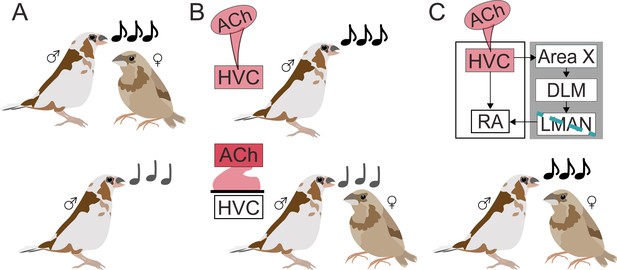 First, Jaffe and Brainard focused on a premotor cortical region called HVC, where they locally infused a drug that mimics the effects of acetylcholine. As a result, males started to sing as if a female were present: songs were faster, louder, and less variable during drug infusion than in control conditions (Figure 1B). Neurons in HVC also started to show the same type of pattern observed during courtship singing towards females – there was, in particular, neural activity increased. Together, these experiments suggest that acetylcholine plays a role in shaping singing behavior in a social context.
Next, they assessed whether differences in behaviour in the presence and absence of a female normally depend on acetylcholine. To this end, Jaffe and Brainard blocked specific acetylcholine receptors, leading to courtship songs in the presence of females becoming lower in pitch, more variable, and altogether more similar to songs performed alone (Figure 1B). Decreasing acetylcholine activity in HVC therefore weakened the vigor of courtship singing, revealing that acetylcholine can drive changes in the brain that energize male performances towards females.
In the brains of songbirds, HVC is connected to the region that controls vocal motor outputs both directly and through a separate circuit that goes through the basal ganglia. Jaffe and Brainard therefore set out to determine which of these pathways acetylcholine acts on to enhance the vigor of the song. They disrupted the circuit that connects the basal ganglia to the vocal output region and showed that, in this context, increased acetylcholine activity in HVC still produced the same enhanced singing behavior (Figure 1C). This demonstrates that acetylcholine can invigorate song performance even without the basal ganglia being involved.
From songbirds to humans, many vertebrates rely on 'prosodic cues' such as pitch and tempo to convey motivations and emotions during communication (Pell et al., 2009; Sakata and Vehrencamp, 2012). Knowing how acetylcholine heightens motor performance sheds light on the neural circuits that underlie the production of these cues. Other chemicals, such as dopamine and norepinephrine, also fine-tune the activity of neurons in motor circuits. In the future, understanding how acetylcholine interacts with these neurotransmitters, both in overlapping and independent regions, will be necessary to fully grasp how arousal influences motor behavior.
Article and author information
Author details
© 2020, Wall and Woolley
This article is distributed under the terms of the Creative Commons Attribution License, which permits unrestricted use and redistribution provided that the original author and source are credited.
1,282

Page views

73

Downloads

1

Citations
Article citation count generated by polling the highest count across the following sources: Crossref, PubMed Central, Scopus.
A two-part list of links to download the article, or parts of the article, in various formats.
Downloads
(link to download the article as PDF)
Open citations
(links to open the citations from this article in various online reference manager services)
Cite this article
(links to download the citations from this article in formats compatible with various reference manager tools)
Erin M Wall
Sarah C Woolley
Motor Performance: Acetylcholine in action
eLife 9:e57515.
https://doi.org/10.7554/eLife.57515
Further reading
Acetylcholine is well-understood to enhance cortical sensory responses and perceptual sensitivity in aroused or attentive states. Yet little is known about cholinergic influences on motor cortical regions. Here we use the quantifiable nature of birdsong to investigate how acetylcholine modulates the cortical (pallial) premotor nucleus HVC and shapes vocal output. We found that dialyzing the cholinergic agonist carbachol into HVC increased the pitch, amplitude, tempo and stereotypy of song, similar to the natural invigoration of song that occurs when males direct their songs to females. These carbachol-induced effects were associated with increased neural activity in HVC and occurred independently of basal ganglia circuitry. Moreover, we discovered that the normal invigoration of female-directed song was also accompanied by increased HVC activity and was attenuated by blocking muscarinic acetylcholine receptors. These results indicate that, analogous to its influence on sensory systems, acetylcholine can act directly on cortical premotor circuitry to adaptively shape behavior.

Melanopsin signaling within intrinsically photosensitive retinal ganglion cell (ipRGC) subtypes impacts a broad range of behaviors from circadian photoentrainment to conscious visual perception. Yet, how melanopsin phototransduction within M1-M6 ipRGC subtypes impacts cellular signaling to drive diverse behaviors is still largely unresolved. The identity of the phototransduction channels in each subtype is key to understanding this central question but has remained controversial. In this study, we resolve two opposing models of M4 phototransduction, demonstrating that hyperpolarization-activated cyclic nucleotide-gated (HCN) channels are dispensable for this process and providing support for a pathway involving melanopsin-dependent potassium channel closure and canonical transient receptor potential (TRPC) channel opening. Surprisingly, we find that HCN channels are likewise dispensable for M2 phototransduction, contradicting the current model. We instead show that M2 phototransduction requires TRPC channels in conjunction with T-type voltage-gated calcium channels, identifying a novel melanopsin phototransduction target. Collectively, this work resolves key discrepancies in our understanding of ipRGC phototransduction pathways in multiple subtypes and adds to mounting evidence that ipRGC subtypes employ diverse phototransduction cascades to fine-tune cellular responses for downstream behaviors.

Analysis of neuronal activity in the hippocampus of behaving animals has revealed cells acting as 'Time Cells', which exhibit selective spiking patterns at specific time intervals since a triggering event, and 'Distance Cells', which encode the traversal of specific distances. Other neurons exhibit a combination of these features, alongside place selectivity. This study aims to investigate how the task performed by animals during recording sessions influences the formation of these representations. We analyzed data from a treadmill running study conducted by Kraus et al., 2013, in which rats were trained to run at different velocities. The rats were recorded in two trial contexts: a 'fixed time' condition, where the animal ran on the treadmill for a predetermined duration before proceeding, and a 'fixed distance' condition, where the animal ran a specific distance on the treadmill. Our findings indicate that the type of experimental condition significantly influenced the encoding of hippocampal cells. Specifically, distance-encoding cells dominated in fixed-distance experiments, whereas time-encoding cells dominated in fixed-time experiments. These results underscore the flexible coding capabilities of the hippocampus, which are shaped by over-representation of salient variables associated with reward conditions.