How will mosquitoes adapt to climate warming?
The potential for adaptive evolution to enable species persistence under a changing climate is one of the most important questions for understanding impacts of future climate change. Climate adaptation may be particularly likely for short-lived ectotherms, including many pest, pathogen, and vector species. For these taxa, estimating climate adaptive potential is critical for accurate predictive modeling and public health preparedness. Here, we demonstrate how a simple theoretical framework used in conservation biology—evolutionary rescue models—can be used to investigate the potential for climate adaptation in these taxa, using mosquito thermal adaptation as a focal case. Synthesizing current evidence, we find that short mosquito generation times, high population growth rates, and strong temperature-imposed selection favor thermal adaptation. However, knowledge gaps about the extent of phenotypic and genotypic variation in thermal tolerance within mosquito populations, the environmental sensitivity of selection, and the role of phenotypic plasticity constrain our ability to make more precise estimates. We describe how common garden and selection experiments can be used to fill these data gaps. Lastly, we investigate the consequences of mosquito climate adaptation on disease transmission using Aedes aegypti-transmitted dengue virus in Northern Brazil as a case study. The approach outlined here can be applied to any disease vector or pest species and type of environmental change.
Climate change is expected to have major impacts on species distributions in coming decades, and predicting these impacts is an area of intense research interest. As their basic physiological and ecological traits depend heavily on temperature, climate impacts are expected to be particularly strong for ectotherms (Deutsch et al., 2008). This encompasses many taxa that threaten human health and well-being, including agricultural and forest pests, wildlife and plant pathogens, and disease vectors, for which accurately predicting distributions under climate change is critical for protecting human and animal health. Several prominent reviews have found that climate change is expected to increase, decrease, or, most commonly, shift the distributions of these taxa due to nonlinear and interactive effects of temperature and other climatic factors (Porter et al., 1991; Harvell et al., 2002; Deutsch et al., 2008; Rohr et al., 2011; Altizer et al., 2013; Lafferty and Mordecai, 2016; Pinsky et al., 2019; Lehmann et al., 2020; Rohr and Cohen, 2020). However, these predictions largely assume that species climate responses are fixed, ignoring the potential for adaptive responses.
Evidence of evolutionary adaptation to contemporary climate change has emerged for diverse taxa including mammals (Réale et al., 2003), fish (Kovach et al., 2012), plants (Franks et al., 2007; Exposito-Alonso et al., 2018), birds (Nussey et al., 2005; Karell et al., 2011), reptiles (Logan et al., 2018), and insects (Umina et al., 2005). However, while climate adaptation has typically been studied in the context of conservation biology, population genetics theory suggests that evolutionary adaptation is most likely for short-lived species with high population growth rates—properties of many pest, pathogen, and vector species (Lynch and Lande, 1993; Bürger and Lynch, 1995; Kingsolver, 2009). For several of these species, recent research demonstrates the potential for climate adaptation within a few decades. For example, in the European gypsy moth (Lymantria dispar)—one of the world's most destructive forest pests (Montgomery and Wallner, 1988)—shifts in thermal tolerance were evident within 30 years of population expansion (Friedline et al., 2019). Similarly, in the Asian tiger mosquito (Aedes albopictus)—a vector of yellow fever, dengue, and chikungunya viruses—adaptive responses to novel temperature conditions were detected within 10–30 years of population expansions (Medley, 2010; Urbanski et al., 2012; Egizi et al., 2015; Medley et al., 2019). Despite this emerging evidence of the potential for rapid climate adaptation in pest and vector taxa, a general strategy for understanding and estimating their climate adaptive potential is lacking.
The potential for climate adaptation is a particularly important open question in mosquito-borne disease biology (Mordecai et al., 2019; Franklinos et al., 2019). Mosquito-borne diseases are a major public health burden, causing an estimated 500 million cases and millions of deaths globally each year (World Health Organization, 2014; World Health Organization, 2018). Environmental drivers of mosquito-borne disease transmission have been relatively well studied, and consistently highlight temperature—and by extension, climate warming—as a fundamental driver (Shragai et al., 2017; Mordecai et al., 2019; Franklinos et al., 2019; Shocket et al., 2021). Temperature influences mosquito-borne disease dynamics because it directly affects mosquito physiology, life cycles, behavior, and competence for disease transmission (Cator et al., 2020). For mosquitoes and other ectotherms, temperature has strong, nonlinear effects on traits such as survival and fecundity that lead to unimodal effects of temperature on fitness, where temperatures above and below intermediate thermal optima limit mosquito population growth (Huey and Stevenson, 1979; Huey and Berrigan, 2001; Angilletta, 2009; Amarasekare and Savage, 2012; Mordecai et al., 2019). Recent forecasts based on the unimodal relationship with temperature predict that in some areas where disease risk is currently high, future warming will decrease transmission risk as temperatures exceed mosquito thermal optima and limits (Gething et al., 2010; Ryan et al., 2015; Ryan et al., 2019; Mordecai et al., 2019; Mordecai et al., 2020). However, these predictions are likely to underestimate future disease risk if mosquitoes adapt to climate warming. As a result, estimating the potential for mosquito thermal adaptation is critical for more accurate predictive modeling.
Here, we outline a theoretical framework for investigating climate adaptive potential in ectotherm pests and pathogens, which draws from evolutionary rescue models typically used in conservation biology. We use mosquito adaptation to warming temperature as a focal case given the high global health burden of mosquito-borne disease and substantial recent research progress on mosquito thermal biology. In the following sections, we: (1) outline the theoretical framework and the specific parameters needed to estimate adaptive potential, (2) synthesize available information for mosquito thermal adaptation and identify key data gaps for predictive modeling, (3) highlight priorities and describe specific empirical approaches for filling these gaps, (4) explore the consequences of mosquito thermal adaptation on disease transmission, and (5) discuss the application of this framework to other vector and pest species. We focus here on adaptation to warming temperatures that exceed current mosquito thermal optima. We consider temperature in isolation despite its influence on relative humidity, which has strong impacts on mosquito population dynamics and host-seeking behavior and is predicted to shift with anthropogenic climate change. Several studies have investigated mosquito adaptation to desiccation (e.g. Kearney et al., 2009; Simard et al., 2009; Fouet et al., 2012), but few have investigated mosquito responses to simultaneous variation in temperature and humidity (but see Yamana and Eltahir, 2013; Yamana et al., 2016). Given this lack of empirical data, we focus on temperature specifically, but we discuss the inclusion of aridity in predictive modeling approaches (see 'Climate factors currently limiting population persistence'). Similarly, we do not include non-climate factors such as biotic interactions, land use change, and human activities that may impact mosquito population persistence, because their effects on mosquito responses to temperature and thermal adaptive potential remain poorly understood. We discuss the adaptive potential of mosquitoes broadly, but our principal interest is in populations of major disease vector species (e.g. Aedes aegypti, Ae. albopictus, Anopheles gambiae, Culex pipiens, Cx. quinquefasciatus, which transmit dengue, chikungunya, Zika, and West Nile viruses, malaria, and other pathogens) and we discuss species-specific responses where possible. After presenting mosquito thermal adaptation as a focal case, we discuss how the approach we describe here can be applied to study the adaptive potential of any species in response to any specific environmental change.
Additional factors influencing population persistence
In addition to the eight parameters in the Chevin et al., 2010 evolutionary rescue model (main text, Box 1), other factors influence a population's potential for thermal adaptation. The starting population size informs the probability of obtaining rescue variants, and thus the probability of adaptation (Orr and Unckless, 2008; Bell, 2013; Martin et al., 2013; Carlson et al., 2014). The degree of stochasticity in temperature change influences an organism's ability to respond via plastic changes (Manenti et al., 2014; Catullo et al., 2015). The breadth of thermal performance and the genetic architecture of thermal tolerance inform the strength of selection (Huey and Kingsolver, 1993; Kopp and Matuszewski, 2014). Rates of gene flow and dispersal may hinder local adaptation due to the influx of maladapted genes but may promote evolutionary rescue through increasing genetic variation and bolstering small population sizes (Garant et al., 2007; Baskett and Gomulkiewicz, 2011; Kirkpatrick and Peischl, 2013; Schiffers et al., 2013; Bourne et al., 2014; Carlson et al., 2014). The degree of density dependence determines the strength of genetic bottlenecks (Nordstrom et al., 2020). Biotic interactions such as interspecific competition or predation may alter selection pressures (Culler et al., 2015), constraining rates of adaptation (Barbour et al., 2020), or limit population persistence despite sufficient rates of adaptation (Angilletta, 2009; Carlson et al., 2014; Johnson et al., 2019; Huey and Kingsolver, 2019). Fitness costs of phenotypic plasticity, such as reduced foraging associated with behavioral thermoregulation or energetic costs associated with maintaining the physiological machinery for acclimation may constrain levels of plasticity (Dewitt et al., 1998; Angilletta, 2009; Chevin et al., 2010).
Methods for calculating mosquito population growth rate
The formula for population growth rate (r) as a function of temperature (T) is derived from the Euler-Lotka equation (Amarasekare and Savage, 2012) as follows:
Population growth rate is a function of adult mortality (µ), mosquito development rate (MDR), fecundity (E), and juvenile mortality (µj). W is the upper branch of the Lambert function.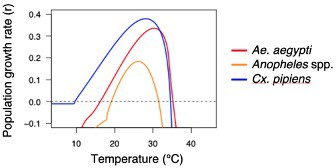 Methods for 'Consequences for disease transmission' case study: Aedes aegypti-transmitted dengue virus in Northern Brazil
In this case study, we estimate the monthly temperature suitability for dengue virus transmission by Aedes aegypti in Northern Brazil. This includes the North and Northeast macroregions, with a combined population size of approximately 69 million people (Instituto Brasileiro de Geografia e Estatistica and população, 2016) and 250,000 probable dengue cases per year (National Notifiable Diseases Information System (SINAN), 2019). Based on model projections that do not incorporate mosquito thermal adaptation (Ryan et al., 2019), Ae. aegypti-transmitted dengue suitability is expected to decline in this region by 2080 under an upper climate change scenario (RCP 8.5) as warming temperatures exceed mosquito upper thermal limits. Thermal adaptation by Ae. aegypti in this region could enable dengue transmission suitability to be maintained.
We use a temperature-dependent model of —the number of secondary infections expected from a single infected individual introduced into a fully susceptible population—using the following expression (Mordecai et al., 2013):
where (T) indicates a temperature-dependent trait, a is the mosquito biting rate, b is the proportion of infectious mosquito bites resulting in infected humans, c is the proportion of bites on infected humans resulting in infected mosquitoes, µ is the adult mosquito mortality rate (here calculated as 1/ lifespan), PDR is the parasite development rate, EFD is the number of eggs laid per female per day, is the mosquito egg-to-adulthood survival probability, MDR is the sub-adult mosquito development rate, N is the density of humans, and r is the human recovery rate.
We use the data compiled by Mordecai et al., 2017 on the temperature-dependence of Aedes aegypti and dengue virus traits involved in transmission to parameterize the model. We use this model to estimate the number of months per year in which temperatures are suitable for dengue transmission (i.e., the number of months in which ), a conservative threshold that defines the range of temperatures at which dengue transmission is not prohibited (Ryan et al., 2019).
We first estimate the number of suitable months for transmission under current (2021) and future (2080) temperatures assuming no mosquito adaptation. We then estimate the extent of mosquito thermal adaptation needed to maintain current levels of transmission suitability under future temperatures. We assume adult fecundity to be the life history trait under thermal selection as it has lowest critical thermal maximum (; 34.61°C) of the Ae. aegypti and dengue virus life history traits (MacLean et al., 2019) and is thus the trait that determines the maximum temperature for dengue transmission. Current mean monthly temperatures do not exceed the for fecundity at any location within Northern Brazil in 2021. By 2080 under RCP 8.5, mean monthly temperatures are often expected to exceed , indicating temperatures are projected to be unsuitable for dengue transmission (i.e., ). We ask: What degree of increase in the of Ae. aegypti fecundity would enable current monthly transmission suitability to be maintained in 2080? In this example, we consider fecundity as the only trait under thermal selection, although future temperatures may exceed the of other Ae. aegypti and dengue virus life history traits, and there may be genetic correlations between fecundity and mosquito survival and development.
For consistency with Ryan et al., 2019, we use mean monthly temperature when estimating Other climate variables such as diurnal temperature variation or monthly precipitation may limit future Ae. aegypti persistence in this region, but their effects on mosquito life history traits are less well understood than those of mean temperature, and thus they are not considered here for simplicity. Regions in which extreme drought or other limiting climate conditions are projected could be masked from the analyses as in Ryan et al., 2015 for more precise estimates. For current and projected mean monthly temperature data, we used the Hadley general circulation model (GCM) (HadGEM2-ES), which has high performance in Brazil and is the most commonly used GCM (Ryan et al., 2019; Almagro et al., 2020). Data were accessed through the Earth System Grid Federation. We used temperature projections made under representative concentration pathway (RCP) 8.5 for consistency with Ryan et al., 2019. RCP 8.5 is considered a 'business-as-usual' fossil fuel emissions scenario and corresponds to an 8.5 increase in solar radiation by 2100 (Riahi et al., 2011).
All climate analyses and mapping were conducted in R version 4.0.2. The R code and climate data files used in the analysis are available on Github (https://github.com/lcouper/MosquitoAdaptationCaseStudy).
Book

Drosophila A Laboratory Handbook

Cold Spring Harbor, New york: Cold Spring Harbor Laboratory Press.

Heat-shock mortality and induced thermotolerance in larvae of the mosquito anopheles albimanus

Journal of the American Mosquito Control Association 7:547–550.

Report

Transmission of Major Arboviruses in Brazil: The Role of Aedes Aegypti and Aedes Albopictus Vectors. Page Biological Control of Pest and Vector Insects

InTech, Rijeka, Croatia.

Report

Long-Term Climate Change: Projections, Commitments and Irreversibility

Climate Change 2013: The Physical Science Basis. Contribution of Working Group I to the Fifth Assessment Report of the Intergovernmental Panel on Climate Change.

Book

Introduction to Quantitative Genetics

New York: John Wiley and Sons.

Resting behaviour, ecology and genetics of malaria vectors in large scale agricultural Areas of western Kenya

Parassitologia 38:481–489.

Book

Principles of Population Genetics (Fourth Edition)

Sunderland: Sinauer Associates.

Website

IBGE

Accessed June 1, 2021.

Report

Climate Change 2007: The Physical Science Basis

Working Group I Contribution to the Fourth Assessment Report of the IPCC.

Conference

Negative density dependence constrains evolutionary rescue

ESA Annual Meeting.

Ochlerotatus japonicus japonicus (Theobald) (Diptera: culicidae), a new invasive mosquito for Georgia and south Carolina

Proceedings of the Entomological Society of Washington 106:233–234.

Biochemical Adaptation

Response to Environmental Challenges from Life's Origins to the Anthropocene, Biochemical Adaptation, Sunderland, Sinauer Associates, Inc.

Book

What is Phenotypic Plasticity and Why is it Important?

In: Whitman D, Ananthakrishnan T, editors. Phenotypic Plasticity of Insects. Science Publishers. pp. 1–63.

Report

A Global Brief on Vector-Borne Diseases

World Health Organization Technical Report.

Report

Global Vector Control Response 2017- 2030

World Health Organization.
Article and author information
Author details
National Institute of General Medical Sciences (R35GM133439)
Johannah E Farner
Devin G Kirk
Eloise B Skinner
Erin A Mordecai
National Science Foundation (DEB-1518681)
Johannah E Farner
Marta Shocket
Erin A Mordecai
National Science Foundation (DEB-2011147)
The funders had no role in study design, data collection and interpretation, or the decision to submit the work for publication.
We thank George Somero for enlightening discussions about the molecular mechanisms of thermal tolerance. We thank Nina Dennington for sharing insight on experimental methods for studying mosquito thermal adaptation. We are grateful to Chris Anderson, Tejas Athni, Alex Becker, Caroline Glidden, and Morgan Kain for helpful feedback on the manuscript. EAM, DGK, JEF, and EBS were funded by the NIH National Institute of General Medical Sciences R35 MIRA program (R35GM133439). EAM, JEF, and MSS were funded by the NSF Ecology and Evolution of Infectious Diseases (EEID) program (DEB-1518681). EAM was funded by the NSF EEID program (DEB-2011147, with support from the Fogarty International Center), a Terman Award, a Stanford King Center for Global Development seed grant, and a seed grant from the Stanford Center for Innovation in Global Health and Woods Institute for the Environment. MLC was supported by the Illich-Sadowsky Fellowship through the Stanford Interdisciplinary Graduate Fellowship program. NN was supported by the Stanford Data Science Scholarship and the P.E.O. Scholar Award, International Chapter of the P.E.O. Sisterhood. LIC was funded by the Stanford Graduate Fellowship. JEF was funded by the Bing-Mooney Graduate Fellowship. MJH was funded by the Knight-Hennessy Scholarship.
Senior and Reviewing Editor
George H Perry, Pennsylvania State University, United States
© 2021, Couper et al.
This article is distributed under the terms of the Creative Commons Attribution License, which permits unrestricted use and redistribution provided that the original author and source are credited.
5,226

Page views

678

Downloads

25

Citations
Article citation count generated by polling the highest count across the following sources: Crossref, PubMed Central, Scopus.
A two-part list of links to download the article, or parts of the article, in various formats.
Downloads
(link to download the article as PDF)
Open citations
(links to open the citations from this article in various online reference manager services)
Cite this article
(links to download the citations from this article in formats compatible with various reference manager tools)
Lisa I Couper
Johannah E Farner
Jamie M Caldwell
Marissa L Childs
Mallory J Harris
Devin G Kirk
Nicole Nova
Marta Shocket
Eloise B Skinner
Lawrence H Uricchio
Moises Exposito-Alonso
Erin A Mordecai
How will mosquitoes adapt to climate warming?
eLife 10:e69630.
https://doi.org/10.7554/eLife.69630
Further reading
Ecology
Genetics and Genomics

Adulis, located on the Red Sea coast in present-day Eritrea, was a bustling trading centre between the first and seventh centuries CE. Several classical geographers--Agatharchides of Cnidus, Pliny the Elder, Strabo-noted the value of Adulis to Greco--Roman Egypt, particularly as an emporium for living animals, including baboons (Papio spp.). Though fragmentary, these accounts predict the Adulite origins of mummified baboons in Ptolemaic catacombs, while inviting questions on the geoprovenance of older (Late Period) baboons recovered from Gabbanat el-Qurud ('Valley of the Monkeys'), Egypt. Dated to ca. 800-540 BCE, these animals could extend the antiquity of Egyptian-Adulite trade by as much as five centuries. Previously, Dominy et al. (2020) used stable istope analysis to show that two New Kingdom specimens of P. hamadryas originate from the Horn of Africa. Here, we report the complete mitochondrial genomes from a mummified baboon from Gabbanat el-Qurud and 14 museum specimens with known provenance together with published georeferenced mitochondrial sequence data. Phylogenetic assignment connects the mummified baboon to modern populations of Papio hamadryas in Eritrea, Ethiopia, and eastern Sudan. This result, assuming geographical stability of phylogenetic clades, corroborates Greco-Roman historiographies by pointing toward present-day Eritrea, and by extension Adulis, as a source of baboons for Late Period Egyptians. It also establishes geographic continuity with baboons from the fabled Land of Punt (Dominy et al., 2020), giving weight to speculation that Punt and Adulis were essentially the same trading centres separated by a thousand years of history.

While bacterial diversity is beneficial for the functioning of rhizosphere microbiomes, multi-species bioinoculants often fail to promote plant growth. One potential reason for this is that competition between different species of inoculated consortia members creates conflicts for their survival and functioning. To circumvent this, we used transposon insertion mutagenesis to increase the functional diversity within Bacillus amyloliquefaciens bacterial species and tested if we could improve plant growth promotion by assembling consortia of highly clonal but phenotypically dissimilar mutants. While most insertion mutations were harmful, some significantly improved B. amyloliquefaciens plant growth promotion traits relative to the wild-type strain. Eight phenotypically distinct mutants were selected to test if their functioning could be improved by applying them as multifunctional consortia. We found that B. amyloliquefaciens consortium richness correlated positively with plant root colonization and protection from Ralstonia solanacearum phytopathogenic bacterium. Crucially, 8-mutant consortium consisting of phenotypically dissimilar mutants performed better than randomly assembled 8-mutant consortia, suggesting that improvements were likely driven by consortia multifunctionality instead of consortia richness. Together, our results suggest that increasing intra-species phenotypic diversity could be an effective way to improve probiotic consortium functioning and plant growth promotion in agricultural systems.

Computational and Systems Biology
Ecology

High proportions of gut bacteria that produce their own food can be an indicator for poor gut health.