Dinosaurs: A new, 'hip' way to breathe
Ornithischians, one of the three major groups of dinosaurs, developed a unique mechanism to ensure airflow in the lungs.
Breathe in… and out. As your chest rises and falls, the diaphragm and several lesser-known muscles create the reassuring bellows-like motion that allows air to fill and leave the lungs (Perry et al., 2010). All living mammals and many extinct relatives share the same respiratory muscles and 'ventilation' technique, but this is not the only way to breathe.
For example, archosaurs, a large group of reptiles that included all dinosaurs as well as the ancestors of crocodylians, used 'cuirassal breathing' instead (Carrier and Farmer, 2000). They had oddly shaped bones known as gastralia in their abdominal wall, which assisted in ventilation by helping to connect the rib cage to the muscles and bones in the pelvis. With time, however, the architecture of the pelvis changed, and structures other than gastralia took over to help breathing in crocodylians and many dinosaurs, including birds (Baumel et al., 1990; Farmer and Carrier, 2000). For example, in birds, the pelvis rotated and a new, complex ventilation system emerged; in crocodylians, a 'hepatic piston' developed, whereby a muscle anchored to pubic bones in the hip pulls back the liver to create a motion that draws in air into the lung.
Amongst dinosaurs, two groups (one extinct, the other which gave rise to birds) feature early species with gastralia, only to lose these bones in favor of other ventilatory mechanisms later in evolution (Claessens, 2004). On the other hand, gastralia had never been found in species belonging to the now-extinct third dinosaur group Ornithischia, which later on included species such as Triceratops and Stegosaurus. Now, in eLife, Viktor Radermacher and colleagues report having found, for the first time, gastralia in Ornithischia (Radermacher et al., 2021). The team, which is based in institutions in Canada, South Africa, the United Kingdom, France and the United States, spotted the bones in Heterodontosaurus, one of the oldest-known ornithischians.
Beyond the unique presence of these bones, this new Heterodontosaurus specimen from South Africa also displayed features of other ornithischians, such as sternal plates. These peculiar bones of the chest wall may have facilitated cuirassal breathing in some early archosaurs – including, as Radermacher et al. now reveal, in early species of ornithischians.
Heterodontosaurus possesses a small projection on the pubis—one of the three bones of the hip—that points toward the head. This 'anterior pubic process' grew longer as Ornithischia evolved during the Mesozoic Era, while the main portion of the pubis decreased (Figure 1). The elongation remained unchanged even though the body plan of ornithischians became altered, and certain later species switched from walking on two legs (like Heterodontosaurus) to moving on four. This suggests that the anterior pubic process was part of a potentially new breathing apparatus (Brett-Surman, 1989; Norman, 2021).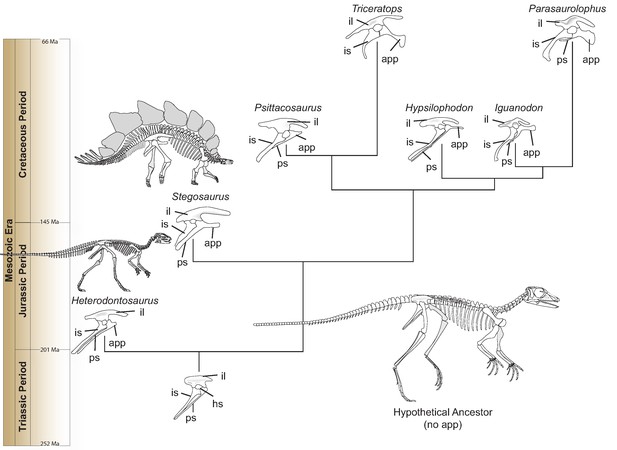 Radermacher et al. then examined numerous specimens from other species that represented all of the major groups in Ornithischia. Following this thorough survey, the team suggests that gastralia became decoupled from the breathing process early in ornithischian evolution, as the anterior pubic process started to elongate in the hip (Figure 1). Instead, a new ventilatory mechanism could have been in place. In this model, the anterior pubic process could have served as an anchor for an hypothetisized 'puboperitoneal muscle' that grew more robust and important throughout the evolution of ornithischians. As it contracted, this muscle would have stretched the posterior portions of the lungs to expand the body cavity during respiration, creating so-called 'pelvic bellows'. This breathing apparatus, though similar to the hepatic piston found in crocodylians, would have been truly unique amongst other dinosaurs (Schachner et al., 2014). In turn, the presence of the anterior pubic process diminished the need for additional structures to facilitate ventilation, and gastralia or other elements associated with cuirassal breathing (such as the sternal plates) shrank or disappeared.
This proposed pelvic bellows model will, no doubt, prompt more investigation, given that few have examined the potential ventilatory mechanisms in Ornithischia. In particular, future works on later groups of ornithischians should explore whether the shift to walking on four legs was, as Radermacher et al. suggest, dissociated from changes in the anterior pubic process.
Thesis

Brett-Surman MK

A revision of the Hadrosauridae (Reptilia: ornithischia) and their evolution during the Campanian and Maastrichtian

George Washington University, Washington, DC.
Article and author information
Author details
© 2021, Spencer
This article is distributed under the terms of the Creative Commons Attribution License, which permits unrestricted use and redistribution provided that the original author and source are credited.
1,468

Page views

87

Downloads

0

Citations
Article citation count generated by polling the highest count across the following sources: Crossref, PubMed Central, Scopus.
A two-part list of links to download the article, or parts of the article, in various formats.
Downloads
(link to download the article as PDF)
Open citations
(links to open the citations from this article in various online reference manager services)
Cite this article
(links to download the citations from this article in formats compatible with various reference manager tools)
Marc R Spencer
Dinosaurs: A new, 'hip' way to breathe
eLife 10:e70947.
https://doi.org/10.7554/eLife.70947
Further reading
Ornithischian dinosaurs were ecologically prominent herbivores of the Mesozoic Era that achieved a global distribution by the onset of the Cretaceous. The ornithischian body plan is aberrant relative to other ornithodiran clades, and crucial details of their early evolution remain obscure. We present a new, fully articulated skeleton of the early branching ornithischian Heterodontosaurus tucki. Phase-contrast enhanced synchrotron data of this new specimen reveal a suite of novel postcranial features unknown in any other ornithischian, with implications for the early evolution of the group. These features include a large, anteriorly projecting sternum; bizarre, paddle-shaped sternal ribs; and a full gastral basket – the first recovered in Ornithischia. These unusual anatomical traits provide key information on the evolution of the ornithischian body plan and suggest functional shifts in the ventilatory apparatus occurred close to the base of the clade. We complement these anatomical data with a quantitative analysis of ornithischian pelvic architecture, which allows us to make a specific, stepwise hypothesis for their ventilatory evolution.

Evolutionary Biology
Microbiology and Infectious Disease

Many bacterial genomes carry prophages whose induction can eliminate competitors. In response, bacteria may become resistant by modifying surface receptors, by lysogenization, or by other poorly known processes. All these mechanisms affect bacterial fitness and population dynamics. To understand the evolution of phage resistance, we co-cultivated a phage-sensitive strain (BJ1) and a poly-lysogenic Klebsiella pneumoniae strain (ST14) under different phage pressures. The population yield remained stable after 30 days. Surprisingly, the initially sensitive strain remained in all populations and its frequency was highest when phage pressure was strongest. Resistance to phages in these populations emerged initially through mutations preventing capsule biosynthesis. Protection through lysogeny was rarely observed because the lysogens have increased death rates due to prophage induction. Unexpectedly, the adaptation process changed at longer time scales the frequency of capsulated cells in BJ1 populations increased again, because the production of capsule was fine-tuned, reducing the ability of phage to absorb. Contrary to the lysogens, these capsulated resistant clones are pan-resistant to a large panel of phages. Intriguingly, some clones exhibited transient non-genetic resistance to phages, suggesting an important role of phenotypic resistance in coevolving populations. Our results show that interactions between lysogens and sensitive strains are shaped by antagonistic co-evolution between phages and bacteria. These processes may involve key physiological traits, such as the capsule, and depend on the time frame of the evolutionary process. At short time scales, simple and costly inactivating mutations are adaptive, but in the long-term, changes drawing more favorable trade-offs between resistance to phages and cell fitness become prevalent.

The globally invasive mosquito subspecies Aedes aegypti aegypti is an effective vector of human arboviruses, in part because it specializes in biting humans and breeding in human habitats. Recent work suggests that specialization first arose as an adaptation to long, hot dry seasons in the West African Sahel, where Ae. aegypti relies on human-stored water for breeding. Here, we use whole-genome cross-coalescent analysis to date the emergence of human-specialist populationsand thus further probe the climate hypothesis. Importantly, we take advantage of the known migration of specialists out of Africa during the Atlantic Slave Trade to calibrate the coalescent clock and thus obtain a more precise estimate of the older evolutionary event than would otherwise be possible. We find that human-specialist mosquitoes diverged rapidly from ecological generalists approximately 5000 years ago, at the end of the African Humid Period—a time when the Sahara dried and water stored by humans became a uniquely stable, aquatic niche in the Sahel. We also use population genomic analyses to date a previously observed influx of human-specialist alleles into major West African cities. The characteristic length of tracts of human-specialist ancestry present on a generalist genetic background in Kumasi and Ouagadougou suggests the change in behavior occurred during rapid urbanization over the last 20–40 years. Taken together, we show that the timing and ecological context of two previously observed shifts towards human biting in Ae. aegypti differ; climate was likely the original driver, but urbanization has become increasingly important in recent decades.