Dinosaurs: A new, 'hip' way to breathe
Ornithischians, one of the three major groups of dinosaurs, developed a unique mechanism to ensure airflow in the lungs.
Breathe in… and out. As your chest rises and falls, the diaphragm and several lesser-known muscles create the reassuring bellows-like motion that allows air to fill and leave the lungs (Perry et al., 2010). All living mammals and many extinct relatives share the same respiratory muscles and 'ventilation' technique, but this is not the only way to breathe.
For example, archosaurs, a large group of reptiles that included all dinosaurs as well as the ancestors of crocodylians, used 'cuirassal breathing' instead (Carrier and Farmer, 2000). They had oddly shaped bones known as gastralia in their abdominal wall, which assisted in ventilation by helping to connect the rib cage to the muscles and bones in the pelvis. With time, however, the architecture of the pelvis changed, and structures other than gastralia took over to help breathing in crocodylians and many dinosaurs, including birds (Baumel et al., 1990; Farmer and Carrier, 2000). For example, in birds, the pelvis rotated and a new, complex ventilation system emerged; in crocodylians, a 'hepatic piston' developed, whereby a muscle anchored to pubic bones in the hip pulls back the liver to create a motion that draws in air into the lung.
Amongst dinosaurs, two groups (one extinct, the other which gave rise to birds) feature early species with gastralia, only to lose these bones in favor of other ventilatory mechanisms later in evolution (Claessens, 2004). On the other hand, gastralia had never been found in species belonging to the now-extinct third dinosaur group Ornithischia, which later on included species such as Triceratops and Stegosaurus. Now, in eLife, Viktor Radermacher and colleagues report having found, for the first time, gastralia in Ornithischia (Radermacher et al., 2021). The team, which is based in institutions in Canada, South Africa, the United Kingdom, France and the United States, spotted the bones in Heterodontosaurus, one of the oldest-known ornithischians.
Beyond the unique presence of these bones, this new Heterodontosaurus specimen from South Africa also displayed features of other ornithischians, such as sternal plates. These peculiar bones of the chest wall may have facilitated cuirassal breathing in some early archosaurs – including, as Radermacher et al. now reveal, in early species of ornithischians.
Heterodontosaurus possesses a small projection on the pubis—one of the three bones of the hip—that points toward the head. This 'anterior pubic process' grew longer as Ornithischia evolved during the Mesozoic Era, while the main portion of the pubis decreased (Figure 1). The elongation remained unchanged even though the body plan of ornithischians became altered, and certain later species switched from walking on two legs (like Heterodontosaurus) to moving on four. This suggests that the anterior pubic process was part of a potentially new breathing apparatus (Brett-Surman, 1989; Norman, 2021).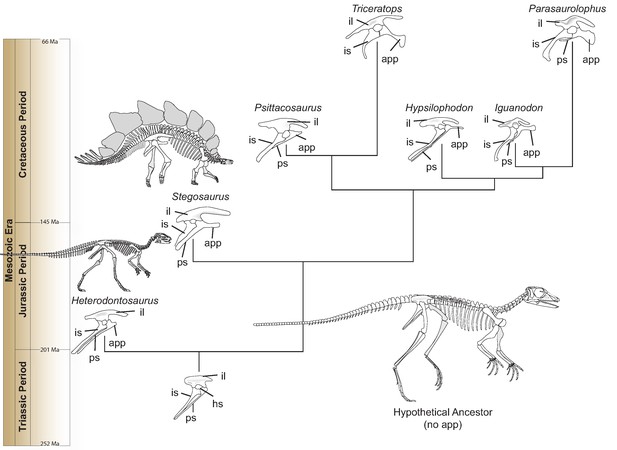 Radermacher et al. then examined numerous specimens from other species that represented all of the major groups in Ornithischia. Following this thorough survey, the team suggests that gastralia became decoupled from the breathing process early in ornithischian evolution, as the anterior pubic process started to elongate in the hip (Figure 1). Instead, a new ventilatory mechanism could have been in place. In this model, the anterior pubic process could have served as an anchor for an hypothetisized 'puboperitoneal muscle' that grew more robust and important throughout the evolution of ornithischians. As it contracted, this muscle would have stretched the posterior portions of the lungs to expand the body cavity during respiration, creating so-called 'pelvic bellows'. This breathing apparatus, though similar to the hepatic piston found in crocodylians, would have been truly unique amongst other dinosaurs (Schachner et al., 2014). In turn, the presence of the anterior pubic process diminished the need for additional structures to facilitate ventilation, and gastralia or other elements associated with cuirassal breathing (such as the sternal plates) shrank or disappeared.
This proposed pelvic bellows model will, no doubt, prompt more investigation, given that few have examined the potential ventilatory mechanisms in Ornithischia. In particular, future works on later groups of ornithischians should explore whether the shift to walking on four legs was, as Radermacher et al. suggest, dissociated from changes in the anterior pubic process.
Thesis

Brett-Surman MK

A revision of the Hadrosauridae (Reptilia: ornithischia) and their evolution during the Campanian and Maastrichtian

George Washington University, Washington, DC.
Article and author information
Author details
© 2021, Spencer
This article is distributed under the terms of the Creative Commons Attribution License, which permits unrestricted use and redistribution provided that the original author and source are credited.
1,398

Page views

86

Downloads

0

Citations
Article citation count generated by polling the highest count across the following sources: Crossref, PubMed Central, Scopus.
A two-part list of links to download the article, or parts of the article, in various formats.
Downloads
(link to download the article as PDF)
Open citations
(links to open the citations from this article in various online reference manager services)
Cite this article
(links to download the citations from this article in formats compatible with various reference manager tools)
Marc R Spencer
Dinosaurs: A new, 'hip' way to breathe
eLife 10:e70947.
https://doi.org/10.7554/eLife.70947
Further reading
Ornithischian dinosaurs were ecologically prominent herbivores of the Mesozoic Era that achieved a global distribution by the onset of the Cretaceous. The ornithischian body plan is aberrant relative to other ornithodiran clades, and crucial details of their early evolution remain obscure. We present a new, fully articulated skeleton of the early branching ornithischian Heterodontosaurus tucki. Phase-contrast enhanced synchrotron data of this new specimen reveal a suite of novel postcranial features unknown in any other ornithischian, with implications for the early evolution of the group. These features include a large, anteriorly projecting sternum; bizarre, paddle-shaped sternal ribs; and a full gastral basket – the first recovered in Ornithischia. These unusual anatomical traits provide key information on the evolution of the ornithischian body plan and suggest functional shifts in the ventilatory apparatus occurred close to the base of the clade. We complement these anatomical data with a quantitative analysis of ornithischian pelvic architecture, which allows us to make a specific, stepwise hypothesis for their ventilatory evolution.

Evolutionary Biology
Microbiology and Infectious Disease

Viruses have evolved diverse mechanisms to antagonize host immunity such as direct inhibition and relocalization of cellular APOBEC3B (A3B) by the ribonucleotide reductase (RNR) of Epstein-Barr virus. Here, we investigate the mechanistic conservation and evolutionary origin of this innate immune counteraction strategy. First, we find that human gamma-herpesvirus RNRs engage A3B via largely distinct surfaces. Second, we show that RNR-mediated enzymatic inhibition and relocalization of A3B depend upon binding to different regions of the catalytic domain. Third, we show that the capability of viral RNRs to antagonize A3B is conserved among gamma-herpesviruses that infect humans and Old World monkeys that encode this enzyme but absent in homologous viruses that infect New World monkeys that naturally lack the A3B gene. Finally, we reconstruct the ancestral primate A3B protein and demonstrate that it is active and similarly engaged by the RNRs from viruses that infect humans and Old World monkeys but not by the RNRs from viruses that infect New World monkeys. These results combine to indicate that the birth of A3B at a critical branchpoint in primate evolution may have been a driving force in selecting for an ancestral gamma-herpesvirus with an expanded RNR functionality through counteraction of this antiviral enzyme.

Evolutionary Biology
Neuroscience

The evolution of human right-handedness has been intensively debated for decades. Manual lateralization patterns in non-human primates have the potential to elucidate evolutionary determinants of human handedness, but restricted species samples and inconsistent methodologies have so far limited comparative phylogenetic studies. By combining original data with published literature reports, we assembled data on hand preferences for standardized object manipulation in 1786 individuals from 38 species of anthropoid primates, including monkeys, apes, and humans. Based on that, we employ quantitative phylogenetic methods to test prevalent hypotheses on the roles of ecology, brain size, and tool use in primate handedness evolution. We confirm that human right-handedness represents an unparalleled extreme among anthropoids and found taxa displaying population-level handedness to be rare. Species-level direction of manual lateralization was largely uniform among non-human primates and did not strongly correlate with any of the selected biological predictors, nor with phylogeny. In contrast, we recovered highly variable patterns of hand preference strength, which show signatures of both ecology and phylogeny. In particular, terrestrial primates tend to display weaker hand preferences than arboreal species. These results challenge popular ideas on primate handedness evolution, including the postural origins hypothesis. Furthermore, they point to a potential adaptive benefit of disparate lateralization strength in primates, a measure of hand preference that has often been overlooked in the past. Finally, our data show that human lateralization patterns do not align with trends found among other anthropoids, suggesting that unique selective pressures gave rise to the unusual hand preferences of our species.