Fungi: Sex and self defense
The fungus Aspergillus nidulans produces secondary metabolites during sexual development to protect itself from predators.
When walking through the woods we often look up, focusing on the birds and the rustling leaves in the canopy above us, but on the ground a drama is unfolding: the fungi are under attack. Looking down you may see a slug grazing on mold that has established itself on an old log, or a mushroom swarmed by fruit flies on the forest floor. So how do fungi protect themselves from these attacks if they cannot physically escape?
Previous research has shown that fungi defend themselves using secondary metabolites, chemical compounds which are not essential for growth but involved in ecological interactions (Janzen, 1977; Rohlfs and Churchill, 2011). These compounds can be toxic to animals and/or drive them away from the fungus. As predators can appear without warning, fungi must be ready with the metabolites at short notice, either by making them ahead of time, or by rapidly creating them in response to a threat (Drott et al., 2017). However, even in the best-studied fungi, it is unclear exactly where and when these defensive chemicals are created, making it difficult to fully understand their ecological purpose.
Now, in eLife, researchers from the University of Göttingen – including Li Liu and corresponding authors Jennifer Gerke and Gerhard H Braus – report that a set of previously identified secondary metabolites called xanthones (Sanchez et al., 2011) are produced during certain life stages of the soil-dwelling fungus Aspergillus nidulans (Liu et al., 2021). Xanthones are synthesized through a series of chemical reactions controlled by a group of genes known as the mdp/xpt cluster. The proteins encoded by the mdp genes make the 'backbone' of the metabolite, which is then progressively modified by proteins produced from the xpt genes until the final compound is formed.
To narrow down where xanthones are synthesized in the fungus, Liu et al. added a fluorescent tag to the protein responsible for the final chemical reaction, as this represents the complete synthesis of the secondary metabolites produced by the mdp/xpt pathway. This revealed that xanthones are created in Hülle cells which support the development of cleistothecia, fruiting bodies that allow the fungus to sexually reproduce and last through the winter (Troppens et al., 2020). This suggests that xanthones are not produced throughout the life of the fungus, but are only generated during the stages of the fungus' sexual lifecycle when cleistothecia form.
Next, Liu et al. set out to determine the role of other genes in the mdp/xpt cluster by creating a set of mutant fungi that are missing one of these genes. They found that each gene plays a specific role in the sequence of chemical reactions that synthesize the xanthones used by the fungi. As a result, none of the mutant strains were able to produce the final xanthones, and instead accumulated intermediate chemical structures that are generated during this pathway. Like xanthones, these intermediates only appeared at times when the fungus was forming cleistothecia.
It is clear from these findings that A. nidulans likely uses xanthones during sexual development; but what role do these secondary metabolites play in ecology? To investigate this, Liu et al. grew fungal colonies and cleistothecia from mutated and non-mutated (or wild-type) strains of A. nidulans and exposed them to arthropods (invertebrates with exoskeletons such as insects and arachnids) that eat fungi (Figure 1). Wild-type colonies – which can produce all of the xanthones – were damaged less heavily by the arthropods than the mutant colonies. Further experiments showed that, in addition to mitigating damage from arthropods, some of the intermediates formed during synthesis can suppress fungal growth when added to other fungi in the laboratory. However, these intermediates did not accumulate to high levels in the wild-type strain and also suppressed the development of A. nidulans, raising doubts about their potential benefit to the fungus when competing with other fungi in nature.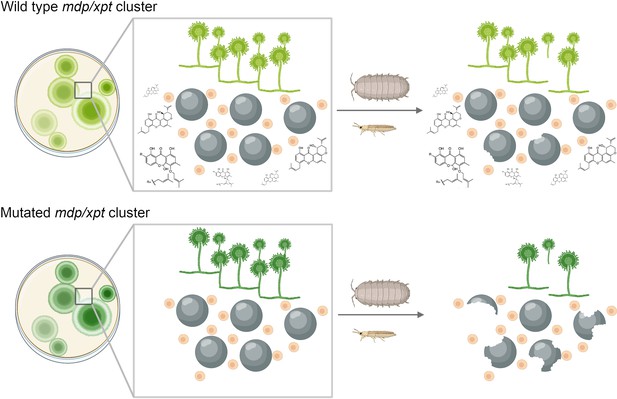 Hülle cells are found in other fungi (Dyer and O'Gorman, 2012), and genes resembling the mdp/xpt cluster occur in other species where no sexual cycle has been observed to date (de Vries et al., 2017). It remains to be seen how secondary metabolites that appear at specific life stages – like the ones in this study – translate into these other species. Furthermore, it is unclear how these chemical compounds relate to previous observations that other secondary metabolites with unknown functions are only produced under certain conditions (Georgianna et al., 2010). The findings of Liu et al. emphasize the complicated interplay between fungi and their environment, and spark further questions about about how the fungus' investment in protecting its sexual offspring has impacted its evolution.
Article and author information
Author details
© 2021, Drott
This article is distributed under the terms of the Creative Commons Attribution License, which permits unrestricted use and redistribution provided that the original author and source are credited.
946

Page views

88

Downloads

2

Citations
Article citation count generated by polling the highest count across the following sources: Crossref, PubMed Central, Scopus.
A two-part list of links to download the article, or parts of the article, in various formats.
Downloads
(link to download the article as PDF)
Open citations
(links to open the citations from this article in various online reference manager services)
Cite this article
(links to download the citations from this article in formats compatible with various reference manager tools)
Milton T Drott
Fungi: Sex and self defense
eLife 10:e73723.
https://doi.org/10.7554/eLife.73723
Further reading
Biochemistry and Chemical Biology
Ecology

Fungal Hülle cells with nuclear storage and developmental backup functions are reminiscent of multipotent stem cells. In the soil, Hülle cells nurse the overwintering fruiting bodies of Aspergillus nidulans. The genome of A. nidulans harbors genes for the biosynthesis of xanthones. We show that enzymes and metabolites of this biosynthetic pathway accumulate in Hülle cells under the control of the regulatory velvet complex, which coordinates development and secondary metabolism. Deletion strains blocked in the conversion of anthraquinones to xanthones accumulate emodins and are delayed in maturation and growth of fruiting bodies. Emodin represses fruiting body and resting structure formation in other fungi. Xanthones are not required for sexual development but exert antifeedant effects on fungivorous animals such as springtails and woodlice. Our findings reveal a novel role of Hülle cells in establishing secure niches for A. nidulans by accumulating metabolites with antifeedant activity that protect reproductive structures from animal predators.

Biochemistry and Chemical Biology
Medicine

Mitochondrial dysfunction caused by aberrant Complex I assembly and reduced activity of the electron transport chain is pathogenic in many genetic and age-related diseases. Mice missing the Complex I subunit NADH dehydrogenase [ubiquinone] iron-sulfur protein 4 (NDUFS4) are a leading mammalian model of severe mitochondrial disease that exhibit many characteristic symptoms of Leigh Syndrome including oxidative stress, neuroinflammation, brain lesions, and premature death. NDUFS4 knockout mice have decreased expression of nearly every Complex I subunit. As Complex I normally contains at least 8 iron-sulfur clusters and more than 25 iron atoms, we asked whether a deficiency of Complex I may lead to iron perturbations, thereby accelerating disease progression. Consistent with this, iron supplementation accelerates symptoms of brain degeneration in these mice, while iron restriction delays the onset of these symptoms, reduces neuroinflammation, and increases survival. NDUFS4 knockout mice display signs of iron overload in the liver including increased expression of hepcidin and show changes in iron-responsive element-regulated proteins consistent with increased cellular iron that were prevented by iron restriction. These results suggest that perturbed iron homeostasis may contribute to pathology in Leigh Syndrome and possibly other mitochondrial disorders.

Biochemistry and Chemical Biology

To address the ongoing SARS-CoV-2 pandemic and prepare for future coronavirus outbreaks, understanding the protective potential of epitopes conserved across SARS-CoV-2 variants and coronavirus lineages is essential. We describe a highly conserved, conformational S2 domain epitope present only in the prefusion core of β-coronaviruses: SARS-CoV-2 S2 apex residues 980–1006 in the flexible hinge. Antibody RAY53 binds the native hinge in MERS-CoV and SARS-CoV-2 spikes on the surface of mammalian cells and mediates antibody-dependent cellular phagocytosis and cytotoxicity against SARS-CoV-2 spike in vitro. Hinge epitope mutations that ablate antibody binding compromise pseudovirus infectivity, but changes elsewhere that affect spike opening dynamics, including those found in Omicron BA.1, occlude the epitope and may evade pre-existing serum antibodies targeting the S2 core. This work defines a third class of S2 antibody while providing insights into the potency and limitations of S2 core epitope targeting.