Most patients with head and neck cancer will receive radiation therapy in order to kill or shrink their tumor (Alterio et al., 2019). During treatment, physicians try to minimize damage to surrounding, healthy tissues, but off-target doses often harm and kill the sensitive 'serous acinar cells' in the salivary parotid gland (Figure 1A). As a result, many patients go on to produce less saliva and develop a persistent dry mouth, also known as xerostomia. This is not a benign condition: people may experience loss of taste, difficulty chewing, swallowing or speaking and, in the long term, tooth and gum decay that can lead to malnutrition (Jensen et al., 2019).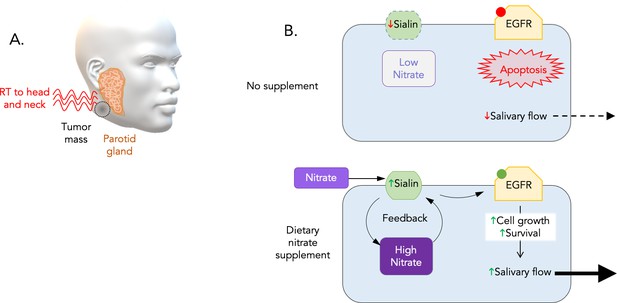 Few interventions exist to stop this side effect from emerging, aside from technical refinements that limit the exposure of the glands to radiation (Mercadante et al., 2021). Now, in eLife, Songlin Wang and colleagues at Capital Medical University – including Xiaoyu Feng and Zhifang Wu as joint first authors – report a remarkably simple measure that may protect salivary glands during radiation therapy (Feng et al., 2021).
In the body, these glands are an important component of the nitrate cycle, taking up about 25% of the inorganic nitrate present in the blood, concentrating it and then secreting it into the saliva (Lundberg et al., 2018). This nutrient, abundant in leafy greens and many fruits, was once reviled for potentially causing cancer but it is now viewed as a normal component of a healthy diet. It can even help to boost the regeneration of certain heart cells (Lundberg et al., 2018; Marino et al., 2021).
Feng et al. used miniature pigs – whose salivary glands are structurally similar to those of humans – to investigate whether nitrate could help protect against xerostomia after radiation therapy. Animals that were fed daily doses of inorganic nitrate before treatment did not experience a sharp drop in saliva production, and they recovered 80% of their salivary flow within two years.
These benefits were both dose- and time- dependent: higher amounts of supplementary nitrate led to better salivary gland function, but administering the nutrients for the first time two months after treatment yielded minimal results. In the laboratory, adding inorganic nitrate to cells derived from human parotid tissues revealed a similar radioprotective effect. Taken together, these results strongly support supplementing patient's diets with nitrate to prevent xerostomia.
Exactly how nitrate can protect cells against radiation is not fully understood, but it may involve sialin, a transport protein that helps to usher the nutrient inside serous acinar cells. Feng et al. showed that radiation caused the levels of sialin to rapidly fall. Adding nitrate before treatment, however, boosted the level of sialin, and therefore the amount of the nutrient inside cells. Additional experiments suggest that nitrate then increases the production of sialin, creating a positive feedback loop that activates the EGFR-AKT-MAPK pathway (Figure 1B). This biochemical circuit is known to stimulate cell growth and block programmed cell death (Seshacharyulu et al., 2012). The production of sialin in response to nitrate appeared to be the critical trigger for EGFR activation, which may explain why supplementation was only effective if administered before radiation therapy.
Extrapolating from animal and cell-based models to humans is always uncertain (Mak et al., 2014). Perhaps the most exciting aspect of the work by Feng et al. is that its main conclusion is easy to test, through randomized clinical trials that monitor salivary function (and potentially nitrate levels) before, during and after radiation therapy. This will ultimately help to determine whether nitrate supplementation could offer a low-tech solution to a high-tech problem. If the stunning results presented by Feng et al. translate to humans, this approach may have a major impact on cancer patients experiencing xerostomia.
Lost in translation: animal models and clinical trials in cancer treatment

American Journal of Translational Research 6:114–118.
Article and author information
Author details
© 2021, Quon and Bunz
This article is distributed under the terms of the Creative Commons Attribution License, which permits unrestricted use and redistribution provided that the original author and source are credited.
291

Page views

19

Downloads

0

Citations
Article citation count generated by polling the highest count across the following sources: Crossref, PubMed Central, Scopus.
A two-part list of links to download the article, or parts of the article, in various formats.
Downloads
(link to download the article as PDF)
Open citations
(links to open the citations from this article in various online reference manager services)
Cite this article
(links to download the citations from this article in formats compatible with various reference manager tools)
Harry Quon
Fred Bunz
Cancer: Preventing collateral damage
eLife 10:e74319.
https://doi.org/10.7554/eLife.74319
Further reading
Management of salivary gland hypofunction caused by irradiation (IR) therapy for head and neck cancer remains lack of effective treatments. Salivary glands, especially the parotid gland, actively uptake dietary nitrate and secrete it into saliva. Here, we investigated the effect of dietary nitrate on the prevention and treatment of IR-induced parotid gland hypofunction in miniature pigs, and elucidated the underlying mechanism in human parotid gland cells. We found that nitrate administration prevented IR-induced parotid gland damage in a dose-dependent manner, by maintaining the function of irradiated parotid gland tissue. Nitrate could increase sialin expression, a nitrate transporter expressed in the parotid gland, making the nitrate-sialin feedback loop that facilitates nitrate influx into cells for maintaining cell proliferation and inhibiting apoptosis. Furthermore, nitrate enhanced cell proliferation via the epidermal growth factor receptor (EGFR)–protein kinase B (AKT)–mitogen-activated protein kinase (MAPK) signaling pathway in irradiated parotid gland tissue. Collectively, nitrate effectively prevented IR-induced xerostomia via the EGFR–AKT–MAPK signaling pathway. Dietary nitrate supplementation may provide a novel, safe, and effective way to resolve IR-induced xerostomia.

Biochemistry and Chemical Biology

Cell Biology

Secreted proteins, which include cytokines, hormones and growth factors, are extracellular ligands that control key signaling pathways mediating cell-cell communication within and between tissues and organs. Many drugs target secreted ligands and their cell-surface receptors. Still, there are hundreds of secreted human proteins that either have no identified receptors ('orphans') and are likely to act through cell surface receptors that have not yet been characterized. Discovery of secreted ligand-receptor interactions by high-throughput screening has been problematic, because the most commonly used high-throughput methods for protein-protein interaction (PPI) screening do not work well for extracellular interactions. Cell-based screening is a promising technology for definition of new ligand-receptor interactions, because multimerized ligands can enrich for cells expressing low affinity cell-surface receptors, and such methods do not require purification of receptor extracellular domains. Here, we present a proteo-genomic cell-based CRISPR activation (CRISPRa) enrichment screening platform employing customized pooled cell surface receptor sgRNA libraries in combination with a magnetic bead selection-based enrichment workflow for rapid, parallel ligand-receptor deorphanization. We curated 80 potentially high value orphan secreted proteins and ultimately screened 20 secreted ligands against two cell sgRNA libraries with targeted expression of all single-pass (TM1) or multi-pass (TM2+) receptors by CRISPRa. We identified previously unknown interactions in 12 of these screens, and validated several of them using surface plasmon resonance and/or cell binding. The newly deorphanized ligands include three receptor tyrosine phosphatase (RPTP) ligands and a chemokine like protein that binds to killer cell inhibitory receptors (KIR's). These new interactions provide a resource for future investigations of interactions between the human secreted and membrane proteomes.

The secreted protein Isthmin-1 (Ism1) mitigates diabetes by increasing adipocyte and skeletal muscle glucose uptake by activating the PI3K-Akt pathway. However, while both Ism1 and insulin converge on these common targets, Ism1 has distinct cellular actions suggesting divergence in downstream intracellular signaling pathways. To understand the biological complexity of Ism1 signaling, we performed phosphoproteomic analysis after acute exposure, revealing overlapping and distinct pathways of Ism1 and insulin. We identify a 53 % overlap between Ism1 and insulin signaling and Ism1-mediated phosphoproteome-wide alterations in ~ 450 proteins that are not shared with insulin. Interestingly, we find several unknown phosphorylation sites on proteins related to protein translation, mTOR pathway and, unexpectedly, muscle function in the Ism1 signaling network. Physiologically, Ism1 ablation in mice results in altered proteostasis, including lower muscle protein levels under fed and fasted conditions, reduced amino acid incorporation into proteins, and reduced phosphorylation of the key protein synthesis effectors Akt and downstream mTORC1 targets. As metabolic disorders such as diabetes are associated with accelerated loss of skeletal muscle protein content, these studies define a non-canonical mechanism by which this anti-diabetic circulating protein controls muscle biology.