Tumor Metastasis: Fishing for drugs
Screening for drugs that disrupt embryonic development in zebrafish can help identify treatments that suppress metastasis.
About 90% of all cancer-related deaths are caused by metastasis, which is when cancer cells spread to other parts of the body to form new tumors (Chaffer and Weinberg, 2011; Suhail et al., 2019). Yet, the majority of currently available therapeutics do not inhibit metastasis, and only target the primary tumor where the cancer initially arises from.
To screen anti-cancer drugs, researchers often carry out experiments on mice or cells grown in the laboratory. While these model systems have led to effective treatments, they have limitations when it comes to testing drugs that block metastasis. For instance, cells cultured in the laboratory cannot accurately replicate tumor progression in humans (Katt et al., 2016), and metastasis can take at least several weeks to appear in mouse models, which are expensive to create and maintain (Simons and Brayton, 2017). Now, in eLife, Joji Nakayama, Zhiyuan Gong and co-workers report an innovative zebrafish model for screening anti-metastasis drugs (Nakayama et al., 2021).
The zebrafish was introduced to the research field in 1972, and has become a powerful model system for cancer research, due to its relative transparency, high reproduction rates, and genetic similarity to humans (Brown et al., 2017; Chen et al., 2021; Fazio et al., 2020; Gamble et al., 2021; Hason and Bartůněk, 2019). Early in development, cells in the zebrafish embryo undergo a morphological change and migrate inwards via a process called epiboly (Bruce and Heisenberg, 2020). The way these healthy cells move is similar to how cancer cells travel across tissues during metastasis. Hence, Nakayama et al. proposed that small-molecule inhibitors that interrupt epiboly may also suppress metastasis.
The team (who are based at the National University of Singapore, the National Cancer Center in Japan and other institutes in Singapore and Japan) found that some of the genes expressed during zebrafish epiboly are also activated during tumor metastasis. This finding provides the experimental support that zebrafish epiboly can serve as a model for tumor cell movement. So, Nakayama et al. developed a zebrafish screening platform, which they used to test 1,280 drugs that had already been approved by a government agency, such as the US Food and Drug Administration (FDA) or the European Medicines Agency (EMA).
The screen was carried out on zebrafish embryos exposed to a specific drug at four hours post-fertilization (Figure 1A). Nakayama et al. found that 132 of the drugs tested induced a delay in epiboly after five hours of treatment. Several of these drugs had previously been reported to inhibit molecular mechanisms associated with metastasis (Liu et al., 2013; Nakayama et al., 2020).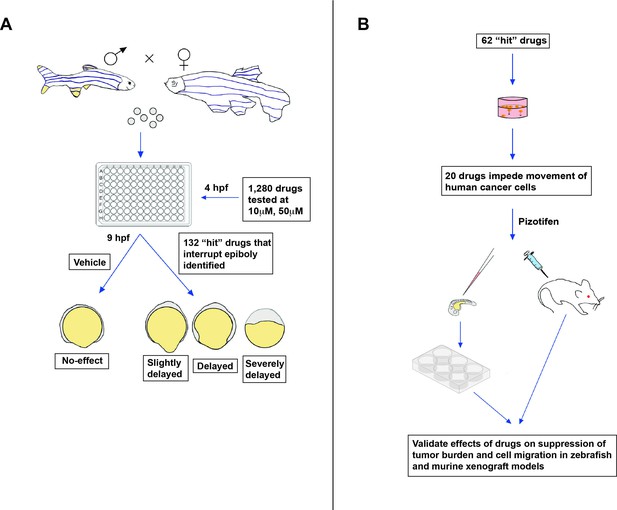 Nakayama et al. then used cell-based assays to test whether 62 of these 132 'positive hits' (which also delay epiboly in vitro) can suppress the migration of cancer cells (Figure 1B). The tumor cells were placed in a chamber with or without the drug, and the team recorded how many could crawl into the neighboring compartment after a few hours of treatment. This revealed that 20 of the drugs that disrupted epiboly also impeded the movement of human cancer cells.
Finally, Nakayama et al. tested if one of the epiboly-interrupting drugs called Pizotifen could also impair tumor cell movement in living animals: this drug was selected because its primary target (serotonin receptor 2C) is highly expressed in human cancer cells during metastasis. To do this, they injected fluorescently labelled cancer cells into zebrafish embryos, and found that fish exposed to Pizotifen experienced significantly less metastasis than fish treated with a placebo. Similar observations were made in mice that had cancer cells injected into their breast-like tissue, half of which were treated with a daily dose of Pizotifen, and half of which received a placebo (Figure 1B).
The screening platform created by Nakayama et al. makes it easy to rapidly find new drugs that suppress metastasis, while circumventing the limitations of cell culture and mouse model systems. In addition, zebrafish injected with human cancer cells can serve as an additional means for narrowing down which drugs to test in mouse models. Having zebrafish join the drug discovery platform will hopefully result in more and better treatments for patients with metastatic cancers.
Article and author information
Author details
HF acknowledges grants from the National Institutes of Health (NIH; CA215059), the American Cancer Society (RSG-17-204-01-TBG), the National Science Foundation (1911253), and Boston University; CK thanks the diversity grant support from the National Institutes of Health (NIH; CA215059S); and EH is grateful for the Undergraduate Research of Program Award from Boston University.
© 2022, Kemet et al.
This article is distributed under the terms of the Creative Commons Attribution License, which permits unrestricted use and redistribution provided that the original author and source are credited.
845

Page views

86

Downloads

0

Citations
Article citation count generated by polling the highest count across the following sources: Crossref, PubMed Central, Scopus.
A two-part list of links to download the article, or parts of the article, in various formats.
Downloads
(link to download the article as PDF)
Open citations
(links to open the citations from this article in various online reference manager services)
Cite this article
(links to download the citations from this article in formats compatible with various reference manager tools)
Chinyere Kemet
Emily Hill
Hui Feng
Tumor Metastasis: Fishing for drugs
eLife 11:e76632.
https://doi.org/10.7554/eLife.76632
Further reading
Metastasis is responsible for approximately 90% of cancer-associated mortality but few models exist that allow for rapid and effective screening of anti-metastasis drugs. Current mouse models of metastasis are too expensive and time consuming to use for rapid and high-throughput screening. Therefore, we created a unique screening concept utilizing conserved mechanisms between zebrafish gastrulation and cancer metastasis for identification of potential anti-metastatic drugs. We hypothesized that small chemicals that interrupt zebrafish gastrulation might also suppress metastatic progression of cancer cells and developed a phenotype-based chemical screen to test the hypothesis. The screen used epiboly, the first morphogenetic movement in gastrulation, as a marker and enabled 100 chemicals to be tested in 5 hr. The screen tested 1280 FDA-approved drugs and identified pizotifen, an antagonist for serotonin receptor 2C (HTR2C) as an epiboly-interrupting drug. Pharmacological and genetic inhibition of HTR2C suppressed metastatic progression in a mouse model. Blocking HTR2C with pizotifen restored epithelial properties to metastatic cells through inhibition of Wnt signaling. In contrast, HTR2C induced epithelial-to-mesenchymal transition through activation of Wnt signaling and promoted metastatic dissemination of human cancer cells in a zebrafish xenotransplantation model. Taken together, our concept offers a novel platform for discovery of anti-metastasis drugs.

Developmental Biology
Neuroscience

Touch system function requires precise interactions between specialized skin cells and somatosensory axons, as exemplified by the vertebrate mechanosensory Merkel cell-neurite complex. Development and patterning of Merkel cells and associated neurites during skin organogenesis remain poorly understood, partly due to the in utero development of mammalian embryos. Here, we discover Merkel cells in the zebrafish epidermis and identify Atonal homolog 1a (Atoh1a) as a marker of zebrafish Merkel cells. We show that zebrafish Merkel cells derive from basal keratinocytes, express neurosecretory and mechanosensory machinery, extend actin-rich microvilli, and complex with somatosensory axons, all hallmarks of mammalian Merkel cells. Merkel cells populate all major adult skin compartments, with region-specific densities and distribution patterns. In vivo photoconversion reveals that Merkel cells undergo steady loss and replenishment during skin homeostasis. Merkel cells develop concomitant with dermal appendages along the trunk and loss of Ectodysplasin signaling, which prevents dermal appendage formation, reduces Merkel cell density by affecting cell differentiation. By contrast, altering dermal appendage morphology changes the distribution, but not density, of Merkel cells. Overall, our studies provide insights into touch system maturation during skin organogenesis and establish zebrafish as an experimentally accessible in vivo model for the study of Merkel cell biology.

The proprioceptive system is essential for the control of coordinated movement, posture and skeletal integrity. The sense of proprioception is produced in the brain using peripheral sensory input from receptors such as the muscle spindle, which detects changes in the length of skeletal muscles. Despite its importance, the molecular composition of the muscle spindle is largely unknown. In this study, we generated comprehensive transcriptomic and proteomic datasets of the entire muscle spindle isolated from the murine deep masseter muscle. We then associated differentially expressed genes with the various tissues composing the spindle using bioinformatic analysis. Immunostaining verified these predictions, thus establishing new markers for the different spindle tissues. Utilizing these markers, we identified the differentiation stages the spindle capsule cells undergo during development. Together, these findings provide comprehensive molecular characterization of the intact spindle as well as new tools to study its development and function in health and disease.