By Brianne Kent, Harvard Medical School, United States and eLife ECAG
The Early-Career Advisory Group (ECAG) was set up in 2014 to influence and support eLife's work to reform the evaluation and communication of science. In particular, ECAG's role is to represent the needs and aspirations of researchers at early stages in their careers for a research culture that is healthy for science and for scientists.

In August 2018, we welcomed new members – Hedyeh Ebrahimi, Devang Mehta, Shyam Saladi, Tracey Weissgerber and Lotte de Winde – and Tracey Weissgerber was recently elected as Chair of the group.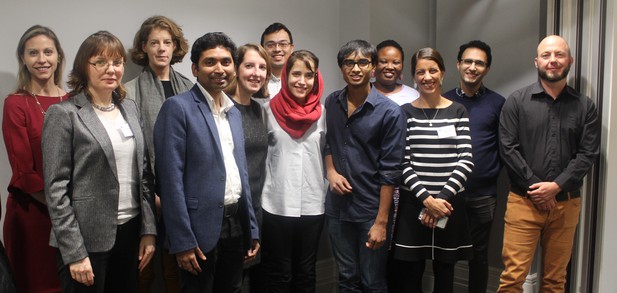 Over the past year ECAG has continued to build on the momentum from previous years. Ongoing initiatives to support early-career researchers (ECRs) include the travel grants programme (which enables early career eLife authors to attend conferences) and #ECRWednesdays webinars, in which we discuss important topics such as mental health, grant writing and diversity in STEM. We have also continued to encourage ECR involvement in the peer review process at eLife, and are pleased to see a growing ECR reviewer pool. Reproducibility for Everyone workshops were created to train researchers in rigour and reproducibility best practices. It's a collaborative effort launched last year and currently supported by a Mozilla Mini grant. The growing team has already held ten workshops in 2019, and have made their materials available on the Reproducibility for Everyone website.
In early 2018, we launched the eLife Ambassador Program, which connected over 200 like-minded scientists around the world to encourage the most responsible behaviours in science. Major areas of activity have included open science, reproducibility, preprints, science communication, peer review, meta-research, diversity, career development, and funding. Two outstanding products from the program included ecrLife.org, which is a platform for blog-posts discussing advances in the way science is performed and communicated, and ecrcentral.org, which is a platform for the ECR community that includes searchable databases for funding opportunities, travel grants and other useful resources. For a summary of the 2018 program see this blog.

The second ambassadors program, now called the eLife Community Ambassadors Program, was launched in April 2019 and has an increased emphasis on ambassador training and reporting on progress. The training program allows Ambassadors to gain new skills in areas like reproducibility, open science, advocacy, data visualization, and organizing preprint journal clubs. We have also included Ambassador Associates, which is a new role for individuals outside active research, who represent like-minded organisations and are keen to support eLife Community Ambassadors with resources and expertise. The 243 Community Ambassadors and six Ambassador Associates are championing responsible behaviours in science and deliver solutions that accelerate change in science culture. This year's Community Ambassadors have already launched 17 initiatives and several local meetup groups. For updates follow #eLifeAmbassadors on Twitter.

In addition to the community outreach initiatives, ECAG continues to help guide eLife as a journal. Over the past year, ECAG was consulted on the selection of the new Editor-in-Chief, Mike Eisen, who is an avid supporter of ECRs and has been a leading advocate for open science. ECAG also joined the eLife staff and Senior Editors at the Annual General Meeting, with a main focus being on determining new policies with which eLife can better support early-career authors. We're looking forward to upcoming trials of such solutions later this year.

Finally, we say goodbye and thank you to Emmanuelle Vire, Babak Momeni, Margarita Calvo, and Melissa Kapulu, who are stepping down from the group. Their replacements will be announced later in the summer.
Interested in finding out more about opportunities, events and issues that are important for early-career researchers? Sign up to the eLife Early-Career Community newsletter or follow @eLifeCommunity on Twitter.