By Michael Aufreiter, Substance, and Aleksandra Pawlik and Nokome Bentley, Stencila
Stencila is an open source office suite designed for researchers. It allows the authoring of interactive, data-driven publications in visual interfaces, similar to those in conventional office suites, but is built from the ground up for reproducibility.
Stencila aims to make it easier for researchers with differing levels of computational skills to collaborate on the same research article. Researchers used to tools like Microsoft Word and Excel will find Stencila's interfaces intuitive and familiar. And those who use tools such as Jupyter Notebook or R Markdown are still able to embed code for data analysis within their research articles. Once published, Stencila documents are self-contained, interactive and reusable, containing all the text, media, code and data needed to fully support the narrative of research discovery.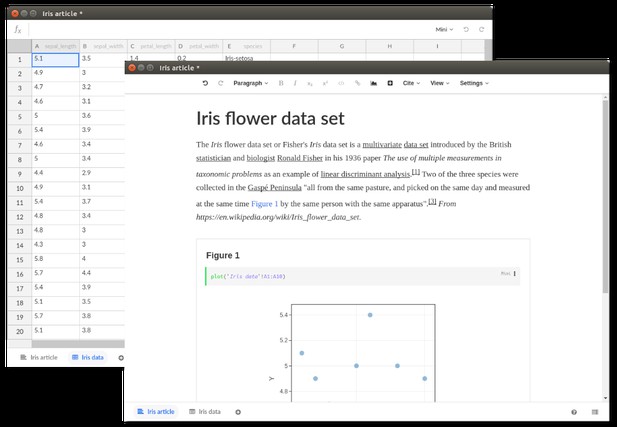 The Stencila project aims to be part of the wider vision to enable the next generation of research article – all the way from authoring through to publication as a reproducible, self-contained webpage. A key limitation of the current research publishing process is that conventional document formats (e.g. Word, PDF and LaTeX) do not support the inclusion of reproducible research elements, nor do they produce content in the structured format used for science publishing and dissemination (XML). Stencila aims to remove the need for manual conversion of content from source documents to XML and web (HTML) publishing formats, whilst enabling the inclusion of source data and computational methods within the manuscript. We hope that establishing a digital-first, reproducible archive format for publications will facilitate research communication that is faster and more open, and which lowers the barrier for collaboration and reuse. The development of Stencila is driven by community needs and in coordination with the goals of the Reproducible Document Stack, an initiative started by eLife, Substance and Stencila.