Metagenomics: Social behavior and the microbiome
Why did social interactions evolve? Complex rules govern how we interact when we meet, and while these principles are often bewildering, they are also somehow intrinsic to the fabric of any human society. Now, in eLife, Elizabeth Archie, Jenny Tung and co-workers have provided compelling evidence to support the theory that physical interaction evolved in vertebrates to help share potentially health-promoting bacteria (Tung et al., 2015).
Tung et al. sequenced the genomes of the various microbes found in the faeces of 48 baboons from two different social groups in Amboseli in Kenya. They found that these 'microbiomes' differed between the two social groups, despite them living in overlapping areas and eating similar foods. It has been shown that diet influences the composition and structure of the microbial communities living in the human gut (David et al., 2013). So why were the microbiomes of these groups of baboons not more similar?
The answer lies in the fact that baboons interact by grooming each other (Figure 1). Baboons that groomed each other more frequently had more similar microbiomes, which suggests that physical interactions with others are very important in shaping the microbial communities in these individuals. Baboons don't tend to groom baboons from different social groups (much like humans), so social activities within a group act to consolidate shared communities of microbes.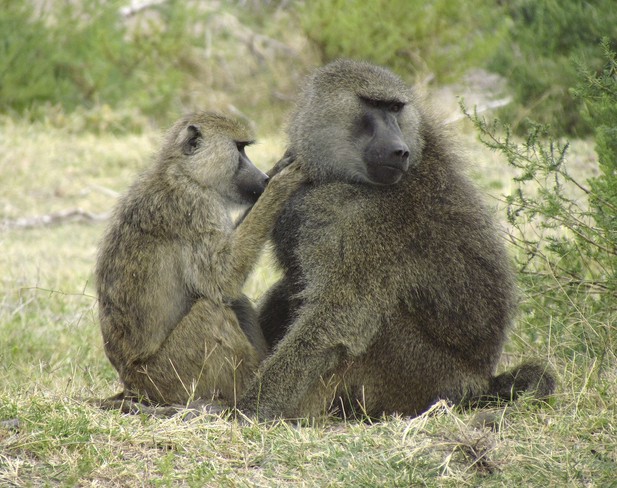 The need for physical interaction or the presence of others is central to human cognitive psychology. Embodied cognition is the study of how the presence of others affects thoughts, feelings, and behaviors (Meier et al., 2012); for example, we tend to distance ourselves physically from those we don't like or trust, whereas we tend to be more physically close and have more physical interactions with our friends and family.
It is highly probable that evolution has shaped social behavior. Physical interactions with those we love feels good; hugs, kisses, and even basic skin-to-skin contact have positive influences on our thoughts and feelings. The hand-shake—which is the standard mode of introduction in many societies—represents this concept. But why did these interactions evolve? Are they purely social constructs, or is physical interaction instinctive, driven by some selective advantage? Sharing microbes in this way can be beneficial: for example, bumblebees living in the same hive share bacteria through fecal pellets (Koch and Schmid-Hempel, 2011). This protects the bees from the virulent parasite Crithidia bombi, and therefore gives these bees a selective advantage over other bees that don't share bacteria.
Acquiring a beneficial microbiome may actually have shaped the evolution of the immune system, whose primary role is to maintain the balance of 'good' and 'bad' microbes in the microbiome. The immune system aims to control the exposure of host tissues to the microbiome, which it does in part by directly interacting with the bacteria. For example, the protein immunoglobulin A is released into the gut, where it binds to certain species of bacteria: this reduces the ability of the bacteria to move and keeps them away from the cells of the intestine (Hooper et al., 2012). It is likely that this mechanism is also used to capture certain beneficial microbes and retain them in the gut.
Sharing of microbes through physical interaction has been shown to happen in several vertebrate species. For example, my own work in humans demonstrates that family relationships and co-housing can influence the similarity of the microbiomes of individuals (Lax et al., 2014). In fact, in one of the groups examined, a young couple was shown to have much more similar microbiomes on their skin and in their nose than a lodger living with them in their home: however, the lodger had more microbes in common with the couple than he did with anyone else in the study.
Unlike the baboons—who only share significant amounts of microbes due to physical grooming activity—humans can also share microbes through the artificial environment we have constructed for ourselves. Over the last 100 years or so, these indoor environments have become increasingly isolated from the natural world outside. The microbiome of individuals living in the same indoor space can be shared through the air and via surfaces because humans are the main source of the microbes, and therefore most of the microbes in the space are readily able to colonize the human occupants.
This sharing of microbes might seem like a good idea; it worked for the bees. However, there is now mounting evidence to suggest that the over-sharing of the microbiome may be reducing our exposure to richer microbiomes from other sources, thereby limiting the development of our immune system (Lax et al., 2015). Wild baboons are exposed to many different sources of microbes in their environment, and—while their physical interactions may indeed help to share beneficial bacteria—these other microbes are also likely to support their physical, immunological and neurological development.
One of my colleagues, the eminent microbiologist and microbial ecologist Norman Pace, says that his exploration of the microbial world has made him reluctant to share other people's microbiomes (Personal Communication). In fact, Norman now only 'fist bumps' when he meets other people, and never shakes their hands. Is this reduced microbial exposure potentially detrimental to his health? Or could it be that in our modern world, Norman has the right idea?
Article and author information
Author details
© 2015, Gilbert
This article is distributed under the terms of the Creative Commons Attribution License, which permits unrestricted use and redistribution provided that the original author and source are credited.
2,818

Page views

367

Downloads

10

Citations
Article citation count generated by polling the highest count across the following sources: Crossref, Scopus, PubMed Central.
A two-part list of links to download the article, or parts of the article, in various formats.
Downloads
(link to download the article as PDF)
Open citations
(links to open the citations from this article in various online reference manager services)
Cite this article
(links to download the citations from this article in formats compatible with various reference manager tools)
Jack A Gilbert
Metagenomics: Social behavior and the microbiome
eLife 4:e07322.
https://doi.org/10.7554/eLife.07322
Further reading
Ecology

Genetics and Genomics

Social relationships have profound effects on health in humans and other primates, but the mechanisms that explain this relationship are not well understood. Using shotgun metagenomic data from wild baboons, we found that social group membership and social network relationships predicted both the taxonomic structure of the gut microbiome and the structure of genes encoded by gut microbial species. Rates of interaction directly explained variation in the gut microbiome, even after controlling for diet, kinship, and shared environments. They therefore strongly implicate direct physical contact among social partners in the transmission of gut microbial species. We identified 51 socially structured taxa, which were significantly enriched for anaerobic and non-spore-forming lifestyles. Our results argue that social interactions are an important determinant of gut microbiome composition in natural animal populations—a relationship with important ramifications for understanding how social relationships influence health, as well as the evolution of group living.

The sense of smell is pivotal for nocturnal moths to locate feeding and oviposition sites. However, these crucial resources are often rare and their bouquets are intermingled with volatiles emanating from surrounding 'background' plants. Here, we asked if the olfactory system of female hawkmoths, Manduca sexta, could differentiate between crucial and background cues. To answer this question, we collected nocturnal headspaces of numerous plants in a natural habitat of M. sexta. We analyzed the chemical composition of these headspaces and used them as stimuli in physiological experiments at the antenna and in the brain. The intense odors of floral nectar sources evoked strong responses in virgin and mated female moths, most likely enabling the localization of profitable flowers at a distance. Bouquets of larval host plants and most background plants, in contrast, were subtle, thus potentially complicating host identification. However, despite being subtle, antennal responses and brain activation patterns evoked by the smell of larval host plants were clearly different from those evoked by other plants. Interestingly, this difference was even more pronounced in the antennal lobe of mated females, revealing a status-dependent tuning of their olfactory system towards oviposition sites. Our study suggests that female moths possess unique neural coding strategies to find not only conspicuous floral cues but also inconspicuous bouquets of larval host plants within a complex olfactory landscape.

Computational and Systems Biology

Ecology

Contemporary bioinformatic and chemoinformatic capabilities hold promise to reshape knowledge management, analysis and interpretation of data in natural products research. Currently, reliance on a disparate set of non-standardized, insular, and specialized databases presents a series of challenges for data access, both within the discipline and for integration and interoperability between related fields. The fundamental elements of exchange are referenced structure-organism pairs that establish relationships between distinct molecular structures and the living organisms from which they were identified. Consolidating and sharing such information via an open platform has strong transformative potential for natural products research and beyond. This is the ultimate goal of the newly established LOTUS initiative, which has now completed the first steps toward the harmonization, curation, validation and open dissemination of 750,000+ referenced structure-organism pairs. LOTUS data is hosted on Wikidata and regularly mirrored on https://lotus.naturalproducts.net. Data sharing within the Wikidata framework broadens data access and interoperability, opening new possibilities for community curation and evolving publication models. Furthermore, embedding LOTUS data into the vast Wikidata knowledge graph will facilitate new biological and chemical insights. The LOTUS initiative represents an important advancement in the design and deployment of a comprehensive and collaborative natural products knowledge base.