Phototaxis: Life in focus
Land plants are restricted to the location in which they germinate and grow, and individual plants are at the mercy of the light conditions where a given seed lands. However, some single-celled photosynthetic organisms exhibit behavior known as "phototaxis" that involves moving in response to local light conditions (Gualteri, 2001). For example, the green alga, Chlamydomonas reinhardtii, can swim toward light to increase photosynthesis, but it can also swim away from bright light to avoid damage to molecular complexes required for photosynthesis (Foster and Smyth, 1980).
What are the minimal requirements for phototaxis? First, the organism must have a molecule that detects light. In most algal systems these photoreceptors act as both a light receptor and as an ion channel to trigger downstream signal transduction, similar to the rhodopsins found in bacteria (Nagel et al., 2005). The second requirement for phototaxis is motility. The third requirement is the ability to determine the direction of the incoming light, so that the cell can respond by moving in the appropriate direction.
This final requirement, "knowing where the light is", has been solved by evolution in a variety of ways in different organisms. Now, in eLife, Conrad Mullineaux, Annegret Wilde and co-workers – including Nils Schuergers as first author – report that in a genus of bacteria called Synechocystis, the cells themselves act as lenses that can focus light (Schuergers et al., 2016). They use a combination of high-end microscopy and materials science to show that light hitting the convex surface of the cell is focused by the refractive properties of the cell body into a spot on the opposite side of the cell.
How does focusing light result in directional movement? To move in a given direction, some kind of asymmetry must be established in the cell. In Synechocystis, motility relies on tiny cell-surface projections called pili that grab the substrate and pull the cell forward, before releasing it and starting another round of grabbing and pulling. Schuergers et al. – who are based in Freiburg, Karlsruhe, London and Porto – found that the cells move away from the focused spot, toward the external light source. The required asymmetry is established by motor proteins that drive assembly of the pili, which cluster on the side of the cell away from the focused spot. The photoreceptors, on the other hand, are evenly distributed in the cell membrane.
By contrast, in other single-celled systems, such as Chlamydomonas and other eukaryotic algae, the flagella responsible for the movement are fixed at one end of the cell by the basal bodies from which they extend (Marshall, 2008). Thus, to provide useful information for directional movement, the photoreceptors must be clustered in one location in the cell, in organelles called eyespots. The position of the eyespot relative to the flagella is fixed by the asymmetric properties of the microtubule cytoskeleton established by the basal bodies (Holmes and Dutcher, 1989; Kamiya and Witman, 1984). Additionally, elaborate light-absorbing structures, often provided by the chloroplast, block light traveling through the cell (Kawai and Kreimer, 2000).
Why did such complicated phototaxis systems evolve in eukaryotic algae? Perhaps having the flagella fixed at one end of primordial cells dictated first the clustering of the photoreceptors, followed by the development of the variety of "light-blocking" systems in different species, which often include structures evolved from the cyanobacterium ancestor engulfed by the host cell.
That cells could act as lenses was proposed previously as an explanation for the phototactic behavior observed in colorless single-celled algae (Sineshchekov et al., 1994). And recently it was shown that the Chlamydomonas-like cells that comprise multicellular Volvox colonies are lenses (Kessler et al., 2015). These cells focus light most acutely a few cell diameters away. Kessler et al. suggested that this light-focusing ability of individual cells influenced the evolutionary path from single cells to the more complex volvocine algae containing thousands of cells.
The work of Schuergers et al. is the first truly elegant demonstration of "lensing" by a bacterial cell. These data are also a powerful reminder of the influence of light on life. Photoreceptors have evolved to capture photons and signal transduction pathways have evolved to allow cells to harness their energy. More pointedly, this work reminds us that light is directional and can be absorbed, reflected and refracted by interactions with living cells. This is a beautiful demonstration of the intersection of physics and biology, not only at the cellular level, but at the experimental level as well.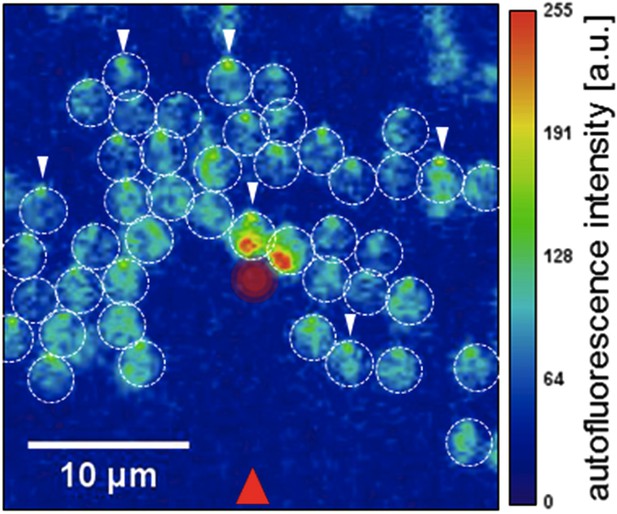 Cellular asymmetry in chlamydomonas reinhardtii

Journal of Cell Science 94:273–285.

Book

Sensory mechanisms: phototaxes and light perception in algae

In: Leadbetter BSC, Green JC, editors. Flagellates: unity, diversity and evolution. Boca Raton: CRC Press. . p 124–145.
Article and author information
Author details
© 2016, Dieckmann et al.
This article is distributed under the terms of the Creative Commons Attribution License, which permits unrestricted use and redistribution provided that the original author and source are credited.
1,986

Page views

201

Downloads

3

Citations
Article citation count generated by polling the highest count across the following sources: Crossref, Scopus, PubMed Central.
A two-part list of links to download the article, or parts of the article, in various formats.
Downloads
(link to download the article as PDF)
Open citations
(links to open the citations from this article in various online reference manager services)
Cite this article
(links to download the citations from this article in formats compatible with various reference manager tools)
Carol Dieckmann
Telsa Mittelmeier
Phototaxis: Life in focus
eLife 5:e14169.
https://doi.org/10.7554/eLife.14169
Further reading
Physics of Living Systems
Microbiology and Infectious Disease

Bacterial phototaxis was first recognized over a century ago, but the method by which such small cells can sense the direction of illumination has remained puzzling. The unicellular cyanobacterium Synechocystis sp. PCC 6803 moves with Type IV pili and measures light intensity and color with a range of photoreceptors. Here, we show that individual Synechocystis cells do not respond to a spatiotemporal gradient in light intensity, but rather they directly and accurately sense the position of a light source. We show that directional light sensing is possible because Synechocystis cells act as spherical microlenses, allowing the cell to see a light source and move towards it. A high-resolution image of the light source is focused on the edge of the cell opposite to the source, triggering movement away from the focused spot. Spherical cyanobacteria are probably the world's smallest and oldest example of a camera eye.

Computational and Systems Biology
Physics of Living Systems

As an organism ages, its health-state is determined by a balance between the processes of damage and repair. Measuring these processes requires longitudinal data. We extract damage and repair transition rates from repeated observations of binary health attributes in mice and humans to explore robustness and resilience, which respectively represent resisting or recovering from damage. We assess differences in robustness and resilience using changes in damage rates and repair rates of binary health attributes. We find a conserved decline with age in robustness and resilience in mice and humans, implying that both contribute to worsening aging health – as assessed by the frailty index (FI). A decline in robustness, however, has a greater effect than a decline in resilience on the accelerated increase of the FI with age, and a greater association with reduced survival. We also find that deficits are damaged and repaired over a wide range of timescales ranging from the shortest measurement scales toward organismal lifetime timescales. We explore the effect of systemic interventions that have been shown to improve health, including the angiotensin-converting enzyme inhibitor enalapril and voluntary exercise for mice. We have also explored the correlations with household wealth for humans. We find that these interventions and factors affect both damage and repair rates, and hence robustness and resilience, in age and sex-dependent manners.

Physics of Living Systems

Spatial organization of chromatin plays a critical role in genome regulation. Previously, various types of affnity mediators and enzymes have been attributed to regulate spatial organization of chromatin from a thermodynamics perspective. However, at the mechanistic level, enzymes act in their unique ways and perturb the chromatin. Here, we construct a polymer physics model following the mechanistic scheme of Topoisomerase-II, an enzyme resolving topological constraints of chromatin, and investigate how it affects interphase chromatin organization. Our computer simulations demonstrate Topoisomerase-II's ability to phase separate chromatin into eu- and heterochromatic regions with a characteristic wall-like organization of the euchromatic regions. We realized that the ability of the euchromatic regions to cross each other due to enzymatic activity of Topoisomerase-II induces this phase separation. This realization is based on the physical fact that partial absence of self-avoiding interaction can induce phase separation of a system into its self-avoiding and non-self-avoiding parts, which we reveal using a mean-field argument. Furthermore, motivated from recent experimental observations, we extend our model to a bidisperse setting and show that the characteristic features of the enzymatic activity driven phase separation survive there. The existence of these robust characteristic features, even under the non-localized action of the enzyme, highlights the critical role of enzymatic activity in chromatin organization.