Mitochondria: Selective protein degradation ensures cellular longevity
Mitochondria provide cells with energy and metabolite molecules that are essential for cell growth, and faulty mitochondria cause a number of severe genetic and age-related diseases, including Friedreich's ataxia, diabetes and cancer (Held and Houtkooper, 2015; Suliman and Piantadosi, 2016). To maintain mitochondria in a fully working state, cells have evolved a range of quality control systems for them (Held and Houtkooper, 2015). For example, faulty mitochondria can be removed through a process called mitophagy. In this process, which is similar to autophagy (the process used by cells to degrade unwanted proteins and organelles), the entire mitochondrion is enclosed by a double membrane. In yeast cells this structure fuses with a compartment called the vacuole, where various enzymes degrade and destroy the mitochondrion (Youle and Narendra, 2011). In animal cells an organelle called the lysosome takes the place of the vacuole.
Now, in eLife, Adam Hughes, Daniel Gottschling and colleagues at the Fred Hutchinson Cancer Research Center and University of Utah School of Medicine report evidence for a new quality control mechanism that helps to protect mitochondria from age- and stress-related damage in yeast (Hughes et al., 2016). In this mechanism, a mitochondrion can selectively remove part of its membrane to send the proteins embedded in this region to the lysosome/vacuole to be destroyed, while leaving the remainder of the mitochondrion intact (Figure 1).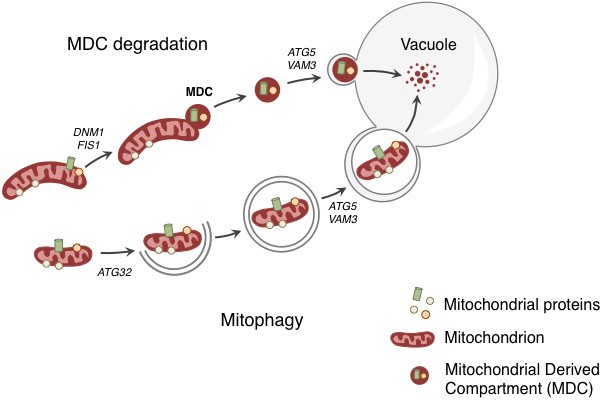 Hughes et al. tracked the fate of Tom70, a protein that is found in the outer membrane of mitochondria, and discovered that it accumulated in the vacuole as the yeast aged. This accumulation was not the result of mitophagy, as Tom70 was directed to the vacuole even when a gene required for mitophagy was absent. Previous reports have linked cellular aging to a decline in mitochondrial activity (McMurray and Gottschling, 2003), which is caused by an earlier loss of pH control in the vacuole (Hughes and Gottschling, 2012). For this reason, Hughes et al. tested whether a drug that disrupts the pH of the vacuole triggers the degradation of Tom70. This appears to be the case – the drug caused Tom70 to move from the mitochondria to the vacuole for degradation.
Before Tom70 ended up in the vacuole it accumulated in a mitochondrial-derived compartment (MDC) at the surface of the mitochondria, close to the membrane of the vacuole. The formation of this compartment depended on the machinery that drives the process by which mitochondria divide. However, the subsequent delivery of the contents of the MDC to the vacuole used factors that are required for the late stages of autophagy (Figure 1).
Hughes et al. found that the MDC contained Tom70 and 25 other proteins, all of which are mitochondrial membrane proteins that rely on Tom70 to import them into the mitochondrial membrane. This suggests that the MDC degradation pathway selectively removes a specific group of mitochondrial proteins. An obvious question, therefore, is: how and why does disrupting the ability of the vacuole to control its pH trigger the selective delivery and degradation of these proteins?
Hughes et al. hypothesize that MDC formation is linked to metabolite imbalance, as the loss of acidity inside the vacuole prevents amino acids from being stored there (Klionsky et al., 1990). This in turn leads to a build up of amino acids in the cytoplasm that can overburden the transport proteins that import them into the mitochondria (Hughes and Gottschling, 2012). In this scenario, the selective degradation of mitochondrial transport proteins by the MDC pathway can be seen as a response that protects the organelle against an unregulated, and potentially harmful, influx of amino acids.
While MDCs still formed in very old yeast cells, they remained in vesicle-like structures in the cytoplasm and were not delivered to the vacuole. It therefore appears possible that the accumulation of undegradable cytosolic MDCs in the cytoplasm can contribute to the decline of the aging cell, much like the accumulation of protein aggregates does (Nystrom and Liu, 2014; Hill et al., 2014).
The discovery of MDCs and their role in delivering specific mitochondrial proteins to the vacuole for degradation raises a number of questions that may shed further light on both this process and the trials of aging. Do the MDCs contain regulatory factors that are required for delivering proteins into the vacuole? Why do MDCs fail to be delivered into the vacuole in old cells? The degradative enzymes inside the vacuole do not work well under conditions of elevated pH. It will therefore also be important to learn how long the degradation of mitochondrial membrane proteins can be maintained under these conditions (Kane, 2006).
The fungal vacuole: composition, function, and biogenesis

Microbiological Reviews 54:266–292.
Article and author information
Author details
© 2016, Malmgren Hill et al.
This article is distributed under the terms of the Creative Commons Attribution License, which permits unrestricted use and redistribution provided that the original author and source are credited.
2,522

Page views

438

Downloads

0

Citations
Article citation count generated by polling the highest count across the following sources: Crossref, PubMed Central, Scopus.
A two-part list of links to download the article, or parts of the article, in various formats.
Downloads
(link to download the article as PDF)
Open citations
(links to open the citations from this article in various online reference manager services)
Cite this article
(links to download the citations from this article in formats compatible with various reference manager tools)
Sandra Malmgren Hill
Thomas Nyström
Mitochondria: Selective protein degradation ensures cellular longevity
eLife 5:e17185.
https://doi.org/10.7554/eLife.17185
Further reading
Mitochondrial dysfunction is a hallmark of aging, and underlies the development of many diseases. Cells maintain mitochondrial homeostasis through a number of pathways that remodel the mitochondrial proteome or alter mitochondrial content during times of stress or metabolic adaptation. Here, using yeast as a model system, we identify a new mitochondrial degradation system that remodels the mitochondrial proteome of aged cells. Unlike many common mitochondrial degradation pathways, this system selectively removes a subset of membrane proteins from the mitochondrial inner and outer membranes, while leaving the remainder of the organelle intact. Selective removal of preexisting proteins is achieved by sorting into a mitochondrial-derived compartment, or MDC, followed by release through mitochondrial fission and elimination by autophagy. Formation of MDCs requires the import receptors Tom70/71, and failure to form these structures exacerbates preexisting mitochondrial dysfunction, suggesting that the MDC pathway provides protection to mitochondria in times of stress.

Background: Viral infection is associated with a significant rewire of the host metabolic pathways, presenting attractive metabolic targets for intervention.

Methods: We chart the metabolic response of lung epithelial cells to SARS-CoV-2 infection in primary cultures and COVID-19 patient samples and perform in vitro metabolism-focused drug screen on primary lung epithelial cells infected with different strains of the virus. We perform observational analysis of Israeli patients hospitalized due to COVID-19 and comparative epidemiological analysis from cohorts in Italy and the Veteran's Health Administration in the United States. In addition, we perform a prospective non-randomized interventional open-label study in which 15 patients hospitalized with severe COVID-19 were given 145 mg/day of nanocrystallized fenofibrate added to the standard of care.

Results: SARS-CoV-2 infection produced transcriptional changes associated with increased glycolysis and lipid accumulation. Metabolism-focused drug screen showed that fenofibrate reversed lipid accumulation and blocked SARS-CoV-2 replication through a PPARa-dependent mechanism in both alpha and delta variants. Analysis of 3,233 Israeli patients hospitalized due to COVID-19 supported in vitro findings. Patients taking fibrates showed significantly lower markers of immunoinflammation and faster recovery. Additional corroboration was received by comparative epidemiological analysis from cohorts in Europe and the United States. A subsequent prospective non-randomized interventional open-label study was carried out on 15 patients hospitalized with severe COVID-19. The patients were treated with 145 mg/day of nanocrystallized fenofibrate in addition to standard-of-care. Patients receiving fenofibrate demonstrated a rapid reduction in inflammation and a significantly faster recovery compared to patients admitted during the same period.

Conclusions: Taken together, our data suggest that pharmacological modulation of PPARa should be strongly considered as a potential therapeutic approach for SARS-CoV-2 infection and emphasizes the need to complete the study of fenofibrate in large randomized controlled clinical trials.

Funding: Funding was provided by European Research Council Consolidator Grants OCLD (project no. 681870) and generous gifts from the Nikoh Foundation and the Sam and Rina Frankel Foundation (YN). The interventional study was supported by Abbott (project FENOC0003).

Clinical trial number: NCT04661930.

Cell Biology
Chromosomes and Gene Expression

Meiotic chromosome segregation relies on synapsis and crossover recombination between homologous chromosomes. These processes require multiple steps that are coordinated by the meiotic cell cycle and monitored by surveillance mechanisms. In diverse species, failures in chromosome synapsis can trigger a cell cycle delay and/or lead to apoptosis. How this key step in 'homolog engagement' is sensed and transduced by meiotic cells is unknown. Here we report that in C. elegans, recruitment of the Polo-like kinase PLK-2 to the synaptonemal complex triggers phosphorylation and inactivation of CHK-2, an early meiotic kinase required for pairing, synapsis, and double-strand break induction. Inactivation of CHK-2 terminates double-strand break formation and enables crossover designation and cell cycle progression. These findings illuminate how meiotic cells ensure crossover formation and accurate chromosome segregation.