Regeneration: Seeing is believing
There is little that fires the imagination like the possibility of regrowing body parts following an injury. Indeed the capacity to regrow organs and limbs – and heads and tails – is the stuff of myths and legends dating back to antiquity. And as remarkable and magical as it may appear, the ability to regrow lost or injured body parts is a reality for a significant proportion of the animal and plant kingdoms. Indeed, it is possible to regenerate an entire plant from a small fragment of plant tissue or even from a single cell (Ikeuchi et al., 2016). And some animals – such as hydra, planarians and colonial ascidians – are also able to reproduce by regenerating an entire organism from part of its parent (Sánchez Alvarado, 2000).
Given that humans are not amongst those animals that can regenerate a limb or other body parts (never mind an entire organism) following an injury, there has been great interest in understanding the mechanisms employed by those animals that are capable of complex tissue regeneration. The ultimate hope is that this knowledge could lead to breakthroughs in regenerative medicine, including the regeneration of human tissues and organs (Brockes and Kumar, 2005).
Studying the molecular and cellular mechanisms of limb regeneration presents many challenges. First, limb regeneration takes a long time to complete: for example, in urodele amphibians (newts and salamanders) it typically takes about a month for larval stages and almost a year in some adult organisms (Young et al., 1983). Second, the model systems that have been used to study limb regeneration tend to take a relatively long time to reproduce (with generation times typically being 1–2 years) and to be relatively recalcitrant to genetic manipulation. Third, limb regeneration has largely been studied in systems that are opaque to imaging, so its dynamic nature has remained largely hidden behind closed doors. While new genomic and genetic tools for amphibians have become available in recent years (Hayashi et al., 2014; Khattak et al., 2013; Flowers et al., 2014), the long generation times and the opaque nature of these organisms remain an obstacle. Now, in eLife, Frederike Alwes, Camille Enjolras and Michalis Averof of the École Normale Supérieure de Lyon report how a small crustacean called Parhyale hawaiensis offers a solution to all of these problems (Alwes et al., 2016).
The arthropods represent the largest phylum in the animal kingdom and representatives of this phylum – notably the fruit fly, Drosophila melanogaster – have long been used to study development, genetics and evolution. Unfortunately for researchers, fruit flies cannot regenerate their limbs. However, Parhyale hawaiensis retains many of the advantages of Drosophila (a relatively short generation time, the transparency of its embryos and adults, and the availability of advanced transgenic tools) and it is also able to regenerate its appendages (antennae, mouth parts and limbs) within a week as an adult (Konstantinides and Averof, 2014; Grillo et al., 2016). In particular, rapid advances in recent years mean that it is now possible to manipulate the genome of Parhyale hawaiensis, through transgenesis and targeted gene modification approaches, with relative ease (Stamataki and Pavlopoulos, 2016).
The final challenge, as far as the study of limb and appendage regeneration is concerned, is to image the entire regeneration process at the single cell level in adult animals. This is particularly challenging as adult animals like to move. One approach would be to anaesthetize the organism while imaging: however, it takes a number of days to complete the regeneration processes, and few animals can survive being anaesthetized for this length of time. Alwes, Enjolras and Averof overcame this problem in Parhyale hawaiensis by gluing one of its legs to a cover slip, which allowed the rest of the animal to continue to move and feed. Next they amputated the immobilized leg, which then proceeded to regenerate (without moving) inside the transparent exoskeleton of the leg. In the next molt, the animal freed itself from the glued exoskeleton (which remained behind) and emerged with a new, fully functional, leg. This new approach allowed Alwes et al. to follow the dynamic nature of appendage regeneration at the single-cell level over a period of 4–5 days (Figure 1). This is the first time that this has been done in any organism.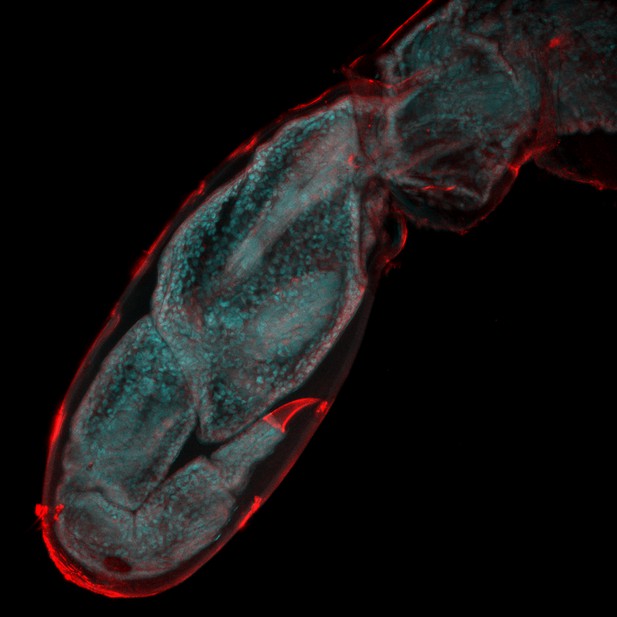 The ability to visualize record the dynamic nature of limb regeneration at the cellular level, combined with the availability of a number of genetic approaches, means that many of the secrets underlying appendage regeneration will likely be finally revealed using this humble, but beautiful, little crustacean.
Article and author information
Author details
© 2016, Amaya
This article is distributed under the terms of the Creative Commons Attribution License, which permits unrestricted use and redistribution provided that the original author and source are credited.
2,156

Page views

130

Downloads

1

Citations
Article citation count generated by polling the highest count across the following sources: Crossref, PubMed Central, Scopus.
A two-part list of links to download the article, or parts of the article, in various formats.
Downloads
(link to download the article as PDF)
Open citations
(links to open the citations from this article in various online reference manager services)
Cite this article
(links to download the citations from this article in formats compatible with various reference manager tools)
Enrique Amaya
Regeneration: Seeing is believing
eLife 5:e21583.
https://doi.org/10.7554/eLife.21583
Further reading
Stem Cells and Regenerative Medicine

Regeneration is a complex and dynamic process, mobilizing diverse cell types and remodelling tissues over long time periods. Tracking cell fate and behaviour during regeneration in active adult animals is especially challenging. Here, we establish continuous live imaging of leg regeneration at single-cell resolution in the crustacean Parhyale hawaiensis. By live recordings encompassing the first 4-5 days after amputation, we capture the cellular events that contribute to wound closure and morphogenesis of regenerating legs with unprecedented resolution and temporal detail. Using these recordings we are able to track cell lineages, to generate fate maps of the blastema and to identify the progenitors of regenerated epidermis. We find that there are no specialized stem cells for the epidermis. Most epidermal cells in the distal part of the leg stump proliferate, acquire new positional values and contribute to new segments in the regenerating leg.

Developmental Biology
Stem Cells and Regenerative Medicine

Cell-free DNA (cfDNA) present in the bloodstream or other bodily fluids holds potential as a non-invasive diagnostic for early disease detection. However, it remains unclear what cfDNA markers might be produced in response to specific tissue-level events. Organoid systems present a tractable and efficient method for screening cfDNA markers. However, research investigating the release of cfDNA from organoids is limited. Here, we present a scalable method for high-throughput screening of cfDNA from cardiac organoids. We demonstrate that cfDNA is recoverable from cardiac organoids, and that cfDNA release is highest early in differentiation. Intriguingly, we observed that the fraction of cell-free mitochondrial DNA appeared to decrease as the organoids developed, suggesting a possible signature of cardiac organoid maturation, or other cardiac growth-related tissue-level events. We also observe alterations in the prevalence of specific genomic regions in cardiac organoid-derived cfDNA at different timepoints during growth. In addition, we identify cfDNA markers that were increased upon addition of cardiotoxic drugs, prior to the onset of tissue demise. Together, these results indicate that cardiac organoids may be a useful system towards the identification of candidate predictive cfDNA markers of cardiac tissue development and demise.

Cell Biology
Stem Cells and Regenerative Medicine

Following acute injury, the capillary vascular bed in the lung must be repaired to reestablish gas exchange with the external environment. Little is known about the transcriptional and signaling factors that drive pulmonary endothelial cell (EC) proliferation and subsequent regeneration of pulmonary capillaries, as well as their response to stress. Here, we show that the transcription factor Atf3 is essential for the regenerative response of the mouse pulmonary endothelium after influenza infection. Atf3 expression defines a subpopulation of capillary ECs enriched in genes involved in endothelial development, differentiation, and migration. During lung alveolar regeneration, this EC population expands and increases the expression of genes involved in angiogenesis, blood vessel development, and cellular response to stress. Importantly, endothelial cell-specific loss of Atf3 results in defective alveolar regeneration, in part through increased apoptosis and decreased proliferation in the endothelium. This leads to the general loss of alveolar endothelium and persistent morphological changes to the alveolar niche, including an emphysema-like phenotype with enlarged alveolar airspaces lined with regions that lack vascular investment. Taken together, these data implicate Atf3 as an essential component of the vascular response to acute lung injury that is required for successful lung alveolar regeneration.