Motor Networks: The Goldilocks zone in neural circuits
Networks of neurons are tough beasts to control. If too many of the connections between the neurons are excitatory, the network becomes hyperactive, driven by feedback from neuron to neuron. But if too many of the connections are inhibitory, the network goes silent, save for a few blips of activity, mercilessly crushed by inhibition. So how do real neuronal networks stay in the Goldilocks zone between too quiet and too loud? How do they maintain stable activity yet remain sensitive to new inputs?
One clue comes from the long-tailed distributions of spiking rates that are seen throughout the cortex: a small number of neurons respond strongly to a specific input, but most spike only weakly, and thus remain ready to spike again in response to a new input (Wohrer et al., 2013; Buzsáki and Mizuseki, 2014). Another clue comes from the balanced network model: according to this model the excitatory and inhibitory inputs to cortical neurons cancel on average, so the neurons can maintain stable, irregular activity (van Vreeswijk and Sompolinsky, 1996; Renart et al., 2010; see Figure 1A,B). However, we don't know how these two clues fit together to explain how neuronal networks reach the Goldilocks zone: in particular, can balanced networks produce long-tailed distributions of spiking rates?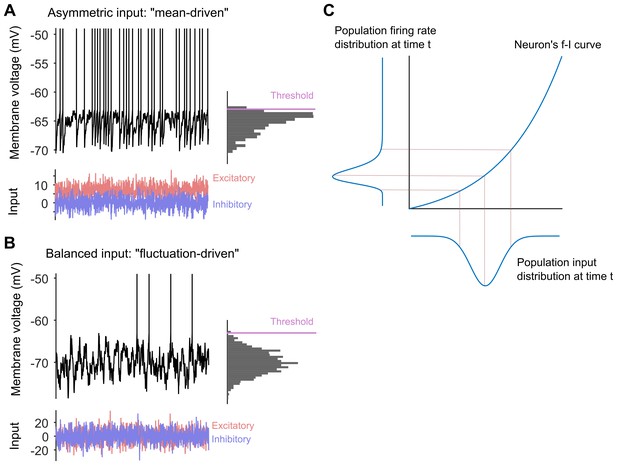 Now, in eLife, Peter Petersen and Rune Berg of the University of Copenhagen report compelling experimental evidence that they can (Petersen and Berg, 2016; Figure 1C). They did this by testing a theoretical model that was published in 2011 (Roxin et al., 2011). The experiments were performed on the spinal network in turtles and combined intracellular and large-scale extracellular recordings of neural activity. The recordings were made during periods of evoked motor behaviour (that is, when the turtle was scratching itself).
Petersen and Berg first showed that the spinal network was balanced. They identified individual neurons in the spinal cord that existed in a regime called the "fluctuation-driven" regime that is characteristic of balanced networks. The membrane voltages of these neurons fluctuated widely between spikes, as expected from neurons receiving the same inhibitory and excitatory input on average (Figure 1B). They also identified neurons that existed in the "mean-driven" regime (Figure 1A): in these neurons the membrane voltages moved from low values to high values rapidly and directly following each spike. Petersen and Berg then showed that it was possible to switch between the fluctuation-driven and mean-driven regimes by changing the balance between the excitatory and inhibitory inputs to the neurons.
Next they tested a slightly off-the-wall prediction made by Alex Roxin and co-workers for neurons in the fluctuation-driven regime (Roxin et al., 2011). This work predicted that if these neurons have an expansive output curve – that is, if the output increases faster than linear as the input increases – then their output spike-rate will have a long-tailed distribution (Figure 1C). Unexpectedly, Petersen and Berg showed that their fluctuation-driven neurons all had such an expansive output curve.
Petersen and Berg then used large-scale population recordings to address the key question: do these expansive output curves give rise to the predicted long-tailed distribution of firing rates across a network? The answer was a resounding yes. The populations they recorded had lognormal distributions of firing rates, and the neurons within each population sat on a continuum between the fluctuation- and mean-driven regimes. Intriguingly, their data suggest that these regimes bore no relation to whether the neurons were inter- or motor-neurons.
Petersen and Berg's work is a rarity in systems neuroscience, an experimental study that tests a computational theory directly, and exhaustively. They have provided compelling evidence that a combination of balanced input and expansive output can hold a network in the Goldilocks zones (that is, keep it both stable and responsive). And by working in the spinal cord networks of the turtle, they were able to show that all these properties exist during ongoing behaviour, and not just during spontaneous neuronal activity. Moreover, they remind us there is nothing privileged about the dynamics of cortical circuits, or the dynamics of neuronal circuits in mammals.
The work also opens up a number of exciting challenges for theory and experiment. Like many behaviours, scratching is a rhythmic action, driven by repeated bursts of spikes. Petersen and Berg focused on the spikes within bursts, but there is silence between bursts. This silence means there must be two timescales for the control of neural activity in the spinal network. Spikes within the bursts arise from fast changes to a neuron's inputs, whether in the fluctuation-driven regime or the mean-driven regime. And the silence between bursts means that the network is able to slowly switch in and out of the driven regimes; that is, it can periodically turn its balanced state on and then off. Clearly we have just started to unpack how neuronal networks control their own activity.
Article and author information
Author details
© 2016, Humphries
This article is distributed under the terms of the Creative Commons Attribution License, which permits unrestricted use and redistribution provided that the original author and source are credited.
1,243

Page views

145

Downloads

3

Citations
Article citation count generated by polling the highest count across the following sources: Crossref, PubMed Central, Scopus.
A two-part list of links to download the article, or parts of the article, in various formats.
Downloads
(link to download the article as PDF)
Open citations
(links to open the citations from this article in various online reference manager services)
Cite this article
(links to download the citations from this article in formats compatible with various reference manager tools)
Mark D Humphries
Motor Networks: The Goldilocks zone in neural circuits
eLife 5:e22735.
https://doi.org/10.7554/eLife.22735
Further reading
When spinal circuits generate rhythmic movements it is important that the neuronal activity remains within stable bounds to avoid saturation and to preserve responsiveness. Here, we simultaneously record from hundreds of neurons in lumbar spinal circuits of turtles and establish the neuronal fraction that operates within either a 'mean-driven' or a 'fluctuation–driven' regime. Fluctuation-driven neurons have a 'supralinear' input-output curve, which enhances sensitivity, whereas the mean-driven regime reduces sensitivity. We find a rich diversity of firing rates across the neuronal population as reflected in a lognormal distribution and demonstrate that half of the neurons spend at least 50 of the time in the 'fluctuation–driven' regime regardless of behavior. Because of the disparity in input–output properties for these two regimes, this fraction may reflect a fine trade–off between stability and sensitivity in order to maintain flexibility across behaviors.

Computational and Systems Biology
Neuroscience

Seizure generation, propagation, and termination occur through spatiotemporal brain networks. In this paper, we demonstrate the significance of large-scale brain interactions in high-frequency (80–200Hz) for the identification of the epileptogenic zone (EZ) and seizure evolution. To incorporate the continuity of neural dynamics, here we have modeled brain connectivity constructed from stereoelectroencephalography (SEEG) data during seizures using multilayer networks. After introducing a new measure of brain connectivity for temporal networks, named multilayer eigenvector centrality (mlEVC), we applied a consensus hierarchical clustering on the developed model to identify the EZ as a cluster of nodes with distinctive brain connectivity in the ictal period. Our algorithm could successfully predict electrodes inside the resected volume as EZ for 88% of participants, who all were seizure-free for at least 12 months after surgery. Our findings illustrated significant and unique desynchronization between EZ and the rest of the brain in the early to mid-seizure. We showed that aging and the duration of epilepsy intensify this desynchronization, which can be the outcome of abnormal neuroplasticity. Additionally, we illustrated that seizures evolve with various network topologies, confirming the existence of different epileptogenic networks in each patient. Our findings suggest not only the importance of early intervention in epilepsy but possible factors that correlate with disease severity. Moreover, by analyzing the propagation patterns of different seizures, we demonstrate the necessity of collecting sufficient data for identifying epileptogenic networks.

The treatment of neurodegenerative diseases is hindered by lack of interventions capable of steering multimodal whole-brain dynamics towards patterns indicative of preserved brain health. To address this problem, we combined deep learning with a model capable of reproducing whole-brain functional connectivity in patients diagnosed with Alzheimer's disease (AD) and behavioral variant frontotemporal dementia (bvFTD). These models included disease-specific atrophy maps as priors to modulate local parameters, revealing increased stability of hippocampal and insular dynamics as signatures of brain atrophy in AD and bvFTD, respectively. Using variational autoencoders, we visualized different pathologies and their severity as the evolution of trajectories in a low-dimensional latent space. Finally, we perturbed the model to reveal key AD- and bvFTD-specific regions to induce transitions from pathological to healthy brain states. Overall, we obtained novel insights on disease progression and control by means of external stimulation, while identifying dynamical mechanisms that underlie functional alterations in neurodegeneration.