Neuromodulation: Transcranial electric stimulation seen from within the brain
Computer models can make transcranial electric stimulation a better tool for research and therapy.
The human brain seems well protected, encased within the skull. Yet something as simple as placing a pair of wet sponges onto someone's head and sending a weak electric current between them can actually alter the brain's activity. A refined version of this method – known as transcranial electric stimulation – has attracted considerable interest and is now being used to probe the workings of the brain and develop treatments for medical conditions such as depression, epilepsy or stroke.
Transcranial electric stimulation (or TES for short) has parallels with conventional drug treatments in the sense that delivering an electric field to the brain is analogous to delivering drug molecules into the body. So, just as it is important to know how the human body affects an administered drug (a field of research that is known as pharmacokinetics), in TES we need to know how much of the current applied to the scalp actually enters the brain, and where this current goes.
The 'pharmacokinetics of TES' remains contentious (Underwood, 2016), but is important for several reasons. First, it allows us to relate findings from experiments in which brain tissue from animals is stimulated directly to findings obtained via noninvasive applications in people. Second, it helps researchers optimize the process in order to target specific regions of the brain. Third, it enables researchers to compensate for the differences between individuals, and to standardize the exposure that they receive.
The only established approach for estimating the dose of TES delivered to an individual relies on a three-dimensional model of the subject's head that includes its different tissues and the attached electrodes, which is fed into a computer simulation (Figure 1). Such models have been available for some time (Datta et al., 2009), but they had been validated only partially and indirectly in humans or other primates (Edwards et al., 2013; Lee et al., 2015). Moreover, there are uncertainties about the electric properties of the tissues in these models.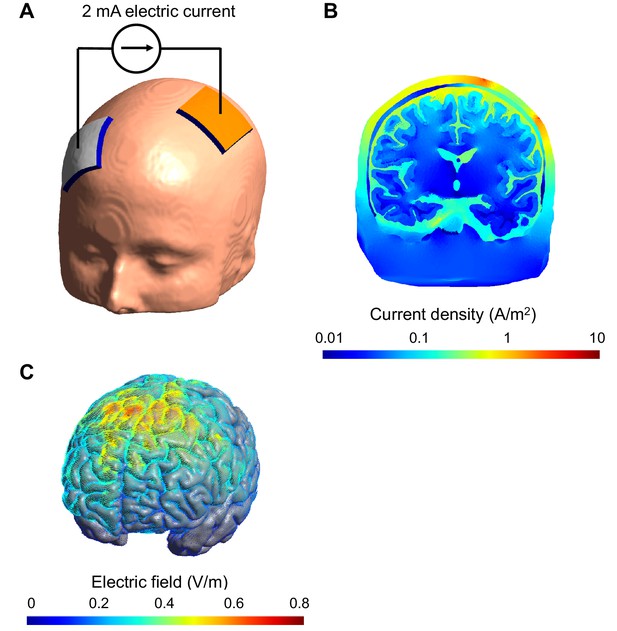 Now, in eLife, Lucas Parra and colleagues – including Yu Huang and Anli Liu as joint first authors – report how they have addressed these issues by combining elaborate computational modeling with recordings taken within the brains of ten people undergoing surgery for epilepsy (Huang et al., 2017). This sample size markedly exceeds that of other similar measurements (Opitz et al., 2016), and the three-dimensional models used are highly sophisticated too. Leveraging this setup, Huang et al. provide the most extensive and direct estimates of the TES electric field to date. They also confirm that computational models of TES can accurately recreate the electric field generated in a real brain.
Huang et al. – who are based at City College of the City University of New York, New York University School of Medicine and the Mayo Clinic – provide practical insights that should help others to implement the models as well. For accurate results, the individual scan should capture the entire head, from neck to crown. This is not the convention in clinical imaging, which currently only focuses on the brain, but Huang et al. get round this limitation by splicing the bottom portion of a standard model of a head onto the individual scans. To do this, the images must be properly cropped and morphed, though this feature has yet to be added to publicly available electric field modeling software.
Including a compartment for the cerebrospinal fluid (the colorless liquid that surrounds the brain) also makes the models more accurate. Appropriate imaging and image analysis methods are required to capture this layer as well as the skull, which are both quite thin (see Figure 1B). However, modelers can breathe a sigh of relief, because the data suggest that the different layers within the skull can be omitted from the models without significantly impacting their accuracy. The way that conductivity changes depending on the orientation of the current in the brain's white matter can similarly be ignored, at least for the mostly outer regions of the brain explored so far by Huang et al.
This work also underscores the present limitations of modeling. It is still uncertain exactly what values for tissue conductivity should be used, and whether it is acceptable to use the same values for everyone. Addressing this question requires further studies likely involving a range of techniques. For example, there are promising efforts to measure tissue conductivities directly during surgery (Koessler et al., 2017), or with other noninvasive techniques (Chauhan et al., 2017).
Even without making the absolute electric field estimates more accurate, existing modeling approaches and software appear suitable for measuring the relative strength of stimulation across brain regions, and predicting how an individual's anatomy might affect this. Indeed, the National Institutes of Health now requires that researchers applying for certain grants "use realistic head modeling" to characterize what electric field is delivered across the brain (NIH, 2017). All in all, it seems that the time is now right for wider adoption of 'pharmacokinetics' of transcranial brain stimulation.
Article and author information
Author details
© 2017, Peterchev
This article is distributed under the terms of the Creative Commons Attribution License, which permits unrestricted use and redistribution provided that the original author and source are credited.
1,662

Page views

247

Downloads

7

Citations
Article citation count generated by polling the highest count across the following sources: Crossref, PubMed Central, Scopus.
A two-part list of links to download the article, or parts of the article, in various formats.
Downloads
(link to download the article as PDF)
Open citations
(links to open the citations from this article in various online reference manager services)
Cite this article
(links to download the citations from this article in formats compatible with various reference manager tools)
Angel V Peterchev
Neuromodulation: Transcranial electric stimulation seen from within the brain
eLife 6:e25812.
https://doi.org/10.7554/eLife.25812
Further reading
Transcranial electric stimulation aims to stimulate the brain by applying weak electrical currents at the scalp. However, the magnitude and spatial distribution of electric fields in the human brain are unknown. We measured electric potentials intracranially in ten epilepsy patients and estimated electric fields across the entire brain by leveraging calibrated current-flow models. When stimulating at 2 mA, cortical electric fields reach 0.8 V/m, the lower limit of effectiveness in animal studies. When individual whole-head anatomy is considered, the predicted electric field magnitudes correlate with the recorded values in cortical (r = 0.86) and depth (r = 0.88) electrodes. Accurate models require adjustment of tissue conductivity values reported in the literature, but accuracy is not improved when incorporating white matter anisotropy or different skull compartments. This is the first study to validate and calibrate current-flow models with in vivo intracranial recordings in humans, providing a solid foundation to target stimulation and interpret clinical trials.

During fear learning, defensive behaviors like freezing need to be finely balanced in the presence or absence of threat-predicting cues (conditioned stimulus, CS). Nevertheless, the circuits underlying such balancing are largely unknown. Here, we investigate the role of the ventral tail striatum (vTS) in auditory-cued fear learning of male mice. In vivo Ca2+ imaging showed that sizable sub-populations of direct (D1R+) and indirect pathway neurons (Adora+) in the vTS responded to footshocks, and to the initiation of movements after freezing; moreover, a sub-population of D1R+ neurons increased its responsiveness to an auditory CS during fear learning. In-vivo optogenetic silencing shows that footshock-driven activity of D1R+ neurons contributes to fear memory formation, whereas Adora+ neurons modulate freezing in the absence of a learned CS. Circuit tracing identified the posterior insular cortex (pInsCx) as an important cortical input to the vTS, and recording of optogenetically evoked EPSCs revealed long-term plasticity with opposite outcomes at the pInsCx synapses onto D1R+ - and Adora+ neurons. Thus, direct- and indirect pathways neurons of the vTS show differential signs of plasticity after fear learning, and balance defensive behaviors in the presence and absence of learned sensory cues.

Computational and Systems Biology
Neuroscience

The locus coeruleus (LC) houses the vast majority of noradrenergic neurons in the brain and regulates many fundamental functions including fight and flight response, attention control, and sleep/wake cycles. While efferent projections of the LC have been extensively investigated, little is known about its local circuit organization. Here, we performed large-scale multi-patch recordings of noradrenergic neurons in adult mouse LC to profile their morpho-electric properties while simultaneously examining their interactions. LC noradrenergic neurons are diverse and could be classified into two major morpho-electric types. While fast excitatory synaptic transmission among LC noradrenergic neurons was not observed in our preparation, these mature LC neurons connected via gap junction at a rate similar to their early developmental stage and comparable to other brain regions. Most electrical connections form between dendrites and are restricted to narrowly spaced pairs or small clusters of neurons of the same type. In addition, more than two electrically coupled cell pairs were often identified across a cohort of neurons from individual multi-cell recording sets that followed a chain-like organizational pattern. The assembly of LC noradrenergic neurons thus follows a spatial and cell type-specific wiring principle that may be imposed by a unique chain-like rule.