Neuroplasticity: Exciting experiences make neurons less excitable
Neurons in the brain of a female mouse that respond to the scent of a given male become suppressed after mating.
Animals often need to remember their past encounters with other members of the same species. For many animals, including mice, smell plays a critical role in forming these social memories throughout their entire life (Keller et al., 2009). For example, a mouse pup must remember its mother's scent (Sullivan et al., 1990), a juvenile mouse must learn the odors of its playmates (Smith, 1982), and an adult mouse needs to identify its offspring, social peers or mates (Dulac et al., 2014; Ben-Shaul et al., 2010; Bruce and Parrott, 1960).
Mice detect the scent of other mice partly via their vomeronasal organ, which is found between the nose and mouth (Halpern and Martínez-Marcos, 2003). The sensory neurons in this organ send signals to a part of the brain called the accessory olfactory bulb, which is in turn connected to the centers of the brain that influence social behaviors like aggression, parenting and mating (Choi et al., 2005). The neural circuits that trigger specific behaviors in response to odors are not exclusively hardwired. Rather, the function of these circuits is shaped by social experience; this is an example of a wider phenomenon referred to as neural plasticity (Shea et al., 2008; Citri and Malenka, 2008).
Now, in eLife, Ian Davison and colleagues – including Yuan Gao as the first author – report on a new form of neural plasticity seen in the accessory olfactory bulb of female mice (Gao et al., 2017). The study used mice in which recently activated neurons produce green fluorescent protein (GFP) and can be easily identified by a green glow. Gao et al. – who are based at Boston University and Mount Holyoke College – took female mice and introduced them to a male mouse. Some of the females were also allowed to mate with the male and some were not (Figure 1). Gao et al. then collected slices from the brains of the female mice and recorded how different neurons in the slices responded to electrical stimulation.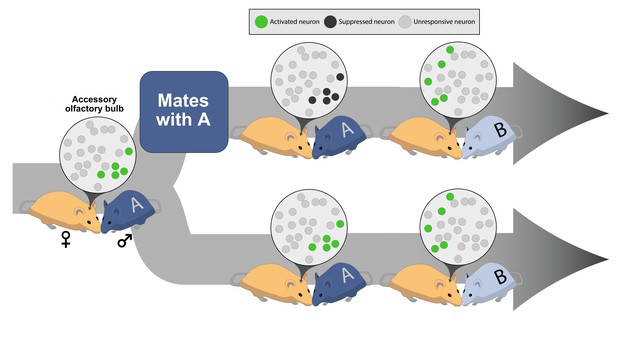 The experiments showed that, at first, recently active neurons (that is, those with GFP) were as excitable as the inactive or unresponsive neurons (those without GFP). This was true for the female mice who had mated and those that had not. However, GFP-positive neurons from mated females became dramatically less excitable when the stimulation was repeated, while the GFP-negative neurons remained largely unaffected. This difference was not seen in the unmated females, and indicates that mating triggers a change that makes activated neurons in the accessory olfactory bulb become less excitable in the future.
Next, Gao et al. compared the responses from two different kinds of neuron within the accessory olfactory bulb: mitral cells and granule cells. The mitral cells receive signals from sensory neurons and send signals to other centers of the brain, while the granule cells inhibit the mitral cells. Gao et al. saw that all the mitral cells were inhibited more after mating, and so inhibition could not explain why only the GFP-positive mitral cells became less excitable after mating. Changes in the strength of connections between the mitral cells and other neurons could also not explain the difference. Instead, it appears that something within the recently active mitral cells themselves changed to make these cells less excitable. This has not been seen before, and so represents a new way to store social memories. Nevertheless, these findings are still consistent with the idea that social memories are formed in areas of the brain that are among the first to process sensory information (Wilson et al., 1987).
Gao et al. reason that this new plasticity mechanism likely helps female rodents to recognize and remember their mating partners (Figure 1). After successfully mating with a male, the mitral cells in the accessory olfactory bulb that respond to the male's scent are all suppressed. This likely stops that male's scent from triggering responses in other centers of the brain, while still allowing the female to identify, and respond to, a new male. For example, the neural plasticity described by Gao et al. may contribute to the 'Bruce effect' in which the presence of an unfamiliar male causes a female mouse to terminate her pregnancy, while the presence of the father does not (Bruce and Parrott, 1960).
This new kind of neural plasticity underscores the role of the accessory olfactory bulb in allowing animals to effectively recognize others and to form social memories. It also highlights the differences in how the social brain processes a familiar versus an unfamiliar animal. It is possible, however, that the excitability of mitral cells in the accessory olfactory bulb is also suppressed by other experiences, such as defending against a predator or caring for pups. Alternatively, animals may adapt to the sensory cues of a familiar mate while maintaining a strong response to dangerous predators. It will be interesting to learn from future experiments whether the plasticity described by Gao et al. is specific to mating or, rather, if it represents a more general mechanism for social learning in the accessory olfactory bulb.
Single-unit analysis of postnatal olfactory learning: modified olfactory bulb output response patterns to learned attractive odors

Journal of Neuroscience 7:3154–3162.
Article and author information
Author details
© 2017, Nanda et al.
This article is distributed under the terms of the Creative Commons Attribution License, which permits unrestricted use and redistribution provided that the original author and source are credited.
1,872

Page views

159

Downloads

1

Citations
Article citation count generated by polling the highest count across the following sources: Crossref, PubMed Central, Scopus.
A two-part list of links to download the article, or parts of the article, in various formats.
Downloads
(link to download the article as PDF)
Open citations
(links to open the citations from this article in various online reference manager services)
Cite this article
(links to download the citations from this article in formats compatible with various reference manager tools)
Prakruti Nanda
Tal Inbar
Joseph F Bergan
Neuroplasticity: Exciting experiences make neurons less excitable
eLife 6:e29763.
https://doi.org/10.7554/eLife.29763
Further reading
Social interactions are often powerful drivers of learning. In female mice, mating creates a long-lasting sensory memory for the pheromones of the stud male that alters neuroendocrine responses to his chemosignals for many weeks. The cellular and synaptic correlates of pheromonal learning, however, remain unclear. We examined local circuit changes in the accessory olfactory bulb (AOB) using targeted ex vivo recordings of mating-activated neurons tagged with a fluorescent reporter. Imprinting led to striking plasticity in the intrinsic membrane excitability of projection neurons (mitral cells, MCs) that dramatically curtailed their responsiveness, suggesting a novel cellular substrate for pheromonal learning. Plasticity was selectively expressed in the MC ensembles activated by the stud male, consistent with formation of memories for specific individuals. Finally, MC excitability gained atypical activity-dependence whose slow dynamics strongly attenuated firing on timescales of several minutes. This unusual form of AOB plasticity may act to filter sustained or repetitive sensory signals.

The treatment of neurodegenerative diseases is hindered by lack of interventions capable of steering multimodal whole-brain dynamics towards patterns indicative of preserved brain health. To address this problem, we combined deep learning with a model capable of reproducing whole-brain functional connectivity in patients diagnosed with Alzheimer's disease (AD) and behavioral variant frontotemporal dementia (bvFTD). These models included disease-specific atrophy maps as priors to modulate local parameters, revealing increased stability of hippocampal and insular dynamics as signatures of brain atrophy in AD and bvFTD, respectively. Using variational autoencoders, we visualized different pathologies and their severity as the evolution of trajectories in a low-dimensional latent space. Finally, we perturbed the model to reveal key AD- and bvFTD-specific regions to induce transitions from pathological to healthy brain states. Overall, we obtained novel insights on disease progression and control by means of external stimulation, while identifying dynamical mechanisms that underlie functional alterations in neurodegeneration.

Previous research has associated alpha-band [8–12 Hz] oscillations with inhibitory functions: for instance, several studies showed that visual attention increases alpha-band power in the hemisphere ipsilateral to the attended location. However, other studies demonstrated that alpha oscillations positively correlate with visual perception, hinting at different processes underlying their dynamics. Here, using an approach based on traveling waves, we demonstrate that there are two functionally distinct alpha-band oscillations propagating in different directions. We analyzed EEG recordings from three datasets of human participants performing a covert visual attention task (one new dataset with N = 16, two previously published datasets with N = 16 and N = 31). Participants were instructed to detect a brief target by covertly attending to the screen's left or right side. Our analysis reveals two distinct processes: allocating attention to one hemifield increases top-down alpha-band waves propagating from frontal to occipital regions ipsilateral to the attended location, both with and without visual stimulation. These top-down oscillatory waves correlate positively with alpha-band power in frontal and occipital regions. Yet, different alpha-band waves propagate from occipital to frontal regions and contralateral to the attended location. Crucially, these forward waves were present only during visual stimulation, suggesting a separate mechanism related to visual processing. Together, these results reveal two distinct processes reflected by different propagation directions, demonstrating the importance of considering oscillations as traveling waves when characterizing their functional role.