Organ Development: Tips from the embryonic lung
A new source of progenitor cells can now be used to study hidden aspects of human lung development and pediatric lung disease.
Most of our knowledge about the development of the lung comes from elegant experiments using mice (Hogan et al., 2014; Tata and Rajagopal, 2017). Despite the usefulness of mouse models, human and mouse lungs are distinct in many ways – including their size, the distribution of cell types, and the time they take to develop (Morrisey and Hogan, 2010; Wansleeben et al., 2013). Now, in eLife, Emma Rawlins and colleagues – including Marko Nikolić as first author – report that mouse and human embryonic lungs also express the same transcription factors in different patterns during development (Nikolić et al., 2017).
In both humans and mice, the lungs originate from a groove and a bud. The laryngotracheal groove becomes the future larynx and trachea, while the bud divides to become the origin of most of the branching airways and the gas-exchanging alveoli. Both bud and groove emerge from the primitive embryonic gut tube, whose epithelial layer is referred to as the embryonic anterior foregut endoderm (Figure 1A) since it originates from one of the three definitive germ layers of the embryo: the endoderm. As the embryonic lung develops, the epithelial cells at the tip of the embryonic lung proliferate most rapidly, dividing over and over to ultimately generate the beautiful branching structure of the adult organ.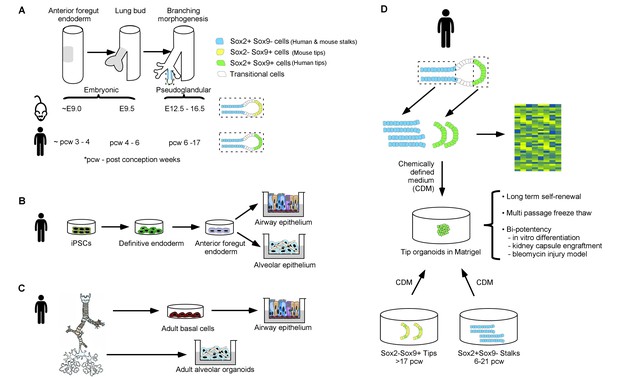 Many groups in the last decade have created in vitro models to study human embryonic lung development and lung disease. Early studies focused on the stepwise differentiation of induced pluripotent stem cells (iPSCs): iPSCs were first differentiated into endoderm cells and then into the lung progenitor cells that give rise to the various different epithelial cell types of the mature airway and the alveoli (Figure 1B; McCauley et al., 2017; Snoeck, 2015). Other approaches have focused on generating an expandable source of adult airway and alveolar cells directly from adult tissues (Figure 1C; Gotoh et al., 2014; Mou et al., 2016).
In humans, for obvious reasons, it has been impossible to dissect the mechanisms that underlie how lungs and other organs develop in embryos. However, we know that in mice, the transcription factor Sox2 is essential for the initiation of lung development from the gut tube, and is later expressed exclusively in the epithelial cells of the 'stalk' that in turn give rise to the epithelium of the airway. By contrast, tip epithelial cells express a related transcription factor, Sox9, that is necessary for the maintenance of tip cells themselves (Hogan et al., 2014; Rockich et al., 2013).
By generating an alternate and renewable source of progenitor cells from the human embryonic lung, Nikolić et al. – who are based at the University of Cambridge and University College London – now demonstrate that, unlike in the mouse, human embryonic lung tip cells produce both SOX2 and SOX9. After dissecting human embryonic tips and stalks, global gene expression analysis of the epithelium was used to identify genes specific to each cell type. By determining which growth factor-related genes were present in each of these cells, Nikolić et al. fashioned a chemically defined medium to grow tip cells as organoids. They were further able to expand, freeze and differentiate these tip-derived cells (Figure 1D).
Interestingly, the human stalk epithelial cells that produced SOX2 but did not produce SOX9 showed remarkable plasticity, and were able to give rise to "SOX2+SOX9+" tip progenitor cells. This plasticity harkens back to a classical finding from experiments performed on mice, in which tip mesenchyme cells (these are cells adjacent to the tip epithelial cells that presumably serve as a source of the growth factors that are necessary to maintain the epithelial tip cells) were grafted onto the tracheal epithelium. This grafting resulted in the formation of buds on the trachea which then started branching (Alescio and Cassini, 1962) and this phenomenon was later shown to reflect the conversion of Sox2+ tracheal epithelial cells into Sox9+ bud cells (Hogan et al., 2014). This, however, only occurred during the very early stages of lung development. Perhaps, under the right conditions, early and late stage mouse stalk cells could exhibit plasticity that mirrors the findings of Nikolić et al. in the human case, but perhaps not.
Notably, the cultured human SOX2+SOX9+ tip cells differentiate into both airway and alveolar cells when grown in vitro or in mice. Whether the differentiated cells fully mature and become fully functional remains to be seen, but the results are promising.
The hitherto unknown facets of human embryonic lung development that Nikolić et al. reveal can now be mechanistically scrutinized. The human SOX2+SOX9+ cells they cultured could potentially be used to model pediatric lung diseases (such as bronchopulmonary dysplasia), which are thought to originate during lung development. Indeed, because human SOX2+SOX9+ cells are derived from embryonic lungs, they are likely to more faithfully reflect the epigenetic features of the embryonic cells that contribute to pediatric lung disease than cells derived from adult lung epithelial cells or iPSCs. For example, iPSC-derived lung cells could possess abnormal epigenetic marks and/or the epigenetic and genetic state of cells derived from adult lungs may reflect environmental assaults encountered in the course of adulthood that are not relevant for fetal and postnatal lung disease. Thus the availability of embryonic lung epithelial cells is likely to open up whole new fields of important inquiry.
Article and author information
Author details
We would like to acknowledge Vladimir Vinarsky, Lujia Yang and Aleksander D Szymaniak for editing the manuscript and helpful discussions.
© 2017, Waghray et al.
This article is distributed under the terms of the Creative Commons Attribution License, which permits unrestricted use and redistribution provided that the original author and source are credited.
1,545

Page views

259

Downloads

1

Citations
Article citation count generated by polling the highest count across the following sources: Crossref, Scopus, PubMed Central.
A two-part list of links to download the article, or parts of the article, in various formats.
Downloads
(link to download the article as PDF)
Open citations
(links to open the citations from this article in various online reference manager services)
Cite this article
(links to download the citations from this article in formats compatible with various reference manager tools)
Avinash Waghray
Jayaraj Rajagopal
Organ Development: Tips from the embryonic lung
eLife 6:e30194.
https://doi.org/10.7554/eLife.30194
Further reading
Stem Cells and Regenerative Medicine

The embryonic mouse lung is a widely used substitute for human lung development. For example, attempts to differentiate human pluripotent stem cells to lung epithelium rely on passing through progenitor states that have only been described in mouse. The tip epithelium of the branching mouse lung is a multipotent progenitor pool that self-renews and produces differentiating descendants. We hypothesized that the human distal tip epithelium is an analogous progenitor population and tested this by examining morphology, gene expression and in vitro self-renewal and differentiation capacity of human tips. These experiments confirm that human and mouse tips are analogous and identify signalling pathways that are sufficient for long-term self-renewal of human tips as differentiation-competent organoids. Moreover, we identify mouse-human differences, including markers that define progenitor states and signalling requirements for long-term self-renewal. Our organoid system provides a genetically-tractable tool that will allow these human-specific features of lung development to be investigated.

Developmental Biology

Stem Cells and Regenerative Medicine

Basal cells are multipotent stem cells of a variety of organs, including the respiratory tract, where they are major components of the airway epithelium. However, it remains unclear how diverse basal cells are, and how distinct subpopulations respond to airway challenges. Using single cell RNA-sequencing and functional approaches, we report a significant and previously underappreciated degree of heterogeneity in the basal cell pool, leading to identification of six subpopulations in the adult murine trachea. Among these, we found two major subpopulations collectively comprising the most uncommitted of all the pool, but with distinct gene expression signatures. Notably, these occupy distinct ventral and dorsal tracheal niches and differ in their ability to self-renew and initiate a program of differentiation in response to environmental perturbations in primary cultures and in mouse injury models in vivo. We found that such heterogeneity is acquired prenatally, when the basal cell pool and local niches are still being established, and depends on the integrity of these niches, as supported by the altered basal cell phenotype of tracheal cartilage-deficient mouse mutants. Lastly, we show that features that distinguish these progenitor subpopulations in murine airways are conserved in humans. Together, the data provide novel insights into the origin and impact of basal cell heterogeneity on the establishment of regionally distinct responses of the airway epithelium during injury-repair and in disease conditions.

Stem Cells and Regenerative Medicine

Generation of bone marrow (BM) from embryonic stem cells (ESCs) promises to accelerate the development of future cell therapies for life-threatening disorders. However, such approach is limited by technical challenges to produce a mixture of functional BM progenitor cells able to replace all hematopoietic cell lineages. Herein, we used blastocyst complementation to simultaneously produce BM cell lineages from mouse ESCs in a rat. Based on FACS analysis and single-cell RNA sequencing, mouse ESCs differentiated into multiple hematopoietic and stromal cell types that were indistinguishable from normal mouse BM cells based on gene expression signatures and cell surface markers. Receptor-ligand interactions identified Cxcl12-Cxcr4, Lama2-Itga6, App-Itga6, Comp-Cd47, Col1a1-Cd44 and App-Il18rap as major signaling pathways between hematopoietic progenitors and stromal cells. Multiple hematopoietic progenitors, including hematopoietic stem cells (HSCs) in mouse-rat chimeras derived more efficiently from mouse ESCs, whereas chondrocytes predominantly derived from rat cells. In the dorsal aorta and fetal liver of mouse-rat chimeras, mouse HSCs emerged and expanded faster compared to endogenous rat cells. Sequential BM transplantation of ESC-derived cells from mouse-rat chimeras rescued lethally-irradiated syngeneic mice and demonstrated long-term reconstitution potential of donor HSCs. Altogether, a fully functional bone marrow was generated from mouse ESCs using rat embryos as 'bioreactors'.