Origin of life: Transitioning to DNA genomes in an RNA world
The unexpected ability of an RNA polymerase ribozyme to copy RNA into DNA has ramifications for understanding how DNA genomes evolved.
For as long as history has been recorded, humanity has tried to answer the ancient question of our origins. The 'central dogma' of molecular biology, first stated by Francis Crick in 1958, represented a major step forward in our efforts to answer this question (Figure 1A; Crick, 1958). In this model, the genetic information stored in DNA is transcribed to produce RNA, which is then translated by the ribosome to produce chains of amino acids. These chains fold to make the proteins that are responsible for almost everything that happens in cells.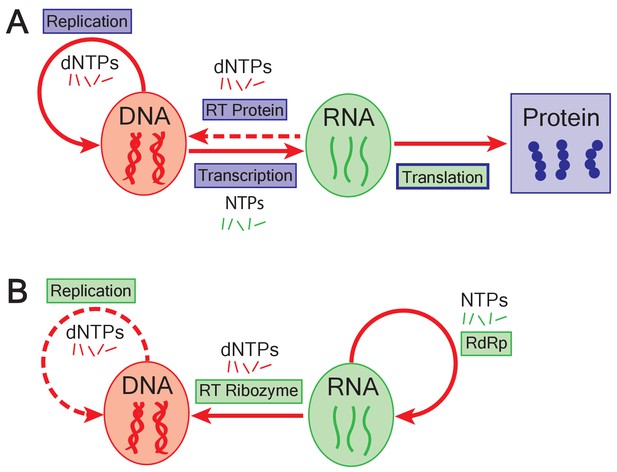 The flow of information from DNA to RNA to protein is thought to have evolved out of a simpler evolutionary period when genetic information was stored and transmitted solely by RNA molecules. This theory, known as the 'RNA world hypothesis', posits that an RNA enzyme or 'ribozyme' capable of copying RNA molecules existed early in evolution, and that protein synthesis by the ribosome (which is also an RNA enzyme) evolved out of this system (Figure 1B; Gilbert, 1986; Atkins et al., 2011). The theory, however, is largely silent on how DNA genomes evolved.
In modern metabolism, protein-based enzymes called reverse transcriptases can copy RNA to produce molecules of complementary DNA. Other enzymes can promote the production of DNA nucleotides (the building blocks of DNA molecules) from RNA nucleotides via challenging chemical reactions. So how did the first DNA genomes come to be? There are two possibilities within the framework of the RNA world. In the first, protein enzymes evolved before DNA genomes. In the second, the RNA world contained RNA polymerase ribozymes that were able to produce single-stranded complementary DNA and then convert it into stable double-stranded DNA genomes.
A number of laboratories around the world are trying to build ribozymes that can sustain RNA replication (Wang et al., 2011; Attwater et al., 2013). Recently, David Horning and Gerald Joyce artificially evolved a ribozyme that is capable of copying complex RNAs and amplifying short RNA templates (Horning and Joyce, 2016). Now, in eLife, Joyce and Biswajit Samanta at the Salk Institute demonstrate that this ribozyme is also a reverse transcriptase (Samanta and Joyce, 2017). Feeding DNA nucleotides to this ribozyme enabled it to copy short segments of RNA templates into complementary DNA. This suggests that if an RNA world contained DNA nucleotides, DNA genomes could have been assembled and then presumably replicated by ribozymes.
Whether DNA genomes existed very early in evolution fundamentally rests on whether DNA nucleotides were available in the RNA world. There are plausible routes by which RNA and DNA nucleotides could have been synthesized before life emerged, meaning that they are likely to have been available at the dawn of an RNA world (Ritson and Sutherland, 2014; Becker et al., 2016; Kim and Benner, 2017). Likewise, artificially selected ribozymes have been used to synthesize the two types of bases found in RNA nucleotides from simpler precursors, suggesting RNA nucleotides could have been built by early RNA systems (Martin et al., 2015). If DNA precursors were also available early in evolution, then the synthesis of DNA nucleotides by an RNA system appears likely. While this area is currently underexplored experimentally, there appears to be no fundamental reason why DNA nucleotides could not have been abundant quite early in evolution.
Demonstrating that DNA polymerase ribozymes are able to rapidly use such DNA nucleotides would represent a major step forward for the early DNA genome model. While the field of artificial RNA polymerase ribozymes has made rapid strides, their ability to add multiple nucleotides rapidly is still very limited. Current ribozymes are significantly longer and more complex than the sequences that they are able to copy, but to make self-evolving systems, ribozymes need to be able to copy sequences that are longer and more complex than themselves. It will therefore be exciting to see if the techniques that have created such RNA polymerases are also able to evolve DNA polymerase ribozymes that have the potential to make self-replicating systems using DNA and not RNA as a source of genetic material. Such a system would bring us closer to understanding the transition from an RNA world to a type of life that respects the rules of the central dogma of modern biology.
Book

RNA Worlds

Cold Spring Harbor Laboratory.

On protein synthesis

Symposia of the Society for Experimental Biology 12:138–163.
Article and author information
Author details
© 2017, Cojocaru et al.
This article is distributed under the terms of the Creative Commons Attribution License, which permits unrestricted use and redistribution provided that the original author and source are credited.
13,255

Page views

655

Downloads

4

Citations
Article citation count generated by polling the highest count across the following sources: Crossref, PubMed Central, Scopus.
A two-part list of links to download the article, or parts of the article, in various formats.
Downloads
(link to download the article as PDF)
Open citations
(links to open the citations from this article in various online reference manager services)
Cite this article
(links to download the citations from this article in formats compatible with various reference manager tools)
Razvan Cojocaru
Peter J Unrau
Origin of life: Transitioning to DNA genomes in an RNA world
eLife 6:e32330.
https://doi.org/10.7554/eLife.32330
Further reading
Biochemistry and Chemical Biology

A highly evolved RNA polymerase ribozyme was found to also be capable of functioning as a reverse transcriptase, an activity that has never been demonstrated before for RNA. This activity is thought to have been crucial for the transition from RNA to DNA genomes during the early history of life on Earth, when it similarly could have arisen as a secondary function of an RNA-dependent RNA polymerase. The reverse transcriptase ribozyme can incorporate all four dNTPs and can generate products containing up to 32 deoxynucleotides. It is likely that this activity could be improved through evolution, ultimately enabling the synthesis of complete DNA genomes. DNA is much more stable compared to RNA and thus provides a larger and more secure repository for genetic information.

Biochemistry and Chemical Biology

Cancer Biology

The mTORC1 substrate, S6 Kinase 1 (S6K1), is involved in the regulation of cell growth, ribosome biogenesis, glucose homeostasis, and adipogenesis. Accumulating evidence has suggested a role for mTORC1 signaling in the DNA damage response. This is mostly based on the findings that mTORC1 inhibitors sensitized cells to DNA damage. However, a direct role of the mTORC1-S6K1 signaling pathway in DNA repair and the mechanism by which this signaling pathway regulates DNA repair is unknown. In this study, we discovered a novel role for S6K1 in regulating DNA repair through the coordinated regulation of the cell cycle, homologous recombination (HR) DNA repair (HRR) and mismatch DNA repair (MMR) mechanisms. Here, we show that S6K1 orchestrates DNA repair by phosphorylation of Cdk1 at serine 39, causing G2/M cell cycle arrest enabling homologous recombination and by phosphorylation of MSH6 at serine 309, enhancing MMR. Moreover, breast cancer cells harboring RPS6KB1 gene amplification show increased resistance to several DNA damaging agents and S6K1 expression is associated with poor survival of breast cancer patients treated with chemotherapy. Our findings reveal an unexpected function of S6K1 in the DNA repair pathway, serving as a tumorigenic barrier by safeguarding genomic stability.

Biochemistry and Chemical Biology

Structural Biology and Molecular Biophysics

Cas7-11 is a Type III-E CRISPR Cas effector that confers programmable RNA cleavage and has potential applications in RNA interference. Cas7-11 encodes a single polypeptide containing four Cas7- and one Cas11-like segments that obscures the distinction between the multi-subunit Class 1 and the single-subunit Class-2 CRISPR-Cas systems. We report a cryo-EM structure of the active Cas7-11 from Desulfonema ishimotonii (DiCas7-11) that reveals the molecular basis for RNA processing and interference activities. DiCas7-11 arranges its Cas7- and Cas11-like domains in an extended form that resembles the backbone made up by four Cas7 and one Cas11 subunits in the multi-subunit enzymes. Unlike the multi-subunit enzymes, however, the backbone of DiCas7-11 contains evolutionarily different Cas7 and Cas11 domains, giving rise to their unique functionality. The first Cas7-like domain nearly engulfs the last 15 direct repeat nucleotides in processing and recognition of the CRISPR RNA, and its free-standing fragment retains most of the activity. Both the second and the third Cas7-like domains mediate target RNA cleavage in a metal-dependent manner. The structure and mutational data indicate that the long variable insertion to the fourth Cas7 domain has little impact to RNA processing or targeting, suggesting the possibility for engineering a compact and programmable RNA interference tool.