Pollination: Solar flower power
Bumblebees use invisible temperature patterns on flowers to make foraging decisions.
Most species of flowering plant cannot produce seeds without help from animals, like insects and birds, who transfer pollen between the flowers of different plants – often in return for a reward, such as a drink of sugar-rich nectar. In order to forage efficiently, pollinators seek out flowers with traits that they associate with a higher chance of getting a reward.
Some floral traits like color, shape and scent are obvious to our human senses, and as early as the 18th century scientists had worked out that these signals attract insects (Sprengel, 1793). However, the majority of floral traits have been discovered just recently, using modern technology. Indeed, we now know that pollinators use many different traits to find and evaluate flowers including: CO2 emission (Goyret et al., 2008); ultraviolet-absorbing pigmentation (Sheehan et al., 2016); humidity surrounding the flower (von Arx et al., 2012); fluorescence (Thorp et al., 1975); nectar color (Johnson et al., 2006); and even floral temperature (Dyer et al., 2006; Whitney et al., 2008).
Bees, for example, can use heat detectors on their legs and antennae to tell the difference between two flowers that differ in temperature by just two degrees (Heran, 1952). Now, in eLife, Sean Rands and colleagues from the Universities of Bristol and Exeter – including Michael Harrap as first author – report that bumblebees can also detect temperature differences within a single flower (Harrap et al., 2017).
Thermal images of more than 100 species of flowering plant taken in sunlight revealed a wide range of temperature patterns, reminiscent of the diversity of multi-colored petals we see with our own eyes (Figure 1A). More than half of the tested species had flowers in which some parts of the petals were at least 2°C warmer than the rest. Based on these findings, the researchers hypothesized that pollinators could use these temperature patterns to decide which flowers to visit.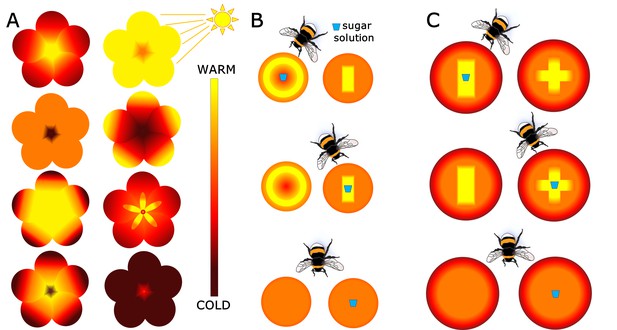 Harrap et al. tested if bumblebees (Bombus terrestris audax) could learn to associate a reward, in this case a drop of a sugary solution, with a certain temperature pattern. They presented two types of artificial flowers containing heating elements to naïve bumblebees. The artificial flowers in the first experiment had either a warm center or a warm periphery (Figure 1B), while those in the second had warmer centers in two different shapes (Figure 1C). In all experiments, one variant contained a drop of sugar, while the other just offered water. Flowers with disconnected heating elements were used as controls.
The bumblebees did recognize different temperature patterns and, in fewer than 20 visits, had learned to forage from those flowers that would give them the reward. Importantly, when there were no temperature patterns, as is in the controls, the bumblebees could not discriminate rewarding from non-rewarding flowers. Also, once the bumblebees had learned to associate a certain temperature pattern with a sugary reward, they continued to prefer this type of flower even when the reward was removed. These results indicate that the bumblebees were using the flower temperature patterns (and not other cues) to make an informed decision when foraging.
Why did plants evolve such incredibly complex and diverse floral traits? Plants often have to compete for pollinators, either with other plant species or with other members of their own species. Any trait that enables a flower to attract more pollinators than its competitors will give it an evolutionary advantage (in other words, more seeds or higher quality offspring). Of course, plants do not invent new traits with the intention of manipulating pollinators. Instead, small mutations occur in each generation and those that change floral traits offer a chance to bring the interaction between pollinator and flower closer to perfection. Hence, it is not surprising that so many floral traits are important and act together at the same time in a single plant species.
It is exciting that sunlight is needed to turn 'on' these temperature patterns and guide pollinators to flowers. Many other floral traits are hidden from our eyes and we have just started to unveil the ways in which pollinators are able to perceive and use floral signals. Combining 'old-fashioned' natural observations with new tools, such as thermal imaging cameras or 3D printers (Campos et al., 2015), allows us to unearth the wealth of strategies that pollinators and plants use to successfully interact with each other. Floral temperature patterns triggered by sunlight to signal to bumblebees are yet another example of an impressive feat of evolution.
Untersuchungen über den Temperatursinn der Honigbiene (Apis mellifica) unter besonderer Berücksichtigung der Wahrnehmung strahlender Wärme

Zeitschrift Für Vergleichende Physiologie 34:179–206.

Book

Das entdeckte Geheimniss der Natur im Bau und in der Befruchtung der Blumen

Berlin: Vieweg.
Article and author information
Author details
© 2017, Bing et al.
This article is distributed under the terms of the Creative Commons Attribution License, which permits unrestricted use and redistribution provided that the original author and source are credited.
1,847

Page views

174

Downloads

0

Citations
Article citation count generated by polling the highest count across the following sources: Crossref, PubMed Central, Scopus.
A two-part list of links to download the article, or parts of the article, in various formats.
Downloads
(link to download the article as PDF)
Open citations
(links to open the citations from this article in various online reference manager services)
Cite this article
(links to download the citations from this article in formats compatible with various reference manager tools)
Julia Bing
Danny Kessler
Pollination: Solar flower power
eLife 6:e33591.
https://doi.org/10.7554/eLife.33591
Further reading
Pollinating insects utilise various sensory cues to identify and learn rewarding flower species. One such cue is floral temperature, created by captured sunlight or plant thermogenesis. Bumblebees, honeybees and stingless bees can distinguish flowers based on differences in overall temperature between flowers. We report here that floral temperature often differs between different parts of the flower creating a temperature structure or pattern. Temperature patterns are common, with 55% of 118 plant species thermographed, showing within-flower temperature differences greater than the 2°C difference that bees are known to be able to detect. Using differential conditioning techniques, we show that bumblebees can distinguish artificial flowers differing in temperature patterns comparable to those seen in real flowers. Thus, bumblebees are able to perceive the shape of these within-flower temperature patterns. Floral temperature patterns may therefore represent a new floral cue that could assist pollinators in the recognition and learning of rewarding flowers.

How complex microbial communities respond to climatic fluctuations remains an open question. Due to their relatively short generation times and high functional diversity, microbial populations harbor great potential to respond as a community through a combination of strain-level phenotypic plasticity, adaptation, and species sorting. However, the relative importance of these mechanisms remains unclear. We conducted a laboratory experiment to investigate the degree to which bacterial communities can respond to changes in environmental temperature through a combination of phenotypic plasticity and species sorting alone. We grew replicate soil communities from a single location at six temperatures between 4°C and 50°C. We found that phylogenetically and functionally distinct communities emerge at each of these temperatures, with K-strategist taxa favored under cooler conditions and r-strategist taxa under warmer conditions. We show that this dynamic emergence of distinct communities across a wide range of temperatures (in essence, community-level adaptation) is driven by the resuscitation of latent functional diversity: the parent community harbors multiple strains pre-adapted to different temperatures that are able to 'switch on' at their preferred temperature without immigration or adaptation. Our findings suggest that microbial community function in nature is likely to respond rapidly to climatic temperature fluctuations through shifts in species composition by resuscitation of latent functional diversity.

Addressing global biodiversity loss requires an expanded focus on multiple dimensions of biodiversity. While most studies have focused on the consequences of plant interspecific diversity, our mechanistic understanding of how genetic diversity within plant species affects plant productivity remains limited. Here, we use a tree species × genetic diversity experiment to disentangle the effects of species diversity and genetic diversity, and how they are related to tree functional diversity and trophic feedbacks. We found that tree species diversity increased tree productivity via increased tree functional diversity, reduced soil fungal diversity and marginally reduced herbivory. The effects of tree genetic diversity on productivity via functional diversity and soil fungal diversity were negative in monocultures but positive in the mixture of the four tree species tested. Given the complexity of interactions between species and genetic diversity, tree functional diversity and trophic feedbacks on productivity, we suggest that both tree species and genetic diversity should be considered in afforestation.