Spinal Cord Injury: Is the vagus nerve our neural connectome?
What are the implications of the vagus nerve being able to mediate the time-dependent plasticity of an array of sensorimotor networks?.
The vagus nerve reports on the state of many of the organs in our body, including the heart, the lungs and the gut, and it relays this information to various neural control networks that unconsciously regulate internal organs. It has also been shown that artificial electric stimulation of the vagus nerve helps with recovery in animal models of stroke, tinnitus and spinal cord injury (De Ridder et al., 2014; Hays, 2016). In particular, stimulation of the vagus nerve promotes the recuperation of motor skills and, maybe, autonomic functions (such as breathing), even when the injuries took place years before the intervention. However, we do not fully understand how stimulating this single nerve can lead to such results.
Now, in eLife, Patrick Ganzer, Robert Rennaker at the University of Texas at Dallas and the Texas Biomedical Device Center, and colleagues, report that stimulating the vagus nerve of a rat with spinal injuries helps it to recover mobility of an affected limb – in this case, its front paw (Ganzer et al., 2018). The stimulation has to be applied during a short time window after the rat manages to perform a specific movement with this paw, such as grasping a lever with a specific level of strength.
In this scenario, grasping the lever activates a network of neurons. The connections between these neurons will then be reinforced if the vagus nerve is stimulated within seconds of this task being completed (Figure 1). Classical long-term potentiation experiments show that simultaneous activation leaves 'tags' in neurons, which help to strengthen any connections between these neurons (He et al., 2015). Yet, during vagus nerve stimulation, there is no direct synaptic link between the circuits that perform the motor task and the synapses that are excited by the vagus nerve (Alvarez-Dieppa et al., 2016; Hulsey et al., 2017).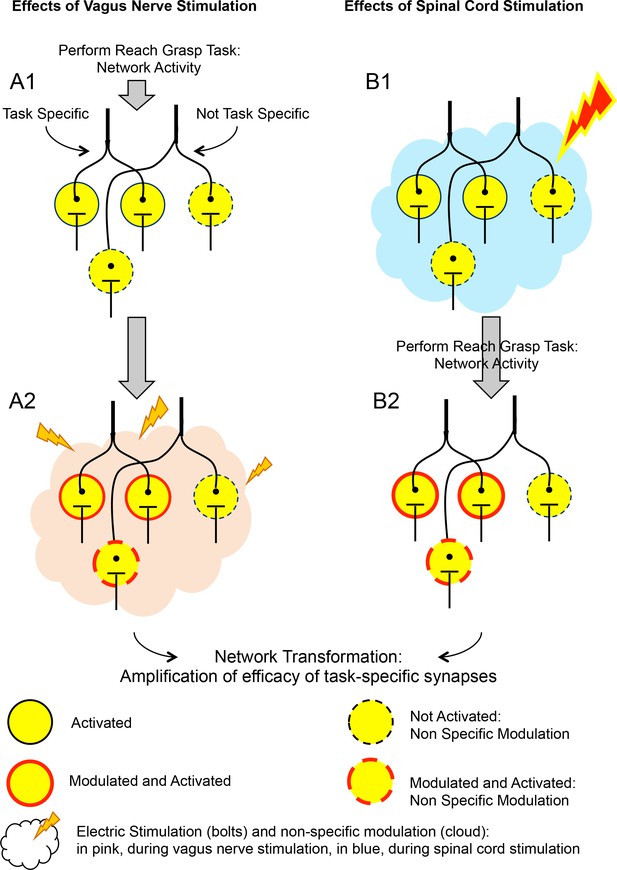 Instead, the effects of vagus nerve stimulation could be mediated by a wide range of neuromodulatory mechanisms, which are non-specific to a given synapse. Because the vagus nerve is connected to so many different organs, both in sensorimotor and autonomic ways, it provides the entry point to various neuroendocrine and neurotransmitter systems. Essentially, it seems that the vagus nerve can form a 'connectome' for many functions, which means that interventions via the vagus nerve have the potential to help with the recovery of multiple functions.
Remarkably, similar effects can be obtained by stimulating the spinal cord before the action is performed (Figure 1; Gad et al., 2013). In both cases, there are activity-dependent mechanisms that identify the synapses that have been activated, and the stimulation triggers a series of time-dependent events that reinforce the connections between the relevant neurons.
More broadly, there are at least four fundamental biological concepts relevant to the findings by Ganzer et al. First, the vagus nerve mediates physiological systems (including sensorimotor and autonomic systems) which are extensively and comprehensively integrated together. Second, these systems are dynamic and can reorganize and interact in ways that can dramatically change our behavior. Third, time-dependence has a central role in defining activity-dependent plasticity. Fourth, the networks under the influence of the vagus nerve may be constantly reshaped by neural and biochemical signals via activity-dependent mechanisms.
These four points are consistent with the theory of neural group selection put forward by Gerald Edelman, the American biologist who shared the Nobel Prize in Physiology or Medicine in 1972 (Edelman, 1987). According to this theory, during early and neonatal development neurons form somewhat malleable connections based on genetic (i.e., internal) signals. Thereafter, throughout life, these networks dynamically and continuously create different combinations of functional neuronal connections – called neural networks, or somatically formed groups – by functionally pruning or reinforcing the strength of their connections. This remodeling is determined by the level of activity of the neural connections as they are constantly responding to internal and external stimuli. Finally, which neural groups fire together determines the overall shape of these networks. In terms of behavior, the basic functional unit of the brain is therefore not a neuron, but instead a group of connections among neurons that tend to fire together. Thus, fully understanding the mechanisms at play during vagus nerve stimulation requires thinking at the level of systems, as well as of subcellular components.
Book

Neural Darwinism: The Theory of Neuronal Group Selection

New York: Basic Books.
Article and author information
Author details
© 2018, Edgerton et al.
This article is distributed under the terms of the Creative Commons Attribution License, which permits unrestricted use and redistribution provided that the original author and source are credited.
4,085

Page views

208

Downloads

8

Citations
Article citation count generated by polling the highest count across the following sources: Crossref, PubMed Central, Scopus.
A two-part list of links to download the article, or parts of the article, in various formats.
Downloads
(link to download the article as PDF)
Open citations
(links to open the citations from this article in various online reference manager services)
Cite this article
(links to download the citations from this article in formats compatible with various reference manager tools)
V Reggie Edgerton
Parag Gad
Spinal Cord Injury: Is the vagus nerve our neural connectome?
eLife 7:e35592.
https://doi.org/10.7554/eLife.35592
Further reading
Recovery from serious neurological injury requires substantial rewiring of neural circuits. Precisely-timed electrical stimulation could be used to restore corrective feedback mechanisms and promote adaptive plasticity after neurological insult, such as spinal cord injury (SCI) or stroke. This study provides the first evidence that closed-loop vagus nerve stimulation (CLV) based on the synaptic eligibility trace leads to dramatic recovery from the most common forms of SCI. The addition of CLV to rehabilitation promoted substantially more recovery of forelimb function compared to rehabilitation alone following chronic unilateral or bilateral cervical SCI in a rat model. Triggering stimulation on the most successful movements is critical to maximize recovery. CLV enhances recovery by strengthening synaptic connectivity from remaining motor networks to the grasping muscles in the forelimb. The benefits of CLV persist long after the end of stimulation because connectivity in critical neural circuits has been restored.

Many species of animals exhibit an intuitive sense of number, suggesting a fundamental neural mechanism for representing numerosity in a visual scene. Recent empirical studies demonstrate that early feedforward visual responses are sensitive to numerosity of a dot array but substantially less so to continuous dimensions orthogonal to numerosity, such as size and spacing of the dots. However, the mechanisms that extract numerosity are unknown. Here we identified the core neurocomputational principles underlying these effects: (1) center-surround contrast filters; (2) at different spatial scales; with (3) divisive normalization across network units. In an untrained computational model, these principles eliminated sensitivity to size and spacing, making numerosity the main determinant of the neuronal response magnitude. Moreover, a model implementation of these principles explained both well-known and relatively novel illusions of numerosity perception across space and time. This supports the conclusion that the neural structures and feedforward processes that encode numerosity naturally produce visual illusions of numerosity. Together, these results identify a set of neurocomputational properties that gives rise to the ubiquity of the number sense in the animal kingdom.

Developmental Biology

Neuroscience

Neuronal identity dictates the position in an epithelium, and the ability to detect, process, and transmit specific signals to specified targets. Transcription factors (TFs) determine cellular identity via direct modulation of genetic transcription and recruiting chromatin modifiers. However, our understanding of the mechanisms that define neuronal identity and their magnitude remain a critical barrier to elucidate the etiology of congenital and neurodegenerative disorders. The rodent vomeronasal organ provides a unique system to examine in detail the molecular mechanisms underlying the differentiation and maturation of chemosensory neurons. Here, we demonstrated that the identity of postmitotic/maturing vomeronasal sensory neurons (VSNs), and vomeronasal-dependent behaviors can be reprogrammed through the rescue of Tfap2e/AP-2ε expression in the Tfap2eNull mice, and partially reprogrammed by inducing ectopic Tfap2e expression in mature apical VSNs. We suggest that the TF Tfap2e can reprogram VSNs bypassing cellular plasticity restrictions, and that it directly controls the expression of batteries of vomeronasal genes.