HIV-1 Latency: Coloring hidden viruses
An improved dual-color reporter reveals how the fate of latent HIV-1 depends on where it integrates in the human genome.
Current antiviral therapies can suppress HIV-1 in the bloodstream to almost undetectable levels. Yet, if this therapy is interrupted, the number of viruses can start to increase again and go on to conquer the defenses of the immune system. This occurs when viruses that are in a dormant, or 'latent', state become reactivated. Characterized by limited gene expression and zero viral replication, latent viruses remain hidden from the immune system and are not affected by antiviral drugs, unless they are reactivated.
Latent HIV-1 is integrated within the genomes of immune cells, mainly resting CD4+ T cells and, to a lesser extent, macrophages (Churchill et al., 2016). Cells that represent latent reservoirs of HIV-1 are usually very rare and difficult to separate from the neighboring non-infected cells. This means that few of these cells have been available for study, which in turn has severely hampered our understanding of the mechanisms behind viral reactivation. Now, in eLife, Eric Verdin and colleagues – including Emilie Battivelli as first author – report on an improved 'dual-color virus' that allows cells harboring hidden latent viruses to be identified and isolated (Battivelli et al., 2018).
Over the past decade, much HIV-1 research has looked for ways to eliminate the latent viral reservoirs by first using pharmacological molecules to reverse latency in a 'shock and kill' approach (Deeks et al., 2012). The increased levels of gene expression in the reactivated viruses should lead to viral antigens being presented on the surface of latently infected cells. This in turn would allow the immune system to find and clear these cells and, typically, make the viruses susceptible to antiviral therapy again (Churchill et al., 2016; Margolis et al., 2016). However, this shock and kill approach only had limited success, mostly because it could not completely reactivate the virus from its latent state.
To develop more effective approaches for reactivating viruses we first need better ways to obtain resting CD4+ T cells that contain latent viruses in order to study them. So-called dual-color viruses – which have two fluorescent reporters under the control of different promoters – can help with this (Calvanese et al., 2013; Chavez et al., 2015). With the original version of this reporter virus (called HIVDuoFluoI), infected cells would glow red, making them clearly distinct from non-infected cells. If the integrated virus was active, a green fluorescent protein was also produced and the cells appeared both red and green. Latently infected cells (i.e., those with integrated yet inactive virus) could thus easily be distinguished by their pure red color.
Although this is how the tool should have worked in theory, there was room for improvement. Some of the sequences used in HIVDuoFluoI could readily recombine, meaning this dual-color virus was prone to losing its reporters, which made it impossible to track reliably. Battivelli et al. – who are based at the Gladstone Institutes, UCSF, the Buck Institute for Research on Aging and other institutes across the United States, Sweden and Brazil – overcame this specific issue by changing some sequences to create an improved dual-color virus. The new version, called HIVGKO, contains a different green reporter (a codon-switched eGFP) under the control of the HIV-1 specific promoter. It also has an unrelated orange, rather than red, fluorescent protein (mutated Kusubira Orange) under the control of the constitutive promoter.
HIVGKO allowed Battivelli et al. to examine the integration sites of latent viruses that could be reactivated and to understand how the genetic material around those sites was packaged in the nucleus (also known as the 'chromatin context'). They could then compare these results to those from the viruses that could not be reactivated. Battivelli et al. designed their study to compare the potency of several drugs that were known to reactivate latent reservoirs via different mechanisms (Barton et al., 2016; Conrad et al., 2017; Mehla et al., 2010).
All the drugs tested showed limited reactivation unless they were used in combination. Battivelli et al. then mapped HIV-1 insertions from three different groups of infected cells. The first group contained cells with an integrated virus that was actively producing copies of itself – or productively infected cells (Figure 1). The second and third groups were non-reactivated and reactivated latently infected cells, respectively. Battivelli et al. further defined the chromatin context of the integrated viruses, and found that viruses within both productively infected cells and reactivated latently infected cells reside mainly in the active chromatin of transcribed genes and enhancers (Chen et al., 2017). Their analysis showed that viruses found in non-reactivated latently infected cells are detected within large genomic regions that interact with the dense meshwork of proteins that line the inner surface of the nucleus envelope, the nuclear lamina (Guelen et al., 2008; Marini et al., 2015). Some repressed viruses that could be reactivated were also found in the same region in reactivated latently infected cells.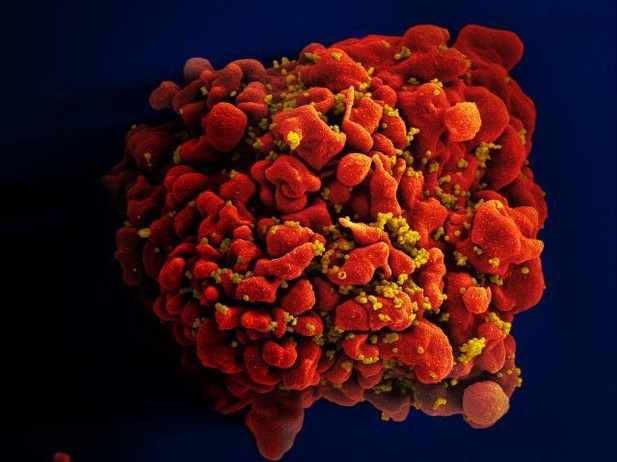 The fact that all the drugs tested only partially reactivated a small portion of latent viruses implies that latent reservoirs of HIV-1 are heterogeneous in nature. This finding also clearly points to the fact that transcriptional repression of HIV-1 can be influenced by the context of where it integrates in the host cell's genome. As this is a first study where this context could be connected directly to the fate of HIV-1 infection, it becomes clear that there are many lessons to be learned about how HIV-1 explores the human genome (especially in T cells) to integrate and persist.
Article and author information
Author details
© 2018, Lusic
This article is distributed under the terms of the Creative Commons Attribution License, which permits unrestricted use and redistribution provided that the original author and source are credited.
1,653

Page views

153

Downloads

0

Citations
Article citation count generated by polling the highest count across the following sources: Crossref, PubMed Central, Scopus.
A two-part list of links to download the article, or parts of the article, in various formats.
Downloads
(link to download the article as PDF)
Open citations
(links to open the citations from this article in various online reference manager services)
Cite this article
(links to download the citations from this article in formats compatible with various reference manager tools)
Marina Lusic
HIV-1 Latency: Coloring hidden viruses
eLife 7:e37732.
https://doi.org/10.7554/eLife.37732
Further reading
Microbiology and Infectious Disease

Human immunodeficiency virus (HIV) infection is currently incurable, due to the persistence of latently infected cells. The 'shock and kill' approach to a cure proposes to eliminate this reservoir via transcriptional activation of latent proviruses, enabling direct or indirect killing of infected cells. Currently available latency-reversing agents (LRAs) have however proven ineffective. To understand why, we used a novel HIV reporter strain in primary CD4+ T cells and determined which latently infected cells are reactivatable by current candidate LRAs. Remarkably, none of these agents reactivated more than 5% of cells carrying a latent provirus. Sequencing analysis of reactivatable vs. non-reactivatable populations revealed that the integration sites were distinguishable in terms of chromatin functional states. Our findings challenge the feasibility of 'shock and kill', and suggest the need to explore other strategies to control the latent HIV reservoir.

Biochemistry and Chemical Biology
Microbiology and Infectious Disease

An imbalance of the gut microbiota, termed dysbiosis, has a substantial impact on host physiology. However, the mechanism by which host deals with gut dysbiosis to maintain fitness remains largely unknown. In Caenorhabditis elegans, Escherichia coli, which is its bacterial diet, proliferates in its intestinal lumen during aging. Here, we demonstrate that progressive intestinal proliferation of E. coli activates the transcription factor DAF-16, which is required for maintenance of longevity and organismal fitness in worms with age. DAF-16 up-regulates two lysozymes lys-7 and lys-8, thus limiting the bacterial accumulation in the gut of worms during aging. During dysbiosis, the levels of indole produced by E. coli are increased in worms. Indole is involved in the activation of DAF-16 by TRPA-1 in neurons of worms. Our finding demonstrates that indole functions as a microbial signal of gut dysbiosis to promote fitness of the host.

Chromosomes and Gene Expression
Microbiology and Infectious Disease

African trypanosomes evade host immune clearance by antigenic variation, causing persistent infections in humans and animals. These parasites express a homogeneous surface coat of variant surface glycoproteins (VSGs). They transcribe one out of hundreds of VSG genes at a time from telomeric expression sites (ESs) and periodically change the VSG expressed by transcriptional switching or recombination. The mechanisms underlying the control of VSG switching and its developmental silencing remain elusive. We report that telomeric ES activation and silencing entail an on/off genetic switch controlled by a nuclear phosphoinositide signaling system. This system includes a nuclear phosphatidylinositol 5-phosphatase (PIP5Pase), its substrate PI(3,4,5)P3, and the repressor-activator protein 1 (RAP1). RAP1 binds to ES sequences flanking VSG genes via its DNA binding domains and represses VSG transcription. In contrast, PI(3,4,5)P3 binds to the N-terminus of RAP1 and controls its DNA binding activity. Transient inactivation of PIP5Pase results in the accumulation of nuclear PI(3,4,5)P3, which binds RAP1 and displaces it from ESs, activating transcription of silent ESs and VSG switching. The system is also required for the developmental silencing of VSG genes. The data provides a mechanism controlling reversible telomere silencing essential for the periodic switching in VSG expression and its developmental regulation.