Carboxysomes: How bacteria arrange their organelles
The structures responsible for photosynthesis in bacteria use the nucleoid and two unique proteins as a scaffold to position themselves.
The emergence of cell biology techniques proved that bacterial cells are compartmentalized. Indeed, many of the activities performed inside bacterial cells are restricted to specific regions, like the cell wall, or to organelles (Murat et al., 2010; Mauriello et al., 2018). Photosynthetic cyanobacteria contain organelles called carboxysomes: specialized compartments that encapsulate the key enzymes for photosynthesis in a protein shell. In the cyanobacterium Synechococcus elongatus, carboxysomes align themselves at equal distances from each other along the longitudinal axis of the cell. This distribution means that each daughter of a dividing cell receives its fair share of carboxysomes and can photosynthesize soon after forming.
The amount of a protein called McdA oscillates inside bacteria, leading to regions that contain high levels of McdA and regions that contain low levels, and in 2010 researchers established a link between these oscillations and the positioning of carboxysomes within bacteria (Savage et al., 2010). However, it was not known what causes the McdA oscillations, or how these dynamics determine the arrangement of the carboxysomes. Now, in eLife, Daniel Ducat of Michigan State University, Anthony Vecchiarelli of the University of Michigan and co-workers – including Joshua MacCready as first author – report the molecular mechanism behind these processes in S. elongatus (MacCready et al., 2018).
Firstly, MacCready et al. showed that McdA oscillations take place on the nucleoid, the region within a bacterium that is occupied by DNA. Carboxysomes also localize at this position. The researchers then discovered a small protein that is able to interact directly with McdA and also with some of the proteins that make up the carboxysome shell. This protein, which MacCready et al. called McdB, thus acts as a bridge to connect the carboxysomes with McdA at the nucleoid.
But what causes the McdA oscillations? McdA binds to the nucleoid when bound to ATP, a molecule that releases energy when it is hydrolyzed. McdA is able to hydrolyze ATP highly efficiently, and this activity is further enhanced by McdB. Experiments in vitro and in vivo show that by promoting the ability of McdA to hydrolyze ATP, McdB helps McdA to detach from the nucleoid. This creates regions on the nucleoid that are depleted of McdA. Because McdB tends to localize at high concentrations of McdA, the carboxysomes move toward those regions of the nucleoid that are rich in McdA. The end result is that the carboxysomes become evenly spaced along the nucleoid. The McdA oscillations emerge from the presence of multiple McdB-containing carboxysomes, which cause McdA to repeatedly dissociate from and then re-associate with the nucleoid.
MacCready et al. performed an elegant experiment that explains and confirms the predictions of this model. Using different gene expression systems, they were able to produce cells that contained one, two or more carboxysomes. The nucleoid, carboxysomes and McdA inside these cells were fluorescently labeled to enable their behavior to be tracked using a microscope.
In cells with one carboxysome, the organelle localizes at the only McdA-depleted region of the nucleoid (Figure 1). In cells with two carboxysomes, the more central carboxysome moves away from the other one and toward the highest concentration of McdA. When they are sufficiently far apart, McdA reassembles on the McdA-depleted region of the nucleoid, and the more central carboxysome slightly moves back. In cells with multiple carboxysomes, the movements of the carboxysomes and the resulting McdA oscillations cause the organelles to space themselves equidistantly.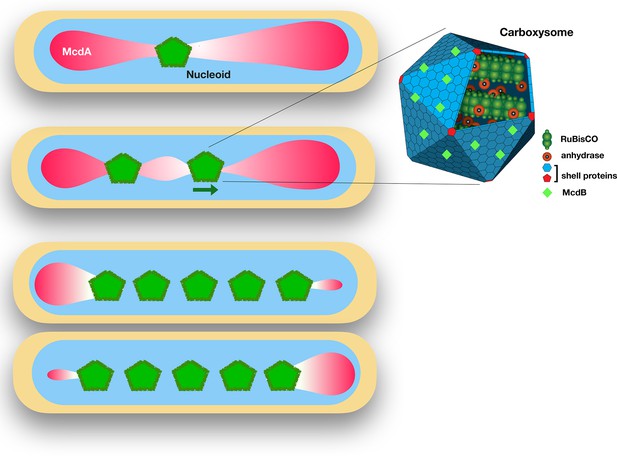 MacCready et al. observe that this model fits a Brownian ratchet model (in which random motion can be used to move a cargo in one direction). A similar model has been proposed for the ParA–ParB segregation system that partitions chromosomes and plasmids (Vecchiarelli et al., 2014; Hu et al., 2017). Indeed, McdA is a ParA-like protein.
It has long been known that the cytoskeleton and the cell wall are the main organizers of the contents of bacterial cells. However, it has become clear that the nucleoid also serves as a scaffold for assembling large complexes and organelles (Thompson et al., 2006; Henry and Crosson, 2013; Moine et al., 2017; MacCready et al., 2018). When these complexes and organelles have to occupy specific positions in a cell, how does the cell ensure that they are inherited equally by both daughter cells after division? The latest results from MacCready et al. on carboxysomes add another example to the list of structures that ParA–ParB-like systems can segregate during cell division (for other examples, see Thompson et al., 2006; Alvarado et al., 2017). The presence of a reliable segregation system is essential for the emergence of bacterial populations in which all the cells perform the same function.
Article and author information
Author details
© 2019, Mauriello
This article is distributed under the terms of the Creative Commons Attribution License, which permits unrestricted use and redistribution provided that the original author and source are credited.
2,023

Page views

202

Downloads

4

Citations
Article citation count generated by polling the highest count across the following sources: Crossref, PubMed Central, Scopus.
A two-part list of links to download the article, or parts of the article, in various formats.
Downloads
(link to download the article as PDF)
Open citations
(links to open the citations from this article in various online reference manager services)
Cite this article
(links to download the citations from this article in formats compatible with various reference manager tools)
Emilia Mauriello
Carboxysomes: How bacteria arrange their organelles
eLife 8:e43777.
https://doi.org/10.7554/eLife.43777
Further reading
Microbiology and Infectious Disease

Physics of Living Systems

Carboxysomes are protein-based bacterial organelles encapsulating key enzymes of the Calvin-Benson-Bassham cycle. Previous work has implicated a ParA-like protein (hereafter McdA) as important for spatially organizing carboxysomes along the longitudinal axis of the model cyanobacterium Synechococcus elongatus PCC 7942. Yet, how self-organization of McdA emerges and contributes to carboxysome positioning is unknown. Here, we identify a small protein, termed McdB that localizes to carboxysomes and drives emergent oscillatory patterning of McdA on the nucleoid. Our results demonstrate that McdB directly stimulates McdA ATPase activity and its release from DNA, driving carboxysome-dependent depletion of McdA locally on the nucleoid and promoting directed motion of carboxysomes towards increased concentrations of McdA. We propose that McdA and McdB are a previously unknown class of self-organizing proteins that utilize a Brownian-ratchet mechanism to position carboxysomes in cyanobacteria, rather than a cytoskeletal system. These results have broader implications for understanding spatial organization of protein mega-complexes and organelles in bacteria.

Microbiology and Infectious Disease

Most rapid diagnostic tests for Plasmodium falciparum malaria target the Histidine-Rich Proteins 2 and 3 (HRP2 and HRP3). Deletions of the hrp2 and hrp3 genes result in false-negative tests and are a threat for malaria control. A novel assay for molecular surveillance of hrp2/hrp3 deletions was developed based on droplet digital PCR (ddPCR). The assay quantifies hrp2, hrp3, and a control gene with very high accuracy. The theoretical limit of detection was 0.33 parasites/µl. The deletion was reliably detected in mixed infections with wild-type and hrp2-deleted parasites at a density of >100 parasites/reaction. For a side-by-side comparison with the conventional nested PCR (nPCR) assay, 248 samples were screened in triplicate by ddPCR and nPCR. No deletions were observed by ddPCR, while by nPCR hrp2 deletion was observed in 8% of samples. The ddPCR assay was applied to screen 830 samples from Kenya, Zanzibar/Tanzania, Ghana, Ethiopia, Brazil, and Ecuador. Pronounced differences in the prevalence of deletions were observed among sites, with more hrp3 than hrp2 deletions. In conclusion, the novel ddPCR assay minimizes the risk of false-negative results (i.e., hrp2 deletion observed when the sample is wild type), increases sensitivity, and greatly reduces the number of reactions that need to be run.

Immunology and Inflammation

Microbiology and Infectious Disease

The outcome of infection is dependent on the ability of viruses to manipulate the infected cell to evade immunity, and the ability of the immune response to overcome this evasion. Understanding this process is key to understanding pathogenesis, genetic risk factors, and both natural and vaccine-induced immunity. SARS-CoV-2 antagonises the innate interferon response, but whether it manipulates innate cellular immunity is unclear. An unbiased proteomic analysis determined how cell surface protein expression is altered on SARS-CoV-2-infected lung epithelial cells, showing downregulation of activating NK ligands B7-H6, MICA, ULBP2, and Nectin1, with minimal effects on MHC-I. This occurred at the level of protein synthesis, could be mediated by Nsp1 and Nsp14, and correlated with a reduction in NK cell activation. This identifies a novel mechanism by which SARS-CoV-2 host-shutoff antagonises innate immunity. Later in the disease process, strong antibody-dependent NK cell activation (ADNKA) developed. These responses were sustained for at least 6 months in most patients, and led to high levels of pro-inflammatory cytokine production. Depletion of spike-specific antibodies confirmed their dominant role in neutralisation, but these antibodies played only a minor role in ADNKA compared to antibodies to other proteins, including ORF3a, Membrane, and Nucleocapsid. In contrast, ADNKA induced following vaccination was focussed solely on spike, was weaker than ADNKA following natural infection, and was not boosted by the second dose. These insights have important implications for understanding disease progression, vaccine efficacy, and vaccine design.