Autophagy: COPII vesicles and the expansion of the phagophore
A new study has identified the proteins that adapt COPII vesicles to the needs of starving cells.
When a cell is starving, it can recycle cytoplasmic elements that are dispensable or faulty to obtain the amino acids and nutrients it needs to survive. This process, known as autophagy, is orchestrated by more than 40 different proteins (Mizushima et al., 2011). It starts with the formation of the phagophore, a flat membrane-bound structure that expands and engulfs the components destined for digestion. Although the membrane of many organelles – including the Golgi apparatus – can be the source of the phagophore, the structure appears to largely emerge from the endoplasmic reticulum (ER). It has recently also become clear that the early expansion of the phagophore requires vesicles coated with a protein complex called COPII, hereafter referred to as COPII vesicles (reviewed in van Leeuwen et al., 2018).
Cells with plenty of nutrients grow by producing proteins, and COPII vesicles are essential in this process. They bud from ER exit sites and transport newly synthesized proteins to the Golgi and many other membrane compartments. An array of molecules works together on the membrane at the ER exit sites to form these vesicles. Indeed, the transmembrane ER protein Sec12 and the small GTPase Sar1 help to recruit the Sec23/Sec24 complex that will create the inner coat of the vesicle, while another complex, Sec13/31, will then form the outer coat (Gomez-Navarro and Miller, 2016). However, while starving cells require COPII vesicles for autophagy, cells deprived of nutrients reduce their protein secretion (Jeong et al., 2018; Zacharogianni et al., 2014): in this context, how can these vesicles be specifically generated to help expand the phagophore?
Several complementary models have been put forward to explain how this could be possible. Some propose that once the COPII vesicles have formed at the ER exit sites, they are redirected away from the Golgi and towards the nascent phagophore (Rao et al., 2016; Tan et al., 2013; Davis et al., 2016; Wang et al., 2015). Another model suggests that in starving mammalian cells, instead of being redirected, COPII vesicles bud from a different place altogether. Indeed, during starvation, COPII vesicles emerge from a membrane between the ER and the Golgi, the ER-Golgi intermediate compartment (ERGIC). Autophagy activates an enzyme, the kinase ULK1, which drives this change by helping to relocate the COPII protein Sec12 to the ERGIC (Ge et al., 2017). Once the vesicles have budded from this structure, they go on to expand the phagophore (Ge et al., 2015). Now, in eLife, Michele Pagano and colleagues at New York University School of Medicine, IBioBA in Buenos Aires and other institutes in the United States and Argentina – including Yeon-Tae Jeong as first author – report results that support and expand this last model (Jeong et al., 2018).
Combining state-of-the-art biochemistry with imaging, Jeong et al. show that COPII vesicles do indeed bud from the ERGIC during autophagy. But the experiments also reveal that the inner coat of these vesicles is different. When cells are growing, an enzyme known as FBXW5 tags Sec23B for destruction, and the protein is then degraded slowly, but constantly. Under these conditions, the remaining Sec23B proteins may bind Sec24 and help form COPII vesicles destined for secretion, but this is likely a small contribution.
The study by Jeong et al. further reveals that when starvation activates ULK1, the enzyme then phosphorylates Sec23B to produce Sec23B-P, which is impervious to FBXW5; Sec23B-P starts to accumulate and bind to Sec24A and Sec24B – but not Sec24C or Sec24D. The Sec23B-P/Sec24AB complex then relocates to the ERGIC (possibly as a direct consequence of the phosphorylation of Sec23B), and it forms COPII vesicles specifically destined to fuel the growth of the phagophore. The beauty of these experiments is thus to show that certain COPII subunits have a clear, dedicated role during autophagy, with Sec23B-P/Sec24AB playing a key part in forming the vesicles required in this process (Figure 1). It remains to be examined whether Sec23B-P/Sec24AB also helps transport proteins to the Golgi under starvation conditions, when general secretion is reduced and the complex is efficiently brought to the ERGIC. While it is likely that the complex is specific to autophagy, this would need to be further investigated.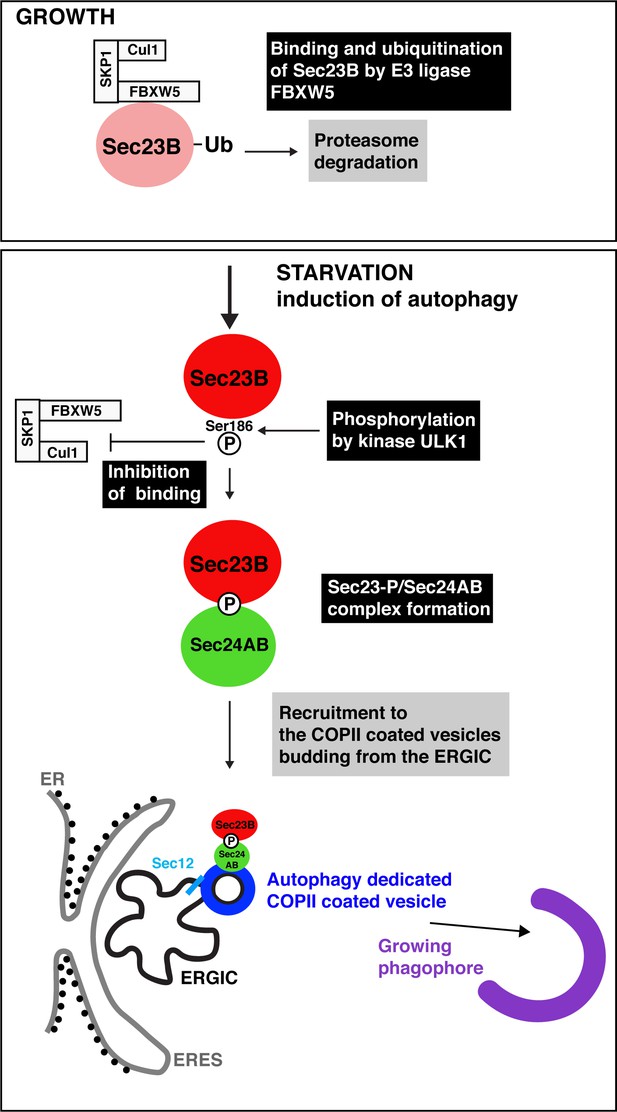 The work by Jeong et al. also helps to better grasp how ULK1 controls the use of COPII proteins during autophagy: the kinase helps to relocate the machinery from ER exit sites to the ERGIC, while also tweaking the nature of the vesicles' inner coat to fuel the early expansion of the phagophore. These results add to work at Berkeley, which showed how ULK1 participates in bringing Sec12 to the ERGIC, initiating the formation of COPII vesicles (Ge et al., 2015; Ge et al., 2017). In yeast, ULK1 also contributes to the recruitment of a protein that, once activated, will direct COPII vesicles to the phagophore assembly site (Wang et al., 2013). Next, it will be interesting to learn how the enzyme acts on other components of the ER exit sites – including Sec16, a ULK1 substrate during periods of growth (Joo et al., 2016).
Article and author information
Author details
© 2019, Rabouille
This article is distributed under the terms of the Creative Commons Attribution License, which permits unrestricted use and redistribution provided that the original author and source are credited.
2,025

Page views

257

Downloads

6

Citations
Article citation count generated by polling the highest count across the following sources: Crossref, PubMed Central, Scopus.
A two-part list of links to download the article, or parts of the article, in various formats.
Downloads
(link to download the article as PDF)
Open citations
(links to open the citations from this article in various online reference manager services)
Cite this article
(links to download the citations from this article in formats compatible with various reference manager tools)
Catherine Rabouille
Autophagy: COPII vesicles and the expansion of the phagophore
eLife 8:e44944.
https://doi.org/10.7554/eLife.44944
Further reading
In response to nutrient deprivation, the cell mobilizes an extensive amount of membrane to form and grow the autophagosome, allowing the progression of autophagy. By providing membranes and stimulating LC3 lipidation, COPII (Coat Protein Complex II) promotes autophagosome biogenesis. Here, we show that the F-box protein FBXW5 targets SEC23B, a component of COPII, for proteasomal degradation and that this event limits the autophagic flux in the presence of nutrients. In response to starvation, ULK1 phosphorylates SEC23B on Serine 186, preventing the interaction of SEC23B with FBXW5 and, therefore, inhibiting SEC23B degradation. Phosphorylated and stabilized SEC23B associates with SEC24A and SEC24B, but not SEC24C and SEC24D, and they re-localize to the ER-Golgi intermediate compartment, promoting autophagic flux. We propose that, in the presence of nutrients, FBXW5 limits COPII-mediated autophagosome biogenesis. Inhibition of this event by ULK1 ensures efficient execution of the autophagic cascade in response to nutrient starvation.

Eukaryotic cilia and flagella are microtubule-based organelles whose relatively simple shape makes them ideal for investigating the fundamental question of organelle size regulation. Most of the flagellar materials are transported from the cell body via an active transport process called intraflagellar transport (IFT). The rate of IFT entry into flagella, known as IFT injection, has been shown to negatively correlate with flagellar length. However, it remains unknown how the cell measures the length of its flagella and controls IFT injection. One of the most-discussed theoretical models for length sensing to control IFT is the ion-current model, which posits that there is a uniform distribution of Ca2+ channels along the flagellum and that the Ca2+ current from the flagellum into the cell body increases linearly with flagellar length. In this model, the cell uses the Ca2+ current to negatively regulate IFT injection. The recent discovery that IFT entry into flagella is regulated by the phosphorylation of kinesin through a calcium-dependent protein kinase has provided further impetus for the ion-current model. To test this model, we measured and manipulated the levels of Ca2+ inside of Chlamydomonas flagella and quantified IFT injection. Although the concentration of Ca2+ inside of flagella was weakly correlated with the length of flagella, we found that IFT injection was reduced in calcium-deficient flagella, rather than increased as the model predicted, and that variation in IFT injection was uncorrelated with the occurrence of flagellar Ca2+ spikes. Thus, Ca2+ does not appear to function as a negative regulator of IFT injection, hence it cannot form the basis of a stable length control system.

Mitochondrial dysfunction has been reported in obesity and insulin resistance, but primary genetic mitochondrial dysfunction is generally not associated with these, arguing against a straightforward causal relationship. A rare exception, recently identified in humans, is a syndrome of lower body adipose loss, leptin-deficient severe upper body adipose overgrowth, and insulin resistance caused by the p.Arg707Trp mutation in MFN2, encoding mitofusin 2. How the resulting selective form of mitochondrial dysfunction leads to tissue- and adipose depot-specific growth abnormalities and systemic biochemical perturbation is unknown. To address this, Mfn2R707W/R707W knock-in mice were generated and phenotyped on chow and high fat diets. Electron microscopy revealed adipose-specific mitochondrial morphological abnormalities. Oxidative phosphorylation measured in isolated mitochondria was unperturbed, but the cellular integrated stress response was activated in adipose tissue. Fat mass and distribution, body weight, and systemic glucose and lipid metabolism were unchanged, however serum leptin and adiponectin concentrations, and their secretion from adipose explants were reduced. Pharmacological induction of the integrated stress response in wild-type adipocytes also reduced secretion of leptin and adiponectin, suggesting an explanation for the in vivo findings. These data suggest that the p.Arg707Trp MFN2 mutation selectively perturbs mitochondrial morphology and activates the integrated stress response in adipose tissue. In mice, this does not disrupt most adipocyte functions or systemic metabolism, whereas in humans it is associated with pathological adipose remodelling and metabolic disease. In both species, disproportionate effects on leptin secretion may relate to cell autonomous induction of the integrated stress response.