Plant Stress: Hitting pause on the cell cycle
Two recently discovered transcription factors stop cells from dividing when plants face extreme heat and DNA damage.
When something goes awry during the cell cycle – for example, if DNA gets broken during replication – checkpoint mechanisms put the cycle on pause so that the cell can repair the damage before dividing. In mammals, failure to activate these checkpoints can lead to cancer.
The p53 tumor suppressor is a mammalian transcription factor which controls the genes that stop the cell cycle, repair DNA, and even trigger cell death in response to DNA damage (Kastenhuber and Lowe, 2017). Many cell cycle and DNA repair genes are conserved between vertebrates and plants, yet a p53 ortholog has never been found in any plant genome sequence. Instead, plants use SOG1 (short for suppressor of gamma-response 1), a plant-specific transcription factor that also arrests the cell cycle, coordinates DNA repair and promotes cell death.
Recently, two independent studies have demonstrated that SOG1 regulates the expression of almost all the genes that are induced when DNA is damaged, including other transcription factors from the same family (Bourbousse et al., 2018; Ogita et al., 2018). Now, in eLife, Masaaki Umeda and colleagues from the Nara Institute of Science and Technology, the RIKEN Center for Sustainable Resource Science and the RIKEN Cluster for Pioneering Research – with Naoki Takahashi as first author – report on the roles of two of these SOG1-like transcription factors, ANAC044 and ANAC085 (Takahashi et al., 2019).
In plants, SOG1 can bind to the promoter regions of these factors, and it encourages the transcription of these genes upon DNA damage. Knockout experiments show that the ANAC044 and ANAC085 proteins are not necessary to repair DNA; instead, they stop the cell cycle just before division by increasing the levels of transcription factors called Rep-MYBs (where Rep is short for repressive). Once stabilized, these factors can bind to and inhibit genes involved in the progression of cell division (Ito et al., 2001). When the cells are ready to divide, Rep-MYBs are marked for destruction, freeing up the genes that promote division so that they can be activated by other transcription factors (Chen et al., 2017).
Rep-MYBs do not accumulate when the genes for ANAC044 and ANAC085 are knocked out. The roots of mutant plants that lack both of these genes can therefore keep growing when agents that damage DNA are present. However, these double knockouts do not show a difference in the levels of RNA transcripts of Rep-MYBs. This prompted Takahashi et al. to speculate that an intermediate molecular step allows ANAC044 and ANAC085 to control the levels of Rep-MYBs after transcription, possibly by inhibiting the machinery that labels and degrades these proteins.
Upon DNA damage, two kinases called ATM and ATR phosphorylate specific sites on SOG1 so that it can bind to DNA and perform its regulatory role (Sjogren et al., 2015; Yoshiyama et al., 2013; Ogita et al., 2018). Both ANAC044 and ANAC085 have sequences that are very similar to those of SOG1, but they appear to lack these phosphorylation sites. Moreover, overexpression of ANAC044 only inhibits the cell cycle if the DNA is damaged. It is therefore possible that this transcription factor only works in the presence of ANAC085, or that its activity is controlled by other kinases.
Overall, the work by Takahashi et al. shows that plants have harnessed SOG1-like transcription factors to regulate the network of genes that respond to DNA damage. These results represent a major step in unraveling the hierarchical control of the DNA damage response in plants. So far, SOG1 appears to be the master regulator, delegating downstream responses among various regulators (Figure 1), with ANAC044 and ANAC085 stopping the cell cycle before division. Takahashi et al. also report that when plants are exposed to high temperatures, ANAC044 and ANAC085 help to halt the cell cycle. Therefore, these two transcription factors could be part of a central hub that delays cell division in response to a diverse set of stresses.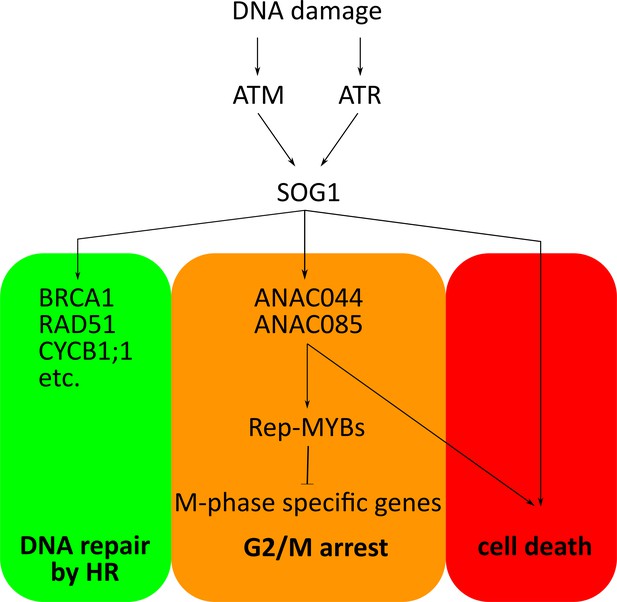 Article and author information
Author details
© 2019, Eekhout and De Veylder
This article is distributed under the terms of the Creative Commons Attribution License, which permits unrestricted use and redistribution provided that the original author and source are credited.
2,138

Page views

259

Downloads

4

Citations
Article citation count generated by polling the highest count across the following sources: Crossref, PubMed Central, Scopus.
A two-part list of links to download the article, or parts of the article, in various formats.
Downloads
(link to download the article as PDF)
Open citations
(links to open the citations from this article in various online reference manager services)
Cite this article
(links to download the citations from this article in formats compatible with various reference manager tools)
Thomas Eekhout
Lieven De Veylder
Plant Stress: Hitting pause on the cell cycle
eLife 8:e46781.
https://doi.org/10.7554/eLife.46781
Further reading
Cell cycle arrest is an active response to stresses that enables organisms to survive under fluctuating environmental conditions. While signalling pathways that inhibit cell cycle progression have been elucidated, the putative core module orchestrating cell cycle arrest in response to various stresses is still elusive. Here we report that in Arabidopsis, the NAC-type transcription factors ANAC044 and ANAC085 are required for DNA damage-induced G2 arrest. Under genotoxic stress conditions, ANAC044 and ANAC085 enhance protein accumulation of the R1R2R3-type Myb transcription factor (Rep-MYB), which represses G2/M-specific genes. ANAC044/ANAC085-dependent accumulation of Rep-MYB and cell cycle arrest are also observed in the response to heat stress that causes G2 arrest, but not to osmotic stress that retards G1 progression. These results suggest that plants deploy the ANAC044/ANAC085-mediated signalling module as a hub which perceives distinct stress signals and leads to G2 arrest.

Global agro-biodiversity has resulted from processes of plant migration and agricultural adoption. Although critically affecting current diversity, crop diffusion from Classical antiquity to the Middle Ages is poorly researched, overshadowed by studies on that of prehistoric periods. A new archaeobotanical dataset from three Negev Highland desert sites demonstrates the first millennium CE&'s significance for long-term agricultural change in southwest Asia. This enables evaluation of the 'Islamic Green Revolution' (IGR) thesis compared to 'Roman Agricultural Diffusion' (RAD), and both versus crop diffusion during and since the Neolithic. Among the finds, some of the earliest aubergine (Solanum melongena) seeds in the Levant represent the proposed IGR. Several other identified economic plants, including two unprecedented in Levantine archaeobotany-jujube (Ziziphus jujuba/mauritiana) and white lupine (Lupinus albus)-implicate RAD as the greater force for crop migrations. Altogether the evidence supports a gradualist model for Holocene-wide crop diffusion, within which the first millennium CE contributed more to global agricultural diversity than any earlier period.

Microbiology and Infectious Disease
Plant Biology

Purinergic signaling activated by extracellular nucleotides and their derivative nucleosides trigger sophisticated signaling networks. The outcome of these pathways determine the capacity of the organism to survive under challenging conditions. Both extracellular ATP (eATP) and Adenosine (eAdo) act as primary messengers in mammals, essential for immunosuppressive responses. Despite the clear role of eATP as a plant damage-associated molecular pattern, the function of its nucleoside, eAdo, and of the eAdo/eATP balance in plant stress response remain to be fully elucidated. This is particularly relevant in the context of plant-microbe interaction, where the intruder manipulates the extracellular matrix. Here, we identify Ado as a main molecule secreted by the vascular fungus Fusarium oxysporum. We show that eAdo modulates the plant's susceptibility to fungal colonization by altering the eATP-mediated apoplastic pH homeostasis, an essential physiological player during the infection of this pathogen. Our work indicates that plant pathogens actively imbalance the apoplastic eAdo/eATP levels as a virulence mechanism.