Genome Organization: Painting chromosomes in the nucleus
A multiplexed approach to DNA FISH experiments has been used to visualize the three-dimensional organization of chromosomes and specific chromosomal regions in C. elegans..
The genome of a mammal consists of about two meters of DNA and this DNA must somehow fit inside a nucleus that has a diameter of just ~10 microns (Misteli, 2008). To achieve this feat, the DNA interacts with various proteins to form a very compact and highly ordered complex called chromatin. The genetic material inside the nucleus is also divided into a number of chromosomes.
Recent advances in molecular biology and imaging techniques have begun to shed light on the organization of the DNA, chromatin, and chromosomes within the nucleus. The transcriptional profile of a gene directly influences its position within the nucleus: more active genes are localized near nuclear pores, whereas less active genes are positioned away from these pores (Casolari et al., 2004; Capelson et al., 2010; Pascual-Garcia and Capelson, 2014). It is also known that chromatin is arranged in loops, and that individual chromosomes are separated into non-overlapping regions called chromosome territories (Rao et al., 2014; Wang et al., 2016). However, there are many aspects of the organization of DNA, chromatin, and chromosomes within the nucleus that are not fully understood.
A technique called DNA FISH (short for fluorescence in situ hybridization) has made crucial contributions to our current understanding of chromatin structure, and the introduction of 'oligopaint' technology has made this approach cheaper, faster and more adaptable (Beliveau et al., 2012). Similar to any oligo, an oligopaint is essentially a length of synthetic DNA that has been designed to bind or hybridize to both natural DNA and to other synthetic DNA molecules. Now, in eLife, Scott Kennedy of Harvard Medical School and colleagues – including Brandon Fields (who is also at the University of Wisconsin-Madison) and Son Nguyen as joint first authors, and Guy Nir – report how they have developed a multiplexed version of the oligopaint technology that allows them to simultaneously visualize all six of the chromosomes in the worm Caenorhabditis elegans at virtually any developmental time and in any cell type (Fields et al., 2019).
Fields et al. used a combination of oligopaints, bridging oligos and detection oligos to study genome organization in C. elegans. Each of the 170,594 oligopaints in the library was 150 bases long and contained four 'barcodes' plus a 42-base region that hybridized to a specific region on a specific chromosome in C. elegans (Figure 1). Each bridging oligo contained a region that hybridized to one of the barcodes on the oligopaint, and a region that hybridized to a detection oligo. The detection oligo was fused to a fluorescent dye, which made it possible to see where the oligopaint was, and hence where the specific region of the chromosome was. Fields et al. used three different fluorescent dyes (red, green, and blue) to label the oligopaints in the experiments. Additionally, pairwise combinations of these fluorescent dyes can be employed on a single oligopaint by using two barcodes with two bridging oligos and two detection oligos, which generates a total of six distinct fluorescent patterns.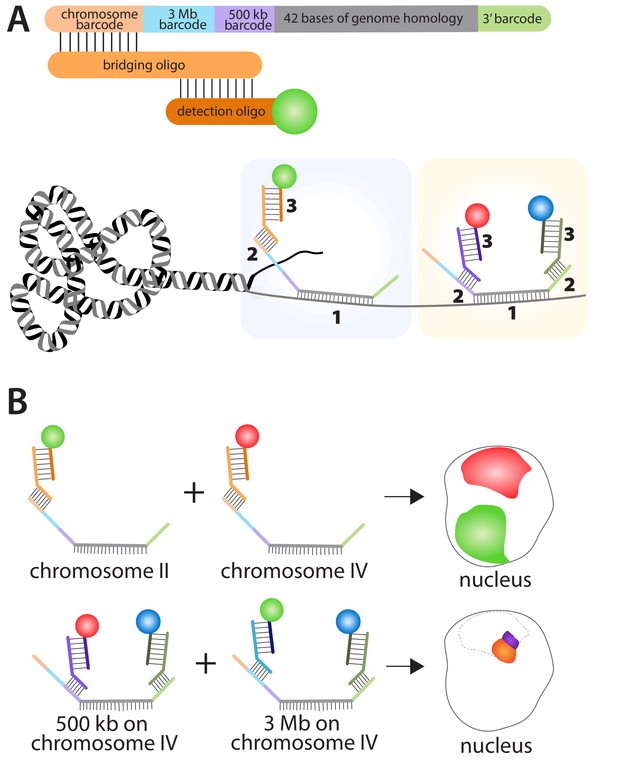 The barcodes make it possible to label (and subsequently visualize) either a whole chromosome, a 3 megabase subregion of a chromosome, or a 500 kilobase subregion (Figure 1). These barcode sequences also enable the re-amplification of the oligopaint library to create an infinitely renewable library. Moreover, the fluorescently pre-labeled detection oligos eliminate the need to directly label each oligopaint, which when combined with the bridging oligos, makes the oligopaint method both very cost effective and versatile. Indeed, Fields et al. were able to visualize all six chromosomes within multiple tissues types in C. elegans including oocytes, germ line cells, intestinal cells, hypodermal cells, and neuronal cells.
Highlighting the power of this method, Fields et al. used the multiplexed DNA FISH method to explore important questions about genome organization. For example, does aging alter the organization of the genome in C. elegans? Remarkably, they observed that the intestinal cells in one-day-old animals displayed distinct chromosome territories that were not present in ten-day-old animals. The disorganization of higher-order chromosome structures has been implicated in aging-related diseases (Evans et al., 2019), but further studies are needed to understand the mechanistic relationship between aging and genome organization. Fields et al. were also able to identify genes that were involved in establishing and/or maintaining chromosome territories (such as the gene that encodes a protein called MES-3).
The ability of multiplexed DNA FISH to visualize chromosomes in intact animals will help the C. elegans community to address fundamental questions about the establishment, maintenance and regulation of higher-order chromatin organization in this important model organism. Further, combining this method with cell lineage maps for C. elegans could make it possible to understand the effect of development and cell differentiation on genome organization. Indeed, oligopaints give the C. elegans community the opportunity to illuminate how the organization and regulation of the genome are shaped by multiple processes and cell types within a developing and aging organism.
Article and author information
Author details
© 2019, Cahoon and Libuda
This article is distributed under the terms of the Creative Commons Attribution License, which permits unrestricted use and redistribution provided that the original author and source are credited.
2,215

Page views

223

Downloads

0

Citations
Article citation count generated by polling the highest count across the following sources: Crossref, PubMed Central, Scopus.
A two-part list of links to download the article, or parts of the article, in various formats.
Downloads
(link to download the article as PDF)
Open citations
(links to open the citations from this article in various online reference manager services)
Cite this article
(links to download the citations from this article in formats compatible with various reference manager tools)
Cori K Cahoon
Diana E Libuda
Genome Organization: Painting chromosomes in the nucleus
eLife 8:e47468.
https://doi.org/10.7554/eLife.47468
Further reading
Chromosomes and Gene Expression

Eukaryotic DNA is highly organized within nuclei and this organization is important for genome function. Fluorescent in situ hybridization (FISH) approaches allow 3D architectures of genomes to be visualized. Scalable FISH technologies, which can be applied to whole animals, are needed to help unravel how genomic architecture regulates, or is regulated by, gene expression during development, growth, reproduction, and aging. Here, we describe a multiplexed DNA FISH Oligopaint library that targets the entire Caenorhabditis elegans genome at chromosome, three megabase, and 500 kb scales. We describe a hybridization strategy that provides flexibility to DNA FISH experiments by coupling a single primary probe synthesis reaction to dye conjugated detection oligos via bridge oligos, eliminating the time and cost typically associated with labeling probe sets for individual experiments. The approach allows visualization of genome organization at varying scales in all/most cells across all stages of development in an intact animal model system.

Chromosomes and Gene Expression
Neuroscience

Mathys et al. conducted the first single-nucleus RNA-seq (snRNA-seq) study of Alzheimer's disease (AD) (Mathys et al., 2019). With bulk RNA-seq, changes in gene expression across cell types can be lost, potentially masking the differentially expressed genes (DEGs) across different cell types. Through the use of single-cell techniques, the authors benefitted from increased resolution with the potential to uncover cell type-specific DEGs in AD for the first time. However, there were limitations in both their data processing and quality control and their differential expression analysis. Here, we correct these issues and use best-practice approaches to snRNA-seq differential expression, resulting in 549 times fewer DEGs at a false discovery rate of 0.05. Thus, this study highlights the impact of quality control and differential analysis methods on the discovery of disease-associated genes and aims to refocus the AD research field away from spuriously identified genes.

Chromosomes and Gene Expression
Genetics and Genomics

Spermatogenesis in the Drosophila male germline proceeds through a unique transcriptional program controlled both by germline-specific transcription factors and by testis-specific versions of core transcriptional machinery. This program includes the activation of genes on the heterochromatic Y chromosome, and reduced transcription from the X chromosome, but how expression from these sex chromosomes is regulated has not been defined. To resolve this, we profiled active chromatin features in the testes from wildtype and meiotic arrest mutants and integrate this with single-cell gene expression data from the Fly Cell Atlas. These data assign the timing of promoter activation for genes with germline-enriched expression throughout spermatogenesis, and general alterations of promoter regulation in germline cells. By profiling both active RNA polymerase II and histone modifications in isolated spermatocytes, we detail widespread patterns associated with regulation of the sex chromosomes. Our results demonstrate that the X chromosome is not enriched for silencing histone modifications, implying that sex chromosome inactivation does not occur in the Drosophila male germline. Instead, a lack of dosage compensation in spermatocytes accounts for the reduced expression from this chromosome. Finally, profiling uncovers dramatic ubiquitinylation of histone H2A and lysine-16 acetylation of histone H4 across the Y chromosome in spermatocytes that may contribute to the activation of this heterochromatic chromosome.