Brain Evolution: Adaptations to extreme conditions
The brain architecture of shrimp living in deep-sea vents provides clues to how these organisms have adapted to extreme living.
Adaptations acquired during the course of evolution lead to changes in the form and function of organisms in response to their surroundings. For example, Darwin's finches are famous for the amazing diversity in the sizes and shapes of their beaks, which reflects the diet of each species. But do the senses – and the associated regions of the brain – also evolve to accommodate unusual or extreme environments?
The shrimp Rimicaris exoculata thrives in deep-sea vents in the Mid-Atlantic Ridge, where cracks in the earth's crust allow the boiling contents of its core to spew into the frigid depths of the ocean (Lubofsky, 2018; Figure 1). R. exoculata experience huge temperature swings and elevated hydrostatic pressures. Moreover, the water they live in has no oxygen and contains poisonous minerals and gases. Various studies have demonstrated anatomical and physiological adaptations to this extreme environment (Cottin et al., 2010; Ponsard et al., 2013), but adaptations of the brain and nervous system have not been explored. Now, in eLife, Steffen Harzsch of the University of Greifswald and co-workers – including Julia Machon of Sorbonne Université as first author – report how the brain of R. exoculata has evolved in response to low light levels and an unusual and erratic chemical environment (Machon et al., 2019).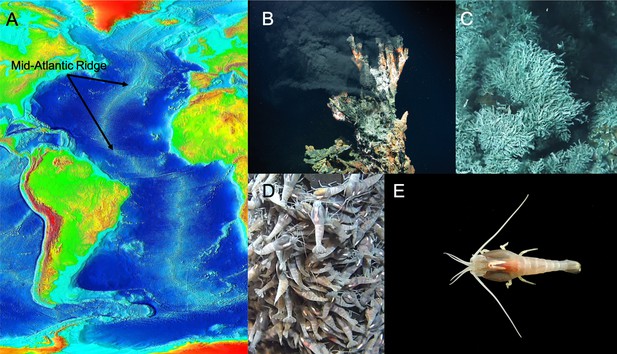 The eyes of R. exoculata are large, fixed organs that do not form images but may be able to detect very dim light (Chamberlain, 2000). These shrimps also have olfactory structures on their antennae that detect dissolved chemicals, but it is unknown if or how these structures have evolved as a result of their environment. In crustaceans, the input from each sense is processed by a specific part of the brain, the architecture of which often varies depending on the functional importance of the associated sense. For example, blind crustaceans that live in caves devoid of light have reduced visual processing areas and expanded olfactory regions in the brain, presumably to increase their ability to sense their chemical environment (Stegner et al., 2015; Ramm and Scholtz, 2017). These studies suggest that mechanisms that compensate for the reduction of one sensory ability can change the architecture of the brain.
Machon et al. show that, while some blind crustaceans have partially or totally lost the areas of the brain devoted to vision, these regions are intact in R. exoculata. This suggests that the rudimentary eyes are light sensitive, perhaps detecting thermal radiation emitted by sea vents and various types of luminescence. Additionally, and contrary to what might be expected, there is no indication that areas involved in detecting chemicals are structurally unusual or particularly large to compensate for reduced visual abilities. This means that the visual and olfactory centers of R. exoculata are unremarkable and unlikely to play a dominant role in these animals.
On the other hand, a region in the brain to which these and other sensory areas connect – the hemiellipsoid body – is highly unusual. The disproportionate size and structural complexity of this region may have evolved to provide special functions that allow this animal to survive in the extreme environment of deep-sea vents. The hemiellipsoid body does not itself receive direct sensory input, but it is connected to sensory pathways in the brain, suggesting that it is involved in the integration of sensory information (McKinzie et al., 2003). However, since neither the visual nor the olfactory centers are exceptional in R. exoculata, the tremendous expansion of the hemiellipsoid bodies points to additional functions for this region beyond sensory integration.
Experimental evidence in other crustaceans indicates that the hemiellipsoid bodies may play a role in memory (Maza et al., 2016). Machon et al. suggest a specific role in place memory, the type of memory used to associate a specific place with events or objects. Place memories are formed when animals find their way to specific locations. For example, in humans, they allow us to remember where we were at a given time. This place memory hypothesis for the hemiellipsoid bodies of R. exoculata is based on comparisons with insects and with other crustaceans that migrate long distances (Wolff et al., 2017; Krieger et al., 2012). Place memory may provide essential navigational skills for R. exoculata, because remembering the locations of hot vent chimneys and boiling emissions is critical for survival.
The observations of Machon et al. provide an intriguing window into evolutionary changes in the brain that may be directly related to the success of R. exoculata in deep-sea vents. Further experiments should test the functional roles of the hemiellipsoid bodies in crustaceans, and how this part of the brain contributes to the processing of sensory information and to memory.
Article and author information
Author details
© 2019, Beltz
This article is distributed under the terms of the Creative Commons Attribution License, which permits unrestricted use and redistribution provided that the original author and source are credited.
2,101

Page views

108

Downloads

0

Citations
Article citation count generated by polling the highest count across the following sources: Crossref, PubMed Central, Scopus.
A two-part list of links to download the article, or parts of the article, in various formats.
Downloads
(link to download the article as PDF)
Open citations
(links to open the citations from this article in various online reference manager services)
Cite this article
(links to download the citations from this article in formats compatible with various reference manager tools)
Barbara S Beltz
Brain Evolution: Adaptations to extreme conditions
eLife 8:e50647.
https://doi.org/10.7554/eLife.50647
Further reading
Alvinocaridid shrimps are emblematic representatives of the deep hydrothermal vent fauna at the Mid-Atlantic Ridge. They are adapted to a mostly aphotic habitat with extreme physicochemical conditions in the vicinity of the hydrothermal fluid emissions. Here, we investigated the brain architecture of the vent shrimp Rimicaris exoculata to understand possible adaptations of its nervous system to the hydrothermal sensory landscape. Its brain is modified from the crustacean brain ground pattern by featuring relatively small visual and olfactory neuropils that contrast with well-developed higher integrative centers, the hemiellipsoid bodies. We propose that these structures in vent shrimps may fulfill functions in addition to higher order sensory processing and suggest a role in place memory. Our study promotes vent shrimps as fascinating models to gain insights into sensory adaptations to peculiar environmental conditions, and the evolutionary transformation of specific brain areas in Crustacea.

Computational and Systems Biology
Neuroscience

Cerebellar climbing fibers convey diverse signals, but how they are organized in the compartmental structure of the cerebellar cortex during learning remains largely unclear. We analyzed a large amount of coordinate-localized two-photon imaging data from cerebellar Crus II in mice undergoing 'Go/No-go' reinforcement learning. Tensor component analysis revealed that a majority of climbing fiber inputs to Purkinje cells were reduced to only four functional components, corresponding to accurate timing control of motor initiation related to a Go cue, cognitive error-based learning, reward processing, and inhibition of erroneous behaviors after a No-go cue. Changes in neural activities during learning of the first two components were correlated with corresponding changes in timing control and error learning across animals, indirectly suggesting causal relationships. Spatial distribution of these components coincided well with boundaries of Aldolase-C/zebrin II expression in Purkinje cells, whereas several components are mixed in single neurons. Synchronization within individual components was bidirectionally regulated according to specific task contexts and learning stages. These findings suggest that, in close collaborations with other brain regions including the inferior olive nucleus, the cerebellum, based on anatomical compartments, reduces dimensions of the learning space by dynamically organizing multiple functional components, a feature that may inspire new-generation AI designs.

Ultrasonic vocalizations (USVs) fulfill an important role in communication and navigation in many species. Because of their social and affective significance, rodent USVs are increasingly used as a behavioral measure in neurodevelopmental and neurolinguistic research. Reliably attributing USVs to their emitter during close interactions has emerged as a difficult, key challenge. If addressed, all subsequent analyses gain substantial confidence. We present a hybrid ultrasonic tracking system, Hybrid Vocalization Localizer (HyVL), that synergistically integrates a high-resolution acoustic camera with high-quality ultrasonic microphones. HyVL is the first to achieve millimeter precision (~3.4–4.8 mm, 91% assigned) in localizing USVs, ~3× better than other systems, approaching the physical limits (mouse snout ~10 mm). We analyze mouse courtship interactions and demonstrate that males and females vocalize in starkly different relative spatial positions, and that the fraction of female vocalizations has likely been overestimated previously due to imprecise localization. Further, we find that when two male mice interact with one female, one of the males takes a dominant role in the interaction both in terms of the vocalization rate and the location relative to the female. HyVL substantially improves the precision with which social communication between rodents can be studied. It is also affordable, open-source, easy to set up, can be integrated with existing setups, and reduces the required number of experiments and animals.