Sepsis: Modelling survival
A new mouse model of sepsis can reproduce the long-term muscle weakness seen in patients who survive this life-threatening illness.
Sepsis arises when the immune system produces an overwhelming response to an infection, which can lead to widespread blood clotting, shock (i.e., too little oxygen being delivered to tissues), multiple organ failure and, if left untreated, death. There are an estimated 31.5 million cases of sepsis worldwide per year (Fleischmann et al., 2016). Millions of children and newborns are affected by sepsis, and one-in-ten maternal deaths and half of all hospital deaths are due to this condition (Fleischmann-Struzek et al., 2018). The majority of hospital deaths occur in elderly patients suffering severe, chronic diseases such as cancer that predispose them to developing this life-threatening illness (Singer et al., 2019). It's not only vulnerable people who are susceptible to sepsis, even healthy individuals suffering a new injury or infection can die from this condition. However, the number of patients dying from sepsis in the US and other economically developed nations is declining due to patients receiving earlier diagnosis and intensive care.
Although acute sepsis treatment has led to more survivors, it has become increasingly apparent that the life-threatening effects of sepsis do not end once a patient leaves the hospital (Fleischmann et al., 2016). In fact, patients have an elevated risk of mortality for at least two years following treatment (Prescott et al., 2016), and more than 20% of survivors will die within a year (Brakenridge et al., 2019). Even healthy individuals who survive sepsis rarely return to normal function (Prescott and Angus, 2018a; Prescott and Costa, 2018b). The underlying cause of this post-sepsis deterioration and late mortality is partly due to the body being weakened by the sepsis response, by the life-saving drugs administered to treat the sepsis, and by having reduced mobility when in intensive care. This leads to muscle wasting, as well as loss of muscle strength and performance. Eventually muscle mass recovers, but muscle strength does not, and this can leave a profound and lasting impact on survivors.
To understand how to treat these long-term effects researchers need an experimental model that can replicate these symptoms. Multiple rodent models are used to study the acute sepsis response by infecting their skin or tissue, by surgically puncturing their intestine, or by injecting bacterial toxins, bacteria or fecal preparations (Lewis et al., 2016). These models can be used to study how the body responds to infection and identify potential interventions that could reduce the rate of death in the short-term. However, there are very few models available for studying the later effects of sepsis. An ideal model would need to resemble an injury seen in patients; include interventions that mimic modern medical care, such as antibiotics and support for damaged organs; be able to clear the infection, recover and survive; and support long-term studies and functional analysis. Now, in eLife, Hiroshi Saito and co-workers at the University of Kentucky, Harvard Medical School and the University of Florida – including Allison Owen as first author – report a mouse model that meets all of these requirements (Owen et al., 2019; Figure 1).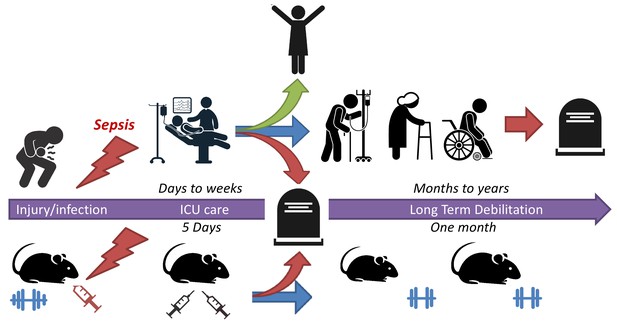 Unlike typical mouse studies that use young or adolescent mice, Owen et al. used 16-month-old mice which are the equivalent of middle-aged humans (age 50 years). To mimic the disease process seen in intestinal conditions (such as severe appendicitis), a fecal bacterial suspension was injected into the mice's abdominal cavity. These bacteria were rapidly absorbed into the body and the mice quickly developed sepsis with blood-borne bacteria. After a 12 hour period of illness without intervention (to mimic worsening disease), the mice were given fluids and antibiotics to simulate the care received by patients when in intensive care. This rescue protocol treated the sepsis, shock, and organ injury over the next five days and improved the survival rate of mice from 0–14% to 75%.
The mice that survived sepsis demonstrated a large and persistent loss of strength. Both male and female mice lost 30–35% of their muscle strength two weeks after becoming infected with sepsis, even when accounting for loss in muscle size. This weakness lasted a month, even once muscle mass had returned and all evidence of infection and inflammation had disappeared. Owen et al. found that this weakness was not the result of low food intake, but due to damage to mitochondria in the mice's skeletal muscle cells.
The main role of mitochondria is to provide cells with energy, so it is possible that the damaged mitochondria cannot produce enough energy for muscle contraction, and their faulty metabolism may even perpetuate further cell damage. One could speculate that therapies that protect mitochondria during anti-sepsis treatment, or drugs that re-habilitate damaged mitochondria, could prevent or reduce the functional decline in sepsis survivors.
This model of sepsis survival should stimulate new research not only into acquired weakness, but also into the cognitive, emotional and physical impairments sepsis survivors face following intensive care (Inoue et al., 2019). Careful molecular and cellular studies using this mouse model could identify new therapeutic targets and interventions that improve the long-term outcomes of sepsis survivors.
Article and author information
Author details
© 2019, Zimmers and Koniaris
This article is distributed under the terms of the Creative Commons Attribution License, which permits unrestricted use and redistribution provided that the original author and source are credited.
1,174

Page views

144

Downloads

1

Citations
Article citation count generated by polling the highest count across the following sources: Crossref, PubMed Central, Scopus.
A two-part list of links to download the article, or parts of the article, in various formats.
Downloads
(link to download the article as PDF)
Open citations
(links to open the citations from this article in various online reference manager services)
Cite this article
(links to download the citations from this article in formats compatible with various reference manager tools)
Teresa A Zimmers
Leonidas G Koniaris
Sepsis: Modelling survival
eLife 8:e52959.
https://doi.org/10.7554/eLife.52959
Further reading
Medicine
Immunology and Inflammation

Chronic critical illness is a global clinical issue affecting millions of sepsis survivors annually. Survivors report chronic skeletal muscle weakness and development of new functional limitations that persist for years. To delineate mechanisms of sepsis-induced chronic weakness, we first surpassed a critical barrier by establishing a murine model of sepsis with ICU-like interventions that allows for the study of survivors. We show that sepsis survivors have profound weakness for at least 1 month, even after recovery of muscle mass. Abnormal mitochondrial ultrastructure, impaired respiration and electron transport chain activities, and persistent protein oxidative damage were evident in the muscle of survivors. Our data suggest that sustained mitochondrial dysfunction, rather than atrophy alone, underlies chronic sepsis-induced muscle weakness. This study emphasizes that conventional efforts that aim to recover muscle quantity will likely remain ineffective for regaining strength and improving quality of life after sepsis until deficiencies in muscle quality are addressed.

The cell bodies of postganglionic sympathetic neurons innervating the heart primarily reside in the stellate ganglion (SG), alongside neurons innervating other organs and tissues. Whether cardiac-innervating stellate ganglionic neurons (SGNs) exhibit diversity and distinction from those innervating other tissues is not known. To identify and resolve the transcriptomic profiles of SGNs innervating the heart, we leveraged retrograde tracing techniques using adeno-associated virus (AAV) expressing fluorescent proteins (GFP or Td-tomato) with single cell RNA sequencing. We investigated electrophysiologic, morphologic, and physiologic roles for subsets of cardiac-specific neurons and found that three of five adrenergic SGN subtypes innervate the heart. These three subtypes stratify into two subpopulations; high (NA1a) and low (NA1b and NA1c) neuropeptide-Y (NPY) -expressing cells, exhibit distinct morphological, neurochemical, and electrophysiologic characteristics. In physiologic studies in transgenic mouse models modulating NPY signaling, we identified differential control of cardiac responses by these two subpopulations to high and low stress states. These findings provide novel insights into the unique properties of neurons responsible for cardiac sympathetic regulation, with implications for novel strategies to target specific neuronal subtypes for sympathetic blockade in cardiac disease.

Medicine
Physics of Living Systems

Postoperative knee instability is one of the major reasons accounting for unsatisfactory outcomes, as well as a major failure mechanism leading to total knee arthroplasty (TKA) revision. Nevertheless, subjective knee instability is not well defined clinically, plausibly because the relationships between instability and implant kinematics during functional activities of daily living remain unclear. Although muscles play a critical role in supporting the dynamic stability of the knee joint, the influence of joint instability on muscle synergy patterns is poorly understood. Therefore, this study aimed to understand the impact of self-reported joint instability on tibiofemoral kinematics and muscle synergy patterns after TKA during functional gait activities of daily living.

Tibiofemoral kinematics and muscle synergy patterns were examined during level walking, downhill walking, and stair descent in eight self-reported unstable knees after TKA (3M:5F, 68.9 ± 8.3 years, body mass index [BMI] 26.1 ± 3.2 kg/m2, 31.9 ± 20.4 months postoperatively), and compared against 10 stable TKA knees (7M:3F, 62.6 ± 6.8 years, 33.9 ± 8.5 months postoperatively, BMI 29.4 ± 4.8 kg/m2). For each knee joint, clinical assessments of postoperative outcome were performed, while joint kinematics were evaluated using moving video-fluoroscopy, and muscle synergy patterns were recorded using electromyography.

Our results reveal that average condylar A-P translations, rotations, as well as their ranges of motion were comparable between stable and unstable groups. However, the unstable group exhibited more heterogeneous muscle synergy patterns and prolonged activation of knee flexors compared to the stable group. In addition, subjects who reported instability events during measurement showed distinct, subject-specific tibiofemoral kinematic patterns in the early/mid-swing phase of gait.

Our findings suggest that accurate movement analysis is sensitive for detecting acute instability events, but might be less robust in identifying general joint instability. Conversely, muscle synergy patterns seem to be able to identify muscular adaptation associated with underlying chronic knee instability.

This research received no specific grant from any funding agency in the public, commercial, or not-for-profit sectors.