Sepsis: Modelling survival
A new mouse model of sepsis can reproduce the long-term muscle weakness seen in patients who survive this life-threatening illness.
Sepsis arises when the immune system produces an overwhelming response to an infection, which can lead to widespread blood clotting, shock (i.e., too little oxygen being delivered to tissues), multiple organ failure and, if left untreated, death. There are an estimated 31.5 million cases of sepsis worldwide per year (Fleischmann et al., 2016). Millions of children and newborns are affected by sepsis, and one-in-ten maternal deaths and half of all hospital deaths are due to this condition (Fleischmann-Struzek et al., 2018). The majority of hospital deaths occur in elderly patients suffering severe, chronic diseases such as cancer that predispose them to developing this life-threatening illness (Singer et al., 2019). It's not only vulnerable people who are susceptible to sepsis, even healthy individuals suffering a new injury or infection can die from this condition. However, the number of patients dying from sepsis in the US and other economically developed nations is declining due to patients receiving earlier diagnosis and intensive care.
Although acute sepsis treatment has led to more survivors, it has become increasingly apparent that the life-threatening effects of sepsis do not end once a patient leaves the hospital (Fleischmann et al., 2016). In fact, patients have an elevated risk of mortality for at least two years following treatment (Prescott et al., 2016), and more than 20% of survivors will die within a year (Brakenridge et al., 2019). Even healthy individuals who survive sepsis rarely return to normal function (Prescott and Angus, 2018a; Prescott and Costa, 2018b). The underlying cause of this post-sepsis deterioration and late mortality is partly due to the body being weakened by the sepsis response, by the life-saving drugs administered to treat the sepsis, and by having reduced mobility when in intensive care. This leads to muscle wasting, as well as loss of muscle strength and performance. Eventually muscle mass recovers, but muscle strength does not, and this can leave a profound and lasting impact on survivors.
To understand how to treat these long-term effects researchers need an experimental model that can replicate these symptoms. Multiple rodent models are used to study the acute sepsis response by infecting their skin or tissue, by surgically puncturing their intestine, or by injecting bacterial toxins, bacteria or fecal preparations (Lewis et al., 2016). These models can be used to study how the body responds to infection and identify potential interventions that could reduce the rate of death in the short-term. However, there are very few models available for studying the later effects of sepsis. An ideal model would need to resemble an injury seen in patients; include interventions that mimic modern medical care, such as antibiotics and support for damaged organs; be able to clear the infection, recover and survive; and support long-term studies and functional analysis. Now, in eLife, Hiroshi Saito and co-workers at the University of Kentucky, Harvard Medical School and the University of Florida – including Allison Owen as first author – report a mouse model that meets all of these requirements (Owen et al., 2019; Figure 1).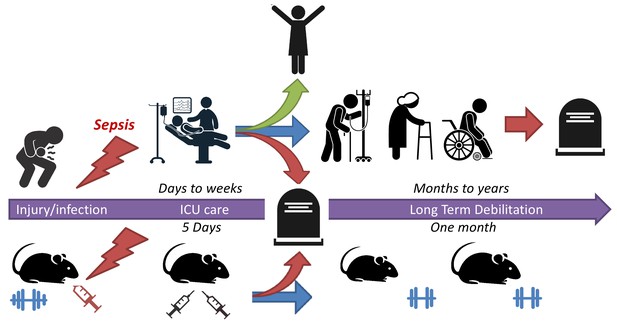 Unlike typical mouse studies that use young or adolescent mice, Owen et al. used 16-month-old mice which are the equivalent of middle-aged humans (age 50 years). To mimic the disease process seen in intestinal conditions (such as severe appendicitis), a fecal bacterial suspension was injected into the mice's abdominal cavity. These bacteria were rapidly absorbed into the body and the mice quickly developed sepsis with blood-borne bacteria. After a 12 hour period of illness without intervention (to mimic worsening disease), the mice were given fluids and antibiotics to simulate the care received by patients when in intensive care. This rescue protocol treated the sepsis, shock, and organ injury over the next five days and improved the survival rate of mice from 0–14% to 75%.
The mice that survived sepsis demonstrated a large and persistent loss of strength. Both male and female mice lost 30–35% of their muscle strength two weeks after becoming infected with sepsis, even when accounting for loss in muscle size. This weakness lasted a month, even once muscle mass had returned and all evidence of infection and inflammation had disappeared. Owen et al. found that this weakness was not the result of low food intake, but due to damage to mitochondria in the mice's skeletal muscle cells.
The main role of mitochondria is to provide cells with energy, so it is possible that the damaged mitochondria cannot produce enough energy for muscle contraction, and their faulty metabolism may even perpetuate further cell damage. One could speculate that therapies that protect mitochondria during anti-sepsis treatment, or drugs that re-habilitate damaged mitochondria, could prevent or reduce the functional decline in sepsis survivors.
This model of sepsis survival should stimulate new research not only into acquired weakness, but also into the cognitive, emotional and physical impairments sepsis survivors face following intensive care (Inoue et al., 2019). Careful molecular and cellular studies using this mouse model could identify new therapeutic targets and interventions that improve the long-term outcomes of sepsis survivors.
Article and author information
Author details
© 2019, Zimmers and Koniaris
This article is distributed under the terms of the Creative Commons Attribution License, which permits unrestricted use and redistribution provided that the original author and source are credited.
962

Page views

117

Downloads

1

Citations
Article citation count generated by polling the highest count across the following sources: Crossref, PubMed Central, Scopus.
A two-part list of links to download the article, or parts of the article, in various formats.
Downloads
(link to download the article as PDF)
Open citations
(links to open the citations from this article in various online reference manager services)
Cite this article
(links to download the citations from this article in formats compatible with various reference manager tools)
Teresa A Zimmers
Leonidas G Koniaris
Sepsis: Modelling survival
eLife 8:e52959.
https://doi.org/10.7554/eLife.52959
Further reading
Medicine

Immunology and Inflammation

Chronic critical illness is a global clinical issue affecting millions of sepsis survivors annually. Survivors report chronic skeletal muscle weakness and development of new functional limitations that persist for years. To delineate mechanisms of sepsis-induced chronic weakness, we first surpassed a critical barrier by establishing a murine model of sepsis with ICU-like interventions that allows for the study of survivors. We show that sepsis survivors have profound weakness for at least 1 month, even after recovery of muscle mass. Abnormal mitochondrial ultrastructure, impaired respiration and electron transport chain activities, and persistent protein oxidative damage were evident in the muscle of survivors. Our data suggest that sustained mitochondrial dysfunction, rather than atrophy alone, underlies chronic sepsis-induced muscle weakness. This study emphasizes that conventional efforts that aim to recover muscle quantity will likely remain ineffective for regaining strength and improving quality of life after sepsis until deficiencies in muscle quality are addressed.

The heterogeneity of white matter damage and symptoms in concussion has been identified as a major obstacle to therapeutic innovation. In contrast, most diffusion MRI (dMRI) studies on concussion have traditionally relied on group-comparison approaches that average out heterogeneity. To leverage, rather than average out, concussion heterogeneity, we combined dMRI and multivariate statistics to characterize multi-tract multi-symptom relationships.

Using cross-sectional data from 306 previously concussed children aged 9–10 from the Adolescent Brain Cognitive Development Study, we built connectomes weighted by classical and emerging diffusion measures. These measures were combined into two informative indices, the first representing microstructural complexity, the second representing axonal density. We deployed pattern-learning algorithms to jointly decompose these connectivity features and 19 symptom measures.

Early multi-tract multi-symptom pairs explained the most covariance and represented broad symptom categories, such as a general problems pair, or a pair representing all cognitive symptoms, and implicated more distributed networks of white matter tracts. Further pairs represented more specific symptom combinations, such as a pair representing attention problems exclusively, and were associated with more localized white matter abnormalities. Symptom representation was not systematically related to tract representation across pairs. Sleep problems were implicated across most pairs, but were related to different connections across these pairs. Expression of multi-tract features was not driven by sociodemographic and injury-related variables, as well as by clinical subgroups defined by the presence of ADHD. Analyses performed on a replication dataset showed consistent results.

Using a double-multivariate approach, we identified clinically-informative, cross-demographic multi-tract multi-symptom relationships. These results suggest that rather than clear one-to-one symptom-connectivity disturbances, concussions may be characterized by subtypes of symptom/connectivity relationships. The symptom/connectivity relationships identified in multi-tract multi-symptom pairs were not apparent in single-tract/single-symptom analyses. Future studies aiming to better understand connectivity/symptom relationships should take into account multi-tract multi-symptom heterogeneity.

Financial support for this work came from a Vanier Canada Graduate Scholarship from the Canadian Institutes of Health Research (G.I.G.), an Ontario Graduate Scholarship (S.S.), a Restracomp Research Fellowship provided by the Hospital for Sick Children (S.S.), an Institutional Research Chair in Neuroinformatics (M.D.), as well as a Natural Sciences and Engineering Research Council CREATE grant (M.D.).

Epidemiology and Global Health

Medicine

Type 2 diabetes mellitus (T2DM) is known to be associated with neurobiological and cognitive deficits; however, their extent, overlap with aging effects, and the effectiveness of existing treatments in the context of the brain are currently unknown.

We characterized neurocognitive effects independently associated with T2DM and age in a large cohort of human subjects from the UK Biobank with cross-sectional neuroimaging and cognitive data. We then proceeded to evaluate the extent of overlap between the effects related to T2DM and age by applying correlation measures to the separately characterized neurocognitive changes. Our findings were complemented by meta-analyses of published reports with cognitive or neuroimaging measures for T2DM and healthy controls (HCs). We also evaluated in a cohort of T2DM-diagnosed individuals using UK Biobank how disease chronicity and metformin treatment interact with the identified neurocognitive effects.

The UK Biobank dataset included cognitive and neuroimaging data (N = 20,314), including 1012 T2DM and 19,302 HCs, aged between 50 and 80 years. Duration of T2DM ranged from 0 to 31 years (mean 8.5 ± 6.1 years); 498 were treated with metformin alone, while 352 were unmedicated. Our meta-analysis evaluated 34 cognitive studies (N = 22,231) and 60 neuroimaging studies: 30 of T2DM (N = 866) and 30 of aging (N = 1088). Compared to age, sex, education, and hypertension-matched HC, T2DM was associated with marked cognitive deficits, particularly in executive functioning and processing speed. Likewise, we found that the diagnosis of T2DM was significantly associated with gray matter atrophy, primarily within the ventral striatum, cerebellum, and putamen, with reorganization of brain activity (decreased in the caudate and premotor cortex and increased in the subgenual area, orbitofrontal cortex, brainstem, and posterior cingulate cortex). The structural and functional changes associated with T2DM show marked overlap with the effects correlating with age but appear earlier, with disease duration linked to more severe neurodegeneration. Metformin treatment status was not associated with improved neurocognitive outcomes.

The neurocognitive impact of T2DM suggests marked acceleration of normal brain aging. T2DM gray matter atrophy occurred approximately 26% ± 14% faster than seen with normal aging; disease duration was associated with increased neurodegeneration. Mechanistically, our results suggest a neurometabolic component to brain aging. Clinically, neuroimaging-based biomarkers may provide a valuable adjunctive measure of T2DM progression and treatment efficacy based on neurological effects.

The research described in this article was funded by the W. M. Keck Foundation (to LRMP), the White House Brain Research Through Advancing Innovative Technologies (BRAIN) Initiative (NSFNCS-FR 1926781 to LRMP), and the Baszucki Brain Research Fund (to LRMP). None of the funding sources played any role in the design of the experiments, data collection, analysis, interpretation of the results, the decision to publish, or any aspect relevant to the study. DJW reports serving on data monitoring committees for Novo Nordisk. None of the authors received funding or in-kind support from pharmaceutical and/or other companies to write this article.