Animal Behavior: Whale breaching says it loud and clear
A whale leaping above the surface expends an enormous amount of energy, displaying its health and strength to peers and potential mates.
From marine biologists on their first field trip to the most jaded sailors, witnessing whales leaping above the sea surface – a behavior called breaching – rarely fails to elicit child-like wonder (Würsig and Whitehead, 2018). But why do whales breach? Is it, for instance, to dislodge external parasites, or could it simply be for play? Since these cetaceans often jump near each other, scientists have long thought that breaching might be a form of communication, a way for a whale to say: "Look how strong I am, I can propel my huge body right out of the water!" Beyond physical strength, this would also convey information about the animal's genetic fitness – in other words: "You really should consider me as a potential mate!"
Gazelles that conspicuously leap directly in front of predators, peacocks which sport ridiculously huge tails, and even humans who smoke cigarettes or cover their bodies with tattoos are all prime examples of so-called 'handicap signals'. These traits or behaviors are energy consuming or risky, but they demonstrate that the individual can bear these costs and still thrive (Zahavi, 1977). For a signal to be 'honest', however, it must entail a genuine expense to the animal. Until recently, it was not clear how much energy a breach would truly require from a whale, and how this was limited by the length of the animal, its swimming speed and other factors (Figure 1).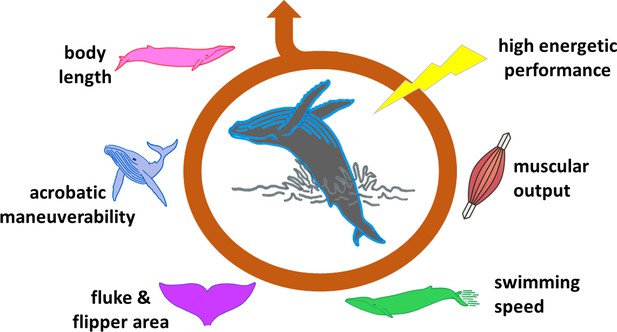 Now, in eLife, Paolo Segre from Stanford University and colleagues based in Italy, Portugal, the United States and Denmark report the results of a study on the energetic limits of breaching (Segre et al., 2020). The 18-member team used long poles and suction cups to temporarily attach sensors onto the bodies of five species of whales. The instruments recorded 187 breaches, tracking water depth and temperature as well as capturing the position of the whales over time and video clips before and during the jumps (Goldbogen et al., 2017; Cade et al., 2018).
Using these data to reconstruct the trajectory of breaching whales showed, for example, that young humpback whales often roll on their sides as they exit the water, while the adults usually emerge right-side up or upside-down. Swimming speeds reached a brisk 8–9 meters per second, but the large amounts of energy required for each breach did not stop some of the whales from leaping repeatedly: indeed, one juvenile humpback breached 52 times in just over four hours.
To calculate how much energy a whale spends on a breach, Segre et al. considered a series of factors that included metabolic rates, the energy needed for muscular contractions (Fish, 1998), the frequency of the tail stroke, and variables that influence water resistance (such as viscosity). Calculations showed that the energy costs of breaching depended on muscle power, which in turn is related to the length of the whale (Kahane-Rapport and Goldbogen, 2018; Gough et al., 2019). Large specimens must swim faster to clear the surface, requiring their muscles to generate tremendous power: a 15-meter-long humpback whale needs nearly ten times more energy per breach than a whale that is 8 meters long. In fact, in the few seconds that it takes to breach, the 15-meter whale can expend as much energy as a 60-kilogram human would during a marathon. Segre et al. therefore contend that a breach may represent the "most expensive burst maneuver" in all of nature, pushing the boundaries of muscular performance and providing an honest signal of a whale's general health.
Overall, it is the length of a whale (rather than its mass) that appears to be the biggest obstacle to breaching: this may explain differences in breaching behavior between species of similar mass, but distinct builds. Blue whales, the longest species, are limited by how much power their muscles can deliver in short bursts and by the hydrodynamics of their tails. On the other hand, right whales, another large species, have short and chunky bodies, wider tails, and a thick, buoyant fat layer, all of which could help with breaching. In the end, species like humpbacks – famous for their agility as much as their complex social structure (Segre et al., 2019) – might be best suited to breaching. Regardless, there is no doubt that breaching comes at great expense for all types of whales: so next time you marvel at a leaping cetacean, consider the breach's dazzling metabolic cost as well as its eye-widening beauty.
Article and author information
Author details
© 2020, Werth and Lemon
This article is distributed under the terms of the Creative Commons Attribution License, which permits unrestricted use and redistribution provided that the original author and source are credited.
1,804

Page views

118

Downloads

0

Citations
Article citation count generated by polling the highest count across the following sources: Crossref, PubMed Central, Scopus.
A two-part list of links to download the article, or parts of the article, in various formats.
Downloads
(link to download the article as PDF)
Open citations
(links to open the citations from this article in various online reference manager services)
Cite this article
(links to download the citations from this article in formats compatible with various reference manager tools)
Alexander J Werth
Charles L Lemon
Animal Behavior: Whale breaching says it loud and clear
eLife 9:e55722.
https://doi.org/10.7554/eLife.55722
Further reading
Physics of Living Systems

The considerable power needed for large whales to leap out of the water may represent the single most expensive burst maneuver found in nature. However, the mechanics and energetic costs associated with the breaching behaviors of large whales remain poorly understood. In this study we deployed whale-borne tags to measure the kinematics of breaching to test the hypothesis that these spectacular aerial displays are metabolically expensive. We found that breaching whales use variable underwater trajectories, and that high-emergence breaches are faster and require more energy than predatory lunges. The most expensive breaches approach the upper limits of vertebrate muscle performance, and the energetic cost of breaching is high enough that repeated breaching events may serve as honest signaling of body condition. Furthermore, the confluence of muscle contractile properties, hydrodynamics, and the high speeds required likely impose an upper limit to the body size and effectiveness of breaching whales.

Computational and Systems Biology
Physics of Living Systems

As an organism ages, its health-state is determined by a balance between the processes of damage and repair. Measuring these processes requires longitudinal data. We extract damage and repair transition rates from repeated observations of binary health attributes in mice and humans to explore robustness and resilience, which respectively represent resisting or recovering from damage. We assess differences in robustness and resilience using changes in damage rates and repair rates of binary health attributes. We find a conserved decline with age in robustness and resilience in mice and humans, implying that both contribute to worsening aging health – as assessed by the frailty index (FI). A decline in robustness, however, has a greater effect than a decline in resilience on the accelerated increase of the FI with age, and a greater association with reduced survival. We also find that deficits are damaged and repaired over a wide range of timescales ranging from the shortest measurement scales toward organismal lifetime timescales. We explore the effect of systemic interventions that have been shown to improve health, including the angiotensin-converting enzyme inhibitor enalapril and voluntary exercise for mice. We have also explored the correlations with household wealth for humans. We find that these interventions and factors affect both damage and repair rates, and hence robustness and resilience, in age and sex-dependent manners.

Physics of Living Systems

Spatial organization of chromatin plays a critical role in genome regulation. Previously, various types of affnity mediators and enzymes have been attributed to regulate spatial organization of chromatin from a thermodynamics perspective. However, at the mechanistic level, enzymes act in their unique ways and perturb the chromatin. Here, we construct a polymer physics model following the mechanistic scheme of Topoisomerase-II, an enzyme resolving topological constraints of chromatin, and investigate how it affects interphase chromatin organization. Our computer simulations demonstrate Topoisomerase-II's ability to phase separate chromatin into eu- and heterochromatic regions with a characteristic wall-like organization of the euchromatic regions. We realized that the ability of the euchromatic regions to cross each other due to enzymatic activity of Topoisomerase-II induces this phase separation. This realization is based on the physical fact that partial absence of self-avoiding interaction can induce phase separation of a system into its self-avoiding and non-self-avoiding parts, which we reveal using a mean-field argument. Furthermore, motivated from recent experimental observations, we extend our model to a bidisperse setting and show that the characteristic features of the enzymatic activity driven phase separation survive there. The existence of these robust characteristic features, even under the non-localized action of the enzyme, highlights the critical role of enzymatic activity in chromatin organization.