Neuropeptide Signaling: Unravelling the evolutionary history of kisspeptin
Experiments in sea cucumbers reveal how the physiological responses regulated by a neuropeptide called kisspeptin have evolved.
The world around us is constantly changing. As seasons shift, or as night turns to day, and food becomes more or less available, every organism must adapt their behavior and physiology to cope with its changing environment. The neuroendocrine systems play a central role in converting signals from the environment into biomolecules that can generate a response. Cells in these systems communicate by releasing various signals, including small proteins called neuropeptides. These molecules then travel towards their target cells where they bind to specific receptors and trigger a reaction that adjusts the physiology of cells and the tissues or organs they belong to (Tessmar-Raible, 2007).
A neuropeptide called kisspeptin is known to regulate fertility and reproduction in mammals (Hameed et al., 2011). The gene for kisspeptin is primarily expressed in the central nervous system, but is also active in other tissues such as the liver and heart. The gene that codes for its matching receptor shows a distinct but often overlapping pattern of expression (Bhattacharya and Babwah, 2015; Figure 1). Recent studies in adult mammals have revealed new physiological roles for this neuropeptide signaling system. For example, it has been shown that kisspeptin and its receptor regulate glucose homeostasis, feeding behavior and body mass composition by sending signals between the liver and pancreas (Wolfe and Hussain, 2018).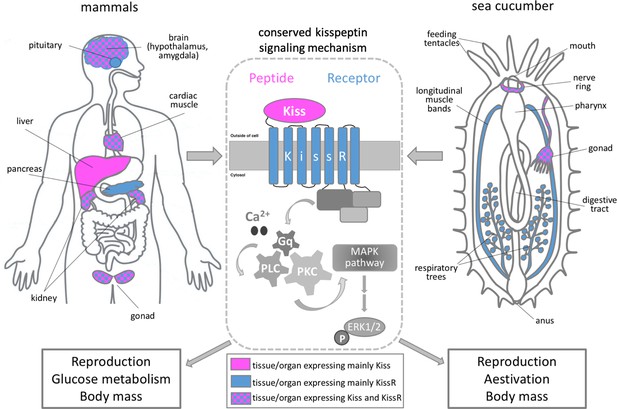 The genes for the neuropeptide kisspeptin and its receptor have also been identified in several marine invertebrates, including members of the echinoderm family, such as sea stars, sea urchins and sea cucumbers (Elphick et al., 2018). In sea urchins, it has been reported that the gene for kisspeptin is expressed in the gut of their larvae (Wood et al., 2018). However, we know relatively little about when and where this gene is expressed in other echinoderms or about its physiological role.
Now, in eLife, Naiming Zhou from Zhejiang University and co-workers – including Tianming Wang, Zheng Cao and Zhangfei Shen as joint first authors – report experiments identifying the location and role of the kisspeptin signaling system in the sea cucumber Apostichopus japonicus (Wang et al., 2020). This allowed the team (who are based in China and the US) to unravel the evolutionary history of this neuropeptide signaling system, which spans over more than 540 million years.
When studying the genome of A. japonicus, Wang et al. identified one gene which codes for two mature neuropeptides (AjKiss1a and AjKiss1b) and two genes which encode two receptor proteins (AjKissR1 and AjKissR2). In vitro experiments in cultured human cells showed that both neuropeptides are able to bind and specifically activate either receptor. Furthermore, the receptor proteins from sea cucumbers could also be activated by kisspeptin neuropeptides from other vertebrates, including humans.
Further experiments showed that when kisspeptin binds to either of the receptor proteins in human cells, this triggers an intracellular signaling pathway that eventually activates a molecule called MAPK (Castaño et al., 2009; Figure 1). These findings were further supported by in vivo experiments in the oocytes of sea cucumbers, in which the activation of MAPK was also detected following exposure to the neuropeptide AjKiss1b. This suggests that the molecular mechanisms activated by the kisspeptin signaling system are evolutionary conserved.
Next, Wang et al. studied the expression and physiological role of kisspeptin in adult sea cucumbers. This revealed that the precursor peptide for AjKiss1 is primarily expressed in the central nervous system (nerve ring) and gonads of A. japonicus, and its expression levels changed significantly during the reproductive season (Figure 1). The gene for the AjKiss1R1 receptor was also active in the nerve ring and gonads, in addition to other organs, including the muscles of the body-wall and respiratory tree that are only present in sea cucumbers (Spirina and Dolmatov, 2001).
When sea cucumbers were exposed to sustained high levels of the neuropeptide AjKiss1b, this upregulated the expression of proteins involved in the metabolism of glucose and induced a dormancy-like state known as aestivation: this is characterized by extensive weight loss and degeneration of the digestive tract. This suggests that, similar to vertebrates, the kisspeptin signaling system in sea cucumbers is also involved in regulating glucose metabolism, reproduction and body mass (Figure 1). The shared role of kisspeptin in vertebrates and sea cucumbers reveals important insights into how this neuropeptide signaling system evolved.
The findings of Wang et al. demonstrate how comparing the genomes and gene roles of different organisms can unravel new aspects of animal biology that may be useful for biomedical studies. Future studies on unexplored animals will shed further light on the complex interactions that allow organisms to adapt in response to their changing environment.
Article and author information
Author details
© 2020, Arnone and Oliveri
This article is distributed under the terms of the Creative Commons Attribution License, which permits unrestricted use and redistribution provided that the original author and source are credited.
926

Page views

89

Downloads

0

Citations
Article citation count generated by polling the highest count across the following sources: Crossref, PubMed Central, Scopus.
A two-part list of links to download the article, or parts of the article, in various formats.
Downloads
(link to download the article as PDF)
Open citations
(links to open the citations from this article in various online reference manager services)
Cite this article
(links to download the citations from this article in formats compatible with various reference manager tools)
Maria I Arnone
Paola Oliveri
Neuropeptide Signaling: Unravelling the evolutionary history of kisspeptin
eLife 9:e58599.
https://doi.org/10.7554/eLife.58599
Further reading
The kisspeptin system is a central modulator of the hypothalamic-pituitary-gonadal axis in vertebrates. Its existence outside the vertebrate lineage remains largely unknown. Here, we report the identification and characterization of the kisspeptin system in the sea cucumber Apostichopus japonicus. The gene encoding the kisspeptin precursor generates two mature neuropeptides, AjKiss1a and AjKiss1b. The receptors for these neuropeptides, AjKissR1 and AjKissR2, are strongly activated by synthetic A. japonicus and vertebrate kisspeptins, triggering a rapid intracellular mobilization of Ca2+, followed by receptor internalization. AjKissR1 and AjKissR2 share similar intracellular signaling pathways via Gαq/PLC/PKC/MAPK cascade, when activated by C-terminal decapeptide. The A. japonicus kisspeptin system functions in multiple tissues that are closely related to seasonal reproduction and metabolism. Overall, our findings uncover for the first time the existence and function of the kisspeptin system in a non-chordate species and provide new evidence to support the ancient origin of intracellular signaling and physiological functions that are mediated by this molecular system.

Developmental Biology
Evolutionary Biology

During development, the growing organism transits through a series of temporally regulated morphological stages to generate the adult form. In humans, for example, development progresses from childhood through to puberty and then to adulthood, when sexual maturity is attained. Similarly, in holometabolous insects, immature juveniles transit to the adult form through an intermediate pupal stage when larval tissues are eliminated and the imaginal progenitor cells form the adult structures. The identity of the larval, pupal, and adult stages depends on the sequential expression of the transcription factors chinmo, Br-C, and E93. However, how these transcription factors determine temporal identity in developing tissues is poorly understood. Here, we report on the role of the larval specifier chinmo in larval and adult progenitor cells during fly development. Interestingly, chinmo promotes growth in larval and imaginal tissues in a Br-C-independent and -dependent manner, respectively. In addition, we found that the absence of chinmo during metamorphosis is critical for proper adult differentiation. Importantly, we also provide evidence that, in contrast to the well-known role of chinmo as a pro-oncogene, Br-C and E93 act as tumour suppressors. Finally, we reveal that the function of chinmo as a juvenile specifier is conserved in hemimetabolous insects as its homolog has a similar role in Blatella germanica. Taken together, our results suggest that the sequential expression of the transcription factors Chinmo, Br-C and E93 during larva, pupa an adult respectively, coordinate the formation of the different organs that constitute the adult organism.

Ecology
Evolutionary Biology

Evolutionary theory suggests that individuals should express costly traits at a magnitude that optimizes the trait bearer's cost-benefit difference. Trait expression varies across a species because costs and benefits vary among individuals. For example, if large individuals pay lower costs than small individuals, then larger individuals should reach optimal cost-benefit differences at greater trait magnitudes. Using the cavitation-shooting weapons found in the big claws of male and female snapping shrimp, we test whether size- and sex-dependent expenditures explain scaling and sex differences in weapon size. We found that males and females from three snapping shrimp species (Alpheus heterochaelis, Alpheus angulosus, and Alpheus estuariensis) show patterns consistent with tradeoffs between weapon and abdomen size. For male A. heterochaelis, the species for which we had the greatest statistical power, smaller individuals showed steeper tradeoffs. Our extensive dataset in A. heterochaelis also included data about pairing, breeding season, and egg clutch size. Therefore, we could test for reproductive tradeoffs and benefits in this species. Female A. heterochaelis exhibited tradeoffs between weapon size and egg count, average egg volume, and total egg mass volume. For average egg volume, smaller females exhibited steeper tradeoffs. Furthermore, in males but not females, large weapons were positively correlated with the probability of being paired and the relative size of their pair mates. In conclusion, we identified size-dependent tradeoffs that could underlie reliable scaling of costly traits. Furthermore, weapons are especially beneficial to males and burdensome to females, which could explain why males have larger weapons than females.