Antibiotics: Modelling how antimicrobial resistance spreads between wards
Moving patients between wards and prescribing high levels of antibiotics increases the spread of bacterial infections that are resistant to treatment in hospitals.
Across the world, there are increasing numbers of microbes that are able to survive antibiotic treatment. This antimicrobial resistance (or AMR for short) is reducing the number of drugs available to fight off bacterial infections, sometimes to the extent that even the last line of treatment is no longer effective (Friedman et al., 2016). Many of the deaths associated with AMR occur in hospitals, which are ideal breeding grounds for resistant bacteria due to the high amounts of antibiotics consumed and the frail patient population (de Kraker et al., 2011; Naylor et al., 2019).
AMR is traditionally studied within individual hospital wards, where bacteria are transmitted between patients through contact with healthcare workers. However, wards are not individual entities because patients are routinely transferred between them. Every time a patient is transferred to a new ward, there is the potential that they may bring new antibiotic-resistant bacteria with them. As a result, all hospital wards – and consequently all the hospitals in a country – are connected in a large network that AMR bacteria can easily spread through (Nekkab et al., 2017).
Another driving force behind the spread of AMR is bacterial selection, which happens when microbes that are resistant to antibiotics outcompete and replace those that are more susceptible. In hospitals, it is likely that most bacterial populations already contain some resistant bacteria that have an advantage due to the high volume of antibiotics consumed. However, it is largely unknown how the combination of bacterial selection and the transfer of patients between wards shape the spread of AMR within a hospital network.
Now, in eLife, Jean-Philippe Rasigade and co-workers from Université de Lyon and the Hospices Civils de Lyon – including Julie Teresa Shapiro as first author – report how seven species of bacteria, and their resistant strains, spread across 357 wards of a major hospital organisation in Lyon (Shapiro et al., 2020). To do this, the team adapted a model that is often used in ecology to study populations of animal species that live in, and migrate between, different locations. In the model, the migration of bacterial species was calculated by multiplying the number of bacteria in the original ward by the number of patients moved. Using this model, Shapiro et al. were able to examine how the abundance of bacterial species varied depending on the type of ward, how connected it is, and how many antibiotics patients in the ward consumed (Figure 1).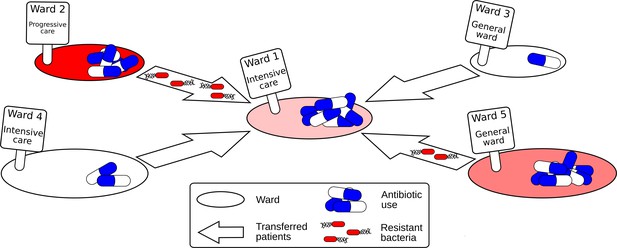 Shapiro et al. found that both the antibiotics used and the connectivity between wards influenced the number of patients infected with one of the seven studied strains of bacteria. However, these properties affected AMR differently depending on the bacterial species. For instance, two strains of resistant bacteria that are commonly found in hospitals, Pseudomonas aeruginosa and Enterococcus faecium, were found in higher numbers when more patients were being moved between wards: this increase is likely due to these patients spreading bacteria from different parts of the hospital. However, the spread of other species, such as Klebsiella pneumoniae, was more strongly affected by the level of antibiotics used.
This study highlights why the strategies used to control AMR should be specific for the bacterial strain that caused the resistant infection. Many hospitals have implemented antibiotic stewardship programmes, which reduce the selection of resistant bacteria by limiting the number of antibiotics prescribed and administered to patients. Although these programmes control some resistant strains, this strategy may not work for all bacteria. This is because increases in AMR are caused by the amplification of existing resistant strains rather than mutations that allow non-resistant bacteria to become resistant. The best way to reduce the spread of resistant bacteria is therefore to prevent patients from other wards introducing new strains to uninfected areas. This suggests that effectively controlling AMR is going to require studying the multiple wards and hospitals that make up a country's connected healthcare system.
Article and author information
Author details
© 2020, Donker
This article is distributed under the terms of the Creative Commons Attribution License, which permits unrestricted use and redistribution provided that the original author and source are credited.
1,187

Page views

175

Downloads

0

Citations
Article citation count generated by polling the highest count across the following sources: Crossref, PubMed Central, Scopus.
A two-part list of links to download the article, or parts of the article, in various formats.
Downloads
(link to download the article as PDF)
Open citations
(links to open the citations from this article in various online reference manager services)
Cite this article
(links to download the citations from this article in formats compatible with various reference manager tools)
Tjibbe Donker
Antibiotics: Modelling how antimicrobial resistance spreads between wards
eLife 9:e64228.
https://doi.org/10.7554/eLife.64228
Further reading
Ecology
Microbiology and Infectious Disease

Antimicrobial resistance (AMR) is a global threat. A better understanding of how antibiotic use and between-ward patient transfers (or connectivity) impact population-level AMR in hospital networks can help optimize antibiotic stewardship and infection control strategies. Here, we used a metapopulation framework to explain variations in the incidence of infections caused by seven major bacterial species and their drug-resistant variants in a network of 357 hospital wards. We found that ward-level antibiotic consumption volume had a stronger influence on the incidence of the more resistant pathogens, while connectivity had the most influence on hospital-endemic species and carbapenem-resistant pathogens. Piperacillin-tazobactam consumption was the strongest predictor of the cumulative incidence of infections resistant to empirical sepsis therapy. Our data provide evidence that both antibiotic use and connectivity measurably influence hospital AMR. Finally, we provide a ranking of key antibiotics by their estimated population-level impact on AMR that might help inform antimicrobial stewardship strategies.

Ecology
Evolutionary Biology

Evolutionary theory suggests that individuals should express costly traits at a magnitude that optimizes the trait bearer's cost-benefit difference. Trait expression varies across a species because costs and benefits vary among individuals. For example, if large individuals pay lower costs than small individuals, then larger individuals should reach optimal cost-benefit differences at greater trait magnitudes. Using the cavitation-shooting weapons found in the big claws of male and female snapping shrimp, we test whether size- and sex-dependent expenditures explain scaling and sex differences in weapon size. We found that males and females from three snapping shrimp species (Alpheus heterochaelis, Alpheus angulosus, and Alpheus estuariensis) show patterns consistent with tradeoffs between weapon and abdomen size. For male A. heterochaelis, the species for which we had the greatest statistical power, smaller individuals showed steeper tradeoffs. Our extensive dataset in A. heterochaelis also included data about pairing, breeding season, and egg clutch size. Therefore, we could test for reproductive tradeoffs and benefits in this species. Female A. heterochaelis exhibited tradeoffs between weapon size and egg count, average egg volume, and total egg mass volume. For average egg volume, smaller females exhibited steeper tradeoffs. Furthermore, in males but not females, large weapons were positively correlated with the probability of being paired and the relative size of their pair mates. In conclusion, we identified size-dependent tradeoffs that could underlie reliable scaling of costly traits. Furthermore, weapons are especially beneficial to males and burdensome to females, which could explain why males have larger weapons than females.

Ecology
Evolutionary Biology

Strong sexual selection frequently leads to sexual conflict and ensuing male harm, whereby males increase their reproductive success at the expense of harming females. Male harm is a widespread evolutionary phenomenon with a strong bearing on population viability. Thus, understanding how it unfolds in the wild is a current priority. Here, we sampled a wild Drosophila melanogaster population and studied male harm across the normal range of temperatures under which it reproduces optimally in nature by comparing female lifetime reproductive success and underlying male harm mechanisms under monogamy (i.e. low male competition/harm) vs. polyandry (i.e. high male competition/harm). While females had equal lifetime reproductive success across temperatures under monogamy, polyandry resulted in a maximum decrease of female fitness at 24°C (35%), reducing its impact at both 20°C (22%), and 28°C (10%). Furthermore, female fitness components and pre- (i.e. harassment) and post-copulatory (i.e. ejaculate toxicity) mechanisms of male harm were asymmetrically affected by temperature. At 20°C, male harassment of females was reduced, and polyandry accelerated female actuarial aging. In contrast, the effect of mating on female receptivity (a component of ejaculate toxicity) was affected at 28°C, where the mating costs for females decreased and polyandry mostly resulted in accelerated reproductive aging. We thus show that, across a natural thermal range, sexual conflict processes and their effects on female fitness components are plastic and complex. As a result, the net effect of male harm on overall population viability is likely to be lower than previously surmised. We discuss how such plasticity may affect selection, adaptation and, ultimately, evolutionary rescue under a warming climate.