Antibiotics: Modelling how antimicrobial resistance spreads between wards
Moving patients between wards and prescribing high levels of antibiotics increases the spread of bacterial infections that are resistant to treatment in hospitals.
Across the world, there are increasing numbers of microbes that are able to survive antibiotic treatment. This antimicrobial resistance (or AMR for short) is reducing the number of drugs available to fight off bacterial infections, sometimes to the extent that even the last line of treatment is no longer effective (Friedman et al., 2016). Many of the deaths associated with AMR occur in hospitals, which are ideal breeding grounds for resistant bacteria due to the high amounts of antibiotics consumed and the frail patient population (de Kraker et al., 2011; Naylor et al., 2019).
AMR is traditionally studied within individual hospital wards, where bacteria are transmitted between patients through contact with healthcare workers. However, wards are not individual entities because patients are routinely transferred between them. Every time a patient is transferred to a new ward, there is the potential that they may bring new antibiotic-resistant bacteria with them. As a result, all hospital wards – and consequently all the hospitals in a country – are connected in a large network that AMR bacteria can easily spread through (Nekkab et al., 2017).
Another driving force behind the spread of AMR is bacterial selection, which happens when microbes that are resistant to antibiotics outcompete and replace those that are more susceptible. In hospitals, it is likely that most bacterial populations already contain some resistant bacteria that have an advantage due to the high volume of antibiotics consumed. However, it is largely unknown how the combination of bacterial selection and the transfer of patients between wards shape the spread of AMR within a hospital network.
Now, in eLife, Jean-Philippe Rasigade and co-workers from Université de Lyon and the Hospices Civils de Lyon – including Julie Teresa Shapiro as first author – report how seven species of bacteria, and their resistant strains, spread across 357 wards of a major hospital organisation in Lyon (Shapiro et al., 2020). To do this, the team adapted a model that is often used in ecology to study populations of animal species that live in, and migrate between, different locations. In the model, the migration of bacterial species was calculated by multiplying the number of bacteria in the original ward by the number of patients moved. Using this model, Shapiro et al. were able to examine how the abundance of bacterial species varied depending on the type of ward, how connected it is, and how many antibiotics patients in the ward consumed (Figure 1).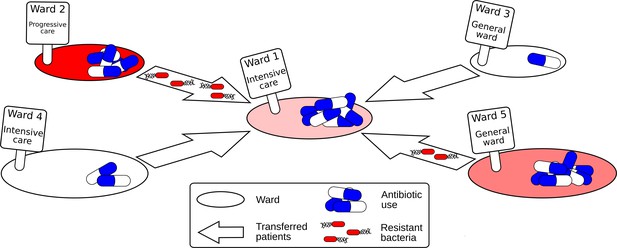 Shapiro et al. found that both the antibiotics used and the connectivity between wards influenced the number of patients infected with one of the seven studied strains of bacteria. However, these properties affected AMR differently depending on the bacterial species. For instance, two strains of resistant bacteria that are commonly found in hospitals, Pseudomonas aeruginosa and Enterococcus faecium, were found in higher numbers when more patients were being moved between wards: this increase is likely due to these patients spreading bacteria from different parts of the hospital. However, the spread of other species, such as Klebsiella pneumoniae, was more strongly affected by the level of antibiotics used.
This study highlights why the strategies used to control AMR should be specific for the bacterial strain that caused the resistant infection. Many hospitals have implemented antibiotic stewardship programmes, which reduce the selection of resistant bacteria by limiting the number of antibiotics prescribed and administered to patients. Although these programmes control some resistant strains, this strategy may not work for all bacteria. This is because increases in AMR are caused by the amplification of existing resistant strains rather than mutations that allow non-resistant bacteria to become resistant. The best way to reduce the spread of resistant bacteria is therefore to prevent patients from other wards introducing new strains to uninfected areas. This suggests that effectively controlling AMR is going to require studying the multiple wards and hospitals that make up a country's connected healthcare system.
Article and author information
Author details
© 2020, Donker
This article is distributed under the terms of the Creative Commons Attribution License, which permits unrestricted use and redistribution provided that the original author and source are credited.
1,114

Page views

170

Downloads

0

Citations
Article citation count generated by polling the highest count across the following sources: Crossref, PubMed Central, Scopus.
A two-part list of links to download the article, or parts of the article, in various formats.
Downloads
(link to download the article as PDF)
Open citations
(links to open the citations from this article in various online reference manager services)
Cite this article
(links to download the citations from this article in formats compatible with various reference manager tools)
Tjibbe Donker
Antibiotics: Modelling how antimicrobial resistance spreads between wards
eLife 9:e64228.
https://doi.org/10.7554/eLife.64228
Further reading
Ecology
Microbiology and Infectious Disease

Antimicrobial resistance (AMR) is a global threat. A better understanding of how antibiotic use and between-ward patient transfers (or connectivity) impact population-level AMR in hospital networks can help optimize antibiotic stewardship and infection control strategies. Here, we used a metapopulation framework to explain variations in the incidence of infections caused by seven major bacterial species and their drug-resistant variants in a network of 357 hospital wards. We found that ward-level antibiotic consumption volume had a stronger influence on the incidence of the more resistant pathogens, while connectivity had the most influence on hospital-endemic species and carbapenem-resistant pathogens. Piperacillin-tazobactam consumption was the strongest predictor of the cumulative incidence of infections resistant to empirical sepsis therapy. Our data provide evidence that both antibiotic use and connectivity measurably influence hospital AMR. Finally, we provide a ranking of key antibiotics by their estimated population-level impact on AMR that might help inform antimicrobial stewardship strategies.

Ecology
Microbiology and Infectious Disease

Unicellular algae, termed phytoplankton, greatly impact the marine environment by serving as the basis of marine food webs and by playing central roles in the biogeochemical cycling of elements. The interactions between phytoplankton and heterotrophic bacteria affect the fitness of both partners. It is becoming increasingly recognized that metabolic exchange determines the nature of such interactions, but the underlying molecular mechanisms remain underexplored. Here, we investigated the molecular and metabolic basis for the bacterial lifestyle switch, from coexistence to pathogenicity, in Sulfitobacter D7 during its interaction with Emiliania huxleyi, a cosmopolitan bloom-forming phytoplankter. To unravel the bacterial lifestyle switch, we analyzed bacterial transcriptomes in response to exudates derived from algae in exponential growth and stationary phase, which supported the Sulfitobacter D7 coexistence and pathogenicity lifestyles, respectively. In pathogenic mode, Sulfitobacter D7 upregulated flagellar motility and diverse transport systems, presumably to maximize assimilation of E. huxleyi-derived metabolites released by algal cells upon cell death. Algal dimethylsulfoniopropionate (DMSP) was a pivotal signaling molecule that mediated the transition between the lifestyles, supporting our previous findings. However, the coexisting and pathogenic lifestyles were evident only in the presence of additional algal metabolites. Specifically, we discovered that algae-produced benzoate promoted the growth of Sulfitobacter D7 and hindered the DMSP-induced lifestyle switch to pathogenicity, demonstrating that benzoate is important for maintaining the coexistence of algae and bacteria. We propose that bacteria can sense the physiological state of the algal host through changes in the metabolic composition, which will determine the bacterial lifestyle during interaction.

Protein feeding is critical for male reproductive success in many insect species. However, how protein affects the reproduction remains largely unknown. Using Bactrocera dorsalis as the study model, we investigated how protein feeding regulated sex pheromone synthesis. We show that protein ingestion is essential for sex pheromone synthesis in male. While protein feeding or deprivation did not affect Bacillus abundance, transcriptome analysis revealed that sarcosine dehydrogenase (Sardh) in protein-fed males regulates the biosynthesis of sex pheromones by increasing glycine and threonine (sex pheromone precursors) contents. RNAi-mediated loss-of-function of Sardh decreases glycine, threonine and sex pheromone contents and results in decreased mating ability in males. The study links male feeding behavior with discrete patterns of gene expression that plays role in sex pheromone synthesis, which in turn translate to successful copulatory behavior of the males.