Polygenic Scores: How well can we separate genetics from the environment?
A simulation study demonstrates a better method for separating genetic effects from environmental effects in genome-wide association studies, but there is still some way to go before this becomes a "solved" problem.
A person's traits – such as their height or risk of disease – result from a complex interplay between the genes they inherit and the environments they experience over their lifetime. To cut through some of this complexity, human geneticists use a tool called a polygenic score, which attempts to predict a person's traits solely from their genes (Rosenberg et al., 2019).
To build a polygenic score, geneticists first enroll a large number of people in a genome-wide association study (GWAS). For each participant, researchers measure numerous genetic variants across their genome, together with a trait of interest, and use this data to determine the extent to which different variants are associated with the trait. This information makes it possible to take the genome of someone who was not involved in the original GWAS and add up the effects of multiple genetic variants to calculate a polygenic score for that trait (Figure 1A). These scores have been used to predict a person's risk of developing a disease (Torkamani et al., 2018), to study our evolutionary past (Rosenberg et al., 2019), and to help understand complex social outcomes (Harden and Koellinger, 2020).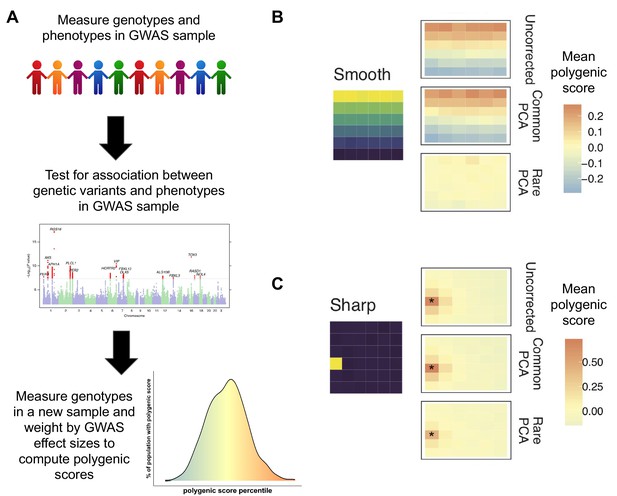 However, efforts to use polygenic scores face substantial obstacles. All human populations exhibit genetic structure – variation in how genetically similar pairs of individuals are to one another – due to the complex history of geographic separation, population mixtures and migrations that have occurred throughout our evolutionary history. If this genetic structure correlates with patterns of environmental variation, it will cause many genetic variants to be incorrectly associated with a trait. This phenomenon, which is known as population stratification, will introduce biases into polygenic scores and undermine their purpose (which is to separate out the genetic component of trait variation).
To overcome this barrier, researchers would ideally measure the relevant environmental effects in the GWAS sample and include them as statistical controls in their analyses. However, it is difficult – if not impossible – to quantify all environmental effects on a given trait. Existing theory suggests that researchers can use the patterns of genetic variation they have already measured to model the genetic structure of the GWAS sample, and use this as statistical control instead (Song et al., 2015; Wang and Blei, 2019). In essence, because the problem arises from correlations between the environmental effects and patterns of genetic structure, it can be solved by controlling for either of them. The difficulty lies in how to correctly model this genetic structure. Geneticists favor a method called principal components analysis (PCA) (Price et al., 2006), as its simplicity and computational feasibility make it easy to apply to massive GWAS datasets. But the approach has limitations, and population stratification remains an issue in practice (Mathieson and McVean, 2012; Berg et al., 2019; Sohail et al., 2019).
Now, in eLife, Arslan Zaidi and Iain Mathieson from the University of Pennsylvania report which PCA models are the most effective at reducing bias in polygenic scores (Zaidi and Mathieson, 2020). To do this, they simulated the genetic data of a single population which had divided into spatially structured sub-groups within the recent past. They then simulated environmental effects on the trait and tested different PCA models to see how well each model controlled for them.
The results showed that the usual approach, known as 'common PCA', leads to polygenic scores that inappropriately mirror the environmental effects. Common PCA models calculate genetic structure by only measuring variants that appear in more than 5% of individuals in the GWAS sample. These common variants are typically ancient in origin, and therefore do not adequately capture the genetic structure of populations which have been spatially subdivided in the recent past. It is this failure to capture the genetic structure that results in biased polygenic scores.
On the other hand, rare variants, which appear in only a handful of individuals, are typically recent in origin and therefore reflect the history of recent subdivisions. Zaidi and Mathieson show that for this reason, PCA models built using patterns of genetic structure in rare variants ('rare PCA') eliminate biases from polygenic scores more effectively than the 'common PCA' technique (Figure 1B). However, this approach is not a panacea. When the environmental factors associated with the trait were localized to one geographic place (e.g. pollution localized to a particular city), even the rare PCA approach could not separate genetic effects from environmental biases (Figure 1C).
Zaidi and Mathieson also explore a more complicated set of simulations which are meant to more accurately mimic the patterns seen in real GWAS datasets, and find that the results are essentially identical to the simplified scenario described above. In all of their simulations, Zaidi and Mathieson know the ground truth, allowing them to experiment with different approaches designed to target the kind of bias they have simulated. In the real world, the ground truth is not known, so it is difficult to have complete confidence that stratification biases have been properly dealt with. Although a long-studied issue, these findings further demonstrate how separating genetic effects from environmental effects is still not a 'solved' problem in genetic studies (Lawson et al., 2020).
Studies that use polygenic scores have exploded in number over the past decade, riding a wave of well-founded optimism that they can open up new, otherwise inaccessible, avenues of research. But care is needed to ensure that this powerful tool is applied appropriately. Ultimately, the possibility for misleading results is an unavoidable risk, especially in research that is restricted to non-experimental settings. Zaidi and Mathieson provide several good recommendations for overcoming this, and suggest that a combination of the rare and common PCA approaches will minimize the amount by which environmental effects confound GWAS data. Moving forward, their results highlight the need for further statistical methods that more effectively deal with the biases introduced by environmental effects, especially for sharply distributed factors. In addition, more sensitive diagnostics are needed to assess how environmental effects impact polygenic scores.
Article and author information
Author details
We thank Arjun Biddanda, Xiaoheng Cheng, Graham Coop, Doc Edge and John Novembre for comments on earlier drafts, and Arslan Zaidi and Iain Mathieson for answering questions about their paper.
© 2020, Blanc and Berg
This article is distributed under the terms of the Creative Commons Attribution License, which permits unrestricted use and redistribution provided that the original author and source are credited.
3,968

Page views

290

Downloads

5

Citations
Article citation count generated by polling the highest count across the following sources: Crossref, PubMed Central, Scopus.
A two-part list of links to download the article, or parts of the article, in various formats.
Downloads
(link to download the article as PDF)
Open citations
(links to open the citations from this article in various online reference manager services)
Cite this article
(links to download the citations from this article in formats compatible with various reference manager tools)
Jennifer Blanc
Jeremy J Berg
Polygenic Scores: How well can we separate genetics from the environment?
eLife 9:e64948.
https://doi.org/10.7554/eLife.64948
Further reading
Epidemiology and Global Health
Genetics and Genomics

Population stratification continues to bias the results of genome-wide association studies (GWAS). When these results are used to construct polygenic scores, even subtle biases can cumulatively lead to large errors. To study the effect of residual stratification, we simulated GWAS under realistic models of demographic history. We show that when population structure is recent, it cannot be corrected using principal components of common variants because they are uninformative about recent history. Consequently, polygenic scores are biased in that they recapitulate environmental structure. Principal components calculated from rare variants or identity-by-descent segments can correct this stratification for some types of environmental effects. While family-based studies are immune to stratification, the hybrid approach of ascertaining variants in GWAS but reestimating effect sizes in siblings reduces but does not eliminate stratification. We show that the effect of population stratification depends not only on allele frequencies and environmental structure but also on demographic history.

Epidemiology and Global Health

Short-term forecasts of infectious disease burden can contribute to situational awareness and aid capacity planning. Based on best practice in other fields and recent insights in infectious disease epidemiology, one can maximise the predictive performance of such forecasts if multiple models are combined into an ensemble. Here, we report on the performance of ensembles in predicting COVID-19 cases and deaths across Europe between 08 March 2021 and 07 March 2022.

We used open-source tools to develop a public European COVID-19 Forecast Hub. We invited groups globally to contribute weekly forecasts for COVID-19 cases and deaths reported by a standardised source for 32 countries over the next 1–4 weeks. Teams submitted forecasts from March 2021 using standardised quantiles of the predictive distribution. Each week we created an ensemble forecast, where each predictive quantile was calculated as the equally-weighted average (initially the mean and then from 26th July the median) of all individual models' predictive quantiles. We measured the performance of each model using the relative Weighted Interval Score (WIS), comparing models' forecast accuracy relative to all other models. We retrospectively explored alternative methods for ensemble forecasts, including weighted averages based on models' past predictive performance.

Over 52 weeks, we collected forecasts from 48 unique models. We evaluated 29 models' forecast scores in comparison to the ensemble model. We found a weekly ensemble had a consistently strong performance across countries over time. Across all horizons and locations, the ensemble performed better on relative WIS than 83% of participating models' forecasts of incident cases (with a total N=886 predictions from 23 unique models), and 91% of participating models' forecasts of deaths (N=763 predictions from 20 models). Across a 1–4 week time horizon, ensemble performance declined with longer forecast periods when forecasting cases, but remained stable over 4 weeks for incident death forecasts. In every forecast across 32 countries, the ensemble outperformed most contributing models when forecasting either cases or deaths, frequently outperforming all of its individual component models. Among several choices of ensemble methods we found that the most influential and best choice was to use a median average of models instead of using the mean, regardless of methods of weighting component forecast models.

Our results support the use of combining forecasts from individual models into an ensemble in order to improve predictive performance across epidemiological targets and populations during infectious disease epidemics. Our findings further suggest that median ensemble methods yield better predictive performance more than ones based on means. Our findings also highlight that forecast consumers should place more weight on incident death forecasts than incident case forecasts at forecast horizons greater than 2 weeks.

AA, BH, BL, LWa, MMa, PP, SV funded by National Institutes of Health (NIH) Grant 1R01GM109718, NSF BIG DATA Grant IIS-1633028, NSF Grant No.: OAC-1916805, NSF Expeditions in Computing Grant CCF-1918656, CCF-1917819, NSF RAPID CNS-2028004, NSF RAPID OAC-2027541, US Centers for Disease Control and Prevention 75D30119C05935, a grant from Google, University of Virginia Strategic Investment Fund award number SIF160, Defense Threat Reduction Agency (DTRA) under Contract No. HDTRA1-19-D-0007, and respectively Virginia Dept of Health Grant VDH-21-501-0141, VDH-21-501-0143, VDH-21-501-0147, VDH-21-501-0145, VDH-21-501-0146, VDH-21-501-0142, VDH-21-501-0148. AF, AMa, GL funded by SMIGE - Modelli statistici inferenziali per governare l'epidemia, FISR 2020-Covid-19 I Fase, FISR2020IP-00156, Codice Progetto: PRJ-0695. AM, BK, FD, FR, JK, JN, JZ, KN, MG, MR, MS, RB funded by Ministry of Science and Higher Education of Poland with grant 28/WFSN/2021 to the University of Warsaw. BRe, CPe, JLAz funded by Ministerio de Sanidad/ISCIII. BT, PG funded by PERISCOPE European H2020 project, contract number 101016233. CP, DL, EA, MC, SA funded by European Commission - Directorate-General for Communications Networks, Content and Technology through the contract LC-01485746, and Ministerio de Ciencia, Innovacion y Universidades and FEDER, with the project PGC2018-095456-B-I00. DE., MGu funded by Spanish Ministry of Health / REACT-UE (FEDER). DO, GF, IMi, LC funded by Laboratory Directed Research and Development program of Los Alamos National Laboratory (LANL) under project number 20200700ER. DS, ELR, GG, NGR, NW, YW funded by National Institutes of General Medical Sciences (R35GM119582; the content is solely the responsibility of the authors and does not necessarily represent the official views of NIGMS or the National Institutes of Health). FB, FP funded by InPresa, Lombardy Region, Italy. HG, KS funded by European Centre for Disease Prevention and Control. IV funded by Agencia de Qualitat i Avaluacio Sanitaries de Catalunya (AQuAS) through contract 2021-021OE. JDe, SMo, VP funded by Netzwerk Universitatsmedizin (NUM) project egePan (01KX2021). JPB, SH, TH funded by Federal Ministry of Education and Research (BMBF; grant 05M18SIA). KH, MSc, YKh funded by Project SaxoCOV, funded by the German Free State of Saxony. Presentation of data, model results and simulations also funded by the NFDI4Health Task Force COVID-19 (https://www.nfdi4health.de/task-force-covid-19-2) within the framework of a DFG-project (LO-342/17-1). LP, VE funded by Mathematical and Statistical modelling project (MUNI/A/1615/2020), Online platform for real-time monitoring, analysis and management of epidemic situations (MUNI/11/02202001/2020); VE also supported by RECETOX research infrastructure (Ministry of Education, Youth and Sports of the Czech Republic: LM2018121), the CETOCOEN EXCELLENCE (CZ.02.1.01/0.0/0.0/17-043/0009632), RECETOX RI project (CZ.02.1.01/0.0/0.0/16-013/0001761). NIB funded by Health Protection Research Unit (grant code NIHR200908). SAb, SF funded by Wellcome Trust (210758/Z/18/Z).

Epidemiology and Global Health

Affectionate touch, which is vital for mental and physical health, was restricted during the Covid-19 pandemic. This study investigated the association between momentary affectionate touch and subjective well-being, as well as salivary oxytocin and cortisol in everyday life during the pandemic.

In the first step, we measured anxiety and depression symptoms, loneliness and attitudes toward social touch in a large cross-sectional online survey (N = 1050). From this sample, N = 247 participants completed ecological momentary assessments over 2 days with six daily assessments by answering smartphone-based questions on affectionate touch and momentary mental state, and providing concomitant saliva samples for cortisol and oxytocin assessment.

Multilevel models showed that on a within-person level, affectionate touch was associated with decreased self-reported anxiety, general burden, stress, and increased oxytocin levels. On a between-person level, affectionate touch was associated with decreased cortisol levels and higher happiness. Moreover, individuals with a positive attitude toward social touch experiencing loneliness reported more mental health problems.

Our results suggest that affectionate touch is linked to higher endogenous oxytocin in times of pandemic and lockdown and might buffer stress on a subjective and hormonal level. These findings might have implications for preventing mental burden during social contact restrictions.

The study was funded by the German Research Foundation, the German Psychological Society, and German Academic Exchange Service.