Polygenic Scores: How well can we separate genetics from the environment?
A simulation study demonstrates a better method for separating genetic effects from environmental effects in genome-wide association studies, but there is still some way to go before this becomes a "solved" problem.
A person's traits – such as their height or risk of disease – result from a complex interplay between the genes they inherit and the environments they experience over their lifetime. To cut through some of this complexity, human geneticists use a tool called a polygenic score, which attempts to predict a person's traits solely from their genes (Rosenberg et al., 2019).
To build a polygenic score, geneticists first enroll a large number of people in a genome-wide association study (GWAS). For each participant, researchers measure numerous genetic variants across their genome, together with a trait of interest, and use this data to determine the extent to which different variants are associated with the trait. This information makes it possible to take the genome of someone who was not involved in the original GWAS and add up the effects of multiple genetic variants to calculate a polygenic score for that trait (Figure 1A). These scores have been used to predict a person's risk of developing a disease (Torkamani et al., 2018), to study our evolutionary past (Rosenberg et al., 2019), and to help understand complex social outcomes (Harden and Koellinger, 2020).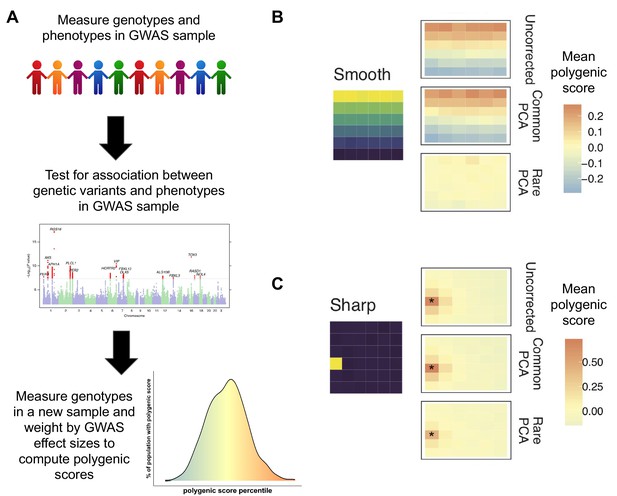 However, efforts to use polygenic scores face substantial obstacles. All human populations exhibit genetic structure – variation in how genetically similar pairs of individuals are to one another – due to the complex history of geographic separation, population mixtures and migrations that have occurred throughout our evolutionary history. If this genetic structure correlates with patterns of environmental variation, it will cause many genetic variants to be incorrectly associated with a trait. This phenomenon, which is known as population stratification, will introduce biases into polygenic scores and undermine their purpose (which is to separate out the genetic component of trait variation).
To overcome this barrier, researchers would ideally measure the relevant environmental effects in the GWAS sample and include them as statistical controls in their analyses. However, it is difficult – if not impossible – to quantify all environmental effects on a given trait. Existing theory suggests that researchers can use the patterns of genetic variation they have already measured to model the genetic structure of the GWAS sample, and use this as statistical control instead (Song et al., 2015; Wang and Blei, 2019). In essence, because the problem arises from correlations between the environmental effects and patterns of genetic structure, it can be solved by controlling for either of them. The difficulty lies in how to correctly model this genetic structure. Geneticists favor a method called principal components analysis (PCA) (Price et al., 2006), as its simplicity and computational feasibility make it easy to apply to massive GWAS datasets. But the approach has limitations, and population stratification remains an issue in practice (Mathieson and McVean, 2012; Berg et al., 2019; Sohail et al., 2019).
Now, in eLife, Arslan Zaidi and Iain Mathieson from the University of Pennsylvania report which PCA models are the most effective at reducing bias in polygenic scores (Zaidi and Mathieson, 2020). To do this, they simulated the genetic data of a single population which had divided into spatially structured sub-groups within the recent past. They then simulated environmental effects on the trait and tested different PCA models to see how well each model controlled for them.
The results showed that the usual approach, known as 'common PCA', leads to polygenic scores that inappropriately mirror the environmental effects. Common PCA models calculate genetic structure by only measuring variants that appear in more than 5% of individuals in the GWAS sample. These common variants are typically ancient in origin, and therefore do not adequately capture the genetic structure of populations which have been spatially subdivided in the recent past. It is this failure to capture the genetic structure that results in biased polygenic scores.
On the other hand, rare variants, which appear in only a handful of individuals, are typically recent in origin and therefore reflect the history of recent subdivisions. Zaidi and Mathieson show that for this reason, PCA models built using patterns of genetic structure in rare variants ('rare PCA') eliminate biases from polygenic scores more effectively than the 'common PCA' technique (Figure 1B). However, this approach is not a panacea. When the environmental factors associated with the trait were localized to one geographic place (e.g. pollution localized to a particular city), even the rare PCA approach could not separate genetic effects from environmental biases (Figure 1C).
Zaidi and Mathieson also explore a more complicated set of simulations which are meant to more accurately mimic the patterns seen in real GWAS datasets, and find that the results are essentially identical to the simplified scenario described above. In all of their simulations, Zaidi and Mathieson know the ground truth, allowing them to experiment with different approaches designed to target the kind of bias they have simulated. In the real world, the ground truth is not known, so it is difficult to have complete confidence that stratification biases have been properly dealt with. Although a long-studied issue, these findings further demonstrate how separating genetic effects from environmental effects is still not a 'solved' problem in genetic studies (Lawson et al., 2020).
Studies that use polygenic scores have exploded in number over the past decade, riding a wave of well-founded optimism that they can open up new, otherwise inaccessible, avenues of research. But care is needed to ensure that this powerful tool is applied appropriately. Ultimately, the possibility for misleading results is an unavoidable risk, especially in research that is restricted to non-experimental settings. Zaidi and Mathieson provide several good recommendations for overcoming this, and suggest that a combination of the rare and common PCA approaches will minimize the amount by which environmental effects confound GWAS data. Moving forward, their results highlight the need for further statistical methods that more effectively deal with the biases introduced by environmental effects, especially for sharply distributed factors. In addition, more sensitive diagnostics are needed to assess how environmental effects impact polygenic scores.
Article and author information
Author details
We thank Arjun Biddanda, Xiaoheng Cheng, Graham Coop, Doc Edge and John Novembre for comments on earlier drafts, and Arslan Zaidi and Iain Mathieson for answering questions about their paper.
© 2020, Blanc and Berg
This article is distributed under the terms of the Creative Commons Attribution License, which permits unrestricted use and redistribution provided that the original author and source are credited.
3,854

Page views

283

Downloads

5

Citations
Article citation count generated by polling the highest count across the following sources: Crossref, PubMed Central, Scopus.
A two-part list of links to download the article, or parts of the article, in various formats.
Downloads
(link to download the article as PDF)
Open citations
(links to open the citations from this article in various online reference manager services)
Cite this article
(links to download the citations from this article in formats compatible with various reference manager tools)
Jennifer Blanc
Jeremy J Berg
Polygenic Scores: How well can we separate genetics from the environment?
eLife 9:e64948.
https://doi.org/10.7554/eLife.64948
Further reading
Epidemiology and Global Health
Genetics and Genomics

Population stratification continues to bias the results of genome-wide association studies (GWAS). When these results are used to construct polygenic scores, even subtle biases can cumulatively lead to large errors. To study the effect of residual stratification, we simulated GWAS under realistic models of demographic history. We show that when population structure is recent, it cannot be corrected using principal components of common variants because they are uninformative about recent history. Consequently, polygenic scores are biased in that they recapitulate environmental structure. Principal components calculated from rare variants or identity-by-descent segments can correct this stratification for some types of environmental effects. While family-based studies are immune to stratification, the hybrid approach of ascertaining variants in GWAS but reestimating effect sizes in siblings reduces but does not eliminate stratification. We show that the effect of population stratification depends not only on allele frequencies and environmental structure but also on demographic history.

Epidemiology and Global Health

Background: In Italy, Regions have the mandate to implement population-based screening programs for breast, cervical, and colorectal cancer. From March to May 2020, a severe lockdown was imposed due to the COVID-19 pandemic by the Italian Ministry of Health, with the suspension of screening programs. This paper describes the impact of the pandemic on Italian screening activities and test coverage in 2020 overall and by socio-economic characteristics.

Methods: The regional number of subjects invited and of screening tests performed in 2020 were compared with those in 2019. Invitation and examination coverage were also calculated. PASSI surveillance system, through telephone interviews, collects information about screening test uptake by test provider (public screening and private opportunistic). Test coverage and test uptake in the last year were computed, by educational attainment, perceived economic difficulties, and citizenship.

Results: A reduction of subjects invited and tests performed, with differences between periods and geographic macro areas, was observed in 2020 vs. 2019. The reduction in examination coverage was larger than that in invitation coverage for all screening programs. From the second half of 2020, the trend for test coverage showed a decrease in all the macro areas for all the screening programs. Compared with the pre-pandemic period, there was a greater difference according to the level of education in the odds of having had a test last year vs. never having been screened or not being up to date with screening tests.

Conclusions: The lockdown and the ongoing COVID-19 emergency caused an important delay in screening activities. This increased the pre-existing individual and geographical inequalities in access. The opportunistic screening did not mitigate the impact of the pandemic.

Funding: This study was partially supported by Italian Ministry of Health - Ricerca Corrente Annual Program 2023.

Epidemiology and Global Health
Microbiology and Infectious Disease

COVID19 has aptly revealed that airborne viruses such as SARS-CoV-2 with the ability to rapidly mutate combined with high rates of transmission and fatality can cause a deadly worldwide pandemic in a matter of weeks (Plato et al., 2021). Apart from vaccines and post-infection treatment options, strategies for preparedness will be vital in responding to the current and future pandemics. Therefore, there is wide interest in approaches that allow predictions of increase in infections ('surges') before they occur. We describe here real-time genomic surveillance particularly based on mutation analysis, of viral proteins as a methodology for a priori determination of surge in number of infection cases. The full results are available for SARS-CoV-2 at http://pandemics.okstate.edu/covid19/, and are updated daily as new virus sequences become available. This approach is generic and will also be applicable to other pathogens.