Evolution: Unraveling the history of limb bones
Ancient fossils give clues as to when features of modern tetrapod bones emerged.
Any land creature with a backbone and four limbs is related to a fish that started to crawl over 360 million years ago (Niedźwiedzki et al., 2010). Since then, evolutionary processes have shaped this ancestor into a brethren of four-legged 'tetrapods', from frogs to lizards to your pet dog. The fossil record, and in particular limb bones, provide scant but tantalizing clues about the stepwise changes that helped the early descendants of this fish to acquire the traits which allowed them to become fully terrestrial 300 million years ago.
Limbs first evolved as a way to adapt to life in shallow waters, but they became a game changer for land travel (Ahlberg, 2018). Over time, they acquired characteristic features; for instance, in modern tetrapods, limb growth generally takes place in the metaphysis – the 'neck' area near the end of long bones, which hosts a mineralized region known as the growth plate. There, cartilage cells organize into calcified columns, forming a characteristic three-dimensional fan-like meshwork (Hall, 2005). Today, limb bones also serve additional roles. While fish create red blood cells in the liver and kidney for example, most current species of tetrapods carry out this process in the marrow of their long bones (Akiyoshi and Inoue, 2012). Now, in eLife, Sophie Sanchez and colleagues based at Uppsala University, the European Synchrotron Radiation Facility, Flinders University and Comenius University – including Jordi Estefa (Uppsala) as first author – report new insights into when these characteristics of limb bones emerged in tetrapods during the water-to-land transition (Estefa et al., 2021).
To explore how limb bones developed in early tetrapods, the team harnessed synchrotron micro-computed tomography, a technique that uses a high-powered particle beam scanner to virtually 'slice' up and image thin layers of fossilized bone. The resulting images are then stacked together using computer processing to produce a detailed three-dimensional model of the internal structure of the limb bone.
The analyses revealed that the fan-like structures that form the growth plate in the metaphysis were present both in the ancient amphibian Metoposaurus – which mainly lived in water – and two 'amniote' species, Seymouria and Discosauriscus, which could reproduce on land. This suggests that growing bone by calcifying cartilage columns is a process that appeared in earlier, water-bound tetrapods, and has a shared origin between amphibians and amniotes. The way that tetrapod limbs grow today was therefore already present in our earliest four-limbed ancestors, long before the transition to land (Figure 1).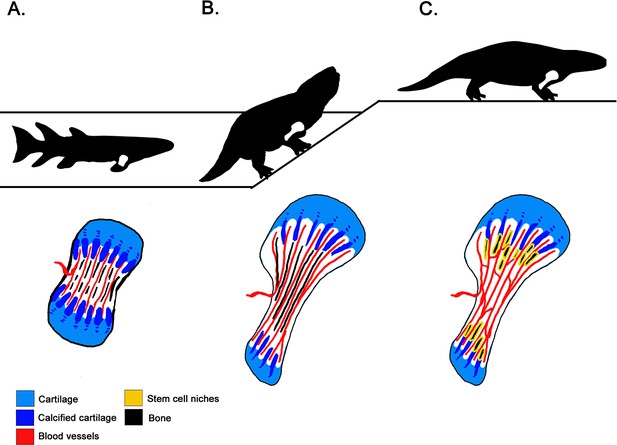 In most current tetrapods, the columns in the metaphysis host stem cell niches that produce the precursor cells which mature into red blood cells (Orkin and Zon, 2008). For this arrangement to work, the niches need to be connected to the primary blood vessels that invade the marrow cavity: this allows red blood cells to be released from the bone into the systemic circulation (Calvi et al., 2003; Zhang et al., 2003; Tanaka, 1976). However, Estefa et al. found that in older, water-bound tetrapods, the spaces within columnar meshwork did not communicate with the bone marrow cavity. In fact, the earliest evidence of communication between these two structures was found in fully terrestrial tetrapods that could reproduce on land 300 million years ago. Crucially there was no evidence of this connection in tetrapods from 360 million years ago, even though these creatures could already explore land (Figure 1). Producing red blood cells inside the bone marrow was thought to be required for life out of water (e.g., Kapp et al., 2018), but these results indicate that this may not be the case. Instead, they suggest that bone marrow and red cell production appeared successively rather than simultaneously during evolution, even though these characteristics are intimately linked in tetrapods today.
Next, the team endeavors to discover exactly at what point the site of red blood cell production migrated to bone marrow – and why. If this event took place in the first tetrapods to explore land, then all their descendants could have inherited this trait. If the migration happened later, when terrestrial tetrapods had already started to occupy distinct habitats, then red blood cell production in bone marrow may have evolved several times independently. Finally, pinning down when or in which taxon red blood cell production first relocated to the marrow will help to understand the environmental or biological factors that triggered this migration. In turn, this could shed light on the subsequent biological innovations that became unlocked when red blood cells started to be produced inside bones.
Article and author information
Author details
© 2021, Woodward
This article is distributed under the terms of the Creative Commons Attribution License, which permits unrestricted use and redistribution provided that the original author and source are credited.
2,204

Page views

137

Downloads

0

Citations
Article citation count generated by polling the highest count across the following sources: Crossref, PubMed Central, Scopus.
A two-part list of links to download the article, or parts of the article, in various formats.
Downloads
(link to download the article as PDF)
Open citations
(links to open the citations from this article in various online reference manager services)
Cite this article
(links to download the citations from this article in formats compatible with various reference manager tools)
Holly N Woodward
Evolution: Unraveling the history of limb bones
eLife 10:e66506.
https://doi.org/10.7554/eLife.66506
Further reading
The production of blood cells (haematopoiesis) occurs in the limb bones of most tetrapods but is absent in the fin bones of ray-finned fish. When did long bones start producing blood cells? Recent hypotheses suggested that haematopoiesis migrated into long bones prior to the water-to-land transition and protected newly-produced blood cells from harsher environmental conditions. However, little fossil evidence to support these hypotheses has been provided so far. Observations of the humeral microarchitecture of stem-tetrapods, batrachians, and amniotes were performed using classical sectioning and three-dimensional synchrotron virtual histology. They show that Permian tetrapods seem to be among the first to exhibit a centralised marrow organisation, which allows haematopoiesis as in extant amniotes. Not only does our study demonstrate that long-bone haematopoiesis was probably not an exaptation to the water-to-land transition but it sheds light on the early evolution of limb-bone development and the sequence of bone-marrow functional acquisitions.

Developmental Biology
Evolutionary Biology

The study of color patterns in the animal integument is a fundamental question in biology, with many lepidopteran species being exemplary models in this endeavor due to their relative simplicity and elegance. While significant advances have been made in unraveling the cellular and molecular basis of lepidopteran pigmentary coloration, the morphogenesis of wing scale nanostructures involved in structural color production is not well understood. Contemporary research on this topic largely focuses on a few nymphalid model taxa (e.g., Bicyclus, Heliconius), despite an overwhelming diversity in the hierarchical nanostructural organization of lepidopteran wing scales. Here, we present a time-resolved, comparative developmental study of hierarchical scale nanostructures in Parides eurimedes and five other papilionid species. Our results uphold the putative conserved role of F-actin bundles in acting as spacers between developing ridges, as previously documented in several nymphalid species. Interestingly, while ridges are developing in P. eurimedes, plasma membrane manifests irregular mesh-like crossribs characteristic of Papilionidae, which delineate the accretion of cuticle into rows of planar disks in between ridges. Once the ridges have grown, disintegrating F-actin bundles appear to reorganize into a network that supports the invagination of plasma membrane underlying the disks, subsequently forming an extruded honeycomb lattice. Our results uncover a previously undocumented role for F-actin in the morphogenesis of complex wing scale nanostructures, likely specific to Papilionidae.

5-Methylcytosine (5mC) and DNA methyltransferases (DNMTs) are broadly conserved in eukaryotes but are also frequently lost during evolution. The mammalian SNF2 family ATPase HELLS and its plant ortholog DDM1 are critical for maintaining 5mC. Mutations in HELLS, its activator CDCA7, and the de novo DNA methyltransferase DNMT3B, cause immunodeficiency-centromeric instability-facial anomalies (ICF) syndrome, a genetic disorder associated with the loss of DNA methylation. We here examine the coevolution of CDCA7, HELLS and DNMTs. While DNMT3, the maintenance DNA methyltransferase DNMT1, HELLS, and CDCA7 are all highly conserved in vertebrates and green plants, they are frequently co-lost in other evolutionary clades. The presence-absence patterns of these genes are not random; almost all CDCA7 harboring eukaryote species also have HELLS and DNMT1 (or another maintenance methyltransferase, DNMT5). Coevolution of presence-absence patterns (CoPAP) analysis in Ecdysozoa further indicates coevolutionary linkages among CDCA7, HELLS, DNMT1 and its activator UHRF1. We hypothesize that CDCA7 becomes dispensable in species that lost HELLS or DNA methylation, and/or the loss of CDCA7 triggers the replacement of DNA methylation by other chromatin regulation mechanisms. Our study suggests that a unique specialized role of CDCA7 in HELLS-dependent DNA methylation maintenance is broadly inherited from the last eukaryotic common ancestor.