Tumor Biology: Cells under pressure
A new method for applying solid stress to aggregates of cells is shedding light on the impact of mechanical forces on cancer cells.
Packed like sardines, most cells in our body must operate in confined spaces. Neighboring cells, the extracellular fluid that surrounds cells, and the extracellular matrix that provides physical support to tissues, can all restrict the growth and motion of cells. This is exacerbated in tumors. As the cancer cells in the tumor multiply, they gradually push back the surrounding tissue, and in turn, experience varying degrees of compression or 'solid stress' (Nia et al., 2017). Increasing evidence suggests that the physical interactions between cancer cells and their microenvironment affect the signals that regulate their growth and spread.
Much of our knowledge about solid stress and its impact on tumor development stems from research on three-dimensional aggregates of cancer cells grown in the laboratory. When these aggregates – which are also known as multicellular tumor spheroids – multiply in a confined environment, such as a hydrogel, their growth is restricted (Helmlinger et al., 1997). These observations are somewhat intuitive, since cell division is an inherently physical process during which cells increase in volume and undergo striking morphological changes – both of which require space (Nam and Chaudhuri, 2018; Zlotek-Zlotkiewicz et al., 2015; Son et al., 2012).
It has been shown that restricting or reducing the volume of a cell through increased osmotic pressure – which draws water from the cell – stops them from multiplying (Nam et al., 2019; Delarue et al., 2014). Likewise, compression along one axis can suppress the growth of cells and even induce programmed cell death in tumor spheroids (Cheng et al., 2009). When applied transiently to single cells, it may also reverse the malignant phenotype, with the cells displaying behaviors of normal cells (Ricca et al., 2018).
However, full three-dimensional control of uniform compression of tumor spheroids has not been achieved to date. Now, in eLife, Giovanni Cappello, Pierre Recho and colleagues from the Université Grenoble Alpes, the Université de Lyon and the Collège de France – including Monika Dolega as first author – report a new way to study the impact of solid stress on tumor spheroids (Dolega et al., 2021).
Dolega et al. applied two strategies to compare the impact of solid stress on both single cells and tumor spheroids. To do so, they exerted osmotic pressure using osmolytes of varying sizes: small dextran molecules measuring less than 5 nm in diameter (following the standard approach), and large ones with a diameter of 15 nm or more (representing the new approach). The small dextran molecules were able to infiltrate the extracellular matrix of the spheroids, thereby applying osmotic pressure on the single cells within. However, the 15 nm dextran molecules were too big to enter the extracellular matrix: instead, the osmotic pressure acted on the entire spheroid, resulting in a global compression of the cells by the extracellular matrix (Figure 1).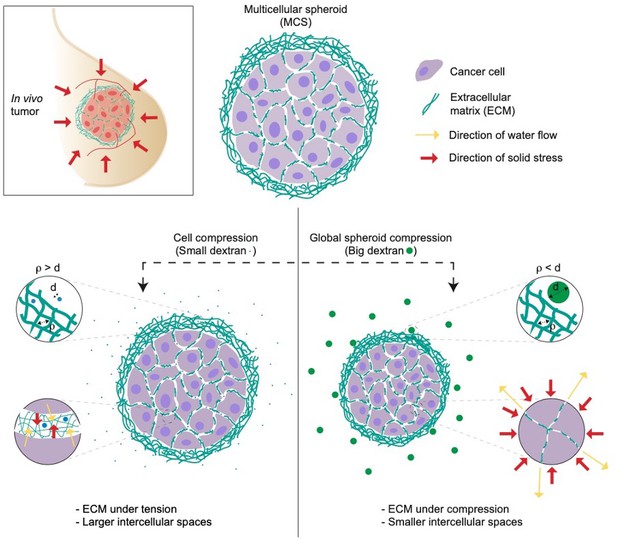 By keeping the magnitude of pressure the same, Dolega et al. discovered that global compression decreased the volume of the tumor spheroids significantly more than the osmotic compression of single cells, with cells within the spheroid growing and migrating more slowly. Comparable results were also observed in single cells encapsulated in an extracellular matrix-like hydrogel. There, global compression reduced the growth and migration of the cells while osmotic compression did not. These findings suggest that solid stress in the form of global compression does indeed regulate the growth and spread of a tumor.
Dolega et al. have developed a robust approach to probe the impact of solid stress on cells in three-dimensional microenvironments, and the different outcomes observed for osmotic compression of single cells and global compression of tumor spheroids draws attention to the possibility that the extracellular matrix can act as a pressure sensor that might regulate cell behavior. It remains unclear if cells sense solid stress through the same pathways that are implicated in osmotic compression, including stretch-activated ion channels, or through alternate pathways, perhaps involving the cytoskeleton and cell-matrix adhesions (Nam et al., 2019). Probing these mechanisms will help advance our understanding of how solid stress regulates cell behavior in a wide range of contexts, from embryonic development to cancer.
Article and author information
Author details
© 2021, Indana and Chaudhuri
This article is distributed under the terms of the Creative Commons Attribution License, which permits unrestricted use and redistribution provided that the original author and source are credited.
1,917

Page views

203

Downloads

3

Citations
Article citation count generated by polling the highest count across the following sources: Crossref, PubMed Central, Scopus.
A two-part list of links to download the article, or parts of the article, in various formats.
Downloads
(link to download the article as PDF)
Open citations
(links to open the citations from this article in various online reference manager services)
Cite this article
(links to download the citations from this article in formats compatible with various reference manager tools)
Dhiraj Indana
Ovijit Chaudhuri
Tumor Biology: Cells under pressure
eLife 10:e68643.
https://doi.org/10.7554/eLife.68643
Further reading
Physics of Living Systems

Imposed deformations play an important role in morphogenesis and tissue homeostasis, both in normal and pathological conditions. To perceive mechanical perturbations of different types and magnitudes, tissues need appropriate detectors, with a compliance that matches the perturbation amplitude. By comparing results of selective osmotic compressions of CT26 mouse cells within multicellular aggregates and global aggregate compressions, we show that global compressions have a strong impact on the aggregates growth and internal cell motility, while selective compressions of same magnitude have almost no effect. Both compressions alter the volume of individual cells in the same way over a shor-timescale, but, by draining the water out of the extracellular matrix, the global one imposes a residual compressive mechanical stress on the cells over a long-timescale, while the selective one does not. We conclude that the extracellular matrix is as a sensor that mechanically regulates cell proliferation and migration in a 3D environment.

Neuroscience
Physics of Living Systems

Naturally occurring body movements and collective neural activity both exhibit complex dynamics, often with scale-free, fractal spatiotemporal structure. Scale-free dynamics of both brain and behavior are important because each is associated with functional benefits to the organism. Despite their similarities, scale-free brain activity and scale-free behavior have been studied separately, without a unified explanation. Here we show that scale-free dynamics of mouse behavior and neurons in visual cortex are strongly related. Surprisingly, the scale-free neural activity is limited to specific subsets of neurons, and these scale-free subsets exhibit stochastic winner-take-all competition with other neural subsets. This observation is inconsistent with prevailing theories of scale-free dynamics in neural systems, which stem from the criticality hypothesis. We develop a computational model which incorporates known cell-type-specific circuit structure, explaining our findings with a new type of critical dynamics. Our results establish neural underpinnings of scale-free behavior and clear behavioral relevance of scale-free neural activity.

Cell Biology
Physics of Living Systems

Motile cilia are hair-like cell extensions that beat periodically to generate fluid flow along various epithelial tissues within the body. In dense multiciliated carpets, cilia were shown to exhibit a remarkable coordination of their beat in the form of traveling metachronal waves, a phenomenon which supposedly enhances fluid transport. Yet, how cilia coordinate their regular beat in multiciliated epithelia to move fluids remains insufficiently understood, particularly due to lack of rigorous quantification. We combine experiments, novel analysis tools, and theory to address this knowledge gap. To investigate collective dynamics of cilia, we studied zebrafish multiciliated epithelia in the nose and the brain. We focused mainly on the zebrafish nose, due to its conserved properties with other ciliated tissues and its superior accessibility for non-invasive imaging. We revealed that cilia are synchronized only locally and that the size of local synchronization domains increases with the viscosity of the surrounding medium. Even though synchronization is local only, we observed global patterns of traveling metachronal waves across the zebrafish multiciliated epithelium. Intriguingly, these global wave direction patterns are conserved across individual fish, but different for left and right nose, unveiling a chiral asymmetry of metachronal coordination. To understand the implications of synchronization for fluid pumping, we used a computational model of a regular array of cilia. We found that local metachronal synchronization prevents steric collisions, cilia colliding with each other, and improves fluid pumping in dense cilia carpets, but hardly affects the direction of fluid flow. In conclusion, we show that local synchronization together with tissue-scale cilia alignment coincide and generate metachronal wave patterns in multiciliated epithelia, which enhance their physiological function of fluid pumping.