Tumour Initiation: Danger zone
What level of Ras genes activity leads to the development of cancer?
When a cell multiplies, differentiates or dies, it relies on a number of complex signalling networks. In turn, mutations in nodes that increase or decrease communication through these networks frequently result in diseases. An example is the Ras gene family, which is often mutated in cancer: activating mutations at certain Ras codons leads to cells proliferating and forming tumours (Prior et al., 2020). However, too much activation can trigger safety mechanisms and cause the cell to die. How much Ras activity is enough to drive cancer is therefore a fundamental question.
For a long time it was assumed that any mutation that activated Ras proteins would lead to disease. New evidence, however, has revealed that local cellular and disease context creates important differences between Ras mutants (Killoran and Smith, 2019; Haigis et al., 2019). In one study in mice, for example, out of twelve different mutations introduced in equal quantities in a Ras gene called KRAS, only five led to the animals developing lung tumours (Winters et al., 2017). Intriguingly, which mutation drives disease was different depending on the type of cancer, and the genetic background of the mouse strain. These data imply mutation-specific differences in Ras biology.
Now, in eLife, Siqi Li and Christopher Counter from Duke University report having described the optimal conditions in which various Ras mutations operate (Li et al., 2018). According to a previously proposed 'sweet spot' model, there is a level of Ras activity high enough to promote tumour formation, but not to lead to cell death (Li and Counter, 2021). To examine this further, a classic mouse cancer model was exposed to urethane, a chemical found in fermented foods that consistently generates a codon Q61* mutation in KRAS and leads to Ras-driven lung cancer (Westcott et al., 2015; Dwyer-Nield et al., 2010). Codon Q61* mutations are known to lead to more Ras activity than codon G12* mutations (Burd et al., 2014; Figure 1); this suggests that codon Q61* mutations, rather than G12*, have optimal levels of Ras signalling in this urethane-induced cancer model.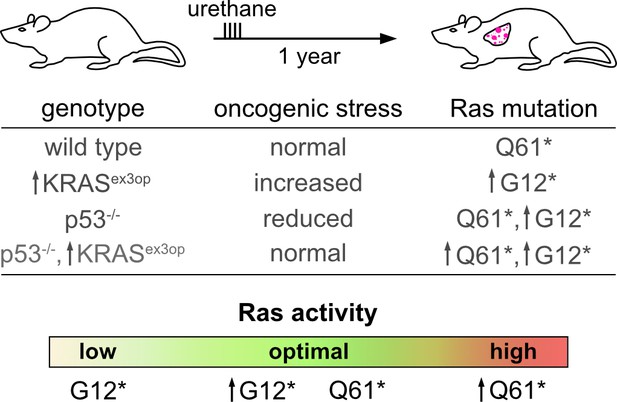 To test if weaker G12* mutations could also induce cancer in this model, a mouse strain with increased KRAS expression (called KRASex3op) was exposed to urethane, artificially boosting the amount of active Ras. Even though Q61* mutations were still generated, G12* mutations were found to drive the development of tumours in these animals; this demonstrated that the switch was due to Ras biological properties, a result consistent with the sweet spot model.
Whether strong Ras signalling – which would normally induce cell death – could be moved into the optimal activity zone was explored by deleting p53 in wild type mice. This gene instructs cells to die when oncogenic stress induces unrepairable DNA damage. As predicted, p53-/-, KRASex3opmouse strains with increased KRAS expression and depleted p53 could tolerate high levels of Q61* mutations (Figure 1). Intriguingly, p53-/- mice also showed an endogenous amplification of KRAS, which moved G12* mutations up into the optimal Ras signalling zone. This was not due to additional copies of Ras genes, but to an increase in the production of messenger RNAs carrying the G12* change.
Together, these data reveal a narrow window of cancer-causing Ras activity; this suggests that the role of specific Ras mutations, and how they are combined, needs to be considered for research design and treatment options. However, further studies ought to formally quantify how a range of Ras mutations and combinations differ in their relative activity. This will help to confirm whether the model holds true across a broader range of cancer contexts, and to more precisely determine optimal Ras activity.
The model is based on observed endpoints, after tumours have grown. Yet, it is reasonable to assume that the optimal level of Ras signalling changes as the cancer develops: for instance, Ras alleles are amplified and lost over the life history of cancer, and in response to therapy (Burgess et al., 2017). An exciting observation was the increase in KRAS messenger RNA to help modulate Ras activity; however, this still needs to be validated by measuring Ras protein levels. Finally, how variable levels of Ras activity then variously impact wider cancer signalling networks is a big question that remains unanswered.
Article and author information
Author details
© 2021, Butt and Prior
This article is distributed under the terms of the Creative Commons Attribution License, which permits unrestricted use and redistribution provided that the original author and source are credited.
739

Page views

60

Downloads

1

Citations
Article citation count generated by polling the highest count across the following sources: Crossref, PubMed Central, Scopus.
A two-part list of links to download the article, or parts of the article, in various formats.
Downloads
(link to download the article as PDF)
Open citations
(links to open the citations from this article in various online reference manager services)
Cite this article
(links to download the citations from this article in formats compatible with various reference manager tools)
Zohra Butt
Ian Prior
Tumour Initiation: Danger zone
eLife 10:e69192.
https://doi.org/10.7554/eLife.69192
Further reading
RAS genes are commonly mutated in human cancer. Despite many possible mutations, individual cancer types often have a 'tropism' towards a specific subset of RAS mutations. As driver mutations, these patterns ostensibly originate from normal cells. High oncogenic RAS activity causes oncogenic stress and different oncogenic mutations can impart different levels of activity, suggesting a relationship between oncoprotein activity and RAS mutation tropism. Here, we show that changing rare codons to common in the murine Kras gene to increase protein expression shifts tumors induced by the carcinogen urethane from arising from canonical Q61 to biochemically less active G12 Kras driver mutations, despite the carcinogen still being biased towards generating Q61 mutations. Conversely, inactivating the tumor suppressor p53 to blunt oncogenic stress partially reversed this effect, restoring Q61 mutations. One interpretation of these findings is that the RAS mutation tropism of urethane arises from selection in normal cells for specific mutations that impart a narrow window of signaling that promotes proliferation without causing oncogenic stress.

Bariatric surgery is becoming more prevalent as a sustainable weight loss approach, with vertical sleeve gastrectomy (VSG) being the first line of surgical intervention. We and others have shown that obesity exacerbates tumor growth while diet-induced weight loss impairs obesity-driven progression. It remains unknown how bariatric surgery-induced weight loss impacts cancer progression or alters responses to therapy. Using a pre-clinical model of diet induced obesity followed by VSG or diet-induced weight loss, breast cancer progression and immune checkpoint blockade therapy was investigated. Weight loss by bariatric surgery or weight matched dietary intervention before tumor engraftment protected against obesity-exacerbated tumor progression. However, VSG was not as effective as dietary intervention in reducing tumor burden despite achieving a similar extent of weight and adiposity loss. Circulating leptin did not associate with changes in tumor burden, however circulating IL-6 was elevated in mice after VSG. Uniquely, tumors in mice that received VSG displayed elevated inflammation and immune checkpoint ligand PD-L1+ myeloid and non-immune cells. Further, mice that received VSG had reduced tumor T lymphocytes and markers of cytolysis suggesting an ineffective anti-tumor microenvironment. VSG-associated elevation of PD-L1 prompted us to next investigate the efficacy of immune checkpoint blockade in lean, obese, and formerly obese mice that lost weight by VSG or weight matched controls. While obese mice were resistant to immune checkpoint blockade, anti-PD-L1 potently impaired tumor progression after VSG through improved anti-tumor immunity. Thus, in formerly obese mice, surgical weight loss followed by immunotherapy reduced breast cancer burden. Last, we compared transcriptomic changes in adipose tissue after bariatric surgery from both patients and mouse models that revealed a conserved bariatric surgery associated weight loss signature (BSAS). Importantly, BSAS significantly associated with decreased tumor volume. Our findings demonstrate conserved impacts of obesity and bariatric surgery-induced weight loss pathways associated with breast cancer progression.

Cancer Biology

Cell Biology

Centrosomes act as the main microtubule organizing center (MTOC) in metazoans. Centrosome number is tightly regulated by limiting centriole duplication to a single round per cell cycle. This control is achieved by multiple mechanisms, including the regulation of the protein kinase PLK4, the most upstream facilitator of centriole duplication. Altered centrosome numbers in mouse and human cells cause p53-dependent growth arrest through poorly defined mechanisms. Recent work has shown that the E3 ligase TRIM37 is required for cell cycle arrest in acentrosomal cells. To gain additional insights into this process, we undertook a series of genome-wide CRISPR/Cas9 screens to identify factors important for growth arrest triggered by treatment with centrinone B, a selective PLK4 inhibitor. We found that TRIM37 is a key mediator of growth arrest after partial or full PLK4 inhibition. Interestingly, PLK4 cellular mobility decreased in a dose-dependent manner after centrinone B treatment. In contrast to recent work, we found that growth arrest after PLK4 inhibition correlated better with PLK4 activity than with mitotic length or centrosome number. These data provide insights into the global response to changes in centrosome number and PLK4 activity and extend the role for TRIM37 in regulating the abundance, localization, and function of centrosome proteins.