Autoimmune Disease: When a virus lies in wait
A mouse model supports the hypothesis that latent Epstein–Barr virus exacerbates the symptoms of rheumatoid arthritis.
The body's ability to fight a wide range of external (e.g. viruses, bacteria) and internal (e.g. cancer cells) threats relies on having a fully functional immune system. The immune system can be roughly divided into two parts: the innate system, which is activated quickly and considered the first line of defense; and the adaptive system, which usually 'kicks in' a few days following the initial infection and evolves over time to generate a long-lasting and specific response (Murphy et al., 2017).
The power of the adaptive immune system stems from the ability of its white blood cells – T cells and B cells – to express a diverse set of immune receptors that can bind to specific pathogens (Rubelt et al., 2017). As well as having receptors bound to their surface, B cells also secrete some of their receptors in the form of antibodies.
Some B cells, however, produce 'autoantibodies' that recognize and bind to molecules on the body's own cells, causing the immune system to mistakenly attack normal, healthy tissue (Sogkas et al., 2021). There are many mechanisms in place to eliminate these B cells, but if they fail autoimmune disorders can arise (Theofilopoulos et al., 2017). Autoimmune diseases, such as systemic lupus erythematosus multiple sclerosis and rheumatoid arthritis, are thought to be triggered by past viral infections (McClain et al., 2005; Mameli et al., 2012; Costenbader and Karlson, 2006). For example, rheumatoid arthritis (RA) – an inflammatory autoimmune disease that affects the joints – has been associated with Epstein-Barr virus (EBV) infection (Guo et al., 2018; Costenbader and Karlson, 2006).
Most exposures to EBV occur during childhood or adolescence without leading to RA, but the disease tends to appear after patients turn 60. Thus, it is hypothesized that EBV latency – a situation in which the virus becomes dormant within the host cell without producing more viruses – may contribute to RA symptoms appearing later in life. This is in agreement with a previous study in which mice with an autoimmune condition called experimental autoimmune encephalopathy were latently infected with a homolog of EBV called gammaherpesvirus 68 (γHV68). The infection exacerbated the autoimmune condition without changing autoantibody levels, and led to a disease that resembles multiple sclerosis (Casiraghi et al., 2012). But it is unclear whether EBV has the same effect on RA.
Now, in eLife, Marc Horwitz and colleagues from the University of British Columbia – including Isobel Mouat as first author – report that latent viral infection also worsens the symptoms of a mouse model for RA (Mouat et al., 2021). They used a mouse model for RA that suffers from an autoimmune condition called type II collagen-induced arthritis (CIA). When these mice are exposed to type II collagen, they develop arthritis with a sustained T cell response and as a result produce anti-collagen autoantibodies that can infiltrate the joints (Inglis et al., 2007).
Mouat et al. infected CIA mice with latent γHV68 to develop a mouse model that can shed light on how EBV may affect the symptoms of RA in humans. The experiments showed that infection increased the clinical parameters used to measure the severity of CIA (Figure 1), demonstrating the negative impact of the latent virus. Specifically, a subset of B cells called age-associated B cells were shown to be expressed in significantly higher proportions than in uninfected mice. Finally, Mouat et al. used a strain of γHV68 that cannot become latent to show that latency is necessary for the virus to exacerbate CIA.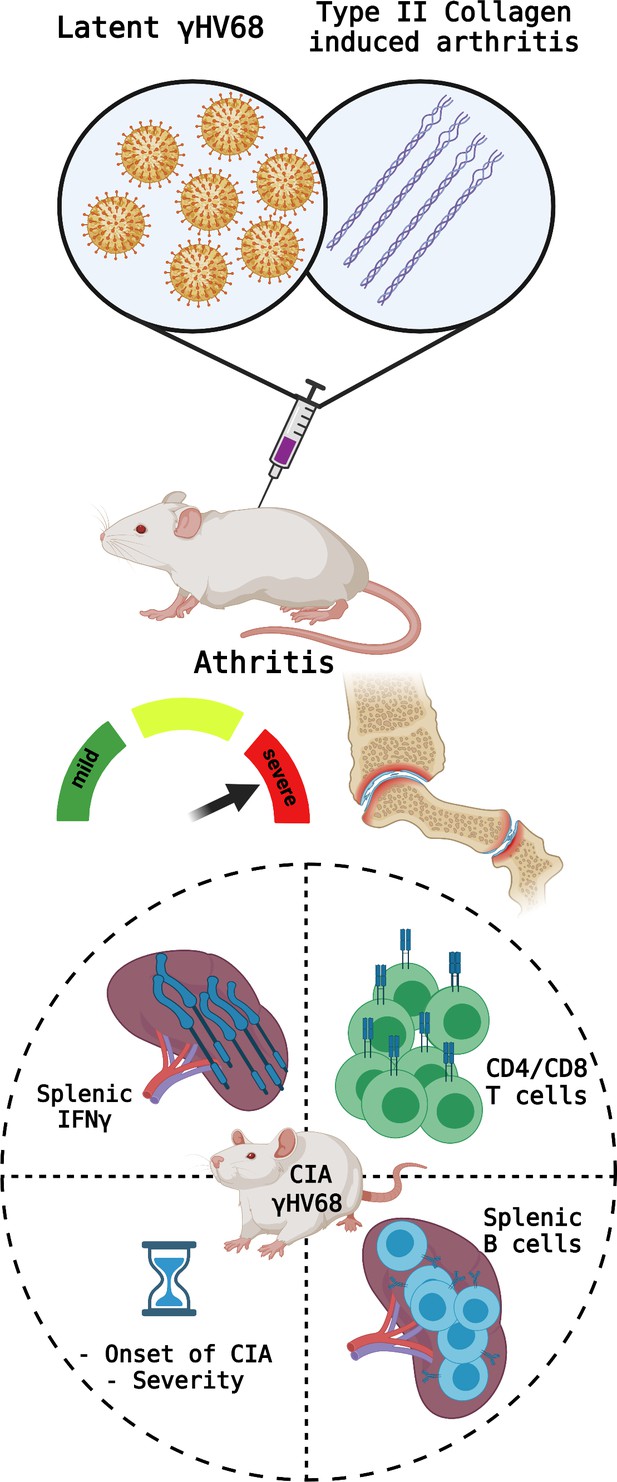 Mouat et al. show that latent γHV68 infection in mice clearly alters autoimmune disease onset and severity, potentially reflecting how latent EBV infection affects RA in humans. Future research will be needed to reveal exactly how B cells are impacted by EBV. Notably, the development and validation of the RA model in mice will facilitate future studies aiming to better understand the nature of the relationship between EBV infection and RA.
Article and author information
Author details
© 2021, Taussig and Wine
This article is distributed under the terms of the Creative Commons Attribution License, which permits unrestricted use and redistribution provided that the original author and source are credited.
6,312

Page views

165

Downloads

0

Citations
Article citation count generated by polling the highest count across the following sources: Crossref, PubMed Central, Scopus.
A two-part list of links to download the article, or parts of the article, in various formats.
Downloads
(link to download the article as PDF)
Open citations
(links to open the citations from this article in various online reference manager services)
Cite this article
(links to download the citations from this article in formats compatible with various reference manager tools)
David Taussig
Yariv Wine
Autoimmune Disease: When a virus lies in wait
eLife 10:e71121.
https://doi.org/10.7554/eLife.71121
Further reading
Immunology and Inflammation

Epstein-Barr virus (EBV) infection is associated with rheumatoid arthritis (RA) in adults, though the nature of the relationship remains unknown. Herein, we have examined the contribution of viral infection to the severity of arthritis in mice. We have provided the first evidence that latent gammaherpesvirus infection enhances clinical arthritis, modeling EBV's role in RA. Mice latently infected with a murine analog of EBV, gammaherpesvirus 68 (γHV68), develop more severe collagen-induced arthritis and a Th1-skewed immune profile reminiscent of human disease. We demonstrate that disease enhancement requires viral latency and is not due to active virus stimulation of the immune response. Age-associated B cells (ABCs) are associated with several human autoimmune diseases, including arthritis, though their contribution to disease is not well understood. Using ABC knockout mice, we have provided the first evidence that ABCs are mechanistically required for viral enhancement of disease, thereby establishing that ABCs are impacted by latent gammaherpesvirus infection and provoke arthritis.

Immunology and Inflammation

Transcription factors play a determining role in lineage commitment and cell differentiation. Interferon regulatory factor 8 (IRF8) is a lineage determining transcription factor in hematopoiesis and master regulator of dendritic cells (DC), an important immune cell for immunity and tolerance. IRF8 is prominently upregulated in DC development by autoactivation and controls both DC differentiation and function. However, it is unclear how Irf8 autoactivation is controlled and eventually limited. Here, we identified a novel long non-coding RNA transcribed from the +32 kb enhancer downstream of Irf8 transcription start site and expressed specifically in mouse plasmacytoid DC (pDC), referred to as lncIrf8. The lncIrf8 locus interacts with the lrf8 promoter and shows differential epigenetic signatures in pDC versus classical DC type 1 (cDC1). Interestingly, a sequence element of the lncIrf8 promoter, but not lncIrf8 itself, is crucial for mouse pDC and cDC1 differentiation, and this sequence element confers feedback inhibition of Irf8 expression. Taken together, in DC development Irf8 autoactivation is first initiated by flanking enhancers and then second controlled by feedback inhibition through the lncIrf8 promoter element in the +32 kb enhancer. Our work reveals a previously unrecognized negative feedback loop of Irf8 that orchestrates its own expression and thereby controls DC differentiation.

Immunology and Inflammation

Acute lymphoblastic and myeloblastic leukemias (ALL and AML) have been known to modify the bone marrow microenvironment and disrupt non-malignant hematopoiesis. However, the molecular mechanisms driving these alterations remain poorly defined. Using mouse models of ALL and AML, here we show that leukemic cells turn off lymphopoiesis and erythropoiesis shortly after colonizing the bone marrow. ALL and AML cells express lymphotoxin α1β2 and activate lymphotoxin beta receptor (LTβR) signaling in mesenchymal stem cells (MSCs), which turns off IL7 production and prevents non-malignant lymphopoiesis. We show that the DNA damage response pathway and CXCR4 signaling promote lymphotoxin α1β2 expression in leukemic cells. Genetic or pharmacological disruption of LTβR signaling in MSCs restores lymphopoiesis but not erythropoiesis, reduces leukemic cell growth, and significantly extends the survival of transplant recipients. Similarly, CXCR4 blocking also prevents leukemia-induced IL7 downregulation and inhibits leukemia growth. These studies demonstrate that acute leukemias exploit physiological mechanisms governing hematopoietic output as a strategy for gaining competitive advantage.