Microbiome: What can we learn from honey bees?
The Western honey bee provides a model system for studying how closely related species of bacteria are able to coexist in a single community.
The gut of an animal contains a staggering amount of microbial diversity (Sankar et al., 2015). However, the species present are often members of only a few taxonomic groups and therefore tend to share many metabolic and physiological features. This observation has fascinated microbial ecologists for decades, as it has long been believed that species that are similar can only coexist if they avoid directly competing for shared resources (Gause, 1934; Hardin, 1960; Schoener, 1974; Volterra, 1926).
Recently, several theories have been put forward to explain how related species of bacteria are able to coexist in complex communities such as the gut microbiota of animals (Caetano et al., 2021; Erez et al., 2020; Goyal et al., 2018). This has led to the hypothesis that a process called resource partitioning – that is, when different species use resources in different ways to avoid competition – allows similar bacterial species to live together in a single community. However, finding an experimental system where it is possible to disentangle the confounding effects of diet, host, and microbial interactions is deceptively difficult. Now, in eLife, Philipp Engel and co-workers from the University of Lausanne and ETH Zürich – including Silvia Brochet as first author – report a new model for studying how dietary resources regulate microbial communities in the gut of honey bees (Brochet et al., 2021).
The Western honey bee, Apis mellifera, has several advantages as a model system for studying the coexistence of related microbes. First, its diet consists of pollen and nectar (a mix of simple sugars, complex carbohydrates and proteins) which can be easily replicated in the laboratory. Second, 95% of the bacterial species in their gut belong to the same family which is called Lactobacillus Firm-5 (Kwong and Moran, 2016). Most of these microbial communities contain several genetically distinct Firm-5 species which reside in the bee's rectum, where they consume a diet of pollen (Ellegaard and Engel, 2019).
To find out how closely related bacteria are maintained in the gut, Brochet et al. created an artificial microbial community that contains four Firm-5 species that are commonly found in all Western honey bees. These species were then grown in the guts of live honey bees that had been depleted of their gut microbiome or cultured in the laboratory. The experiments showed that the four species coexisted when the honey bees were fed a diet of pollen but not simple sugar, and this effect was also observed in vitro. On a diet of simple sugar, one species outcompeted all the others; the other three species reached higher population densities when they were grown on their own on pollen or sugars instead of in a community. These results suggest that competition for resources shapes how the different species behave in the community, but these distinct behaviors allow the bacteria to coexist when grown on pollen.
To reveal the mechanisms underlying this coexistence, Brochet et al. combined transcriptomics and metabolomics to investigate how each species consumed the different nutrients derived from pollen. Surprisingly, despite all four species having a similar genetic make-up, they rarely activated the same genes, suggesting that transcriptional regulation may constrain the bacteria from using the resources in pollen in the same way. This was supported by metabolomics which showed that each species consumed a different composition of metabolites: about a third of measured metabolites were consumed by only one species, while a third were consumed by more than one, and the last third were consumed by all four. Furthermore, bacterial species that used the same resources often consumed these at different rates.
Together, these experiments demonstrate that species in the Firm-5 community consume distinct but overlapping profiles of nutrients derived from the pollen diet of bees (Figure 1). This supports the idea that resource partitioning allows closely related microbes to coexist in the gut. A more unexpected observation is the extent to which species can overlap with respect to their functional gene content and still live together. This result highlights the importance of incorporating knowledge of transcriptional regulation and cellular physiology when studying the interactions of closely related bacteria.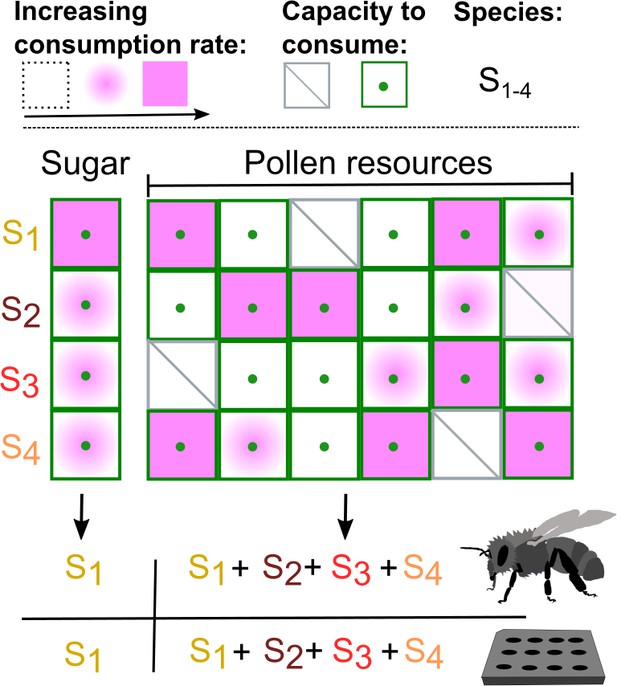 The study by Brochet et al. opens several exciting avenues for future study. The system could be used to measure the degree of diversity required for multiple species to live in a single community: studies that systematically increase species-level diversity are likely to provide a sense of the 'upper bound' for this system. In addition, the in vivo and in vitro bee gut models provide an opportunity to examine how microbes with overlapping resource preferences behave in a community.
Further characterization of other Firm-5 species is needed to address which resource preferences and consumption behaviors are more ecologically stable than others. In addition, it would be interesting to compare resource partitioning in the bee gut to culture-based models of competition among closely related bacteria, such as Bacteroidetes in the human gut microbiota (Tuncil et al., 2017); this may reveal generic strategies of resource partitioning in gut microbial communities. Importantly, the establishment of the Firm-5 model presents an exciting opportunity for 'cross-pollination' between theory and experiment to understand the link between consumption and composition in gut microbial communities.
Article and author information
Author details
© 2021, Schwartzman
This article is distributed under the terms of the Creative Commons Attribution License, which permits unrestricted use and redistribution provided that the original author and source are credited.
1,274

Page views

110

Downloads

0

Citations
Article citation count generated by polling the highest count across the following sources: Crossref, PubMed Central, Scopus.
A two-part list of links to download the article, or parts of the article, in various formats.
Downloads
(link to download the article as PDF)
Open citations
(links to open the citations from this article in various online reference manager services)
Cite this article
(links to download the citations from this article in formats compatible with various reference manager tools)
Julia A Schwartzman
Microbiome: What can we learn from honey bees?
eLife 10:e72380.
https://doi.org/10.7554/eLife.72380
Further reading
Ecology

Microbiology and Infectious Disease

Ecological processes underlying bacterial coexistence in the gut are not well understood. Here, we disentangled the effect of the host and the diet on the coexistence of four closely related Lactobacillus species colonizing the honey bee gut. We serially passaged the four species through gnotobiotic bees and in liquid cultures in the presence of either pollen (bee diet) or simple sugars. Although the four species engaged in negative interactions, they were able to stably coexist, both in vivo and in vitro. However, coexistence was only possible in the presence of pollen, and not in simple sugars, independent of the environment. Using metatranscriptomics and metabolomics, we found that the four species utilize different pollen-derived carbohydrate substrates indicating resource partitioning as the basis of coexistence. Our results show that despite longstanding host association, gut bacterial interactions can be recapitulated in vitro providing insights about bacterial coexistence when combined with in vivo experiments.

The biodiversity of tundra areas in northern high latitudes is threatened by invasion of forests under global warming. However, poorly understood nonlinear responses of the treeline ecotone mean the timing and extent of tundra losses are unclear, but policymakers need such information to optimize conservation efforts. Our individual-based model LAVESI, developed for the Siberian tundra-taiga ecotone, can help improve our understanding. Consequently, we simulated treeline migration trajectories until the end of the millennium, causing a loss of tundra area when advancing north. Our simulations reveal that the treeline follows climate warming with a severe, century-long time lag, which is overcompensated by infilling of stands in the long run even when temperatures cool again. Our simulations reveal that only under ambitious mitigation strategies (relative concentration pathway 2.6) will ∼30% of original tundra areas remain in the north but separated into two disjunct refugia.

Ecology

Evolutionary Biology

Many animals rely on complex signals that target multiple senses to attract mates and repel rivals. These multimodal displays can however also attract unintended receivers, which can be an important driver of signal complexity. Despite being taxonomically widespread, we often lack insight into how multimodal signals evolve from unimodal signals and in particular what roles unintended eavesdroppers play. Here, we assess whether the physical movements of parasite defense behavior increase the complexity and attractiveness of an acoustic sexual signal in the little torrent frog (Amolops torrentis). Calling males of this species often display limb movements in order to defend against blood-sucking parasites such as frog-biting midges that eavesdrop on their acoustic signal. Through mate choice tests we show that some of these midge-evoked movements influence female preference for acoustic signals. Our data suggest that midge-induced movements may be incorporated into a sexual display, targeting both hearing and vision in the intended receiver. Females may play an important role in incorporating these multiple components because they prefer signals which combine multiple modalities. Our results thus help to understand the relationship between natural and sexual selection pressure operating on signalers and how in turn this may influence multimodal signal evolution.