Microbiome: What can we learn from honey bees?
The Western honey bee provides a model system for studying how closely related species of bacteria are able to coexist in a single community.
The gut of an animal contains a staggering amount of microbial diversity (Sankar et al., 2015). However, the species present are often members of only a few taxonomic groups and therefore tend to share many metabolic and physiological features. This observation has fascinated microbial ecologists for decades, as it has long been believed that species that are similar can only coexist if they avoid directly competing for shared resources (Gause, 1934; Hardin, 1960; Schoener, 1974; Volterra, 1926).
Recently, several theories have been put forward to explain how related species of bacteria are able to coexist in complex communities such as the gut microbiota of animals (Caetano et al., 2021; Erez et al., 2020; Goyal et al., 2018). This has led to the hypothesis that a process called resource partitioning – that is, when different species use resources in different ways to avoid competition – allows similar bacterial species to live together in a single community. However, finding an experimental system where it is possible to disentangle the confounding effects of diet, host, and microbial interactions is deceptively difficult. Now, in eLife, Philipp Engel and co-workers from the University of Lausanne and ETH Zürich – including Silvia Brochet as first author – report a new model for studying how dietary resources regulate microbial communities in the gut of honey bees (Brochet et al., 2021).
The Western honey bee, Apis mellifera, has several advantages as a model system for studying the coexistence of related microbes. First, its diet consists of pollen and nectar (a mix of simple sugars, complex carbohydrates and proteins) which can be easily replicated in the laboratory. Second, 95% of the bacterial species in their gut belong to the same family which is called Lactobacillus Firm-5 (Kwong and Moran, 2016). Most of these microbial communities contain several genetically distinct Firm-5 species which reside in the bee's rectum, where they consume a diet of pollen (Ellegaard and Engel, 2019).
To find out how closely related bacteria are maintained in the gut, Brochet et al. created an artificial microbial community that contains four Firm-5 species that are commonly found in all Western honey bees. These species were then grown in the guts of live honey bees that had been depleted of their gut microbiome or cultured in the laboratory. The experiments showed that the four species coexisted when the honey bees were fed a diet of pollen but not simple sugar, and this effect was also observed in vitro. On a diet of simple sugar, one species outcompeted all the others; the other three species reached higher population densities when they were grown on their own on pollen or sugars instead of in a community. These results suggest that competition for resources shapes how the different species behave in the community, but these distinct behaviors allow the bacteria to coexist when grown on pollen.
To reveal the mechanisms underlying this coexistence, Brochet et al. combined transcriptomics and metabolomics to investigate how each species consumed the different nutrients derived from pollen. Surprisingly, despite all four species having a similar genetic make-up, they rarely activated the same genes, suggesting that transcriptional regulation may constrain the bacteria from using the resources in pollen in the same way. This was supported by metabolomics which showed that each species consumed a different composition of metabolites: about a third of measured metabolites were consumed by only one species, while a third were consumed by more than one, and the last third were consumed by all four. Furthermore, bacterial species that used the same resources often consumed these at different rates.
Together, these experiments demonstrate that species in the Firm-5 community consume distinct but overlapping profiles of nutrients derived from the pollen diet of bees (Figure 1). This supports the idea that resource partitioning allows closely related microbes to coexist in the gut. A more unexpected observation is the extent to which species can overlap with respect to their functional gene content and still live together. This result highlights the importance of incorporating knowledge of transcriptional regulation and cellular physiology when studying the interactions of closely related bacteria.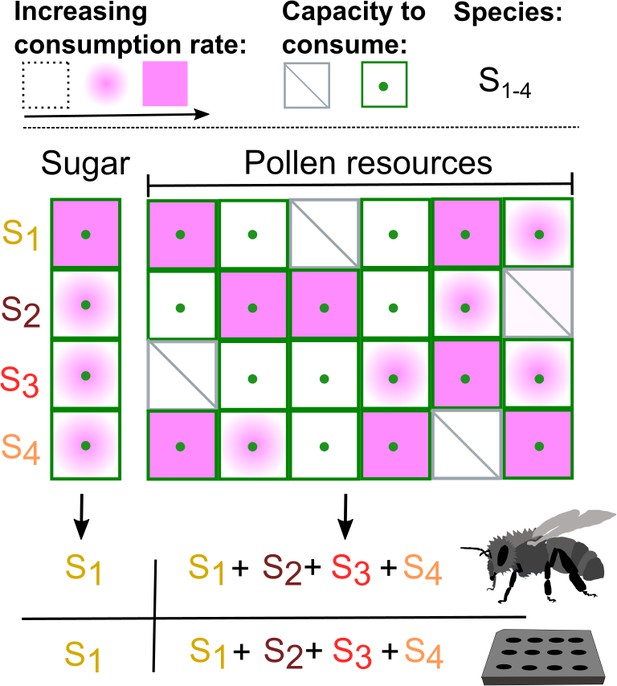 The study by Brochet et al. opens several exciting avenues for future study. The system could be used to measure the degree of diversity required for multiple species to live in a single community: studies that systematically increase species-level diversity are likely to provide a sense of the 'upper bound' for this system. In addition, the in vivo and in vitro bee gut models provide an opportunity to examine how microbes with overlapping resource preferences behave in a community.
Further characterization of other Firm-5 species is needed to address which resource preferences and consumption behaviors are more ecologically stable than others. In addition, it would be interesting to compare resource partitioning in the bee gut to culture-based models of competition among closely related bacteria, such as Bacteroidetes in the human gut microbiota (Tuncil et al., 2017); this may reveal generic strategies of resource partitioning in gut microbial communities. Importantly, the establishment of the Firm-5 model presents an exciting opportunity for 'cross-pollination' between theory and experiment to understand the link between consumption and composition in gut microbial communities.
Article and author information
Author details
© 2021, Schwartzman
This article is distributed under the terms of the Creative Commons Attribution License, which permits unrestricted use and redistribution provided that the original author and source are credited.
1,959

Page views

167

Downloads

0

Citations
Article citation count generated by polling the highest count across the following sources: Crossref, PubMed Central, Scopus.
A two-part list of links to download the article, or parts of the article, in various formats.
Downloads
(link to download the article as PDF)
Open citations
(links to open the citations from this article in various online reference manager services)
Cite this article
(links to download the citations from this article in formats compatible with various reference manager tools)
Julia A Schwartzman
Microbiome: What can we learn from honey bees?
eLife 10:e72380.
https://doi.org/10.7554/eLife.72380
Further reading
Ecology
Microbiology and Infectious Disease

Ecological processes underlying bacterial coexistence in the gut are not well understood. Here, we disentangled the effect of the host and the diet on the coexistence of four closely related Lactobacillus species colonizing the honey bee gut. We serially passaged the four species through gnotobiotic bees and in liquid cultures in the presence of either pollen (bee diet) or simple sugars. Although the four species engaged in negative interactions, they were able to stably coexist, both in vivo and in vitro. However, coexistence was only possible in the presence of pollen, and not in simple sugars, independent of the environment. Using metatranscriptomics and metabolomics, we found that the four species utilize different pollen-derived carbohydrate substrates indicating resource partitioning as the basis of coexistence. Our results show that despite longstanding host association, gut bacterial interactions can be recapitulated in vitro providing insights about bacterial coexistence when combined with in vivo experiments.

Ecology
Evolutionary Biology

Groups of animals inhabit vastly different sensory worlds, or umwelten, which shape fundamental aspects of their behaviour. Yet the sensory ecology of species is rarely incorporated into the emerging field of collective behaviour, which studies the movements, population-level behaviours, and emergent properties of animal groups. Here, we review the contributions of sensory ecology and collective behaviour to understanding how animals move and interact within the context of their social and physical environments. Our goal is to advance and bridge these two areas of inquiry and highlight the potential for their creative integration. To achieve this goal, we organise our review around the following themes: (1) identifying the promise of integrating collective behaviour and sensory ecology; (2) defining and exploring the concept of a 'sensory collective'; (3) considering the potential for sensory collectives to shape the evolution of sensory systems; (4) exploring examples from diverse taxa to illustrate neural circuits involved in sensing and collective behaviour; and (5) suggesting the need for creative conceptual and methodological advances to quantify 'sensescapes'. In the final section, (6) applications to biological conservation, we argue that these topics are timely, given the ongoing anthropogenic changes to sensory stimuli (e.g. via light, sound, and chemical pollution) which are anticipated to impact animal collectives and group-level behaviour and, in turn, ecosystem composition and function. Our synthesis seeks to provide a forward-looking perspective on how sensory ecologists and collective behaviourists can both learn from and inspire one another to advance our understanding of animal behaviour, ecology, adaptation, and evolution.

Global agro-biodiversity has resulted from processes of plant migration and agricultural adoption. Although critically affecting current diversity, crop diffusion from Classical antiquity to the Middle Ages is poorly researched, overshadowed by studies on that of prehistoric periods. A new archaeobotanical dataset from three Negev Highland desert sites demonstrates the first millennium CE&'s significance for long-term agricultural change in southwest Asia. This enables evaluation of the 'Islamic Green Revolution' (IGR) thesis compared to 'Roman Agricultural Diffusion' (RAD), and both versus crop diffusion during and since the Neolithic. Among the finds, some of the earliest aubergine (Solanum melongena) seeds in the Levant represent the proposed IGR. Several other identified economic plants, including two unprecedented in Levantine archaeobotany-jujube (Ziziphus jujuba/mauritiana) and white lupine (Lupinus albus)-implicate RAD as the greater force for crop migrations. Altogether the evidence supports a gradualist model for Holocene-wide crop diffusion, within which the first millennium CE contributed more to global agricultural diversity than any earlier period.