Risk Modeling: Predicting cancer risk based on family history
A new software package provides more accurate cancer risk prediction profiles and has the ability to integrate more genes and cancer types in the future.
Countless hours have been dedicated to researching cancer – how to prevent it, how to diagnose it early, and how to treat it. Yet, cancer remains a leading cause of death worldwide, accounting for almost 10 million fatalities in 2020.
Most cancers are caused by changes to genes that happen over a person's lifetime. In rarer cases (about 5–10%), they start due to inherited genetic mutations that produce a predisposition to cancer. In these instances, also known as familial or hereditary cancer syndromes, the mutation is passed down from generation to generation. In these families, more members tend to develop cancers than expected – often of the same or related type – which can also start at a particularly early age.
It is important to identify people with such genetic mutations so that they – and any family members at higher risk – can undergo enhanced cancer screening. Family history can be a useful predictor of hereditary cancer risk (Blackford and Parmigiani, 2010). As such, risk prediction models that incorporate family history to estimate a person's chance of having a mutation in a cancer predisposition gene or of developing cancer have been employed for many years (Chen et al., 2004).
Historically, such models have been particularly valuable for deciding who to offer genetic testing to when only few and often costly genetic tests were available (Fasching et al., 2007). In some cases, insurance companies require the risk estimate related to carrying a cancer-related genetic mutation to exceed a certain threshold (typically 5 or 10%) to reimburse the cost of a genetic test (Chen et al., 2006). As research advances, the number of genes available for cancer-related genetic testing has now reached over 100 and is likely to continue increasing. Nevertheless, older risk modeling programs generally include only a small number of genes in their predictions. Now, in eLife, Danielle Braun and colleagues – including Gavin Lee and Jane Liang as joint first authors – report on a new software package that has the capacity to evolve alongside advances in cancer research (Lee et al., 2021).
The researchers, who are based at ETH Zürich, EPFL, Harvard, the Dana-Farber Cancer Institute, and the Broad Institute, developed PanelPRO, a tool that uses evidence gathered from extensive literature reviews to model the complex interplay between genes and cancer risk. PanelPRO's workflow consists of four main parts: input, preprocessing, algorithm, and output (Figure 1).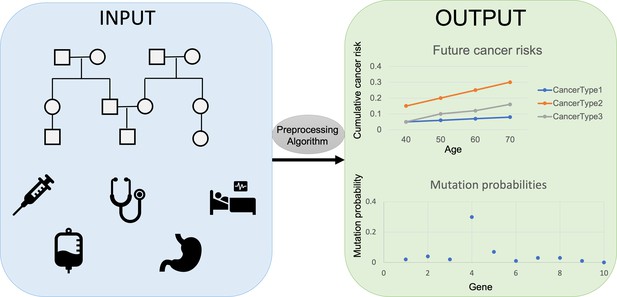 The user first adds information about a history of cancers in a family – such as ages and cancer diagnoses – and other factors that might affect cancer risk. These include any risk-reducing surgeries in relatives, or tumors with biomarkers that might indicate a potential hereditary cause of their cancer. The software then adds information on the frequency of different hereditary cancer syndromes and assesses their associated cancer risks. PanelPRO can currently accommodate 18 types of cancer and generate predictions of probable mutations for 24 genes, but its code allows for the addition of new cancers or cancer-related genes that may be identified in the future.
During the preprocessing stage, the software verifies the input for any missing information and data, and also for any family relationships not supported by the software, such as 'double cousins', which occur when two siblings have children with two siblings from another family. Messages, warnings, or errors may be given to the user if any issues are detected.
After the information has been checked and modified as needed, the model proceeds to the algorithm stage. To calculate the output, the algorithm uses probabilities based on the family history, the frequency of hereditary cancer syndromes in the population, and the cancer history that would be expected if a cancer syndrome were present. The program then estimates the likelihood of a person in a family to have a mutation in a gene linked to an increased risk of cancer. These calculations can also be easily run for other family members using the existing information. It also shows a personalized estimate of future cancer risks. Users can choose which cancer types and genes to display.
However, some outstanding issues remain. Misreported family history information, such as an inaccurate cancer diagnosis or unknown age of diagnosis, can significantly affect estimates, highlighting that accuracy of patient-reported information is key to producing correct estimates (Katki, 2006). While patients have been shown to generally provide exact information on cancer history for first-degree relatives, the accuracy of these reports decreases for more distant relations (Augustinsson et al., 2018; Murff et al., 2004).
Moreover, analyses with a similar risk modeling software have revealed that a strict adherence to a 10% risk threshold to qualify for a test for a probable mutation in the BRCA gene (which is linked to an increased risk of developing breast, ovarian, and other cancers) would miss around 25% of individuals carrying a mutation when compared to genetic testing outcomes (Varesco et al., 2013). This is likely because cancer risks associated with hereditary cancer syndromes are more variable than initially appreciated, and not all family histories may exhibit a predictable pattern of cancer, even when a mutation is present (Okur and Chung, 2017). This complicates risk assessments and argues against making decisions about genetic testing solely based on risk prediction models. Today, broader insurance coverage guidelines and lower costs for genetic tests have increased clinicians' ability to order these tests, even if certain risk thresholds are not met based on family history.
Nevertheless, the higher number of genes and cancer types supported by PanelPRO compared to other risk models are impressive and its ability to incorporate new genes and cancer types as testing advances are key in this fast-paced, constantly advancing field.
Article and author information
Author details
© 2021, Jacobs
This article is distributed under the terms of the Creative Commons Attribution License, which permits unrestricted use and redistribution provided that the original author and source are credited.
771

Page views

43

Downloads

1

Citations
Article citation count generated by polling the highest count across the following sources: Crossref, PubMed Central, Scopus.
A two-part list of links to download the article, or parts of the article, in various formats.
Downloads
(link to download the article as PDF)
Open citations
(links to open the citations from this article in various online reference manager services)
Cite this article
(links to download the citations from this article in formats compatible with various reference manager tools)
Michelle F Jacobs
Risk Modeling: Predicting cancer risk based on family history
eLife 10:e73380.
https://doi.org/10.7554/eLife.73380
Further reading
Cancer Biology
Genetics and Genomics

Identifying individuals who are at high risk of cancer due to inherited germline mutations is critical for effective implementation of personalized prevention strategies. Most existing models focus on a few specific syndromes; however, recent evidence from multi-gene panel testing shows that many syndromes are overlapping, motivating the development of models that incorporate family history on several cancers and predict mutations for a comprehensive panel of genes.

We present PanelPRO, a new, open-source R package providing a fast, flexible back-end for multi-gene, multi-cancer risk modeling with pedigree data. It includes a customizable database with default parameter values estimated from published studies and allows users to select any combinations of genes and cancers for their models, including well-established single syndrome BayesMendel models (BRCAPRO and MMRPRO). This leads to more accurate risk predictions and ultimately has a high impact on prevention strategies for cancer and clinical decision making. The package is available for download for research purposes at https://projects.iq.harvard.edu/bayesmendel/panelpro.

Cell Biology
Cancer Biology

Recent studies reveal that lateral mitochondrial transfer, the movement of mitochondria from one cell to another, can affect cellular and tissue homeostasis. Most of what we know about mitochondrial transfer stems from bulk cell studies and have led to the paradigm that functional transferred mitochondria restore bioenergetics and revitalize cellular functions to recipient cells with damaged or non-functional mitochondrial networks. However, we show that mitochondrial transfer also occurs between cells with functioning endogenous mitochondrial networks, but the mechanisms underlying how transferred mitochondria can promote such sustained behavioral reprogramming remain unclear. We report that unexpectedly, transferred macrophage mitochondria are dysfunctional and accumulate reactive oxygen species in recipient cancer cells. We further discovered that reactive oxygen species accumulation activates ERK signaling, promoting cancer cell proliferation. Pro-tumorigenic macrophages exhibit fragmented mitochondrial networks, leading to higher rates of mitochondrial transfer to cancer cells. Finally, we observe that macrophage mitochondrial transfer promotes tumor cell proliferation in vivo. Collectively these results indicate that transferred macrophage mitochondria activate downstream signaling pathways in a ROS-dependent manner in cancer cells, and provide a model of how sustained behavioral reprogramming can be mediated by a relatively small amount of transferred mitochondria in vitro and in vivo.

Cancer Biology
Computational and Systems Biology

Lung squamous cell carcinoma (LUSC) is a type of lung cancer with a dismal prognosis that lacks adequate therapies and actionable targets. This disease is characterized by a sequence of low- and high-grade preinvasive stages with increasing probability of malignant progression. Increasing our knowledge about the biology of these premalignant lesions (PMLs) is necessary to design new methods of early detection and prevention, and to identify the molecular processes that are key for malignant progression. To facilitate this research, we have designed XTABLE (Exploring Transcriptomes of Bronchial Lesions), an open-source application that integrates the most extensive transcriptomic databases of PMLs published so far. With this tool, users can stratify samples using multiple parameters and interrogate PML biology in multiple manners, such as two- and multiple-group comparisons, interrogation of genes of interests, and transcriptional signatures. Using XTABLE, we have carried out a comparative study of the potential role of chromosomal instability scores as biomarkers of PML progression and mapped the onset of the most relevant LUSC pathways to the sequence of LUSC developmental stages. XTABLE will critically facilitate new research for the identification of early detection biomarkers and acquire a better understanding of the LUSC precancerous stages.