Neonatal Weight: No fire without smoke (particles)
Pollution from landscape fires, which are increasing with climate change, leads to babies being born with lower birthweights in low- and middle-income countries.
Babies who are born with low birthweight (less than 2,500 g) or very low birthweight (less than 1,500g) are at risk of early postnatal complications, developmental problems during childhood, and additional diseases throughout their lifetime. Low birthweight is unfortunately very common, especially in low- and middle-income countries, where over 90% of low birth-weight babies are born (Blencowe et al., 2019). Because low birthweight is a global public health issue of major importance, the World Health Organization has made reducing its incidence one of its 2025 global targets. This is also a United Nations Sustainable Development Goal (World Health Organization, 2014).
While poverty – with associated malnutrition and infections – is likely the greatest cause of low birthweight in low- and middle-income countries, exposure to toxic agents in the environment can also contribute. Exposure to air pollution has previously been linked to both low birthweight and premature births (Li et al., 2017), especially air pollution due to particulate matter measuring less than 2.5 microns in diameter (PM2.5). By comparison, the diameter of a human hair is about 60 microns. PM2.5 particles are small enough to be inhaled deep into the lungs, where they can injure the delicate air sacs, and even cross into the bloodstream and cause issues in other organs. Most of the research on exposure to PM2.5 and low birthweight focuses on urban air pollution rather than on landscape fire smoke, which includes wildfires, deforestation fires, and burning of agricultural crop residues.
Climate change and deliberate deforestation have both contributed to a marked increase in large landscape fires in recent years (Hantson et al., 2017). The smoke from these fires contains many toxic agents, including PM2.5, and can lead to poor air quality over wide regions downwind from the fires. Now in eLife, Tao Xue from the Peking University Health Science Center and colleagues from the Peking Union Medical College, the University of Science and Technology Beijing, Tsinghua University and Zheijang University – with Jiajianghui Li and Tianjia Guan as joint first authors – report on how PM2.5 from landscape fires contributes to low birthweight in low and middle-income countries (Li et al., 2021).
Li et al., 2021 collected information on almost 228,000 babies born between 2000 and 2014 in 54 low- and middle-income countries. Birthweight data and individual characteristics came from demographic and health Surveys. Exposure to landscape fire PM2.5 during pregnancy was assessed through a sophisticated approach known as a chemical transport model (Xue et al., 2021), which was evaluated by comparing it to another well-known satellite-based approach (van Donkelaar et al., 2016). A chemical transport model uses information about pollutant emissions and atmospheric conditions to model the levels of different air pollutants, while the satellite approach uses satellite imagery to approximate the concentration of particles in the air. Li et al. then used a study design called a 'sibling-matched case-control', where babies are compared to their less exposed siblings, to study the association between landscape fire PM2.5 and birthweight, including the specific categories of low and very low birthweight. This design allows researchers to control for many of the complex factors that affect birthweight, including genetics, socioeconomic status, and quality of local health care, which can be difficult to measure.
Li et al. found that exposure to landscape PM2.5 during pregnancy meant babies had lower birthweights on average, and also that more babies met the criteria for low birthweight and very low birthweight (Figure 1). The association was stronger for female babies, first-born babies, and babies born to unemployed mothers. Moreover, babies born to families that had already had children with low average birthweights were most at risk. Li et al. controlled for multiple factors that might have led to bias in their results, including maternal age, child sex, multiple births, non-landscape fire PM2.5, birth order, temperature, humidity, month and year of birth, and country. Much of the effect of landscape fire PM2.5 was found in Sub-Saharan Africa, where approximately half of the babies were born, suggesting that other factors may have larger contributions to lower birthweights in other regions.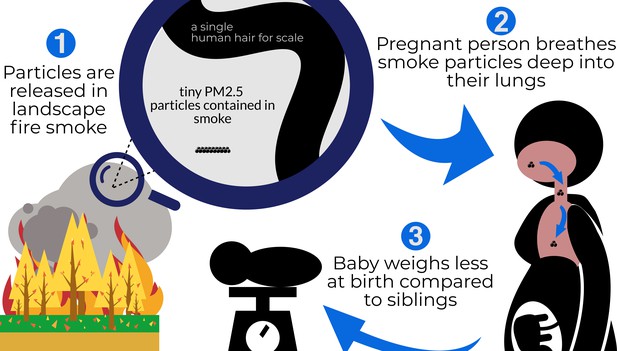 This study has many strengths, including a large study population, information on individual maternal characteristics, a sophisticated approach to assessing landscape fire PM2.5 exposure, and careful data analysis. The results are consistent with several smaller studies from high-income countries (Holstius et al., 2012; Cândido da Silva et al., 2014; Abdo et al., 2019). Perhaps the most impactful contribution of Li et al. is the focus on exposure to landscape fire PM2.5 in low and middle-income countries.
Despite its strengths, the study has several limitations. The survey data used did not have information on the date of conception, so a uniform nine month pregnancy period was used in the analysis. However, babies with low birthweights sometimes have shorter gestations, which would mean the exposure to landscape fire PM2.5 could have been underestimated for these babies. Another limitation is that the study relies on the mothers' memory of the babies' birthweights, rather than measurement. This could be an issue because recollection of birthweight can be influenced by how ill or healthy a child has been.
Exposure to landscape fire smoke frequently occurs in low-resource settings, which already have many risk factors for low birthweight. For this reason, it is important to implement policies to reduce the additional risk secondary to PM2.5 from landscape fires. Such policies include the promotion of alternative agricultural practices to reduce deforestation and burning of crop residue; better forest management to decrease fuel buildup; and climate change mitigation actions that incentivize clean transportation and renewable power generation. According to Li et al.'s results, these measures could help mitigate low birthweights due to PM2.5 in low to middle-income countries where these particles are mostly released by landscape fires, rather than other types of air pollution.
Article and author information
Author details
© 2021, Holm and Balmes
This article is distributed under the terms of the Creative Commons Attribution License, which permits unrestricted use and redistribution provided that the original author and source are credited.
255

Page views

39

Downloads

0

Citations
Article citation count generated by polling the highest count across the following sources: Crossref, PubMed Central, Scopus.
A two-part list of links to download the article, or parts of the article, in various formats.
Downloads
(link to download the article as PDF)
Open citations
(links to open the citations from this article in various online reference manager services)
Cite this article
(links to download the citations from this article in formats compatible with various reference manager tools)
Stephanie M Holm
John Balmes
Neonatal Weight: No fire without smoke (particles)
eLife 10:e74331.
https://doi.org/10.7554/eLife.74331
Further reading
Epidemiology and Global Health

Landscape fire smoke (LFS) has been associated with reduced birthweight, but evidence from low- and middle-income countries (LMICs) is rare.

Here, we present a sibling-matched case–control study of 227,948 newborns to identify an association between fire-sourced fine particulate matter (PM2.5) and birthweight in 54 LMICs from 2000 to 2014. We selected mothers from the geocoded Demographic and Health Survey with at least two children and valid birthweight records. Newborns affiliated with the same mother were defined as a family group. Gestational exposure to LFS was assessed in each newborn using the concentration of fire-sourced PM2.5. We determined the associations of the within-group variations in LFS exposure with birthweight differences between matched siblings using a fixed-effects regression model. Additionally, we analyzed the binary outcomes of low birthweight (LBW) or very low birthweight (VLBW).

According to fully adjusted models, a 1 µg/m3 increase in the concentration of fire-sourced PM2.5 was significantly associated with a 2.17 g (95% confidence interval [CI] 0.56–3.77) reduction in birthweight, a 2.80% (95% CI 0.97–4.66) increase in LBW risk, and an 11.68% (95% CI 3.59–20.40) increase in VLBW risk.

Our findings indicate that gestational exposure to LFS harms fetal health.

PKU-Baidu Fund, National Natural Science Foundation of China, Peking University Health Science Centre, and CAMS Innovation Fund for Medical Sciences.

Epidemiology and Global Health

Microbiology and Infectious Disease

Whilst timely clinical characterisation of infections caused by novel SARS-CoV-2 variants is necessary for evidence-based policy response, individual-level data on infecting variants are typically only available for a minority of patients and settings.

Here, we propose an innovative approach to study changes in COVID-19 hospital presentation and outcomes after the Omicron variant emergence using publicly available population-level data on variant relative frequency to infer SARS-CoV-2 variants likely responsible for clinical cases. We apply this method to data collected by a large international clinical consortium before and after the emergence of the Omicron variant in different countries.

Our analysis, that includes more than 100,000 patients from 28 countries, suggests that in many settings patients hospitalised with Omicron variant infection less often presented with commonly reported symptoms compared to patients infected with pre-Omicron variants. Patients with COVID-19 admitted to hospital after Omicron variant emergence had lower mortality compared to patients admitted during the period when Omicron variant was responsible for only a minority of infections (odds ratio in a mixed-effects logistic regression adjusted for likely confounders, 0.67 [95% confidence interval 0.61–0.75]). Qualitatively similar findings were observed in sensitivity analyses with different assumptions on population-level Omicron variant relative frequencies, and in analyses using available individual-level data on infecting variant for a subset of the study population.

Although clinical studies with matching viral genomic information should remain a priority, our approach combining publicly available data on variant frequency and a multi-country clinical characterisation dataset with more than 100,000 records allowed analysis of data from a wide range of settings and novel insights on real-world heterogeneity of COVID-19 presentation and clinical outcome.

Bronner P. Gonçalves, Peter Horby, Gail Carson, Piero L. Olliaro, Valeria Balan, Barbara Wanjiru Citarella, and research costs were supported by the UK Foreign, Commonwealth and Development Office (FCDO) and Wellcome [215091/Z/18/Z, 222410/Z/21/Z, 225288/Z/22/Z]; and Janice Caoili and Madiha Hashmi were supported by the UK FCDO and Wellcome [222048/Z/20/Z]. Peter Horby, Gail Carson, Piero L. Olliaro, Kalynn Kennon and Joaquin Baruch were supported by the Bill & Melinda Gates Foundation [OPP1209135]; Laura Merson was supported by University of Oxford's COVID-19 Research Response Fund - with thanks to its donors for their philanthropic support. Matthew Hall was supported by a Li Ka Shing Foundation award to Christophe Fraser. Moritz U.G. Kraemer was supported by the Branco Weiss Fellowship, Google.org, the Oxford Martin School, the Rockefeller Foundation, and the European Union Horizon 2020 project MOOD (#874850). The contents of this publication are the sole responsibility of the authors and do not necessarily reflect the views of the European Commission. Contributions from Srinivas Murthy, Asgar Rishu, Rob Fowler, James Joshua Douglas, François Martin Carrier were supported by CIHR Coronavirus Rapid Research Funding Opportunity OV2170359 and coordinated out of Sunnybrook Research Institute. Contributions from Evert-Jan Wils and David S.Y. Ong were supported by a grant from foundation Bevordering Onderzoek Franciscus; and Andrea Angheben by the Italian Ministry of Health "Fondi Ricerca corrente–L1P6" to IRCCS Ospedale Sacro Cuore–Don Calabria. The data contributions of J.Kenneth Baillie, Malcolm G. Semple, and Ewen M. Harrison were supported by grants from the National Institute for Health Research (NIHR; award CO-CIN-01), the Medical Research Council (MRC; grant MC_PC_19059), and by the NIHR Health Protection Research Unit (HPRU) in Emerging and Zoonotic Infections at University of Liverpool in partnership with Public Health England (PHE) (award 200907), NIHR HPRU in Respiratory Infections at Imperial College London with PHE (award 200927), Liverpool Experimental Cancer Medicine Centre (grant C18616/A25153), NIHR Biomedical Research Centre at Imperial College London (award IS-BRC-1215-20013), and NIHR Clinical Research Network providing infrastructure support. All funders of the ISARIC Clinical Characterisation Group are listed in the appendix.

Epidemiology and Global Health

Evolutionary Biology

Combining clinical and genetic data can improve the effectiveness of virus tracking with the aim of reducing the number of HIV cases by 2030.