COVID-19: Locked in a pro-inflammatory state
Macrophages absorbing cells infected with viable SARS-CoV-2 particles fail to transition into an anti-inflammatory state, potentially contributing to a damaging immune reaction linked to severe forms of COVID-19.
In the last two and a half years, scientists all over the world have worked relentlessly to develop treatments and vaccines against SARS-CoV-2, the virus causing COVID-19. While considerable progress has been made identifying key properties of the virus, several fundamental questions remain. For example, it is still unclear why some people develop long COVID-19, or why others are asymptomatic.
Previous research has shown that some patients with COVID-19 can experience a cytokine storm, which is characterized by a high concentration of pro-inflammatory proteins called cytokines (Wong, 2021; Ragab et al., 2020). Cytokine storms can be an indicator of a poor disease prognosis, and research indicates that they contribute to long-term, and sometimes life-threatening, conditions in patients with long COVID-19 (Rai et al., 2021). Now, in eLife, Larissa Cunha and colleagues at the Universidade de São Paulo – including Ana Salina, Douglas dos-Santos, Tamara Rodrigues, and Marlon Fortes-Rocha as joint first authors – report new insights into how COVID-19 may cause cytokine storms (Salina et al., 2022).
Immune cells called macrophages are the major cell type responsible for cytokine storms in COVID-19 (Merad and Martin, 2020). Typically, they migrate to infected or damaged sites in the body, and upon contact with bacteria, viruses, or chemicals emitted by dying cells, produce proinflammatory cytokines (Figure 1). These, in turn, strengthen the response of other immune cells. Once the pathogens have been eliminated, macrophages stop producing proinflammatory cytokines and instead start releasing anti-inflammatory signals, which promote healing.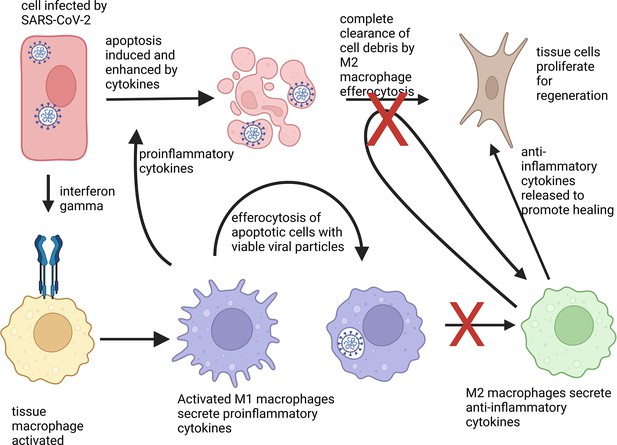 Previous research has shown that during this transition, macrophages change their phenotype from a proinflammatory state M1 to an anti-inflammatory one, M2 (Kohno et al., 2021). It was, however, unclear how they achieve this. To find out if the same transition happens after infection with COVID-19, Salina et al. used apoptotic lung and kidney cells (that is, cells undergoing regulated cell death) containing either viable SARS-CoV-2 particles, inactivated viral particles, or sterile culture medium. They then investigated if and how engulfing apoptotic cells, a process known as efferocytosis, affects the phenotypic change of the macrophages.
The results revealed that SARS-CoV-2 prevented M1 macrophages from changing into M2 macrophages, thereby increasing the inflammatory potential of these immune cells. In the experiments, only cells infected with viable SARS-CoV-2 blocked the M1 macrophages from changing into M2 macrophages and increased the amount of proinflammatory cytokines produced, such as IL-6. Experiments with another virus species did not achieve the same outcome, suggesting that the overproduction of IL-6 may be specific to SARS-CoV-2.
Salina et al. further tested the effect of antiviral drugs targeting the transcription process of viral RNA and found that viral RNAs appear to play a significant role in preventing macrophages changing into the anti-inflammatory state. Treating macrophages with the antiviral drug Remdesivir after they had engulfed cells with viable SARS-CoV-2 reduced the production of IL-6.
These observations indicate that viral RNAs – once taken up by macrophages – arrest the immune cells to remain in the M1 phenotype, which may contribute to the cytokine storm seen in patients with COVID-19. Moreover, absorbing cells containing viable SARS-CoV-2 reduced the number of proteins responsible for recognizing apoptotic cells. This led to a build-up of cell debris and apoptotic cells.
To find out how defective efferocytosis affects the pathogenesis of COVID-19, Salina et al. stained lung tissue samples from COVID-19 patients with immunofluorescent dyes and assessed the expression of efferocytosis receptor proteins. This revealed that lung samples had a lower level of gene expression linked to efferocytosis, which lead to a reduced clearance of cell debris. It also showed that the production of cytokines was dysfunctional, suggesting that SARS-CoV-2 over-activates macrophages in the lungs. This in turn, led to severe inflammation and impaired tissue regeneration. Furthermore, the residual cell debris induced signaling molecules that activated a type of immune cells, called monocytes, to become M1 macrophages. Combined, these changes could increase inflammation even further and may prolong a dysfunctional immune response long after recovery, potentially leading to long COVID-19 syndromes.
While many questions around COVID-19 and its long-term effects warrant further research, the study of Salina et al. provides valuable insights into the complex mechanisms of cytokine storms and may open new avenues for developing treatment plans for patients with severe COVID-19 (Misra et al., 2021; Gracia-Ramos et al., 2021; Ma et al., 2022; Batlle et al., 2022; Yeung et al., 2021).
Inflammation in COVID-19: from pathogenesis to treatment

International Journal of Clinical and Experimental Pathology 14:831–844.
Article and author information
Author details
© 2022, Wang Chau and Sugimura
This article is distributed under the terms of the Creative Commons Attribution License, which permits unrestricted use and redistribution provided that the original author and source are credited.
587

Page views

179

Downloads

0

Citations
Article citation count generated by polling the highest count across the following sources: Crossref, PubMed Central, Scopus.
A two-part list of links to download the article, or parts of the article, in various formats.
Downloads
(link to download the article as PDF)
Open citations
(links to open the citations from this article in various online reference manager services)
Cite this article
(links to download the citations from this article in formats compatible with various reference manager tools)
Chiu Wang Chau
Ryohichi Sugimura
COVID-19: Locked in a pro-inflammatory state
eLife 11:e80699.
https://doi.org/10.7554/eLife.80699
Further reading
Immunology and Inflammation

COVID-19 is a disease of dysfunctional immune responses, but the mechanisms triggering immunopathogenesis are not established. The functional plasticity of macrophages allows this cell type to promote pathogen elimination and inflammation or suppress inflammation and promote tissue remodeling and injury repair. During an infection, the clearance of dead and dying cells, a process named efferocytosis, can modulate the interplay between these contrasting functions. Here, we show that engulfment of SARS-CoV-2-infected apoptotic cells exacerbates inflammatory cytokine production, inhibits the expression of efferocytic receptors, and impairs continual efferocytosis by macrophages. We also provide evidence supporting that lung monocytes and macrophages from severe COVID-19 patients have compromised efferocytic capacity. Our findings reveal that dysfunctional efferocytosis of SARS-CoV-2-infected cell corpses suppresses macrophage anti-inflammation and efficient tissue repair programs and provides mechanistic insights for the excessive production of pro-inflammatory cytokines and accumulation of tissue damage associated with COVID-19 immunopathogenesis.

Immunology and Inflammation

Th2 cells provide effector functions in type 2 immune responses to helminths and allergens. Despite knowledge about molecular mechanisms of Th2 cell differentiation, there is little information on Th2 cell heterogeneity and clonal distribution between organs. To address this, we performed combined single-cell transcriptome and T-cell receptor (TCR) clonotype analysis on murine Th2 cells in mesenteric lymph nodes (MLNs) and lung after infection with Nippostrongylus brasiliensis (Nb) as a human hookworm infection model. We find organ-specific expression profiles, but also populations with conserved migration or effector/resident memory signatures that unexpectedly cluster with potentially regulatory Il10posFoxp3neg cells. A substantial MLN subpopulation with an interferon response signature suggests a role for interferon signaling in Th2 differentiation or diversification. Further RNA-inferred developmental directions indicate proliferation as a hub for differentiation decisions. Although the TCR repertoire is highly heterogeneous, we identified expanded clones and CDR3 motifs. Clonal relatedness between distant organs confirmed effective exchange of Th2 effector cells, although locally expanded clones dominated the response. We further cloned an Nb-specific TCR from an expanded clone in the lung effector cluster and describe surface markers that distinguish transcriptionally defined clusters. These results provide insights in Th2 cell subset diversity and clonal relatedness in distant organs.

Cell Biology

Immunology and Inflammation

Heat shock protein (HSP) 40 has emerged as a key factor in both innate and adaptive immunity, whereas the role of HLJ1, a molecular chaperone in HSP40 family, in modulating endotoxin-induced sepsis severity is still unclear. During LPS-induced endotoxic shock, HLJ1 knockout mice shows reduced organ injury and IFN-γ-dependent mortality. Using single-cell RNA sequencing, we characterize mouse liver nonparenchymal cell populations under LPS stimulation, and show that HLJ1 deletion affected IFN-γ-related gene signatures in distinct immune cell clusters. In CLP models, HLJ1 deletion reduces IFN-γ expression and sepsis mortality rate when mice are treated with antibiotics. HLJ1 deficiency also leads to reduced serum levels of IL-12 in LPS-treated mice, contributing to dampened production of IFN-γ in natural killer cells but not CD4+ or CD8+ T cells, and subsequently to improved survival rate. Adoptive transfer of HLJ1-deleted macrophages into LPS-treated mice results in reduced IL-12 and IFN-γ levels and protects the mice from IFN-γ-dependent mortality. In the context of molecular mechanisms, HLJ1 is an LPS-inducible protein in macrophages and converts misfolded IL-12p35 homodimers to monomers, which maintains bioactive IL-12p70 heterodimerization and secretion. This study suggests HLJ1 causes IFN-γ-dependent septic lethality by promoting IL-12 heterodimerization, and targeting HLJ1 has therapeutic potential in inflammatory diseases involving activated IL-12/IFN-γ axis.