Computational Neuroscience: A faster way to model neuronal circuitry
Artificial neural networks could pave the way for efficiently simulating large-scale models of neuronal networks in the nervous system.
Computational modelling and simulation are widely used to help understand the brain. To represent the billions of neurons and trillions of synapses that make up our nervous system, models express electrical and chemical activity mathematically, using equations that they solve with computational methods.
Coarse-grained models of the brain – where each equation represents the collective activity of hundreds of thousands or millions of neurons – have been valuable in helping us understand the coordination of activity across the whole brain (Sanz Leon et al., 2013). The equations from these models can be solved using a normal computer that any researcher might have on their desk. But if we start to investigate how individual neurons and synapses interact to give rise to the collective activity of the brain, the number of equations to be solved becomes enormous. In this case, even powerful supercomputers running flat out for many hours can only simulate the activity of a few cubic millimeters of brain for a few seconds (Billeh et al., 2020; Markram et al., 2015).
Now, in eLife, Viktor Oláh, Nigel Pedersen and Matthew Rowan from the Emory University School of Medicine report on a promising new technique that relies on machine learning tools to greatly accelerate simulations of networks of biologically realistic neurons, without the need for supercomputers (Oláh et al., 2022).
Machine learning approaches have become ubiquitous in recent years, whether it be in self-driving cars, computer-generated art or in the computers that have beat grandmasters in chess and Go. One of the most widely-used tools for machine learning is the artificial neural network, or ANN.
First developed around the middle of the 20th century, ANNs are based on a highly simplified model of how real neurons work (McCulloch and Pitts, 1943; Rosenblatt, 1958). However, it was only in the early 2000s that their use really took off, due to a combination of increased computing power and theoretical advances that allowed 'deep learning' (which involves training ANNs with many layers of artificial neurons; reviewed in Schmidhuber, 2015). Each layer in an ANN takes the data from the previous layer as an input, transforms it and feeds it into the next layer, allowing the ANN to perform complex computations (Figure 1).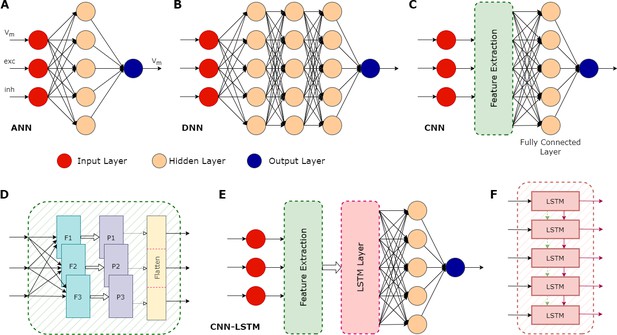 A type of ANN known as a recurrent network has proven to be highly effective at learning to predict changes over time (Hewamalage et al., 2021). In these networks, the activity of a layer of neurons is fed back into itself or into earlier layers, allowing the network to integrate new inputs with its own previous activity. Such ANNs have been used for stock market predictions, machine translation, to accelerate weather and climate change simulations (review in Chantry et al., 2021), and to predict the electrical activity of individual biological neurons (Beniaguev et al., 2021; Wang et al., 2022). Oláh et al. have now developed ANNs that can predict the activity of entire networks of biologically realistic neurons with good levels of accuracy.
First, the team tested several different ANN architectures, and found that a particular type of recurrent neural network – which they call a convolutional neural network with long short-term memory (CNN-LSTM) – was able to accurately predict not only the sub-threshold activity but also the shape and timing of action potentials of neurons. For single neurons, their approach was comparable in speed to traditional simulators. However, when they simulated networks made up of many similar neurons, the performance of the CNN-LSTM was much better, becoming over 10,000 times faster than traditional simulators in certain cases.
In summary, the work of Oláh et al. shows that ANNs are a promising tool for greatly increasing the scope of what can be modelled with generally available computing hardware, reducing the bottleneck of supercomputer availability. Further studies will be needed to better understand the tradeoffs between performance and accuracy for this approach. By clearly describing the successful CNN-LSTM model and providing their source code in a public repository, Oláh et al. have laid a strong foundation for such future exploration.
Article and author information
Author details
© 2022, Davison and Appukuttan
This article is distributed under the terms of the Creative Commons Attribution License, which permits unrestricted use and redistribution provided that the original author and source are credited.
660

Page views

65

Downloads

0

Citations
Article citation count generated by polling the highest count across the following sources: Crossref, PubMed Central, Scopus.
A two-part list of links to download the article, or parts of the article, in various formats.
Downloads
(link to download the article as PDF)
Open citations
(links to open the citations from this article in various online reference manager services)
Cite this article
(links to download the citations from this article in formats compatible with various reference manager tools)
Andrew P Davison
Shailesh Appukuttan
Computational Neuroscience: A faster way to model neuronal circuitry
eLife 11:e84463.
https://doi.org/10.7554/eLife.84463
Further reading
Understanding the activity of the mammalian brain requires an integrative knowledge of circuits at distinct scales, ranging from ion channel gating to circuit connectomics. Computational models are regularly employed to understand how multiple parameters contribute synergistically to circuit behavior. However, traditional models of anatomically and biophysically realistic neurons are computationally demanding, especially when scaled to model local circuits. To overcome this limitation, we trained several artificial neural network (ANN) architectures to model the activity of realistic multicompartmental cortical neurons. We identified an ANN architecture that accurately predicted subthreshold activity and action potential firing. The ANN could correctly generalize to previously unobserved synaptic input, including in models containing nonlinear dendritic properties. When scaled, processing times were orders of magnitude faster compared with traditional approaches, allowing for rapid parameter-space mapping in a circuit model of Rett syndrome. Thus, we present a novel ANN approach allowing for rapid, detailed network experiments using inexpensive and commonly available computational resources.

The adult human visual system maintains the ability to be altered by sensory deprivation. What has not been considered is whether the internal neural states modulate visual sensitivity to short-term monocular deprivation. In this study we manipulated the internal neural state and reported changes in intrinsic neural oscillations with a patched eye open or closed. We investigated the influence of eye open/eye closure on the unpatched eye's contrast sensitivity and ocular dominance (OD) shifts induced by short-term monocular deprivation. The results demonstrate that internal neural states influence not only baseline contrast sensitivity but also the extent to which the adult visual system can undergo changes in ocular dominance.

Neuroscience
Physics of Living Systems

Naturally occurring body movements and collective neural activity both exhibit complex dynamics, often with scale-free, fractal spatiotemporal structure. Scale-free dynamics of both brain and behavior are important because each is associated with functional benefits to the organism. Despite their similarities, scale-free brain activity and scale-free behavior have been studied separately, without a unified explanation. Here we show that scale-free dynamics of mouse behavior and neurons in visual cortex are strongly related. Surprisingly, the scale-free neural activity is limited to specific subsets of neurons, and these scale-free subsets exhibit stochastic winner-take-all competition with other neural subsets. This observation is inconsistent with prevailing theories of scale-free dynamics in neural systems, which stem from the criticality hypothesis. We develop a computational model which incorporates known cell-type-specific circuit structure, explaining our findings with a new type of critical dynamics. Our results establish neural underpinnings of scale-free behavior and clear behavioral relevance of scale-free neural activity.